Apple Search Ads Guide: Everything You Need to Know Before Launching Your First Search Results Campaign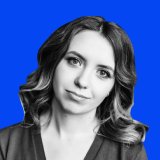 Anastasiya Starovoytova
In the ever-changing world, steady app market growth seems to remain one of a few constants. Take, for instance, the App Store that traditionally enjoys a flow of highly-motivated users. Out of all existing mobile apps, iOS apps boast twice as much consumer spending.
The fact that iOS users tend to make more in-app purchases than Android users increases the fierce competitiveness of the App Store. Luckily, Apple provides a tool that helps advertisers not get lost and stay ahead of the game — Apple Search Ads.
In this article, we're going to focus on discovering what Apple Search Ads is and how to launch your very first search results campaign.
What is Apple Search Ads?
Apple Search Ads is a user acquisition channel within the App Store itself. Introduced in 2016, it streamlines reaching a relevant target audience by showing sponsored ads on Today tab, at the top of the suggested apps list on the Search tab, at the top of the search results page, and on product pages at the very top of the You Might Also Like list.
Due to the fact that these targeted ads are shown to highly motivated users who are already searching for apps, this channel has an incredible average conversion rate. Apple Search Ads claims that it's normally around 60%. That said, the SplitMetrics Acquire team noticed that some categories can experience even more impressive CR (up to 79.69%).
Apple Search Ads Cost
Within Apple Search Ads, advertisers enter a second price auction and the highest bidder gets their ad topping the results page for a specific keyword.
The factors that influence Apple Search Ads cost the most are:
App category (for example, according to SplitMetrics' benchmarks H2 2022, game publishers on average pay $1.80 for a tap, while a CPT for a fitness app can vary around $1.28);
Chosen region (Australia, Canada, the United Kingdom, and the USA never leave the list of the most competitive countries);
Seasonality (costs tend to peak in November).
However, a decent budget doesn't always equal success. This ad channel allows advertisers to win an auction only for relevant keywords. In a way, this restriction is the key to the high conversion rate Apple Search Ads showcases.
Now Apple Search Ads offers two solutions: Apple Search Ads Basic and Apple Search Ads Advanced.
Let's have a closer look at these two options and examine their differences. We'll consider their features to help you make an informed decision before launching your first Apple Search Ads campaigns.
SplitMetrics' Apple Search Ads Benchmark Dashboard
Take a data-driven approach to scaling your campaigns
EXPLORE NOW
Apple Search Ads Basic
The name itself suggests that this solution within Apple Search Ads is simple to use. By opting for Apple Search Ads Basic, you can get to know this ad platform better and achieve your advertising goals.
Advantages of Apple Search Ads Basic
Apple Search Ads Basic boasts the following pros:
CPI model ensures you pay only for installs
You can choose the price you're willing to pay for each install
Quick and easy setup
The process is fully automated
Running ad campaigns requires minimal management efforts
New accounts get $100 promo credit to try out this version.
Is Apple Search Ads Basic Right for You?
Even though Apple Search Ads Basic is a solid pick if you're tipping your toe into advertising or have limited time/resources, it won't suit just everyone. Let's consider whether this Apple Search Ads version suits you in more detail:
You can't control where and how your budget is allocated
You can't unlock new ad placements, only the search results option is available
No keyword and ad group optimization options
You don't have access to Campaign Management API and keyword data
Ad campaigns budget has a ceiling ($10,000 per app)
It's possible to promote only a restricted number of apps (50 applications max).
As you can see, Apple Search Ads Basic is a great introductory option, however, to make the most out of this ad platform, it's better to consider taking a more sophisticated path. So if you're serious about adding Apple Search Ads to your app growth arsenal, it makes sense to opt for it.
Apple Search Ads Advanced
When it comes to iOS app promotion, Apple Search Ads Advanced is one of the most powerful mobile advertising channels. Unlike the Basic version, it gives you complete control of your ad campaigns and offers way more options and more insights into the performance of your campaigns.
Advantages of Apple Search Ads Advanced
The way Apple Search Ads Advanced functions has more similarities with other popular advertising platforms. Let's examine the list of its key advantages:
Control over the keywords you bid on
Advanced targeting options
It imposes no restrictions on your campaigns budget
You can promote an unlimited number of apps
It provides full access to Attribution API and Campaign Management API
There's no minimum spend
It's possible to promote an app in the Today tab (on the front page of the App Store), Search results (such ads top the relevant search results), Search tab (such ads appear in a suggested apps list on the Search tab), product pages (while browsing).
The total control of your entire ad campaign starts with refined targeting the advanced version offers. Here is the list of targeting options within Apple Search Ads Advanced:
Search Match. It automizes the process of matching your ad to the relevant user searches;
Keywords. Choosing your own keywords for Apple Search Ads campaigns you can opt for the keywords suggested by Apple Search Ads (the Recommendations link can be seen in the upper-right corner of the dashboard) or choose your own;
Customer types. Your ads can be shown to all users, new users, returning users and users of your other apps. Naturally, there can be no restriction and you can show your ad to everyone;
Demographics. It's possible to target a specific gender and age range;
Device type. You can aim at iPhone or iPad users, or both;
Locations. It allows you to be more precise with targeting areas.
Thus, with Apple Search Ads Advanced, it's possible to set up, adjust, and control ad groups, keywords, targeting, creatives, schedule, budget, and custom reporting.
Is Apple Search Ads Advanced Right for You?
Despite the countless advantages this version offers, you may want to consider the Basic version, especially if you don't have much time (which is a common issue for small teams). Proper ad campaigns management can be time-consuming unless you run campaigns with help of SplitMetrics Acquire (involved in Apple Search Ads partnership) that automates routine tasks and give you time to examine insights of advanced analytics and adjust your strategy accordingly.
Apple Search Ads Basic vs Advanced
Let's have a brief overview of these two Apple Search Ads options and sum up their differences:
| | |
| --- | --- |
| Apple Search Ads Basic | Apple Search Ads Advanced |
| CPI pricing model when you pay for actual installs. | CPT (cost-per-tap) pricing model is when you pay when a potential customer clicks on your ad. |
| Full control over the price you're willing to pay for an install | You can choose the maximum price you're ready to pay for a tap. As Apple Search Ads Advanced functions on the basis of a second price auction, bidding competitively doesn't result in overpaying. |
| Quick and easy setup. | Setup requires more marketing expertise and a better understanding of your target audience. |
| Total automation of the ad management process. | You'll see Apple's suggestions regarding a maximum CPC bid that can improve your chances of winning auctions. |
| Monthly budget up to $10,000 per app. | Unlimited monthly budget. |
| Ability to promote a maximum of 50 apps. | The number of promoted apps is not restricted. |
| Ads at the top of a search results page within the App Store are the only available ad placement. | More ad placement options: along with default Apple App Store search results, you can run ads on the Search tab, Today tab, or product pages. |
| No keywords and audience refinement. | Granular targeting options and control over keywords. |
| Limited reporting in the form of a quick-view ad performance dashboard. | Extensive reports that cover all key user acquisition metrics. |
| Provides access only to the Apple Ads Attribution API. | Apple Ads Attribution API is fortified with the Campaign Management API. |
| $100 promo credit to try out this version. | $100 promo credit to try out this version. |
Now you're equipped to choose the version that aligns with your business needs better.
How to Use Apple Search Ads?
Now that we've covered the differences between the two versions of Apple Search Ads, let's take a look at how to launch campaigns on each of them.
Setting up Apple Search Ads Basic Campaign
To start working with Apple Search Ads Basic, you'll need an Apple ID associated with your App Store Connect account (mind that its current status must be active). Launching a campaign is as easy and straightforward as it gets:
Step 1. You should set the goal of your future ad campaign and select the regions and countries you want to target.
Step 2. Setting the max monthly budget for your Apple Search Ads campaign. Your budget can be up to $10,000 per app. In this step, you also have to identify the sum you are ready to pay for one install as the system functions on the cost-per-install (CPI) model. It means you pay only for the installs of your app.
Setting up Apple Search Ads Advanced Campaign
Taking into consideration that Apple Search Ads Advanced gives you full control of your campaign, it requires more steps. There's nothing to be afraid of though, as there's nothing overly complicated in the setup process.
Step 1. Choose the app you plan to promote and identify countries and regions where you want to run your ads. The list of countries where Apple Search Ads is available is constantly expanding.
Step 2. Set the budget and determine the daily budget.
Step 3. So-called 'Ad Group settings' is the section where you have to decide how to target your ads (choosing specific devices, scheduling ads, and determining the maximum price you're willing to pay for a tap on your ad).
Step 4. Providing the Search Match option is enabled, Apple will match your ad to users who might be searching for similar apps.
Step 5. Time to come up with relevant keywords. It's also possible to determine negative keywords. Excluding specific keywords allows you to avoid auctions that won't help your app growth goals.
Step 6. That's when audience refinement comes into play. Here you can specify target customer types, demographics, and more precise locations. Please remember that you narrow your audience and, consequently, reduce the number of impressions by changing audience settings. This is why the official recommendation from Apple Search Ads is to create an additional campaign reaching all eligible users. It's also worth noting that the number of impressions will depend on whether your users have their Personalized Ads turned on.
Step 7. This final step is dedicated to ad variations based on custom product pages. You can create up to 35 custom product pages in App Store Connect (if you have the Marketing role access) with different captions, screenshots, and app video previews to cater to specific audiences. As soon as created, custom product pages can be used for ad variations in search results campaigns.
Building Apple Search Ads Campaign Structure
In the context of Apple Search Ads, every successful campaign starts with a thought-over structure.
It's essential to categorize keywords and their match types and group them accordingly. The campaign goal is the most common characteristic used to build your Apple Search Ads account structure.
Let's examine the four most widely used campaign types.
Brand Campaign
The primary aim of brand campaigns is to increase brand awareness and promote your app title. Such campaigns help you protect your brand by not allowing competitors to run their ads using keywords associated with your app names or the brand itself. Exact Match keywords are characteristic of this type of campaigns.
Some inexperienced marketers find it counterintuitive to run brand campaigns and neglect them. As a result, their direct competitors are able to "steal" the portion of their audience without any trouble. So practice shows it's a truly valuable branding tool.
Brand Campaigns normally draw high-intent visitors who already look exactly for your app. For smaller brands, it means that such campaigns may tend to get fewer impressions but better tap-through-rates (TTRs) and conversion — while big brands like, for instance, Netflix would have too many impressions.
Generic Campaign
Generic or Category Campaigns should include non-branded keywords that are relevant to what your app can offer, be it its feature or a category it belongs to. Such campaigns are executed with Exact keywords like Brand ones.
The primary goal of Generic Campaigns is to reach users who are browsing the App Store in search of an app like yours. Such campaigns are high in relevancy and reach a wide audience normally giving you more impressions than Brand Campaigns.
Competitor Campaign
This campaign type is a mirror reflection of the Brand Campaigns we discussed earlier. Using Exact Match keywords that contain brands and names of your competitors and their variations, you can get installs from the users who came to the App Store looking for your business rivals.
Metaphorically speaking, Brand Campaigns support your defense strategy while Competitor Campaigns reinforce your offensive efforts.
Discovery Campaign
The main focus of Discovery Campaigns is to come across new performant keywords targeting your most popular and relevant search terms. Unlike the above mentioned campaign types, this one uses Search Match and Broad Match keywords. Such campaigns tend to reach a vast audience, can boast a huge number of impressions, and bring new customers.
There's an important thing to remember launching Discovery Campaigns – add all keywords you use in your other campaigns as negative to encourage the algorithm to come up with new yet relevant keyword ideas.
Targeting options are another thing you should consider working on the structure of your Apple Search Ads campaigns. There are two levels on which it's possible to manage your targeting:
Ad group level: you determine who can see your ad;
Keywords level: you point out corresponding search terms and keywords you'd like to be shown for.
It makes sense to examine ad groups and keywords in further detail.
Apple Search Ads Ad Groups
First things first, an ad group is a component of Apple Search Ads campaigns. With help of ad groups, you can determine various audience settings and CPT bid limits.
The Advanced version provides granular targeting options so you can be really specific with ad groups. However, utilizing Apple Search Ads targeting options will narrow your audience and lead to excluding users with Personalized Ads turned off.
Apple Search Ads targeting options include the following parameters:
Device type
Customer type
Gender
Age
Location
Schedule (when your ad is to be shown to an ad group).
Each of the campaign types we discussed in the previous section should contain at least one ad group. It's also possible to have multiple ad groups within each of your campaigns. For instance, you can launch a Generic Campaign with multiple ad groups that reach various locations, have different bids, and contain customized keywords.
Like we mentioned above, you should keep in mind that by modifying settings and narrowing your audience you reduce the number of impressions for your app. The official recommendation from Apple Search Ads is to create an additional campaign that will reach all eligible users. The number of impressions also depends on whether your users have their Personalized Ads turned on.
Ad groups give you an amazing opportunity to be precise in optimizing underperforming campaigns and reach the desired results.
Apple Search Ads Keywords
When you're done with creating all necessary ad groups, you can get down to choosing relevant keywords or the terms the App Store visitors use searching for new apps. It's vital to take into consideration such keywords characteristics as difficulty and search volume as it makes no sense to bid on low-search yet highly competitive search terms.
When it comes to the match type, there are 3 kinds of keywords:
Exact match. It enables you to control the searches your add may appear tightly and choose a specific keyword and its close variants.
Broad match. Being a default match type, Broad match ensures your ad will run on relevant close variants of a keyword, such as singular, plurals, misspellings, synonyms, related searches, etc.;
Search Match. By having this default feature on, your ad may be automatically matched to search terms without guessing all the possible keywords. By running a discovery campaign with Search Match on, you can easily mine popular search terms.
Negative Keywords
Negative keywords allow your ad to avoid appearing for undesirable search terms, cut costs, and reinforce the campaign's performance. It's appropriate to use this keyword type when you want to avoid search terms that are not relevant to what your app offers. It also makes sense to track underperforming keywords that don't lead to conversion and add them as negative.
Negative keywords are added with the broad match by default but it's preferable to change it to the exact match. During the pre-launch stage, it's possible to add negative keywords in the process of campaign or ad groups creation. You can also upload them in bulk with the help of a spreadsheet. Mind that negative keywords lists can be managed even when your ad campaign is live.
Brand Keywords
As it comes from the name itself, brand keywords are related to your brand name and app titles. This type of keywords is used in Brand and competitor campaigns within your Apple Search Ads account structure.
Brand keywords allow showing your app ads for search terms directly related to your app and brand or the ones of your main competitors. When it comes to negative keywords usage, it's highly recommended to opt for the exact match type.
How to Duplicate Keywords?
To streamline the campaigns management process, Apple allows duplicate keywords from one ad group to another. Mind that every ad group can contain no more than 5000 keywords.
It's also impossible to duplicate specific keywords if a destination ad group already contains the same search term with the same match type or if their bids exceed the campaign's budget. Once the process is over, you aren't able to duplicate keywords.
Keyword duplication in Apple Search Ads Advanced presupposes the following steps:
Step 1. Select keywords you plan to duplicate in the Keywords tabs within the search results ad group;
Step 2. In the 'Actions' menu choose whether you want to duplicate only selected keywords or all of them;
Step 3. Determine the destination ad groups and campaigns for your keywords;
Step 4. Decide if you want to use the existing default CPT limit or identify a new bid;
Step 5. Click 'Duplicate', and the duplication is done.
Best Apple Search Ads Optimization Practices
Apple Search Ads Advanced is definitely the version you should choose if you're serious about ad campaigns optimization. However, it goes without saying that it's impossible to unlock its full potential without a thorough strategy to back up your actions.
How to Level up Your Apple Search Ads Strategy?
"Set it and forget it" tactics won't lead you far. That's why you should constantly level up your strategy and carry out Search Ads analysis. Pay extra attention to post-install events.
Here are a few things to consider when revising your action plan:
1. Know your users. It may sound trivial but at the core of every successful strategy lies a deep understanding of your target audience. This knowledge will help you stay relevant and enjoy high conversion rates.
2. Regular app metadata audit is a must. Hopefully, you already do it within your ​​app store optimization strategy. If you keep metadata up to date, Apple will be able to come up with new keyword ideas via your Discovery Campaigns.
3. Every strategy wins if you upgrade it with the latest tech. Make the most of your Apple Search Ads campaigns by automating up to 90% of optimization tasks with help of SplitMetrics Acquire.
Bidding
When it comes to bidding strategy, the key is to be flexible and optimize bids over time. It's a decent practice to monitor if it makes sense to raise the max CPT bid for certain keywords in case they bring high-value users or if it's better to allocate this budget elsewhere.
Don't forget to align max bids with match types of keywords applying more substantial sums on exact match keywords. If you're in doubt, don't be afraid to utilize Apple's suggested bid range as a baseline.
Custom Product Pages
Since the launch of iOS 15, app publishers were allowed to create additional versions of their product pages with unique URLs. Like a regular product page, each custom page includes such components as screenshots, promo text, and video app previews. However, these page elements can differ from those within the app's default page. Thus, custom product pages designed for ad variations in search results campaigns can be used to customize your ad campaigns in accordance with different seasons, cultures, locations, etc., as well as:
Test value propositions
Show the right messages to serve need of different audiences
Segment your audience and run effective campaigns for each segment
Optimize ads for specific markets with their cultural differences in mind
Run impressive ads dedicated to specific holidays and seasonal events.
To learn more about custom product pages and how you can leverage them, make sure to review the Custom Product Pages Playbook produced by SplitMetrics' team.

You can track the performance of such pages in App Analytics within App Store Connect and compare it with the efficiency of your default app store listing. It's possible to see if custom pages draw users that stay engaged for longer (even beyond app downloads) as you get access to such metrics as:
Custom product page impressions
Downloads
Re-downloads
Conversion rates
Retention data
Average proceeds per paying user.
This data can be used in your app store optimization as well.
Budget
It comes as no surprise that in the context of every paid user acquisition channel, you have to spend to see results. Apple Search Ads is no exception. Having no clearly laid budget will lead you nowhere. That said, advertising budgets vary drastically depending on targeting and category.
What to Do if Apple Search Ads Isn't Running?
There are multiple factors that can make or break your Apple Search Ads performance. Here are a few actions to take if you don't get any impressions:
Review your max CPT (in the Advanced version) or max CPI (in Apple Search Ads Basic). In many cases, the increase of cost-per-install or cost-per-tap makes them more competitive and an impressions boost will not keep you waiting;
Review your metadata and evaluate if it's really relevant to your app (mind that changes in your metadata may take up to 24 hours to be shown on your product page).
Audit the visuals of your product page (screenshots, app preview, and icon). The best way is to A/B test them with the app store optimization platform SplitMetrics Optimize.
Consider being less strict with your targeting. It'll help you reach a wider audience.
If nothing works, it might be useful to reconsider your app's business model.
Apple Search Ads Benchmarks
Keeping track of the latest benchmarks regarding Apple Search Ads should be an integral part of your strategy. It'll help you health-check your campaigns and their results. However, it's not always reasonable to rely on average numbers that don't specify a category. Such metrics as TTR, CR, CPT, and CPA differ drastically depending on the category.
To be aware of the latest trends, check our latest extensive report on Apple Serch Ads benchmarks.
The Bottom Line
Being the only ad platform that allows you to advertise apps within the App Store itself, Apple Search Ads offers app marketers an opportunity that should not be ignored. It's all about discoverability and improving your overall performance. Some advertisers even notice higher app store rankings associated with the success of their campaigns.
Once you have a clear understanding of your app's USP and your audience, you'll be able to launch thoughtful and meaningful campaigns.
SplitMetrics Acquire, an Apple Search Ads partner, can help you streamline your efforts to get the most out of this user acquisition channel. This Apple Search Ads management platform provides AI algorithms and competitor insights backed up by a dedicated team of professionals.
Scale with Apple Search Ads insights in SplitMetrics Acquire
Request Demo