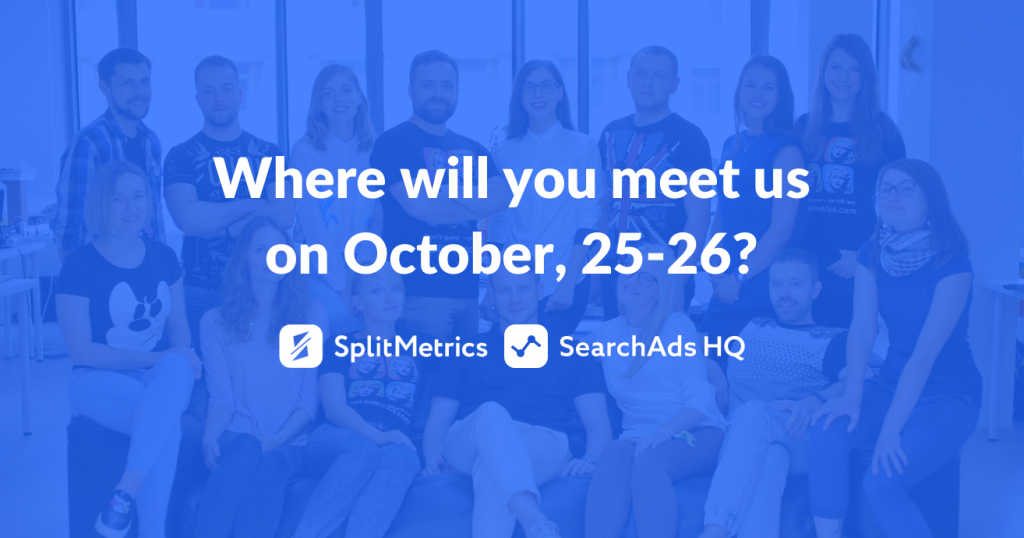 October is a month of meetups and conferences, and our team will be joining three of them: Target Summit Moscow, Casual Connect Kyiv and ORGANIC Barcelona.
Hit us up and let's meet there! Let us know in which conference you participate:

Target Summit it is a Mobile product & marketing conference, which takes place in Moscow and Berlin. On October 26, more than 700 experts from mobile industry will gather at the Technopolis Congress Center to exchange experiences and productive meetings.
The concept of the program is built around product stories from representatives of applications with a million audience. New channels of users acquisition, growth hacks, big data, in-depth analytics and many other topics will be discussed by representatives of Appnext, Nanobit, Uber, Aviasales, Mail.Ru, Pixonic, Yandex, AppMetrica, Twitter and many others.
SplitMetrics and SearchAdsHQ will take the stage at TargetSummit as well!
At 12:00, you will hear how to optimize your app product pages for iOS 11 to maximize conversions from Marina Mochalina, Business Development Manager at SplitMetrics.
Right after Marina at 12:30, I will share the latest insights on how to run and optimize Apple Search Ads for the maximum ROI.
Sorry, this video is in Russian.

Be sure to come and meet us before or after the talks, or drop me a line at [email protected] to schedule a meeting.

You can also find us in Kyiv together with over 80 leaders in emerging markets of the games industry chatting about game design, casino, funding, next-generation technology, best practices and more.
At both conferences, we will have great iOS 11 and Apple Search Ads checklists with us. Remember to find our business development managers, Olga and Anna, at Casual Connect to get your copies.

Do you know you will be there? Drop us a line at [email protected] and [email protected] and let's schedule a meeting.

A conference organized by our friends from PickASO app marketing agency. If you join this event, you will hear great talks from Wallapop, AppsFlyer, 8fit, TheTool and other app marketing experts.
Our precious iOS 11 and Apple Search Ads checklists are shipped and will be delivered right before the conference. Make sure to catch your copy at ORGANIC!
See you soon!