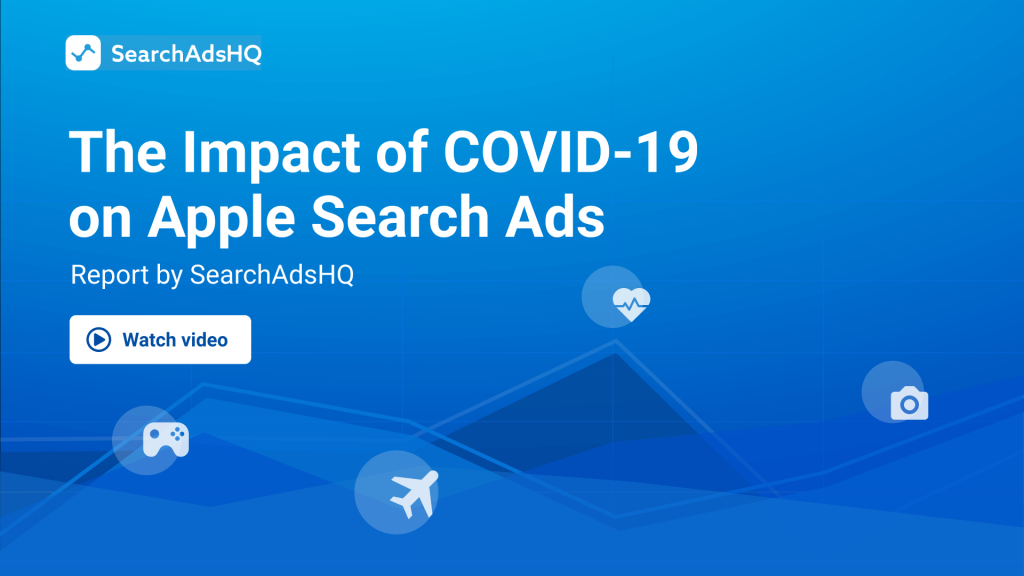 The world keeps fighting against the pandemic and dealing with its consequences. In some countries, the pandemic appears to have peaked, while others are still struggling. Despite the fact that the economies of almost all countries have been affected and industries are trying to adjust to the new reality, some categories in the app industry are experiencing unprecedented growth.
New market conditions have forced mobile app companies to adjust their user acquisition strategies. To understand the changes brought about by coronavirus, SearchAdsHQ made research on the impact of COVID-19 on Apple Search Ads. 
The report covers Apple Search Ads trends in Q1-Q2 2020 based on the sample of our customer data. We have analyzed 558M impressions and 21.2M downloads in 60 countries and regions and focused on 18 of them.
What's inside the report:
1. Worldwide trends and data by 3 groups of countries most affected by coronavirus; 
2. Changes in user behavior and key Apple Search Ads metrics – Downloads and CPA – across 6 App Store categories:
Games

Work from Home: Education, Business, Utilities

Photo & Video

Health & Fitness

Finance

Travel, Transportation, Booking
3. Expert opinion on the findings from Thomas Petit (independent app growth consultant), Thomas Kriebernegg (co-founder & CEO at App Radar), Johannes von Cramon (сo-founder of Growfirst), Andrea Raggi (Store Ads Team Lead at Phiture). 
Watch the video version of the report below: 
Access or download the presentation from the video on SlideShare. 
To get all these insights gathered in one place, download the full report on the Impact of COVID-19 on Apple Search Ads in Q1-Q2 2020.