Challenge
Aged Studio PRC-based publisher promotes five mobile games with Apple Search Ads. They have been using the channel for six months and happy with its high retention rate. Though there's always room for even more improvement, they started looking for the ways to enhance their strategy via automation and optimization. This is when SearchAdsHQ was added to the mix. The Aged Studio team defines their key goals as growth, optimization, long-term customer acquisition, as well as establishing the control of customer acquisition cost within the budget. Our platform and experts from the customer success team were there to help with all of the above.  
Solution
The Aged Studio team started using SearchAdsHQ in November 2020. With about 30 target markets, mostly European countries, they focused on building a campaign structure focused by keyword themes, expanding and optimizing keywords, and tracking KPIs that included CPA, TTR and CR.
SearchAdsHQ helped them build a strong competitive strategy: using our built-in keyword planner they managed to get insights on competitors' keywords and live campaigns, thus improving their own tactics.
Our automated rules also played a big role in taking the app marketing for Aged Studio to the next level. Their team created 40 automated rules with SearchAdsHQ to optimize keywords and bids. This feature not only helped with meeting and exceeding KPIs, but greatly saved time on managing ad campaigns as well.
Working with SearchAdsHQ, we found that batch view of keyword data, automatic rules and keyword optimizer were extremely useful for us.

Sinz Yang, UA manager at Aged Studio
Result
In result, the Aged Studio team managed to increase their TTR by 33.75% and boost install rate by 27%. The number of installs also increased 4-5 times, and in only 3 months.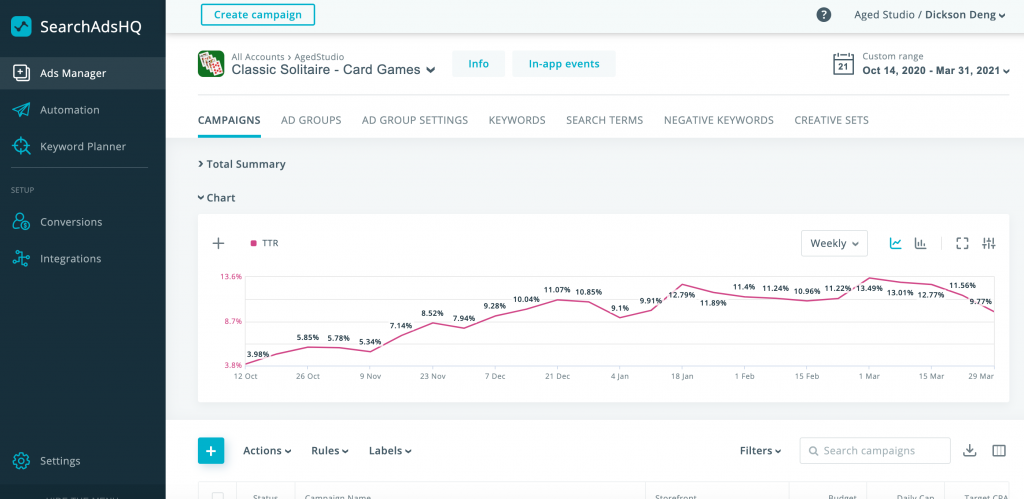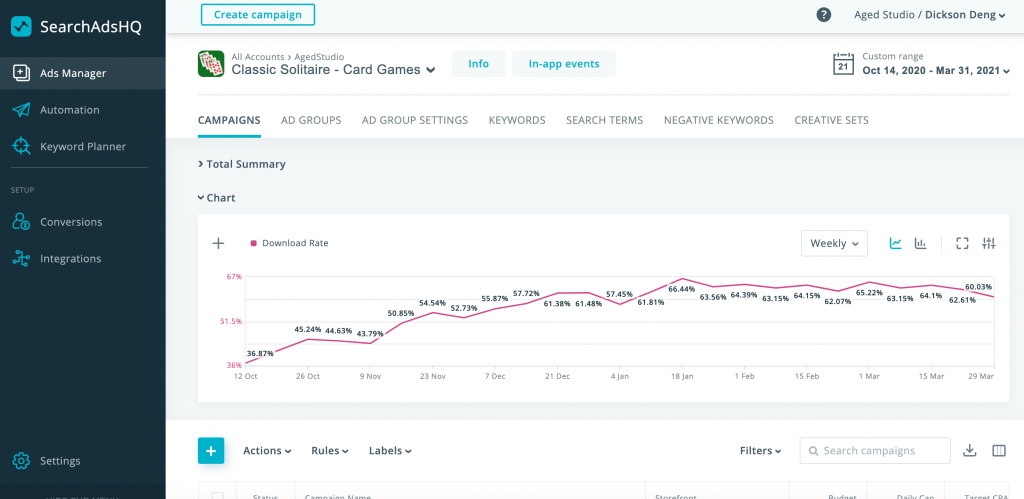 The main secret to increasing efficiency and scaling with Apple Search Ads is to build the correct campaign structure, expand keywords and use automatic rules. SearchAdsHQ helps with all of this. Also, their patient training for users and smooth communication ensures that we take the most of both SearchAdsHQ and Apple Search Ads.

Sinz Yang, UA manager at Aged Studio
Want to achieve similar results?
Request a SplitMetrics Acquire demo with one of our managers to show you around.
Schedule Demo