SplitMetrics, an ecosystem of products and services for mobile growth and an Apple Search Ads Partner, has announced a new feature designed to revolutionize the competitor keyword analysis in Apple Search Ads.
The unique feature called Keyword Gap is introduced in SplitMetrics Acquire, the company's proprietary solution for Apple Search Ads management, automation and optimization at scale. Keyword Gap offers SplitMetrics' customers a semantic comparison of their apps with the apps of competitors.
Keyword Gap is aimed to help UA managers and mobile growth professionals find new keywords for their campaigns and ad groups via analyzing the competitor landscape.
One of the most notable capabilities of Keyword Gap is that it allows SplitMetrics Acquire users to compare their app keywords with several competitors simultaneously. This enables mobile developers to quickly understand their position in Apple Search Ads without spending time on scrupulous research and analysis of competitors one by one.
What's more, the new feature in SplitMetrics Acquire is also enhanced with interactive bubble charts showcasing unique keywords of an app not used by any of competitors, common keywords shared with them, as well as the ones that could be borrowed from competitors.
The visual highlights of each category of keywords, including competitor keywords, common keywords shared with competitors, and unique customer keywords, provide mobile developers with a comprehensive overview of their strengths and weaknesses in terms of semantics.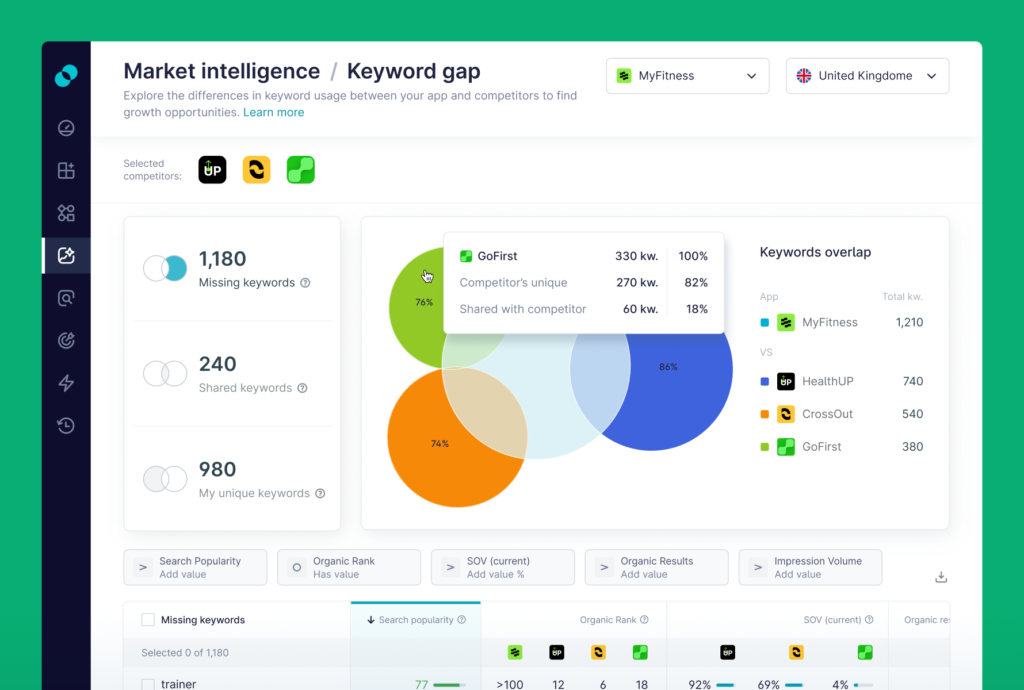 Another key feature Keyword Gap brings to the table is the ability to compare app performance by SoV (Share of Voice) and Organic Rank depending on the selected category of keywords. This allows SplitMetrics Acquire users to compare their performance with their competitors and quickly add category-selected keywords to their Ad groups and campaigns. What's even more, Keyword Gap provides data on such crucial indicators, as Search Popularity, Organic Results, Impression Volume, Top 10 apps by SoV.
We designed this feature with aspiration to enable our customers to quickly & easily gain valuable insights into their competitors' keyword strategies, identify gaps in their own campaigns, and make informed decisions that drive effective campaigns and ad groups. With Keyword Gap, growth marketers can find their unique keywords and stay ahead of the game, ultimately leading to increased visibility, higher conversion rates, and greater success in their advertising efforts.
Try Keyword Gap in SplitMetrics Acquire
And level up your Apple Search Ads game!
Book a Demo