How can you make sure that your Apple Search Ads campaigns are reaching their true potential? The evaluation of your Apple Search Ads performance is nearly impossible without industry benchmarks at hand. At SplitMetrics Acquire, we always keep our finger on the pulse of the mobile app market, analyzing millions of app downloads, keywords, and billions of impressions. Our analysts provide quarterly overviews of the main Apple Search Ads metrics: TTR, CVR, CPT, CPA, etc.
In this article, we decided to showcase a brief overview of the Apple Search Ads benchmarks and the macro-trends of the year 2018.

Want to stay up to date with the latest data? Download the most recent benchmark reports:
Apple Search Ads Benchmarks
CPA plays a special part here as every mobile marketer aims at achieving a low cost per acquisition. But, how low is low enough when it comes to this mobile app marketing metric? What costs per tap and install should you expect when working with Apple Search Ads?
To answer this mobile app marketing benchmark question and uncover average CPT, CPA and TTR by categories, we've analyzed:
390 million ios App Store ads impressions;

14.5 million app downloads;

$20 million ad spend;

7 storefronts: Australia, Canada, Mexico, New Zealand, Switzerland, UK and United States.
In order to help you understand these numbers better and optimize your Apple Search Ads for the best results, we're also sharing key factors that determine App Store search ads cost and – what's even more important – our tips for managing your App Store Ads cost and performance.
Mobile App Marketing Benchmarks: Apple Search Ads Cost per Tap (CPT)
Since in Apple Search Ads you're paying for nothing but taps on your ads, let's start with the average CPTs by categories.
The average Cost per Tap of Apple Search Ads is about $0.84.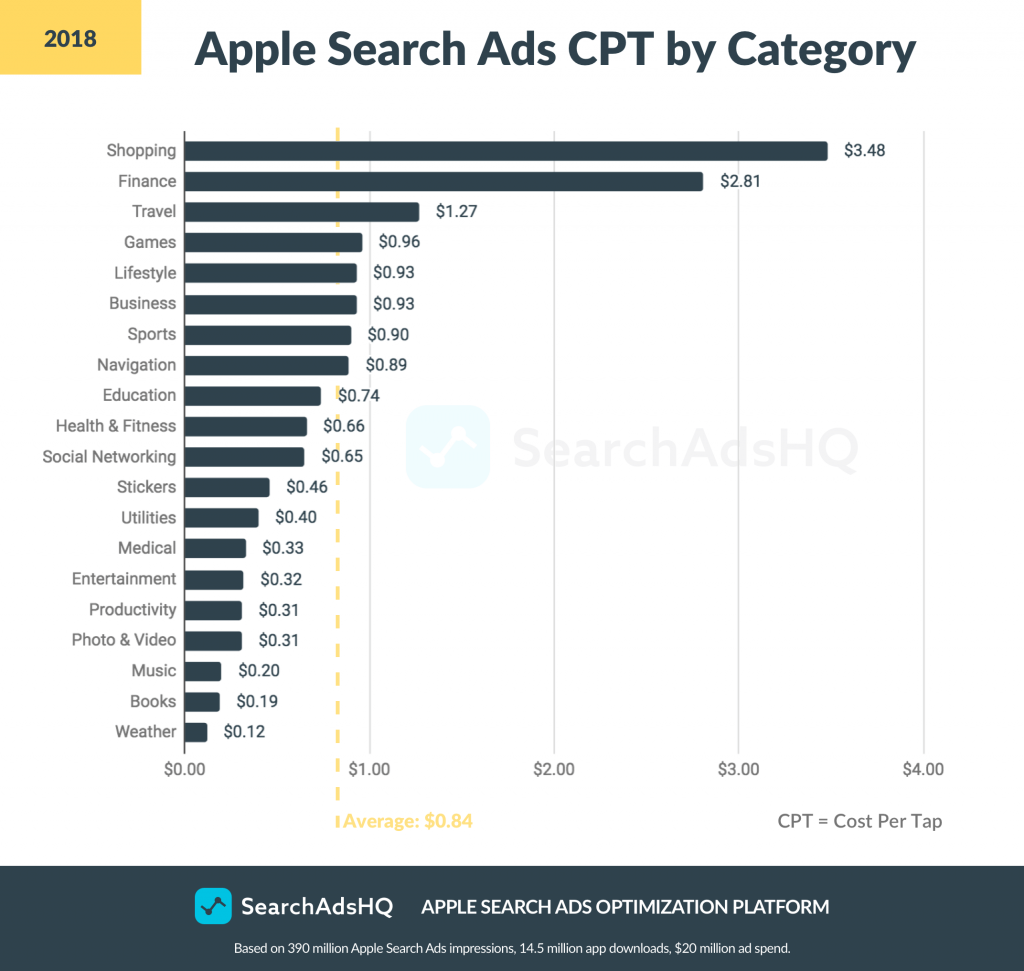 Shopping and Finance are the most expensive categories with the average CPTs standing at $3.48 and $2.81 respectively.
App Store's most popular categories such as Games, Health, Lifestyle and Education follow heavyweights allowing app publishers to buy taps for around $1.00.
Music, Books and Weather turn out to be the categories with the lowest competition and the lowest CPTs (so far).
Surprisingly, Photo & Video is one of the cheapest categories in Apple Search Ads as well. Apple claims that you should target at $.50 buying taps, but if you work with photo/video apps, you can bid even lower and get taps for just $.30 CPT.
Alright, since now we know the average Costs per Tap by categories, it's time to learn another highly important mobile app marketing metric – how much you pay for one acquired user.
Mobile App Marketing Benchmarks: Apple Search Ads Cost per Acquisition (CPA)
Cost per Acquisition (CPA) is the mobile app marketing metric that indicates how much you pay for every "Get" button tap.
In theory, the CPA would equal your Apple Search Ads cost per install (CPI). However, we can see from our statistics that the number of app page visitors who tap "Get" differs from the number of visitors who eventually install the app. Therefore, the actual CPI can be higher than CPA.
To make sure no technical and behavioral issues stop users from installing an app and pump up your Apple Search Ads CPI, connect your app attribution system (AppsFlyer, Branch, Adjust, Kochava, TUNE, etc.) with SplitMetrics Acquire, an Apple Search Ads optimization platform, and see the App Store ads performance on all levels in one place.
The average Apple Search Ads Cost per Acquisition is about $1.76, but varies significantly for different categories: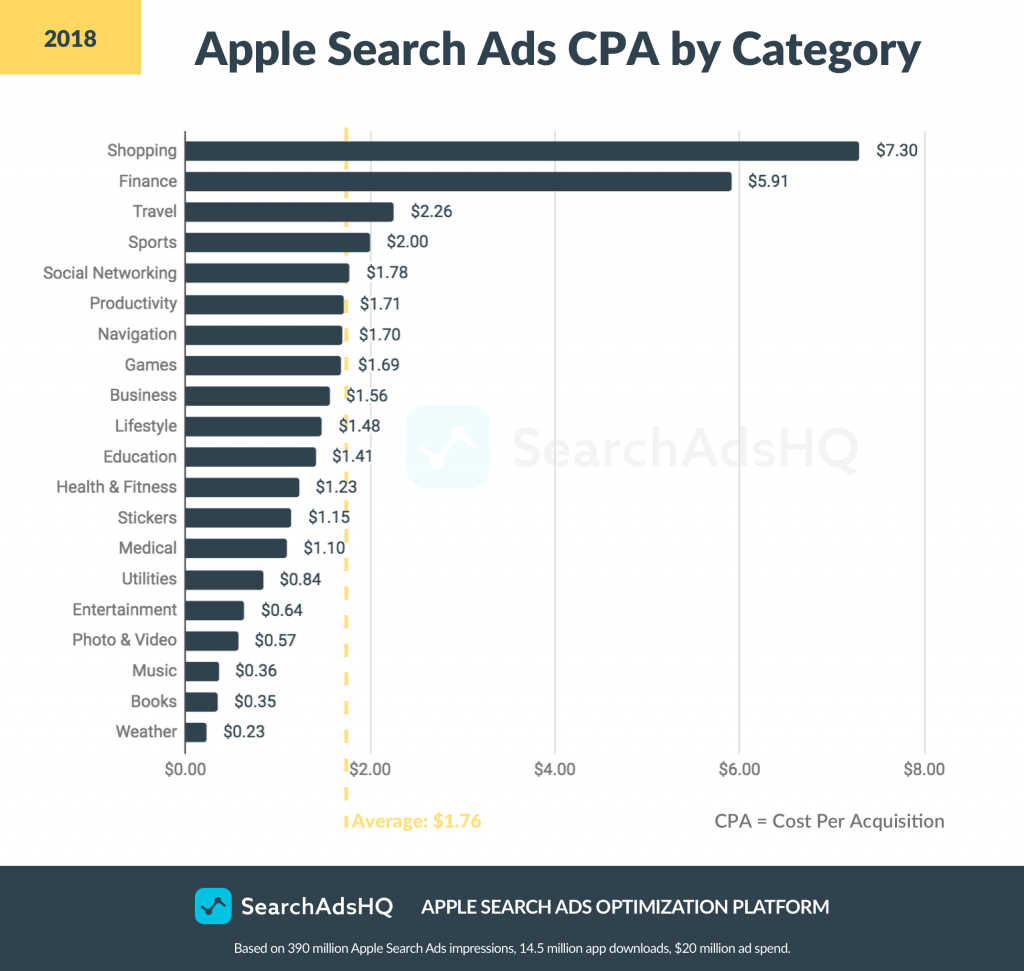 Shopping and Finance turn out to be the most popular yet expensive categories. For such applications, the average App Store ads cost per acquisition is around $6.00.
App publishers working in the Music, Books and Weather categories are to pay the lowest price – only about $0.30 per acquisition.
Games, Health, Lifestyle and Education app publishers buy users within the App Store for around $1.50.
If you look through the CPT and CPA tables once again, you will notice that a high CPT doesn't necessarily turn into a high CPA. For example, Games have one of the highest CPTs, but the final cost per acquisition is lower than the average CPA across all categories.
What makes such unequal distribution possible?
This mismatch is predetermined with a conversion rate (CVR) of your app product page. When it comes to mobile app marketing metrics, a high CVR is decreasing the final cost per acquisition in one category, whilst a low CVR pumps up CPA in another one: people tap on ads but do not install.
That's why before app marketers start investing in Search Ads, it makes sense to optimize their product pages. Mobile A/B testing with SplitMetrics is one of the most efficient and trustworthy ways to do it. Only at perfecting all store page elements, app publishers are able to make the most of Apple Search Ads.
The example of the Game category proves it. This app store segment is famous for its extreme competition which makes game publishers take care of their product page optimization.
Thus, optimized store pages of games mitigate the impact of high CPT and favor effective Apple Search Ads activity.
Is the average $1.76 Cost per Acquisition low or high?
Let's compare Apple Search Ads with Facebook App Install Ads. According to AdEspresso, depending on time and devices, the average CPI fluctuates from $1.22 to $2.62 per install across all categories. It's relatively close to the figure we see in Apple Search Ads: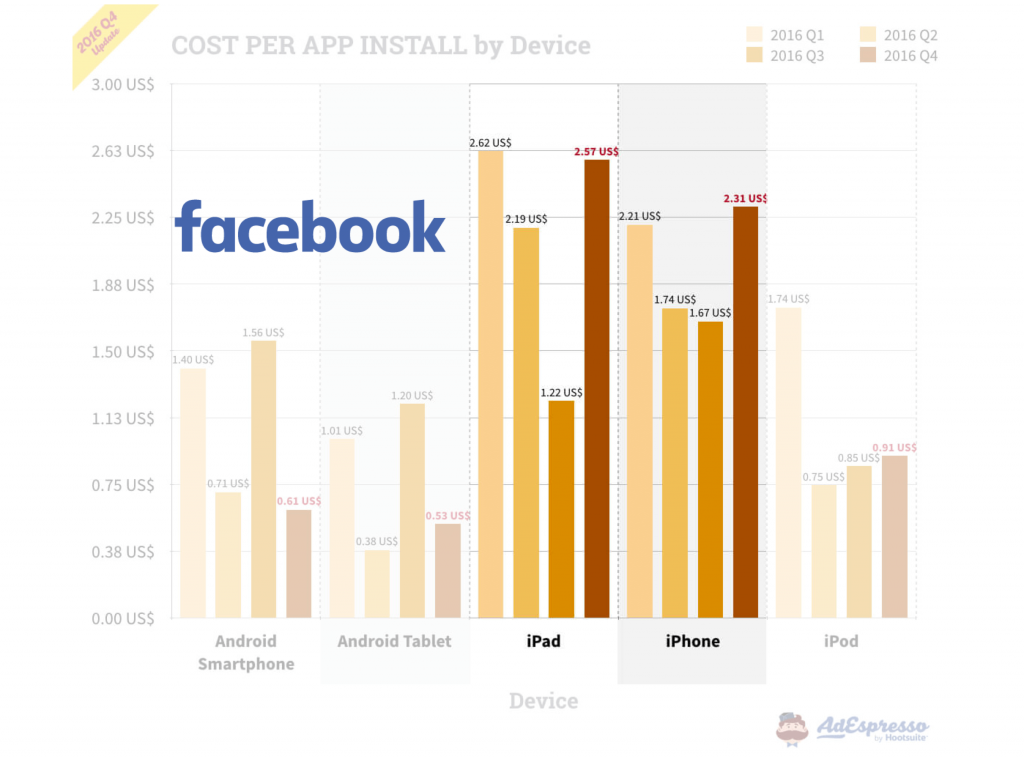 Mobile App Marketing Benchmarks: Apple Search Ads Tap-through Rate (TTR)
According to SplitMetrics, the traffic share of the first position in Search is around 19%.
Early conversion experiments with Apple Search Ads had shown that average users didn't understand that they deal with an ad and behaved like organic users would – providing a high tap-through rate.
However, our recent studies of TTR in Apple Search Ads show that now users recognize and start ignoring paid ads focusing on organic results: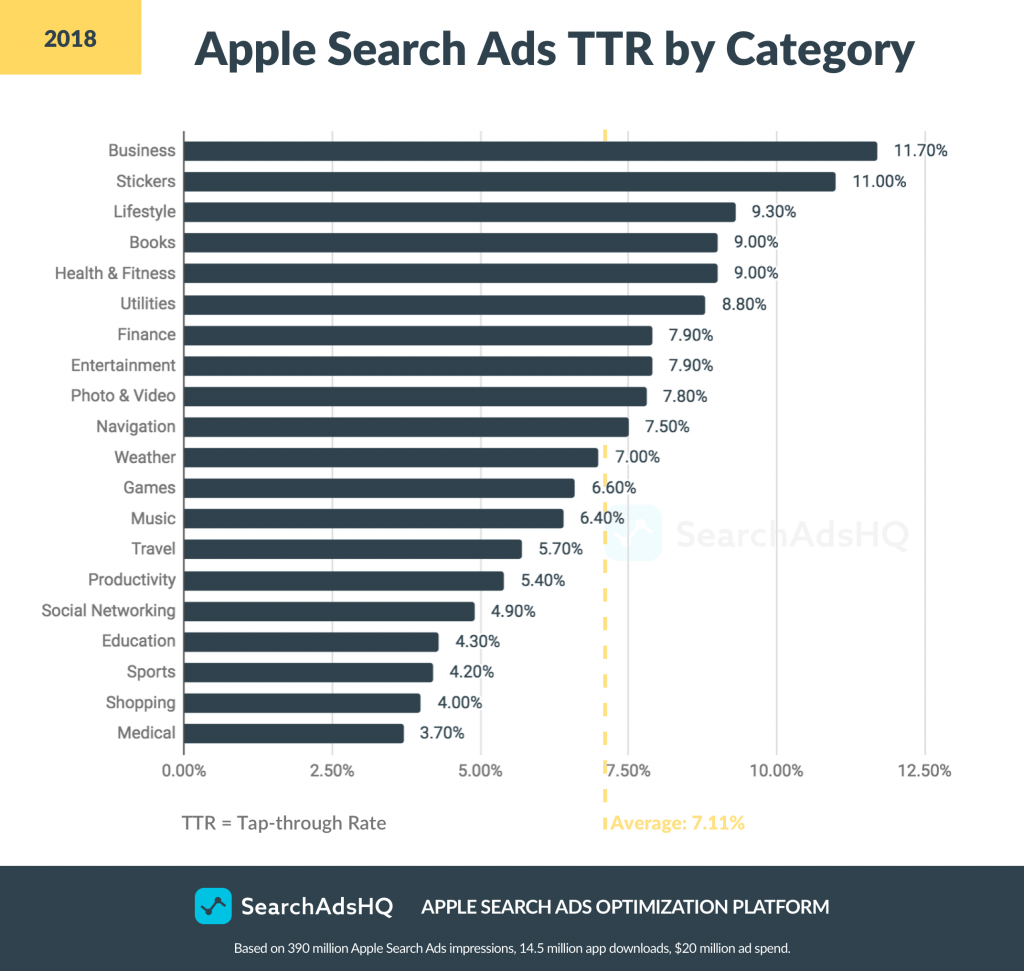 Thus, the highest TTR is observed in Business, Stickers, Lifestyle, Books and Health & Fitness categories, all average TTRs there are above 9%. So that means, running the App Store ads in these categories, you can expect 90 out of 1,000 people to click on your ads.
The lowest TTRs are in the Medical, Shopping, Sports, Education and Social Networking categories where it barely reaches 5%.
What are the reasons behind these figures?
Well, according to TUNE, 90% of the top keywords refer to big companies and well-funded startups: Amazons, Facebooks, Googles, Sonys, and Netflixes of the world. That means the majority of the App Store searches is not about discovery. It's about a means of accessing something specific.
The more branded keywords you use for your ads, the lower TTR you're likely to have.
Why Apple Search Ads is not actually "expensive"
The short answer is, it is app publishers who determine costs.
Apple Search Ads functions on an auction basis, which means that the price you pay for a tap is the bid of your closest competitor + $0.01.
Besides, the relevance score of Apple Search Ads ensures you compete only with relevant applications. Moreover, it is likely that these applications will be from the same category and weight class as your app.
This way, Apple eliminates CPT bid peaks and provides all conditions for fair competition. It should definitely become a part of your mobile app marketing strategy.
Check the Guide on how to reduce CPA and CPI for your mobile app here.
How to improve Apple Search Ads performance
Before joining a big auction and competing with other advertisers on Apple Search Ads, it might be also great to look at key factors that determine Apple Search Ads costs and learn how to adjust the CPT you're getting to your mobile app marketing goals.