How to win an auction in Apple Search Ads and make money in the process? It takes a great deal of planning, discipline and swift optimization.
Before you even start bidding, make sure that you have to essential pieces of information about your users:
Their LTV (Lifetime Value): without the knowledge of how much value over time users of your app are supposed to generate (by performing in-app purchases, subscribing to your service, triggering adverts and so on), you have no true means of calculating how much you can actually spend on acquiring them. Connecting campaign information from Apple Search Ads to in-app user behavior and spending data acquired from the Apple Ads API or using Mobile Measurement Partners is a top priority.
Their intent: search queries are a direct representation of user intent on the App Store. Proper and continuous keyword research is the foundation for your bidding. Keyword selection, evaluation and grouping is the most important part of data-driven and effective bidding.
Your approach to bidding in Apple Search Ads should be data-driven, free of bias, quick and flexible. It isn't easy and certainly is time consuming – this is why more and more specialists choose to rely on automated systems for bidding and managing their campaigns.
There's one more thing you need to check before we dive into the nuances of bidding. Make sure your app's product page on the App Store is optimized. App store optimization is the very foundation of every single user acquisition strategy. ASO means high relevance and conversion rates – those two parameters are crucial to maintaining optimal cost of acquisition.
How does Apple Search Ads bidding work?
Your preset maximum bid (max CPT bid) will serve as a limit, preventing you from exceeding your specified bid.
Given that Apple Search Ads offers two options, namely Basic and Advanced, it's important to note that these alternatives employ distinct pricing models: Apple Search Ads Basic that follows a cost-per-install (CPI) approach and Apple Search Ads Advanced which employs a cost-per-tap (CPT) model.
In this article, we're focusing only on Apple Search Ads Advanced, as the other is a fully automated service.
Apple Search Ads Advanced aids bidders by providing them with two indicators:
Suggested bid range that shows how high your max CPT bids should be to increase the chance of your ad showing;
Bid Strength that provides a visual representation of a grade assigned to your maximum bid, based on its competitiveness.
More information can be found on official help pages of Apple Search Ads. Both indicators are calculated by the platform by taking into account a wide range of factors. Always pay attention to bid insights in Apple Search Ads. However, we always encourage all app marketers to seek third party benchmarking data. The more you know, the better.
Bidding strategy and campaign type
New Campaigns
Launching a new campaign can be challenging. Indicators provided by Apple Search Ads or benchmarks acquired through any other source can be immensely helpful, but due to the dynamic nature of auctions, what can be considered a competitive bid changes fast..
Because of this, it's crucial to maintain systematic check-ups and pause those keywords that are underperforming or increase your max CPT values for those with good results.
Existing campaigns
For ongoing campaigns, a more nuanced approach is required. Analyze the performance of your keywords, bid history and adjust your bids accordingly. Allocate higher bids to keywords that are driving conversions and lower bids to those that are less effective. For maintenance of existing campaigns and managing their bids you need to remember about seasonality. Performance benchmarks for certain keywords can vary greatly depending on the time of the year. These fluctuations in costs of taps or acquisitions are highly dependent on an app's category and various holidays and festive periods.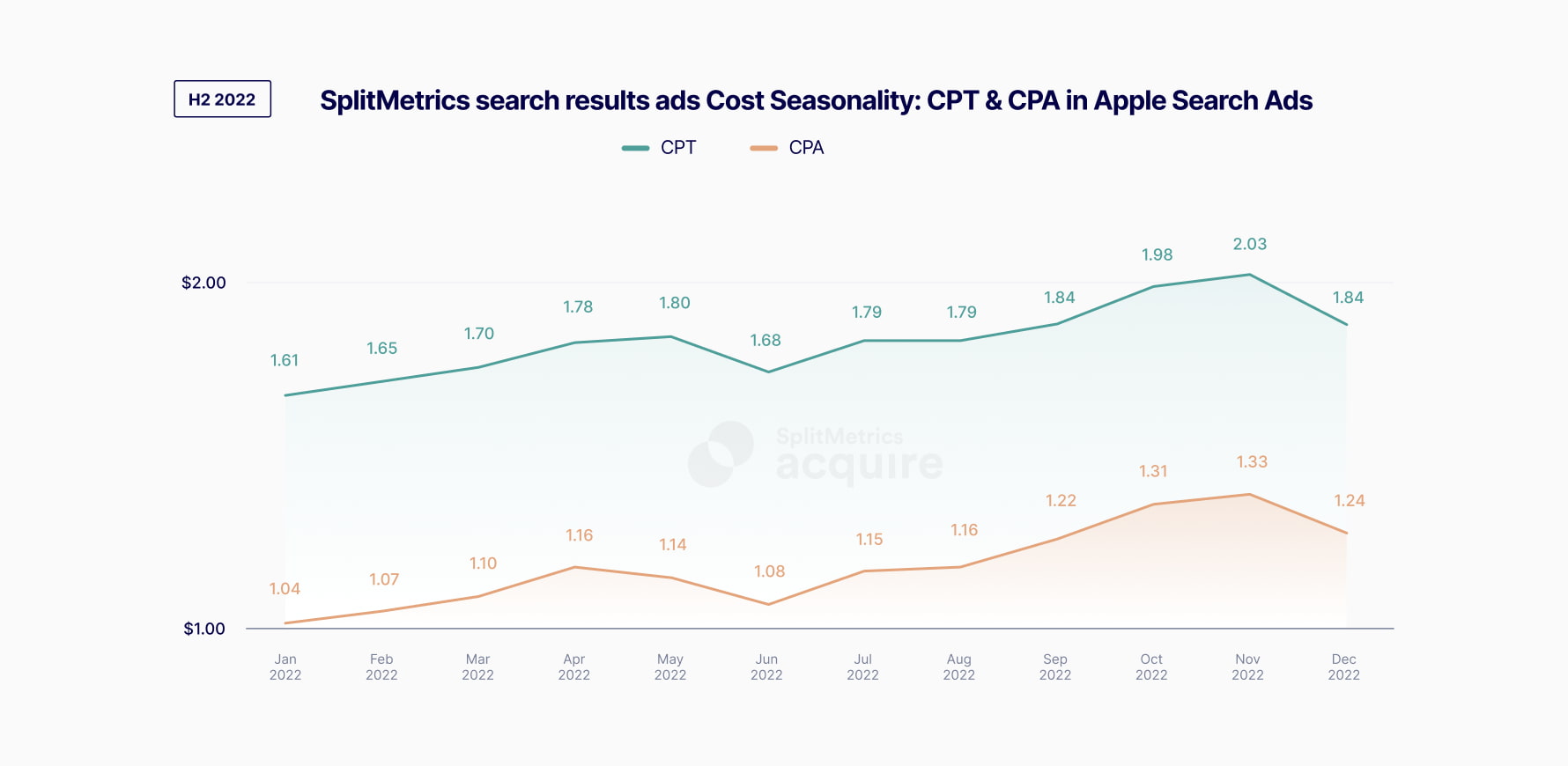 Seasonality is caused by user behavior and the reaction of competitors to it. For example, when Christmas related keywords may become more popular during the end of the year, it immediately triggers aggressive bids on them.
Bidding and keywords: why choosing the right keywords is so important?
Your bidding strategy may depend on the type of the keyword, as they reflect user intent on different levels of the funnel. Because of this, campaigns should be organized into a structure that will make applying different bidding strategies possible. Good organization of keywords helps improve the efficiency, effectiveness, and performance of your Apple Search Ads campaigns.
What is a campaign structure?
A campaign structure is a methodology of organizing your campaigns and ad groups in a way that helps scaling, control, reporting and management – including bidding. The two most popular structures are semantic-based (organized by keywords) and value-based ones (organized by their value). Here's an example of a semantic based account structure: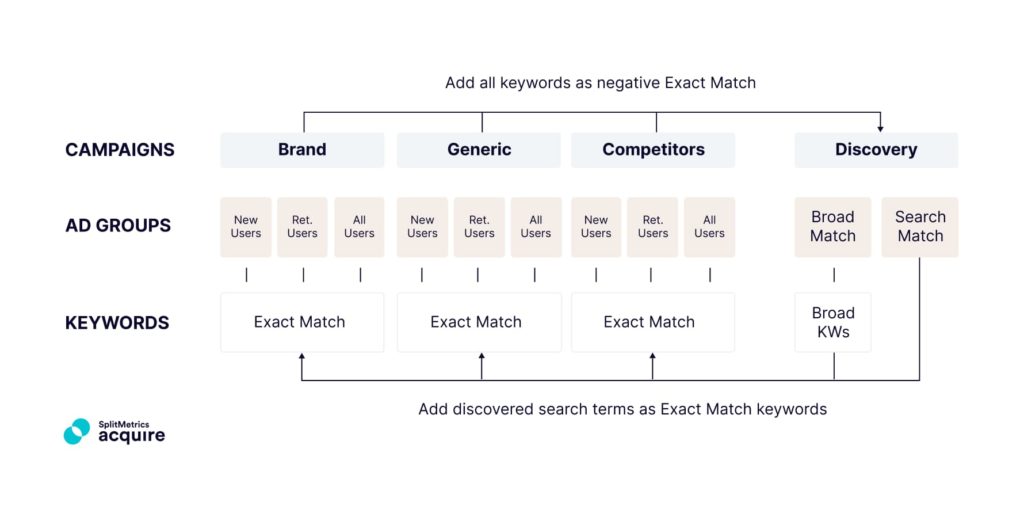 Following our example of optimizing bidding for new campaigns: suppose that a newly discovered keyword in a Discovery campaign is promising. During our weekly check up we move that keyword as "exact match" to one of the three other categories, depending on what the keyword is. There, we can proceed to increase our bid, hoping for more conversions.The semantic based account structure is universal and recommended by Apple Search Ads. It also serves as the basis for this article. It's not the only one however. For example, the image below depicts a value based account structure: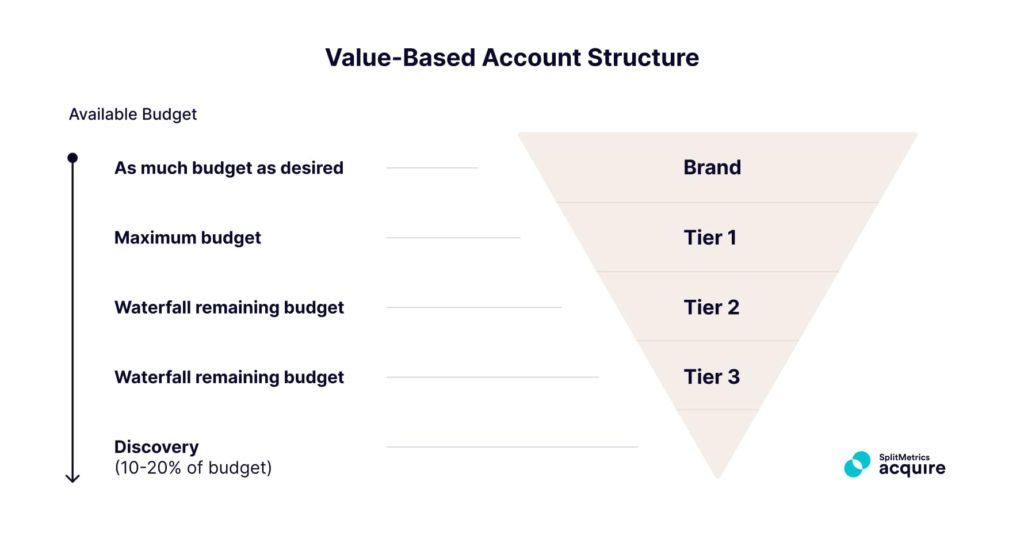 Read more about campaign structures in our guides: How to Build Semantics-Based Apple Search Ads Account Structure and Value-Based Apple Search Ads Account Structure.
Keyword types
Now that we've introduced campaign structures, let's discuss how bidding strategies can vary for each of the keyword types that are included in semantic based ones.
Brand keywords
Brand keywords are specific to your app and represent its name or variations of it. Bidding on brand keywords helps you capture users who are already familiar with your app. Since competition for these keywords is generally lower, you may opt for more moderate bids. However, don't neglect your brand campaigns by any means! If you do, their lower level of entry may encourage your competitors to bid for them and take over some part of your traffic.
Competitor keywords
Luckily, you can take advantage of this strategy too. Bidding on branded keywords of your competitors can attract users searching for alternatives, provided you approach this strategy carefully. Make sure your ad and product page clearly highlight your app's unique value proposition compared to the competitor.
Generic keywords
Generic keywords are more general and relate to the category or functionality of your app. These keywords have higher search volume but also stronger competition. Bidding on generic keywords requires a strategic balance between bid amount and ad relevance.
Discovery keywords
Discovery keywords are related to broader topics, often not directly related to your app. They can help you tap into new audiences and increase brand visibility. However, bidding on discovery keywords requires a cautious approach, as relevance is critical to ensure your ad isn't perceived as misleading. Take advantage of the Search Match function in Apple Search Ads – it will be a continuous source of new keywords. Make sure to evaluate keywords from the Discovery group at least weekly and move them to Brand, Competitor or Generic groups to increase their bids.
Additionally, should you notice that keywords from these three groups are not performing well, pause them quickly and add them as negative, exact match keywords to your Discovery campaign. It will improve the quality of incoming new suggestions.
Apple Search Ads bidding optimization
Raising the Bids
Increasing your bids can lead to higher ad placements and more visibility. This can be effective when you notice that certain keywords are driving significant conversions. Gradually raise the bids for these keywords to capture even more qualified traffic.
Lowering the Bids
Not all keywords perform equally well. If you're noticing high spend with minimal returns, consider lowering your bids for underperforming keywords. This will help you allocate your budget more efficiently and focus on keywords that drive better results.
Apple Search Ads bidding tips
Here's a collection of tips & best practices to wrap up.
Start with ASO: complete all necessary metadata and audit it regularly. Optimize your creatives. Relevance and high conversion rates are crucial to maintaining optimal cost of acquisition.
Set realistic goals: understand your app's conversion rates and set realistic goals for your campaigns. Any data on benchmarks will help you formulate them.
Set clear evaluation criteria: don't waste your time thinking whether a keyword is performing well enough to raise the bid. Set clear values that trigger pausing, increasing or decreasing your bids.
Monitor regularly: keep a close eye on your campaign's performance. Regularly review your bids and adjust them based on the data you gather. At least weekly evaluation is recommended.
Use negative keywords: prevent your ad from showing up for irrelevant App Store search results, saving your budget for more qualified traffic.
Text and experiment: this is necessary to understand the impact on ad visibility and conversions.
Focus on ad relevance: A high bid alone won't guarantee success. Rely on relevant keywords to improve your chances of conversion.
Use automation solutions for bid management: machines are quick and they never miss keywords that must be optimized, saving you lots of man hours in the process.
Conclusion
Mastering Apple Search Ads bidding requires a combination of strategic thinking, data analysis, and constant optimization. By understanding the nuances of bidding, choosing the right keywords, and employing effective strategies, you can increase your app's visibility, attract relevant users, and achieve your advertising goals.
It isn't an easy task, as all bidding decisions should be data-driven and quick in response to the fast paced environment of Apple Search Ads. However, when your goals and evaluation criteria are clear – you can make decisions almost instantly.
This is the reason for the increasing adoption of automation services for managing Apple Search Ads. With over 200 automation rules or a full automation service (Bid Strategy) and a wide range of assisting solutions, systems such as SplitMetrics Acquire can react to changes immediately (based on your criteria), taking the burden of bid management off your chest.