In this article, we are going to explore the specifics of creating an Apple Search Ads account structure based on keywords semantics. This is one of the approaches we suggest using, along with the value-based structure.
If you feel like learning high-level principles and general ideas, read about how to structure an Apple Search Ads account in Lesson 6 of our Course.
Now, let's get down to the semantics-based approach.
Basically, it suggests splitting your Apple Search Ads account into five major campaign types – brand, generic, competitors, discovery, and proxy. Along with this, keywords in all the campaigns are added as exact match, with the exception of discovery, which is aimed at keyword mining. You can also read about this kind of structure in details in a blog post by Phiture.
The picture below illustrates how a semantics-based account structure may look like: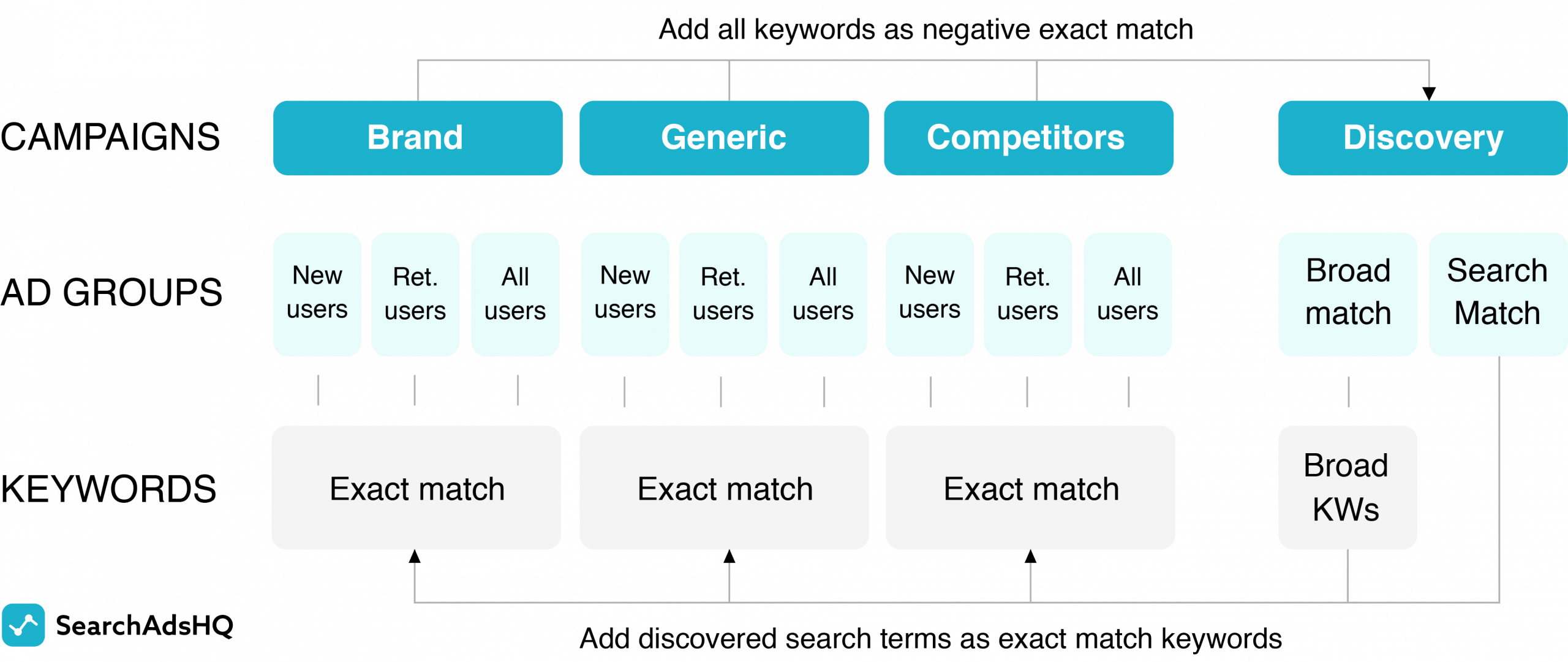 We have found that the structure above is effective for the majority of Apple Search Ads advertisers. If you want to learn how to create and apply it to your account, read on: we'll dig deeper into the setup of each of the five Apple Search Ads campaign types.
Brand campaign
Brand campaigns are based on keywords which are directly associated with your brand. These can be the name of your app or company, publisher title or common misspellings of the above.
As a rule, branded Apple Search Ads keywords are capable of attracting the most high-intent users. They come to the App Store with a clear understanding of what they want to find. That's why branded keywords are usually added as exact match and assigned the highest bids of all.
Meanwhile, the average CPT of a branded campaign will be the lowest. This is caused by extremely high relevance to user search queries, which brings TTR and Conversion Rate up.
Here's what a branded campaign looks like: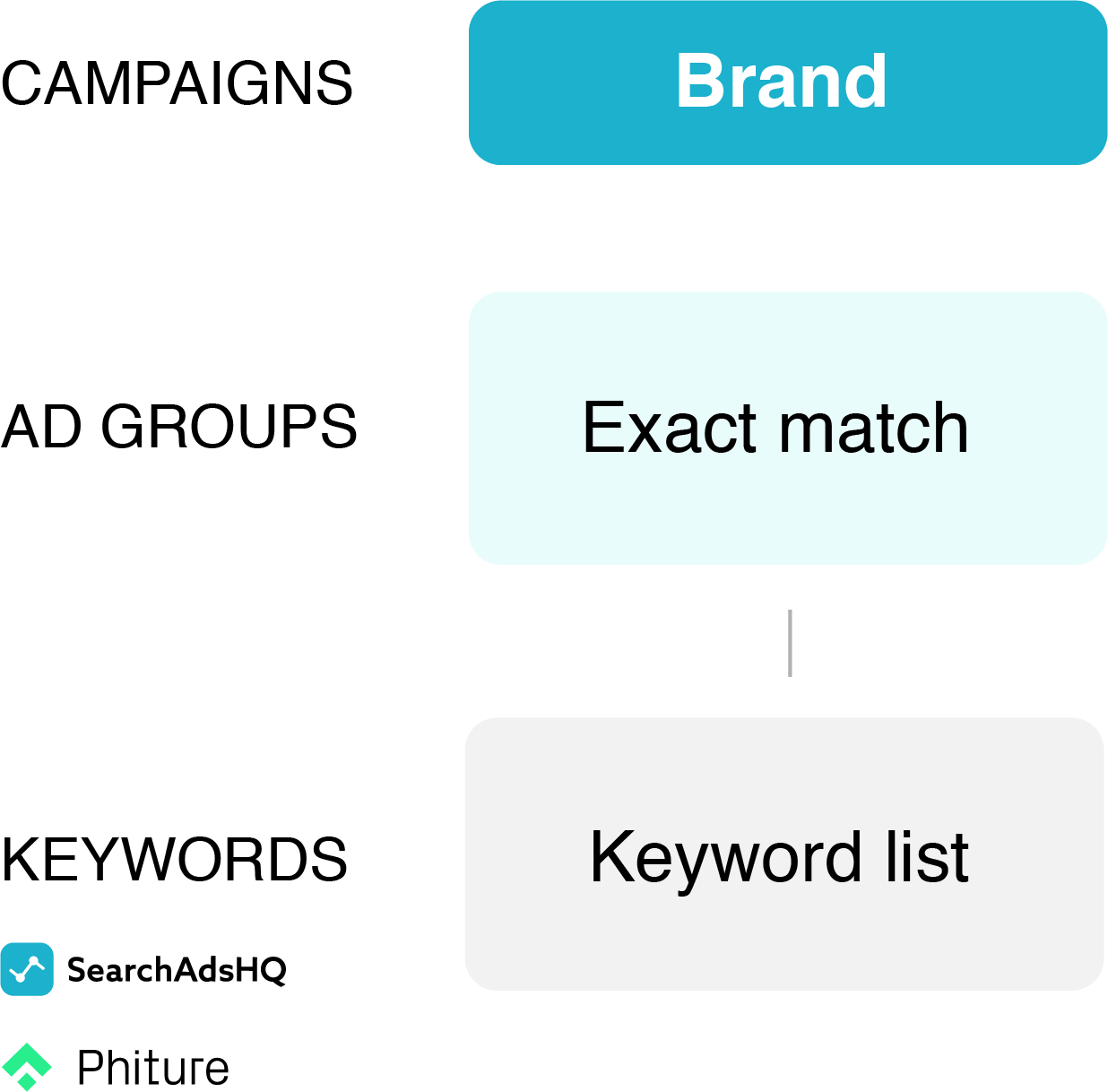 When it comes to running campaigns for branded keywords, quite an obvious question arises: "Don't I simply buy the traffic that I would get organically for free?"
The thing is that brand campaigns aren't budget wasters, but rather brand protectors. If you have a well-recognized brand and don't run campaigns for your branded keywords, chances are that your competitors do. The stakes are high: you can lose the most high-quality users who search by your branded queries.
Think about it: around 66% of all App Store searches include the app title or a publisher name. This means that branded Apple Search Ads keywords can bring about the biggest influx of traffic.
However, running brand campaigns can be hazardous to Facebook-level strong brands. When users search for such a brand, they are likely to ignore the ad of a competitor before the organic result. But they will definitely be more inclined to tap on an ad banner with the searched brand.
While strong brands suffer the most from cannibalization, smaller brands are at an advantage. If such an app is ranked the first in organic search for its branded keywords, a sponsored banner will be text-based. This is a technique used by App Store Search Ads to bring down cannibalization. As the organic result has an image, users will naturally prefer visuals to a text banner.
As you can see, running brand campaigns is not always about budget burning. It's a vital necessity which protects your brand and prevents you from losing your users to your competitors.

Generic campaign
Another component of a semantic-based Apple Search Ads account structure is a generic campaign.
Keywords added to this campaign type are descriptive. They specify your app's features and services, but don't include brand names whatsoever. Discovery-centric queries make around 34% of the App Store queries, and they can help you reach a high-quality audience searching for a solution to their problem.
As a rule, there are quite a number of generic keywords in a single Apple Search Ads campaign, that's why we recommend splitting them into several ad groups. One of the ways to do this is based on search intent. This approach was also thoroughly described by Phiture.
Search intent is the user's readiness to download your app. For clarity, the "intent grades" are qualified as high, medium and low.
As an example, let's see how to split keywords for a hypothetical e-signature app with an additional feature of document scanning. In the table below, you can see three ad groups and related user intent:
Ad Group
eSignature
Document scanner
Invoicing

Intent level

High

Medium

Low

Intent

Users look for a solution to e-sign their documents. eSignature is the app's USP and a primary paid feature.

The primary thing that users look for is a document scanning feature. They aren't necessarily interested in eSignature, but e-signing is the next logical step after creating the digital copy of a paper document.

The target audience may include people who look for an invoicing app. Such a functionality is usually part of document management software. However, searches of this kind are less relevant to the app's USPs.

Exact keywords

electronic signature




signature app




sign documents




document signer




e-sign




sign

scanner app




pdf scanner




document scanner




scan app




scan documents

invoice




invoice maker




invoice app




invoice maker free




invoice generator

send invoice
Once you've analyzed the grades of intent and keywords, it's time to build the sub-structure of your generic campaign. It may look like this: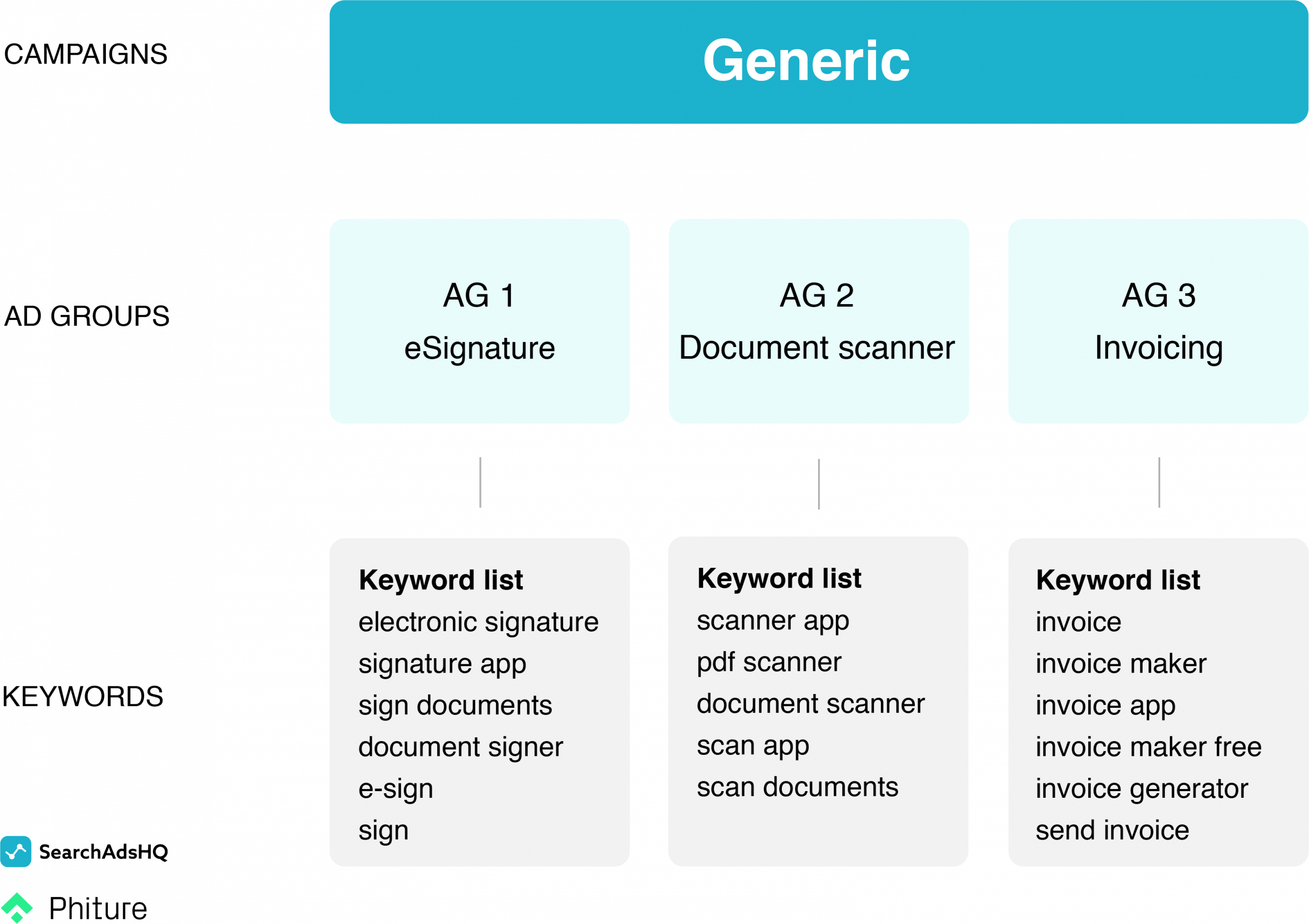 Basically, we recommend targeting by all age ranges and genders, and show ads to new users only. The thing is that when you specify a certain age range and/or gender, Apple will not show your banner to users with LAT "On". And this is quite a big share – around 20% of the audience.
Of course, there are exceptions to this recommendation. For some apps it's simply vital to set targeting for a particular age and/or gender. For example, it would be ridiculous to set "All" genders for a period tracker app built for the female audience in the first place.
When it comes to device targeting, there's a reasonable inclination to target iPhone and iPad users separately. This helps you be more flexible about bidding and budget control, as bids and performance of the two devices can dramatically differ. Moreover, this will also provide you with undiluted statistics. In the meantime, it's totally fine to have one group for both iPhone and iPad.
Competitors campaign
The next step is to create a competitors campaign. It is based on Apple Search Ads keywords that represent your rival's app or company name. As compared to your own branded keywords, they normally have a lower TTR and a higher average CPT respectively. That's why it's vital to pay closer attention to the performance of such keywords.
Considering the controversies around their performance, why is it useful to bid on competitors keywords?
Firstly, we've already mentioned that branded search terms represent the majority of queries on the App Store (around 2/3). Logically, using them has the potential to earn a lot of traffic.
Secondly, branded keywords are capable of powering up the awareness of your brand. When App Store searchers look for your competitor, they are aware of their problem and think of your competitor as a solution. As users are already interested enough to download, it's the perfect time to pop up before their eyes. Your chances of winning the rewarding sponsored place for your app rise if your rivals fail to protect their brand.
To divide competitors campaigns, use the same intent-based approach as you applied to generic campaigns. For the eSignature app in the example above, you can subcategorize your campaign like this:
Ad Group
eSignature
Document scanner
Invoicing

Intent level

High

Medium

Low

Intent

Users looking for a particular e-signature app is your target audience.

Users looking for a particular e-signature app is your target audience.

Users in search of a document scanner app may also be interested in e-signature apps.

There is a chance that people in search of invoicing apps might be interested in an e-signature functionality.

Exact keywords

docusign




docusign upload sign docs




pandadoc




signnow

scanner app




pdf scanner




document scanner




scan app




scan documents

invoice 2go




invoice simple




tiny invoice




freshbooks
Here's what the structure of a competitors campaign may look like: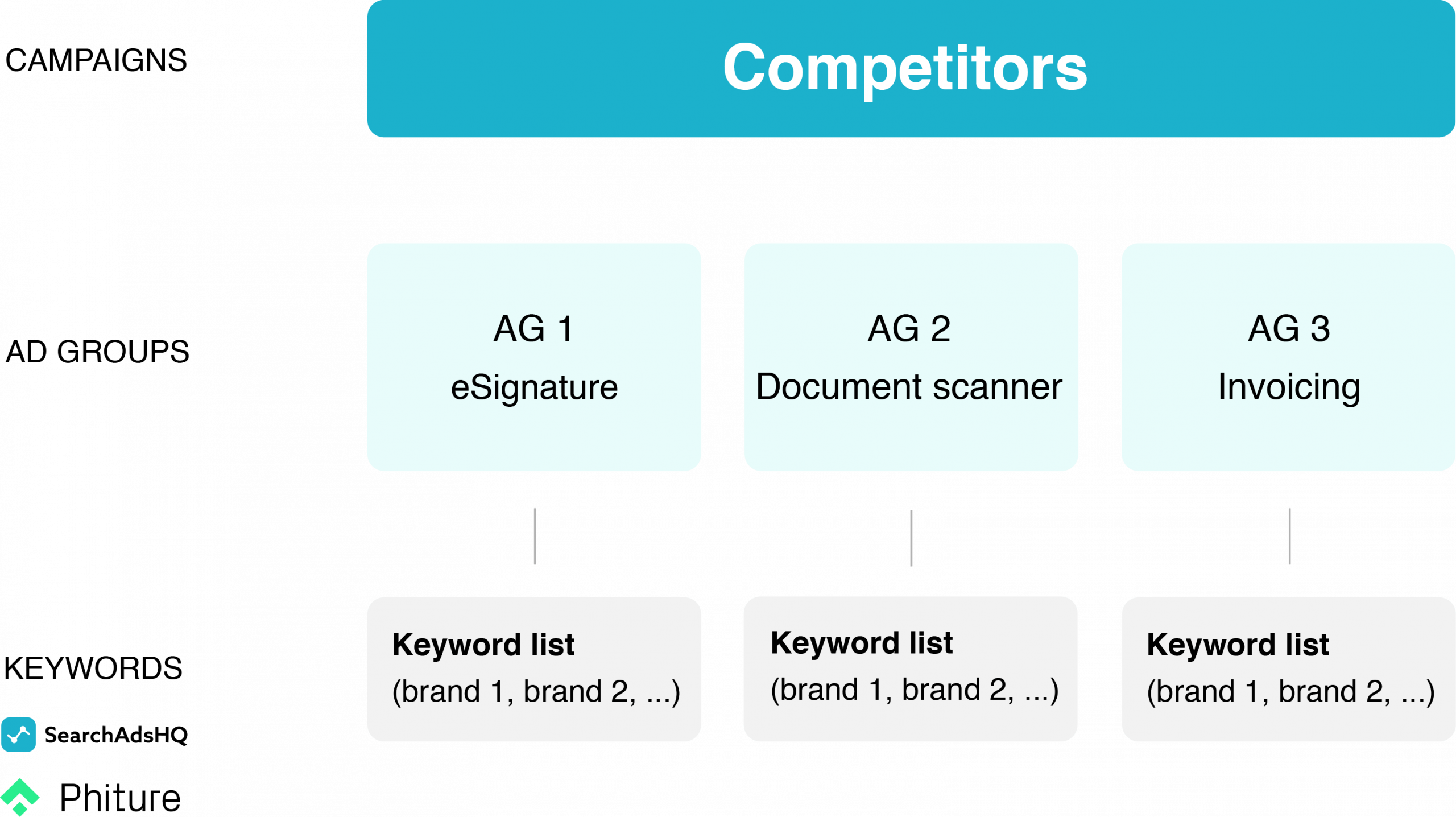 A few words about ad groups targeting: it's better to target new users here, just as we recommended doing for generic campaigns. Also, don't target all genders or age ranges, unless there are objective reasons for it.
It's better to target the devices together, unless they really differ by their performance and it's necessary to set separate bids for them. Also, targeting iPhone and iPad individually will work when you've got enough time for account management.
Discovery campaign
The main aim of a discovery campaign is to mine new relevant keywords using broad match and Search Match. Moreover, they are used to search for specific low search volume (LSV) keywords which you don't normally add to separate campaigns.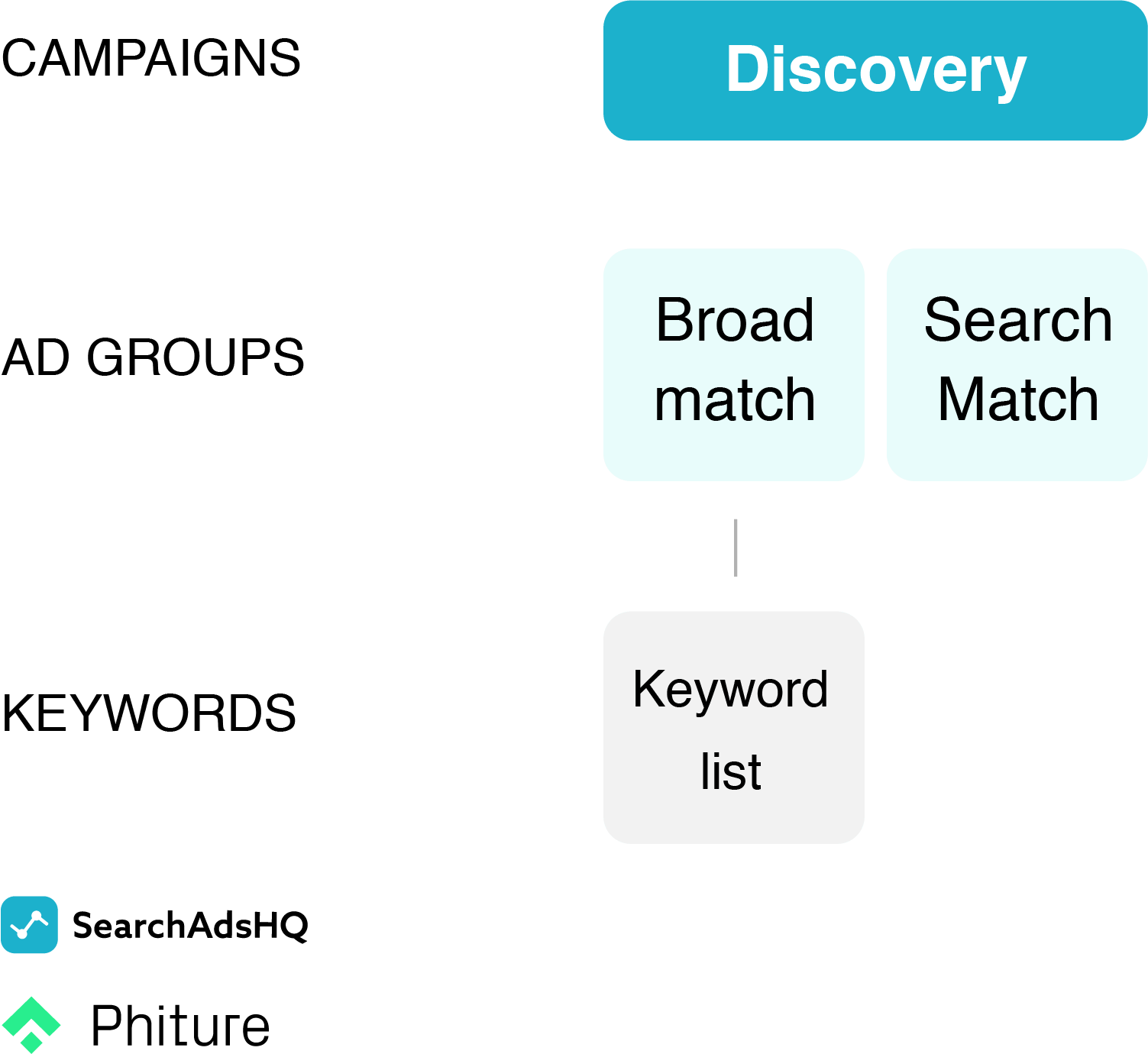 How to work with Apple Search Ads discovery campaign
There are two types of ad groups within Apple Search Ads discovery campaigns – Search Match and broad match.
Search Match is a built-in Apple Search Ads functionality to discover new keywords ideas. It matches your ad to relevant search queries automatically and thus mines high-performing keywords.
When you create a discovery campaign, set up a separate ad group for Search Match with no keywords included and toggle Search Match "On". Meanwhile, it should be switched off in each ad group within your brand, generic and competitors campaigns.
Broad match comes into play when you have some performance data accumulated. Add a list of exact match keywords to your broad match ad groups as broad match keywords. This will accelerate the process of discovering search terms relevant to your top-performing keywords.
Generally speaking, broad match can be very efficient at mining Apple Search Ads keywords especially for storefronts outside the US, where Search Match can fail to work well.
Data clarity is vital as you will have to analyze the statistics for keywords performance. To eliminate the dilution and competition for impressions, take two steps:
Well-performing keywords from

brand, generic and competitors

campaigns have to be added to broad match ad group as broad match keywords.

All keywords from your brand, generic and competitors campaigns should be added as exact match negative into your discovery campaign.
As far as age and gender targeting is concerned, use "All" for ad groups within discovery campaigns. Remember that it's key purpose is to mine as many effective keywords as possible. Targeting a specific age range and gender can hinder you from discovering good keywords ideas. You need a wider reach and a bigger volume instead, so include all devices and user segments demographically.
Discovery campaigns have a byproduct: they cover traffic for low search volume (LSV) keywords as well. As a rule, these are extremely specific keywords. Search Match assists in matching your ads to such specific queries, that's why you don't have to add them to exact match groups and bother about optimizing them.
In the chart below, you can see how the structure of a discovery campaign may look like: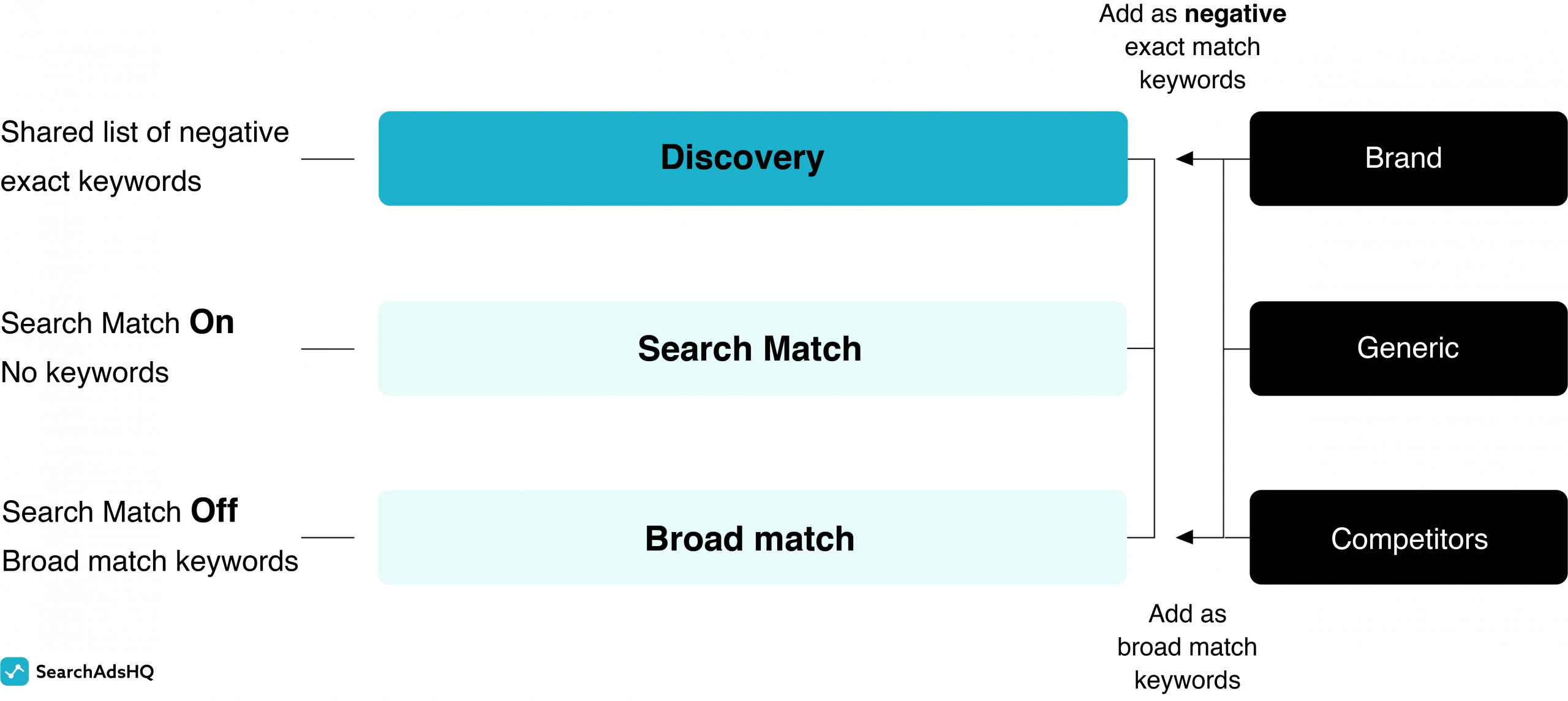 Proxy campaign
Discovery campaigns are efficient generators of keyword ideas. However, there's one problem with them: search terms which converted to installs aren't reported to MMPs. It's an App Store Search Ads data privacy policy. Thus, it's impossible to analyze post-install performance for search terms, only for keywords.
So, how to deal with the absence of downstream visibility:
Educated guess

about the performance of new search terms you revealed in your discovery campaign. Such decisions are based on your experience and gut feeling.

Proxy campaign

, which helps test the discovered keywords and evaluate the downstream performance in MMPs.
Suggested by Phiture, proxy campaigns are "a direct byproduct of a discovery campaign".
After you've discovered search terms with insufficient data on performance, transfer them as exact match keywords to a separate proxy campaign. Here's a simplified scheme of such an Apple Search Ads campaign: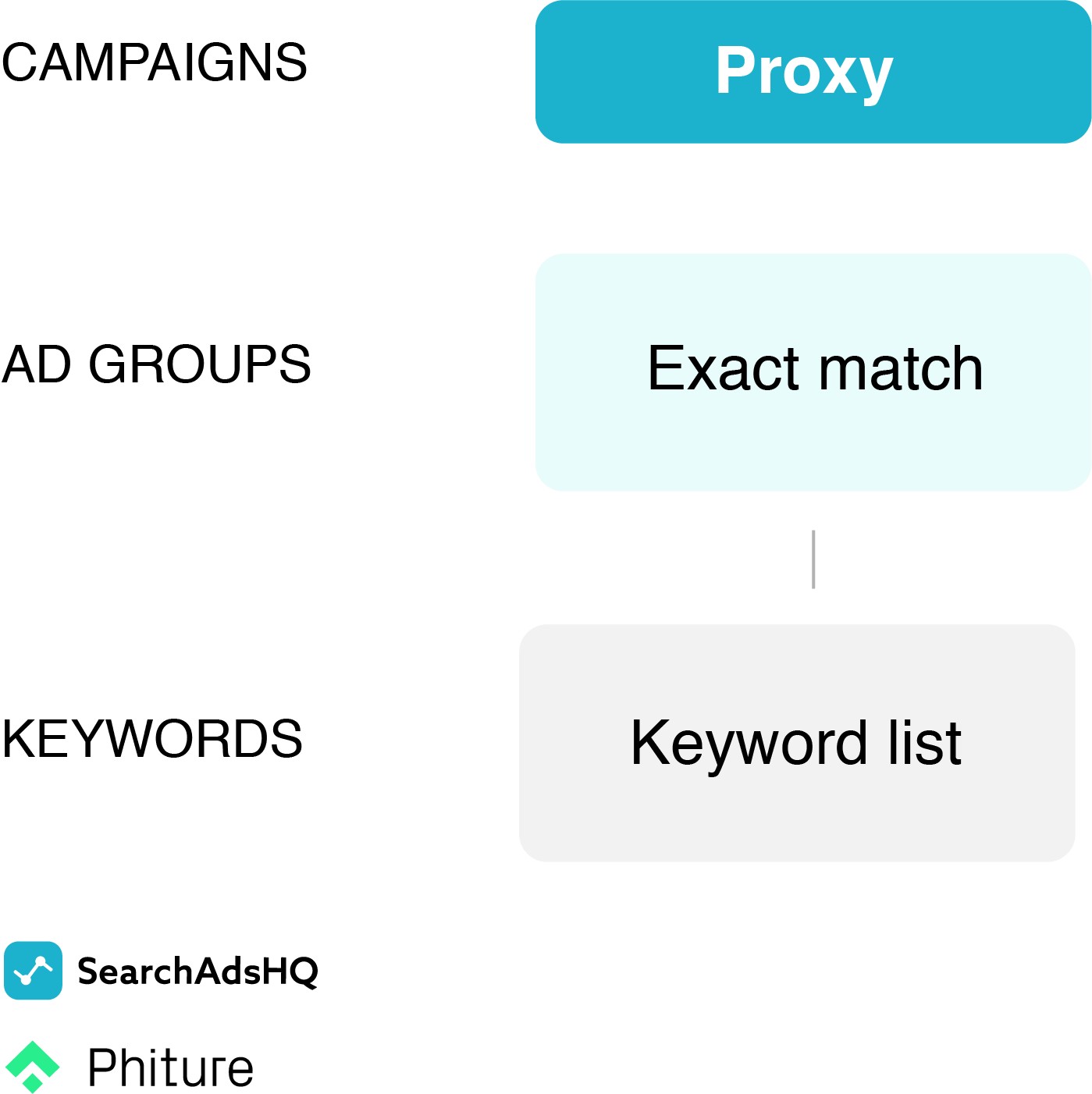 Set competitive bids and let the campaign run until enough data are accumulated. Keywords with good enough post-install performance have to be transferred to exact match campaigns – brand, generic or competitors.
As you run a proxy campaign, make sure that you monitor it every now and then. This is needed to timely transfer well-performing keywords to exact match campaigns as well as to pause non-performing keywords.
In the scheme below, you can see the steps you have to take to run a proper proxy campaign in App Store Search Ads: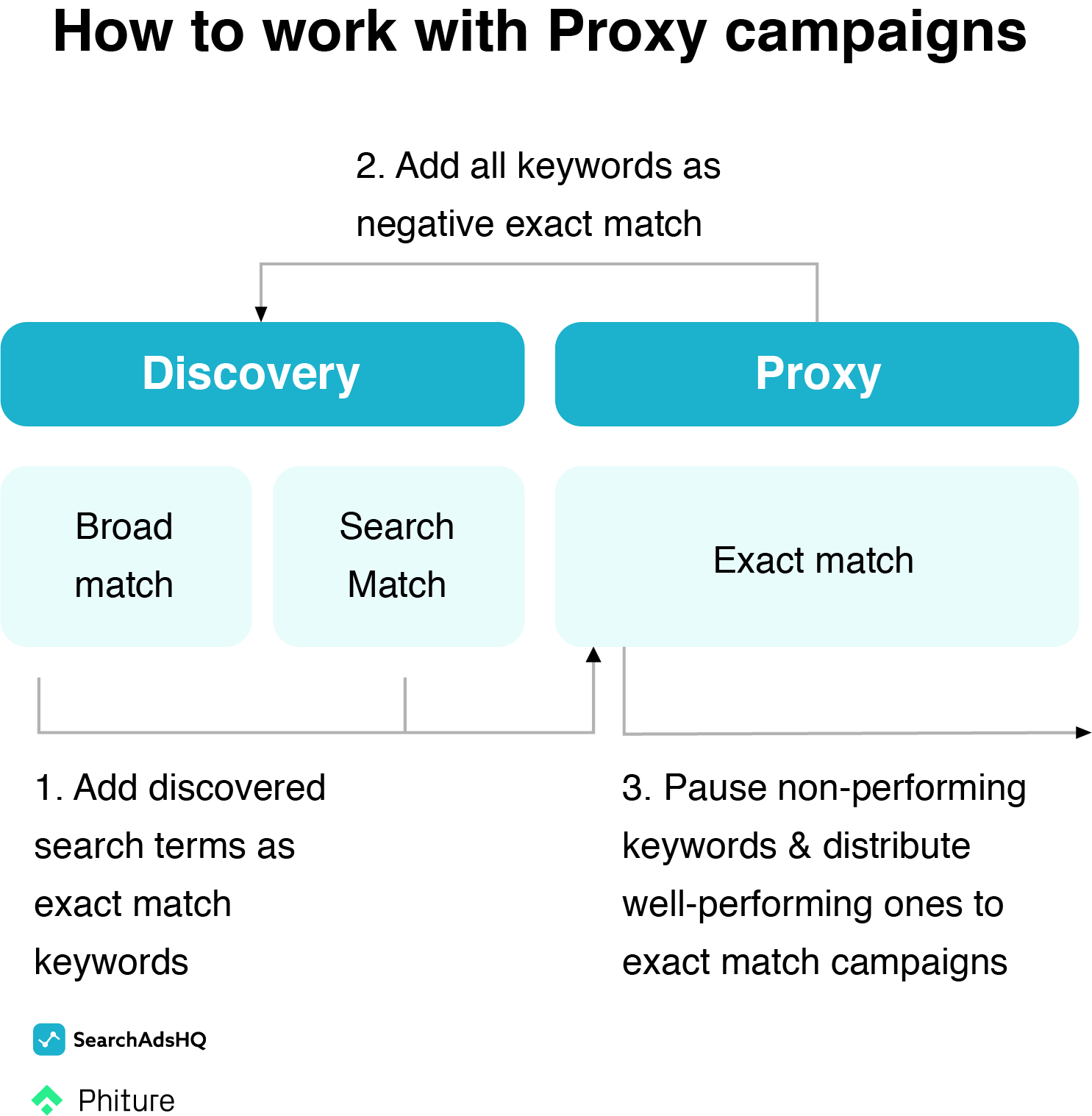 Regardless of the fact that running a proxy campaign looks like a step towards being more data-driven, it has its flip side too. This method is time-consuming and quite costly, as it requires competitive bids. Proxy campaigns are reasonable when you've got enough time and budget available.
Semantics-based Apple Search Ads account structure: managing budget
Budget management matters a lot to your performance. In the ideal case, waterfalling is the best possible approach to budget allocation. It's about focusing on branded keywords above all others, because they have the strongest potential for attracting high-intent users. The rest of the budget is assigned to mid- and poorly-performing keywords.
While this is the most optimal approach to budget management, applying it to the above-described Apple Search Ads account structure can be challenging. The semantics-based structure relies on user search intent. Waterfalling your budget can be tricky as the budget is set at the campaign level and this structure doesn't rely on the keywords value. Waterfalling works well for a value-based Apple Search Ads account structure.
So, in the case of a semantics-based structure, level up each theme-based ad group (eSignature, Scanner and Invoicing in the example above) and make it a separate campaign. By doing this, you'll achieve more flexibility in budget management and prioritize allocation based on the performance of a theme and user search intent.
As it usually happens, there's a "But…". For this account structure, the waterfalling approach is quite time-consuming and costly. Using it makes sense only when there's enough time and budget at your disposal.
Semantics-based Apple Search Ads account structure: round-up
Now that we've deconstructed each level individually, let's see what it looks like all together. The scheme below shows the ad account structure composed of brand, generic, competitors, discovery and proxy campaigns:

The general process of working with this structure includes the following steps:
Add all keywords from brand, generic and competitors campaigns as exact match negatives in the discovery campaign. This step excludes

self-competition and provides undiluted reports;

Add exact match keywords from brand, generic and competitors campaigns as broad match keywords to the discovery campaign;

Add search terms with insufficient performance data from the discovery campaign to the proxy campaign as exact match keywords;

Transfer keywords with good performance to brand, generic or competitors campaigns and pause keywords with bad performance.
Repeating this process by iterations on a weekly basis will ultimately boost your impressions due to well-performing keywords and performance optimization.
To summarize it all, the semantics-based Apple Search Ads account structure is probably the most efficient and time-tested approach. By the way, this structure can work well for storefronts whose language you are not quite familiar with.
Discover even more about different account structures, as well as the general ideas behind structuring, budgeting and targeting in our free Apple Search Ads Course.