There's an enormous ocean of keywords out there, and chances are that you miss some valuable fish. But what is the reason to catch it?
If you are not in the habit of revising your list of keywords from time to time, you bring your Apple Search Ads account to a standstill. And that means you definitely generate less revenue than you could. Because you know how it all works: more relevant keywords added result in more relevant traffic; more relevant traffic means more potential conversions, and conversions eventually bring in revenue.
This is the rationale behind keyword expansion. There are different approaches that user acquisitions managers adopt to search and add extra relevant keywords. Here, we'll dwell on the most straightforward one – building discovery campaigns.
What are Apple Search Ads discovery campaigns?
Searching for the best possible keywords to bid on is vital, if you want to improve performance of your campaigns. However, finding keywords which are just popular is only half of the job. In fact, keywords should be a perfect combination of:
high search volume;

competitiveness;

h

igh relevance score.
The key purpose of an Apple Search Ads discovery campaign is to identify relevant terms, long-tail keywords, synonyms, misspellings, etc., that combine all the three requirements above, using match types with the widest reach – Search Match and broad match. They help generate new keywords ideas and reveal top performers to be transferred to exact campaigns with higher bids.
See how broad match, exact match and Search Match performed for SplitMetrics Acquire top spenders in our Apple Search Ads keywords performance report. Learn Impressions, TTR, CVR, CPT and Cost per Acquisition by match type and word count.
In the picture below you can see how it works: keywords generated in a Discovery campaign are added to the Brand, Generic and Competitors campaigns as exact match keywords.

Apple Search Ads discovery campaigns: broad match
Broad match is a default Search Ads match type, the prime purpose of which is to match your ads to relevant search terms such as partial or close words, long variants, synonyms or related search terms.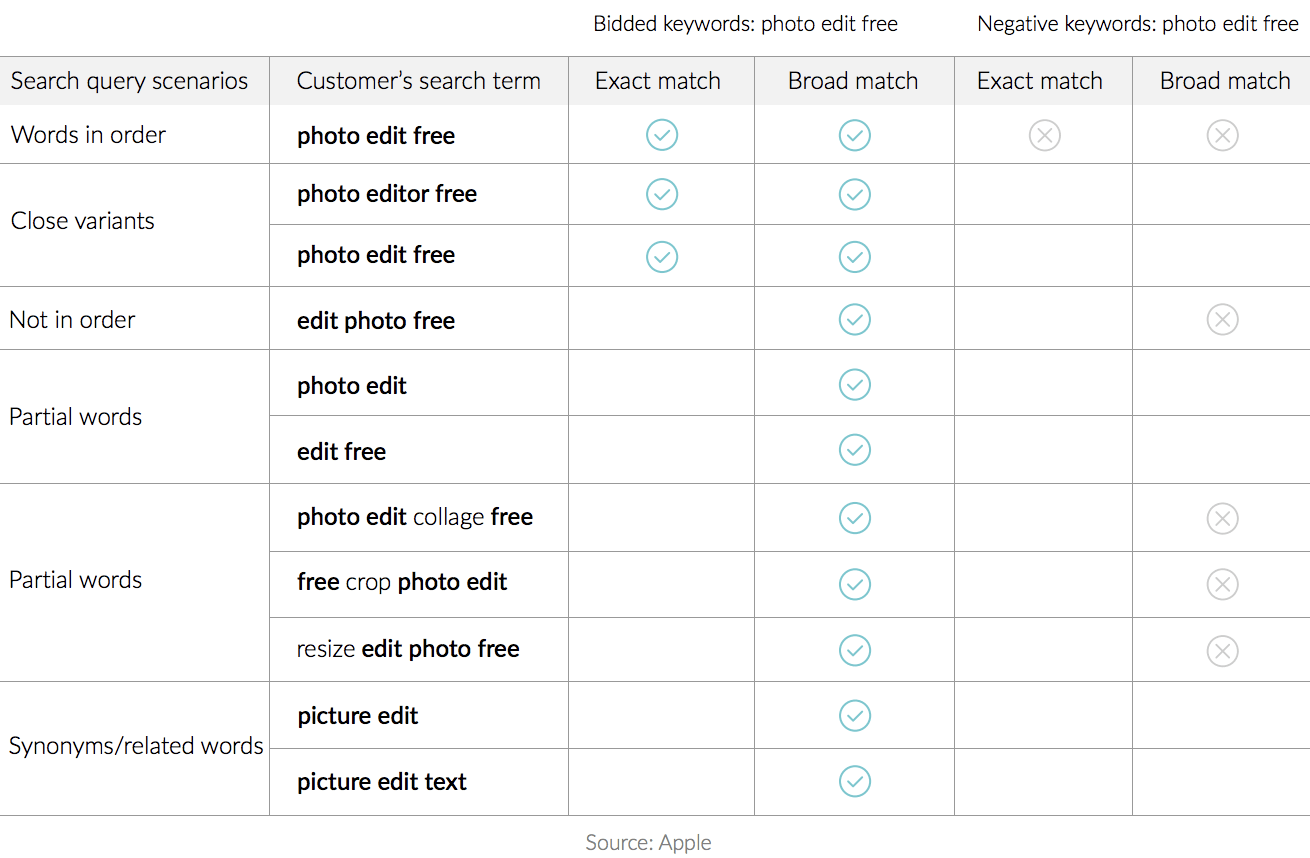 Think of it as an iceberg: if you create a group with several broad match keywords and set a small budget, you can generate hundreds of related search terms. Just what we need! And most importantly, these keywords will have a high relevance score, which is vital to Apple Search Ads.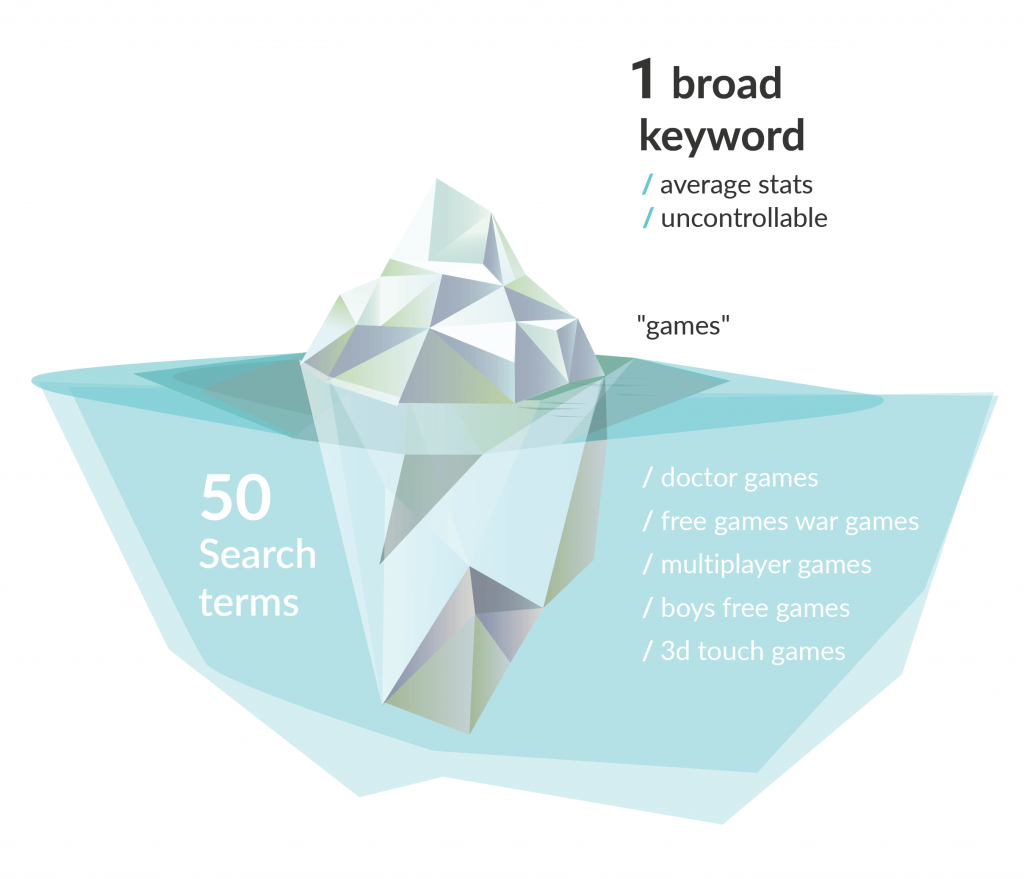 After your campaign has run for a while, you can dive into the search terms report and search for great keyword ideas.
Below you can see a search terms report for a broad match keyword "games". On purpose, we've selected the search terms without the word "game". In other words, these are related (new root) keywords.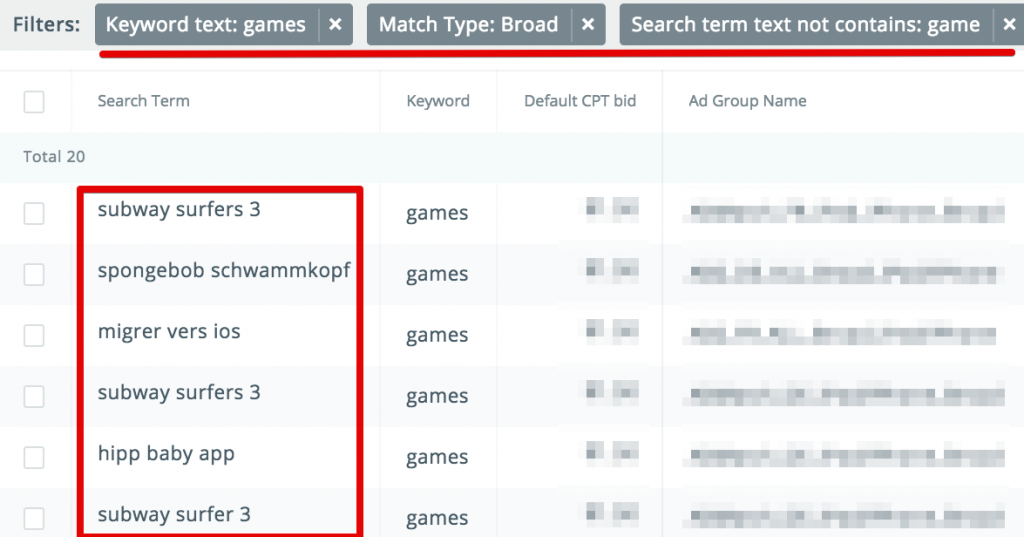 Source: SplitMetrics Acquire
Apple Search Ads discovery campaigns: Search Match

Search Match automatically matches your ad to relevant search terms without you having to identify and actively bid on keywords. It relies on multiple resources, including your App Store page metadata, the information on similar apps in the same genre, and other search data.
The basic idea of Search Match is similar to that of the broad match technique, but it doesn't require to specify the list of keywords. The method helps discover keywords that could be missed, for example, search queries for competitors' apps or even localized keywords.
The Search Match function can be a wildcard, as you never know what exactly it will come up with.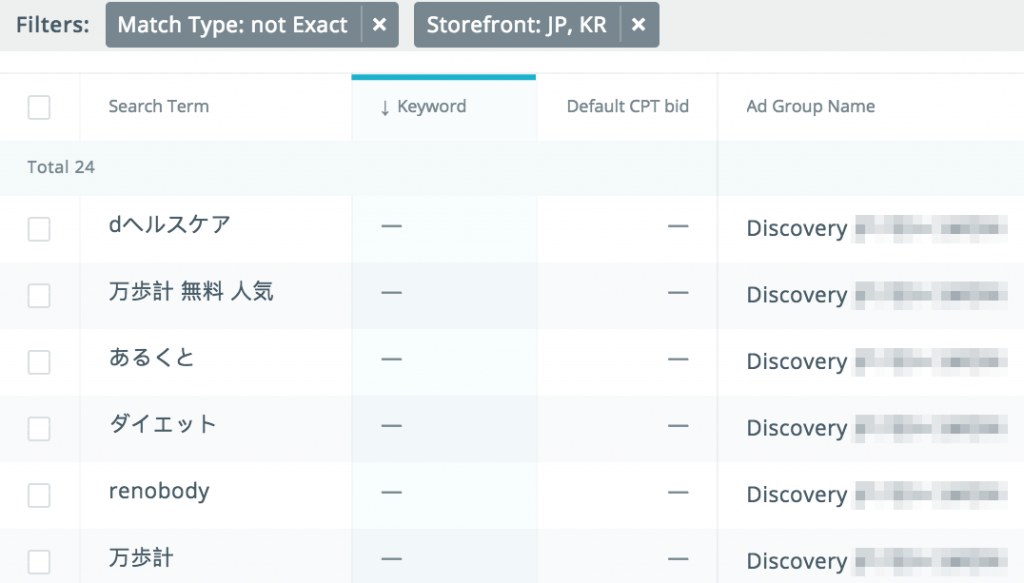 Source: SplitMetrics Acquire
Thus, the most effective way to increase your traffic volume is to gradually add new relevant keywords to your ad account. Below you can find a 6-step keyword expansion algorithm.
Get The Apple Search Ads Performance Checklist: run a comprehensive account health check, spot and manage bottlenecks to boost your Apple Search Ads performance.
Apple Search Ads discovery campaign: keyword mining & search terms report optimization
To mine keywords, you have to create a separate discovery campaign for each region and set a comfortable budget to spend on searching new keywords.
Obviously, the bigger the budget, the faster you will find more high-performing keywords. On the other hand, there's no point in cutting the budget severely, as you may miss the potential profit that the discovered keywords can bring. The best practice is to apply the 20/80 rule, i.e. allocate 20% of your budget for the discovery campaign.
Since the main purpose of a discovery campaign is to generate as many search terms as possible, there is no much point in breaking it into targeting groups. This will only produce low volume terms and make management more complicated.
Step 1. Сreate a proper account structure
Create a separate

Discovery campaign

for each region and set a comfortable budget.

Create a

Search Match ad group

without keywords and with Search Match

enabled

, and set your bid at the ad group level.

Within the same campaign, create a separate

broad match ad group

with broad match keywords and with Search Match

disabled

.

If you already have a list of exact match keywords, add them to the broad match group as

broad match keywords

. This will speed up the process.

To avoid competition for impressions, all keywords from your broad match campaign should be added as

negative exact match keywords

to the discovery campaign. To avoid competition for impressions, all keywords in exact match groups should be added to the discovery campaign as

negative exact match keywords

.

Step 2. Analyze search terms performance
Give your campaign a couple of weeks to run. This will guarantee that you collect sufficient data to analyze new search terms that Apple Search Ads matches to your ads.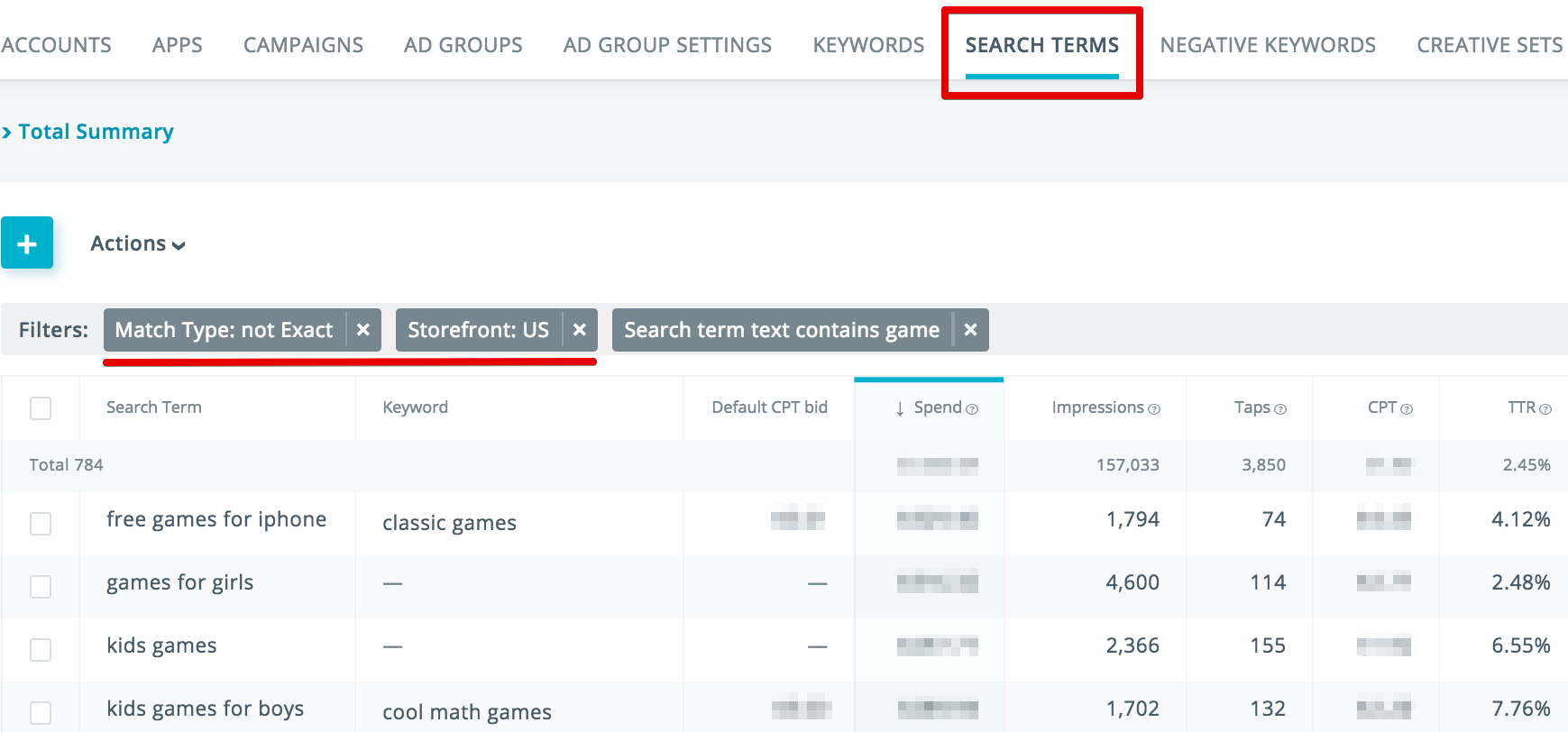 Go to the "SEARCH TERMS" tab and set a 14-day timeframe. The best practice is to analyze search terms every week or fortnight.
Arrange the search terms (STs) into 3 groups — Good search terms, Bad search terms and Insufficient data — and work with them as shown in the chart below.

How to determine an appropriate category for a search term? Here you should keep in mind that due to the Search Ads data privacy policy, search terms which converted into installs are not reported to MMPs (only the keyword and the match type). Therefore, it is impossible to analyze post-downloads metrics for search terms.
Step 3. Identify Good STs
Good STs are relevant high-performing search terms which make the traffic grow without hurting its quality. All the steps above lead to discovering these queries. Good STs should be moved to the exact match keywords group.
The best way to evaluate the quality of search terms is to look at their Cost per Acquisition (CPA). For example, if your target CPA is $5.0, then queries with Downloads > 0 and CPA < $5.0 can be considered winning. Below are the filters you can use to discover winning queries:

After you've found your winning query, take the following steps (see in the chart above):
1) Add the winning search term to the exact match group. Depending on your account structure, there can be several exact groups where you need to move this keyword.
2) Add the winning query as an exact negative keyword to your discovery campaign, just the way you did in Step 1. This keyword is included in the exact match group, so you have to make sure that Search Ads doesn't match ads to this search term in your discovery campaign.
Negative exact match excludes your ad for searches of the exact keyword phrase, but it may still show for searches that include related and long/short keyword versions. That's why it's reasonable to add close variants (e.g. "game" and "games") and misspellings to negatives as well.
Step 4. Identify Bad STs
Bad STs are irrelevant or non-performing search terms. They don't bring any installs and eat up a sufficient amount of money, usually 3 x Target CPA. Here are the examples of filters that can help find such queries:

Once you've discovered such search terms, add them to your discovery campaign as negative exact keywords.
Step 5. Identify keywords with insufficient data
These are search terms with insufficient data to be moved to any of the categories. There are 2 cases:
There are no conversions and your spend threshold hasn't been reached yet. For example, the search terms have spent less than 3 x Target CPA and haven't brought any downloads yet (e.g. Download = 0 and Spend < $15).

Low volume term. The data you request may be below Apple's privacy threshold. For example, search terms must reach at least 10 impressions, otherwise the "low volume" value appears in your search terms report. Age, location or gender reports require minimum 100 impressions before Search Ads can show any values.
If you report has returned the "low volume" value, give the data some time to accumulate or extend the date range up to 30/60/90 days to get more data.
Step 6. Keep mining new keywords
Take steps 2-5 every week or fortnight and use the data from the latest review up to the present moment. By following these recommendations step-by-step, you can gradually increase the number of relevant keywords and, as a result, boost your traffic volume.
Naturally, the traffic volume in discovery ad groups will start dropping in a while. It has to do with exact negative keywords which are regularly being added to discovery ad groups. To keep mining new relevant keywords, you can gradually increase the CPT bid in discovery ad groups in order to make it into the auction with more expensive keywords.

How to Improve Apple Search Ads Discovery Campaign with SplitMetrics Acquire
Discovery campaigns in Apple Search Ads are designed to expand your app's visibility to a wider audience by helping you indicate new keywords that might be relevant to your app. However, if you want to go beyond that and have a deeper look at keyword mining, you should seize any opportunity.
There are few ways to mine new keywords and save time while researching — using SplitMetrics Acquire is one of them. Here are the features that can be particularly helpful in this case:
The Advanced Keyword Planner discovers new keywords that are a good fit for your app. Driven by proprietary algorithms, the in-built tool enables you to scale with extensive data analytics and insights about keywords used by apps similar to yours.
The Keyword Gap is a brand new feature in SplitMetrics Acquire that runs a full semantic analysis of competitors' keywords in Apple Search Ads. Playing detective is really easy with this product addition.
The Keyword Popularity Checker is a Chrome extension that helps you elevate the potential of your new keywords on the fly. It's free to everyone and is extremely convenient for usage.
All the tools above will enhance your search and equip with additional insights complementary to the discovery campaigns you run.
Apple Search Ads discovery campaigns: summary
Pros:
Discovery campaigns are a relatively simple method of expanding the keywords list gradually;

There're hardly any preparatory activities or research needed to get started;

Discovery campaigns allow to immediately find relevant keywords (technical relevance) and evaluate their performance (CPT, TTR, etc.), which is impossible using Keyword Planner;

Discovery campaigns also help find negative keywords.
Cons:
The discovery process requires expertise and constant attention;

It takes time to obtain good results;

You have to allocate part of your budget for the discovery;

Apple Search Ads has a limitation on the number of keywords in a group; this can be a problem for large accounts, but in practice, everything usually works well.
Keyword expansion is a technique which has various implementations. In addition to discovery campaigns, there are other approaches that address the same issue – generating valuable keyword ideas – but are based on other actions.
Maximize your Apple Search Ads ROAS with SplitMetrics Acquire
Request Demo