Client
Violin Lessons by tonestro – app for learning how to play the violin with high-quality, step-by-step lessons, real-time feedback technology and a vast sheet music library.
Apart from advanced, high-quality options for learning violin, the app has one more important feature – violin tuner. It helps users easily tune their violin with precision and accuracy. Violin tuner keywords have good Search Popularity and therefore are capable of getting higher impressions volume and engaging more users. However, default product page screenshots are focused on violin learning features and do not highlight violin tuner to the full extent. As a result, potential violin tuner users may not be engaged.
SpliMetrics Agency experts aimed to increase user engagement and drive conversions for the violin tuner feature. Aligning with our Client's vision, we also aimed to improve overall user satisfaction and retention by making the feature more accessible. Thus keeping users in the violin learning loop and preventing frustration and progress hindrance by playing an out-of-tune.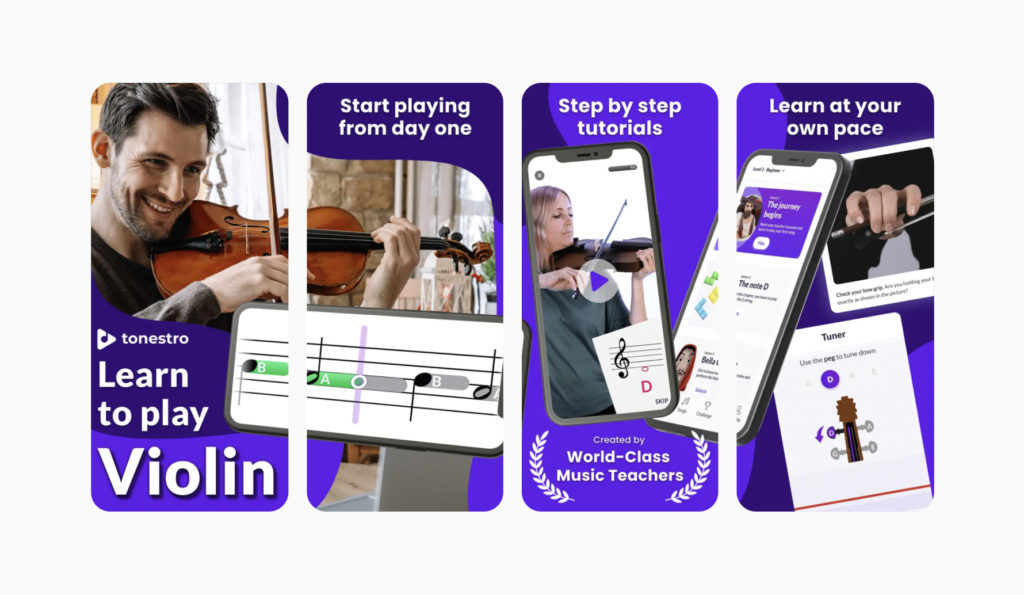 Solution
To achieve the above mentioned objectives by building a custom product page that resonates with potential users, SplitMetrics worked closely with the Client who provided insights on what is important for violin students. With this knowledge, SplitMetrics experts designed, developed and launched a custom product page for the violin tuner in Apple Search Ads. This custom product page offered an in-depth look at the feature and its benefits, making it easier for users to understand the value and reinforce their commitment to learning violin.
We expected growth in volume and conversion rates with the increased relevance to the audience who came with a specific search for violin tuner.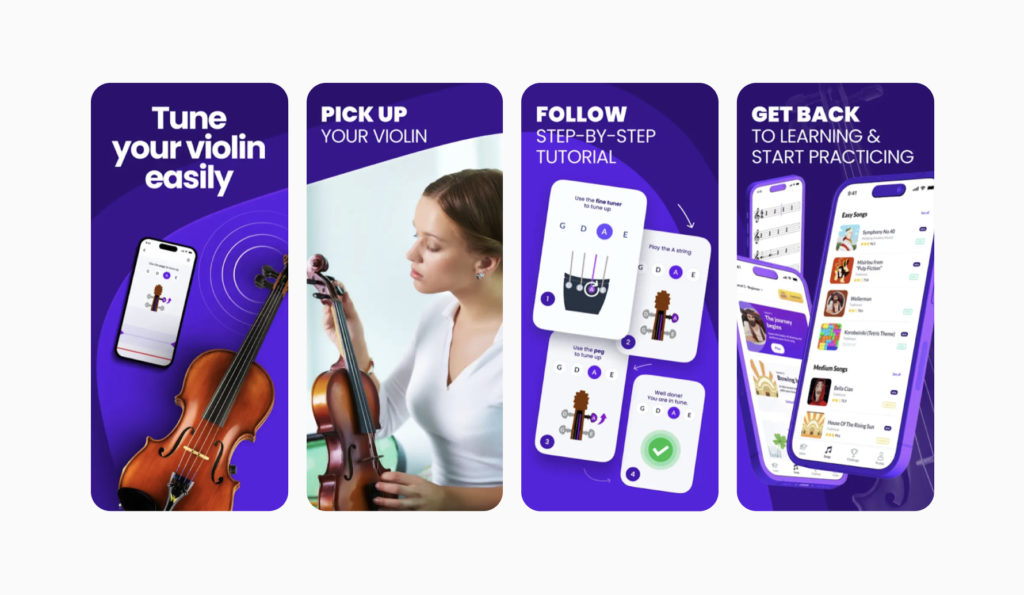 Period
Custom product page for the violin tuner was launched on 24 December, 2022. Data for analysis and comparison were taken for a period of month just before the launch and a month after the launch of the custom product page for the same group of violin tuner keywords.
Results
With the launch of the custom product page for violin tuner we saw a significant increase in spend and conversions, with a higher number of users actively engaging with the violin tuner feature.

Christoph Huber, CEO at tonestro
Thanks to ad variations using custom product pages, impressions and goals were received in Apple Search Ads for violin tuner keywords, which previously had no visibility at all. What's most impressive, for the US market, the spend for violin tuner keywords increased by 137%, TTR increased almost twice (from 6.76% to 11.36%), installs grew 2,5x and the number of goals (purchases) boosted by 3.75 times.
| GEO | Spend | TTR | Installs | Goals |
| --- | --- | --- | --- | --- |
| US | +137% | 6.76% → 11.36% | +152% | +275% |
| UK, CA, NZ, IE | +136% | 5.41% → 8.93% | +191% | +40% |
| AU | +180% | 5.41% → 6.09% | +150% | +100% |
The launch of the custom product page for the violin tuner was a game-changer. It achieved not only the objectives of increasing user engagement and driving conversions, but also made it easier for users to access the feature and keep them in the learning loop. Ultimately it led to higher user satisfaction and retention.
Want to achieve similar results?
Book a call with SplitMetrics Agency experts
Book a Call