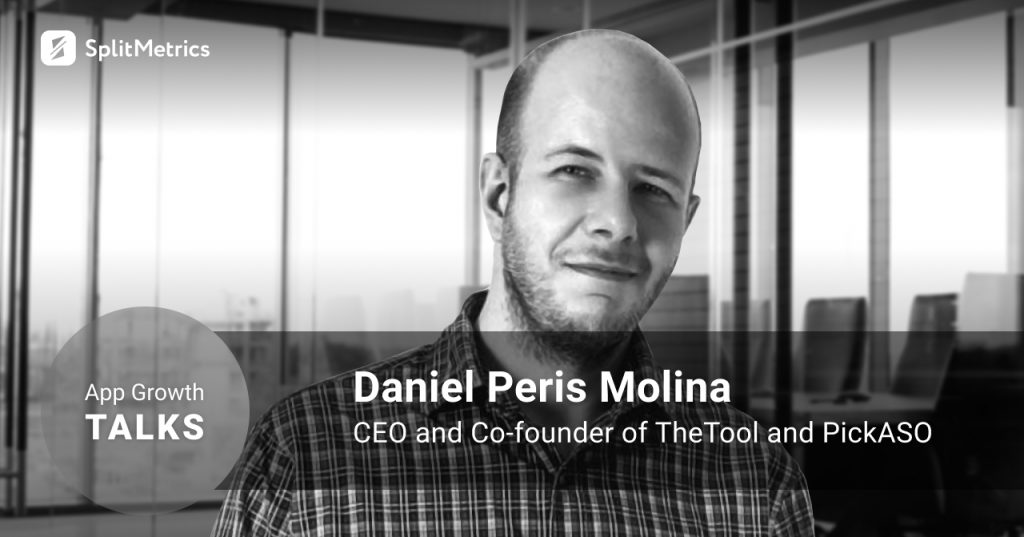 This is the episode #7 of App Growth Talks, a series of interviews with ASO, user acquisition and mobile growth experts. Today's special guest is Daniel Peris Molina, startup enthusiast, entrepreneur, Growth Engineer, CEO and co-founder of TheTool, performance-based ASO tool and PickASO, app marketing agency based in Barcelona.


We have seen crazy cases of apps and games growing a lot, just running A/B tests for the icon. And this is something a lot of companies and mobile developers forget about. Hey, my icon is the best one and I'm not changing it. Or, hey, this is my branded icon and I can't change it. But the thing is, running experiments related to A/B testing, related to icons, can have an impact: maybe a negative impact or maybe a positive impact. But with this in mind, it means that running A/B tests with an icon has a very, very great impact in terms of ASO.
For sure, building a good product and user retention should be a goal for a mobile business, working on metadata the right way, so that the stores and people can understand what an app or game is about. And for sure, you know, Lina, that user acquisition is related to organic growth. And another tip to increase visibility on the App Store and the Google Play Store is working on UA, but not working on any user acquisition. I mean, working on profitable UA. You can run UA campaigns to get downloads for sure. Anyone can get downloads running user acquisition campaigns on Facebook Ads, Google Ads, TikTik ads or whatever. But the thing is, hey, I'm investing a lot of money in user acquisition. Let's make this money make more money.

And in parallel, we are also getting more organic visibility on the stores for the keywords rankings, for top tier rankings, even for similar apps or related apps rankings. And getting a lot of users who are using your app or game, who are using basically your product, also has an impact on the featurings, which are one of the main channels.

Also, it is something that has decreased a bit in the last years. Getting users using your app and so on, also has an impact on ASO.

My last tip here is do the Ninja. But I'm not referring to black hat ASO techniques or something like that. I'm referring more to being very, very creative because I think the main difference between two companies or two apps that do the same is related to creativity.

Maybe this is a bit romantic, but I think creativity really makes the difference.
And maybe there are some ASO tips for mobile games?
Yes, as I mentioned, right, properly done metadata optimization, looking at the icon… the icon is something that is key for ASO. User retention is even more important for mobile games than mobile apps. And there is a secret, secret ranking factor, which is your game making money with in-app purchases or subscriptions. This is not something that I can say is 100 percent accurate.  
But I really think that games that help app stores make money are getting more visibility because in the end, the app stores are also making money with big games. 
So making money is probably a ranking factor in the app stores.
What KPIs do you rely on in terms of the app marketing and growth?
There is one thing I want to remark is that we at PickASO work with mobile businesses. We don't work with mobile apps or games. We work with businesses. So the main KPI is the revenue. Hey, this is a business. What is a main KPI of any business? The revenue. So the first KPI we take into account is revenue. But this is not, for sure, the only KPI we track. [The number of] downloads is our very relevant KPI, user retention: one day retention, seven day, 30 day retention is a crucial metric, because it is related to user intent and it is related to product quality. and it is related to, in the end retention, which is something the stores boost in their markets. But downloads, retention and revenue are our main KPIs. We can split downloads into organic and non-organic downloads. And the organic downloads – we can split them into downloads coming from Search, downloads coming from Browse and so on. And we can take into account here keyword rankings and top tier rankings, and how many and which apps are referring to my app in the similar or related apps. Is my app or game being featured in the stores, in which countries and so on. But in a global vision, the main KPIs we take into account that for sure can be splitted later are downloads, retention and revenue.
Do you work with Apple Search Ads at PickASO? What role does it play among other user acquisition channels?
We are for sure working with Apple Search Ads and since some months ago, TikTok ads, which is something very, very different to the rest of the user acquisition channels. You have to change your mind completely to run successful campaigns there. But when we talk about Apple Search Ads, we understand that this is a powerful user acquisition channel, but it depends a lot on the country, on the deal, on the industry. It depends a lot on the business model and on the competition. But for sure, Apple Search Ads is a channel that should be tested. We can say we are in love with Facebook Ads, or Instagram, or TikTok ads, or Google Ads, or whatever. We always try to test all possible user acquisition channels and find the best performing ones, and then boost the ones that are working for our business and our clients' businesses.
But Apple Search Ads is a bit different from the rest of the channels because it's related to search. Running Apple Search Ads campaigns can help you grow your ASO organic visibility because you have the keywords that are bringing downloads. And if you look deeper, you have the keywords that are bringing money. So for sure, Apple Search Ads is a channel that should be tested, but it depends a lot on many different things. The thing is, we always test all possible channels. We find the best converting ones and then we boost the best converting ones.
How do you optimize your Apple Search Ads campaigns? What indicators are you looking at to evaluate their performance?
It depends. As I have just mentioned, it depends maybe on the goal of the business. One quick example: I have the objective of getting one million players for my game in six months. One of the KPIs in this case for Apple Search Ads and the rest of the channels is: can I get volume? And at which cost? And this for sure depends on the goal. But the thing is Apple Search Ads allows you to see the profitability of each keyword – and this is something awesome. Because you can boost the keywords which are bringing business in Apple Search Ads, but you can also try to improve the organic visibility of those keywords in the App Store search results, for example. So the KPIs we look at when working with Apple Search Ads are more or less the same as the KPIs we mentioned before. But it depends on a lot of different things.
So maybe I can tell you Lina, it depends, as I told you before, on the client or the goal on the budget, on the country, on the business model. Well, what I can tell you for sure is that Apple Search Ads is a profitable channel. We are using it. But for sure, we try to test it for all our clients and for all our mobile apps and games.
Thank you, Daniel. What's your toolkit for successful app store optimization and user acquisition for your clients at PickASO?
I use a lot of different tools because there are already a lot of tools in the market, for example, TheTool. But there are also other tools and any tool is very, very good for one thing, but maybe it's not as good for other things. So I think that the key here is working with the tools that help you grow your business. For example, I work with TheTool, but I also work with App Annie and in terms of Apple Search Ads, we know we should work with a tool like your SearchAdsHQ platform.

But for now, we don't have the need of using a tool for Apple Search Ads. But I can tell you my day-to-day toolkit, which for sure can help the audience understand how we work and make the right decision in terms of tools to use on a daily basis. The first tool I use and maybe the least used tool is my brain. First of all, you have to think, hey, what's my goal here? What's my client's goal? What do we want to improve? How can we improve? How can we measure? Because measuring is very relevant in this industry. It's a must to measure the right stuff in the right way. So taking into account that you have to use your brain and think, and try to understand what tools you need daily.
And we work a lot with G Suite, for example, Google Docs, Google Sheets and Google Slides. We also work with attribution partners, like AppsFlyer or Adjust, or any other player in the market. But we have to measure the right things in the right way. This is crucial in this business, as I mentioned before. We work with TheTool, with App Annie, well, we work with a lot of different tools. 

For example, lately we are using a wonderful tool which is called Reflexion.io, which is a very cheap tool for marketing, market intelligence and so on, to try to spy how many downloads and how much money any app or game is doing. Because I have detected that spying is something that you have to do to understand how others are getting success in their businesses. It also helps to figure out what these people are doing and what amount of money are making. Maybe we should try this too? But my toolkit can be quite wide because, for example, in the case of PickASO, for each client we work normally with different tools. But you have to work for sure with an ASO tool to monitor the app stores. You have to work with market intelligence or other intelligence, even TheTool. And you have to work with your brain. Your brain is also always the main tool you have to use day-by-day, not only in terms of ASO, but also in the meaning of life.
No one could actually argue that. Thank you Daniel. And you are very observant. So could you probably make a forecast and predict some app store and mobile marketing trends to look for in 2021?
Yes, I'm always thinking of what's coming next because it's all about evolution. And if you don't evolve, you are out of any digital business.
So I am always trying to think about what's coming next, what's going to happen in the next month. The first point in this question is what's going on with ASO and Apple Search Ads, and Facebook ads and all the user acquisition strategies and so on after the IDFA stuff coming soon the next year, I think in the early 2021. That's my first question. I want to be honest with you, I don't know what's going to happen. But what I'm pretty sure is that things are going to change. I don't know if that change is going to be small or big, but for sure, things are changing after this Apple change related to IDFA.

On the second point, as I mentioned before, I think user retention is getting more and more weight in this industry, in the formula of the app marketing or app business success, user retention and product quality. But I have two doubts.
The first one is what's going on after Epic Games is suing Apple because they want to use their own payment model inside the App Store and not pay Apple the fees, which is something Spotify has joined too, and more companies are joining – what's going on after this. And maybe we are seeing alternative app stores. Maybe we are seeing new app discovery channels. What's going on with the app stores? Because I'm pretty sure they are also evolving and changing, but I don't know how this will end. So my first point is how this stuff related to Epic Games is going to end.

And the second one is what's going on with Apple search. Apple search is something some people guess Apple is launching in the next months or years. Apple search would be a substitute of Google search inside iPhones and iPads and iOS devices. And how is Apple search connected to Apple Search Ads?
I know that Apple's investors are asking Apple to make more money with services. In the last keynote of Apple, we saw that Apple is launching a new service related to fitness. But how can Apple make more money with the amount of iPhones and iPads that are all over the world? And Apple search plus Apple Search Ads would be an awesome way for Apple to make money.

Because they won't have to pay Google to show Google Web results on iOS devices and will be able to save a crazy amount of money. I think it is ten billion dollars or something like this, I don't know. So imagine, you are saving this crazy amount of money not paying Google, using your own search, connecting our own search engine to Apple Search Ads. So Apple Search Ads might not only appear in the App Store, but also everywhere in web results. If I were Apple, I would try to replicate the Google AdMob business. For example, Apple Search Ads now allows you to appear in search results on the App Store. But we can transform the Apple Search Ads, build an SDK and tell people to make money with Apple Search Ads campaigns, in terms of banners, in terms of playable ads, in terms of rewarded ads, whatever. So I think that something very, very big is coming to Apple Search Ads and is related to Apple search, the search engine coming directly from Apple.

What's going on with the stores, how is Apple growing their services business and ads business in the next months and years? I think this is going to be funny.
Thank you so much, Daniel, for sharing your thoughts and really eye-opening insights, very interesting. And let's see what happens next.