If you just start working with Facebook mobile ads for both acquiring new users for your app or driving traffic to your mobile A/B testing campaign, you may have a lot of questions.
Indeed, it is not always clear what steps you should take to set up and launch impactful Facebook App Install Ads. Yet, since you're on this path, this checklist created by Jane Artemova, VP Global Sales at Appness – a unique marketplace for Facebook mobile advertising, will help you streamline your workflow, get your ads up faster, and increase the number of installs spending less.
The right targeting is a key to Facebook Ads success
The first thing you have to do before launching your first mobile app install ad campaign is to create a portrait of your perfect customer. Whatever you are promoting, it's very important to understand:
what kind of people want to install your application;

what are their pain points;

what do they crave the most in life: a feeling of safety, health and beauty, adventures, or something else (your app is supposed to solve a problem that's been gnawing at them for a while, right?).
Read also: Everything You Need to Know about App Store Analytics
Once you have identified the needs of your audience, you have to figure how to reach them. The brilliance of the Facebook ad platform is its rich data about users all around the world. Using Facebook tools for segmentation by demographic, geographic, behavioral indicators and interests, you can target your audience with laser precision.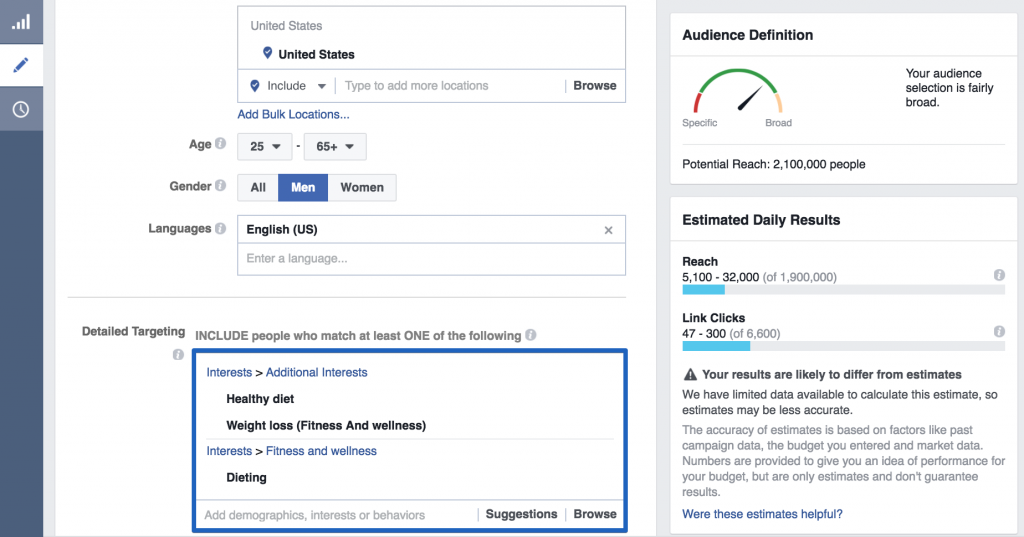 #Tip: Make sure to avoid too narrow targeting
Shrinking the audience when setting up app install ads on Facebook to just 500 people in a country with a population of 500 million can greatly increase your conversion rate, but the traffic will be so expensive that even 50% conversion is unlikely to help you.
The real trick is to find equilibrium: expand your targeting within a certain location radius until you have a Facebook audience broad enough to achieve your goals.
Use Lookalike Audiences to increase Tap to Install conversions
Lookalike is a special Facebook algorithm that analyzes your audience and delivers advertisements to users that are similar to yours in terms of behavior, interests, and other characteristics. This algorithm works best if you already have a large individual user database. The more data you have, the more accurate your targeting will be.
If the Facebook app install ads are properly targeted, users perceive it as valuable content, which greatly increases the likelihood of conversion.
Read also: What's a good App Store conversion rate?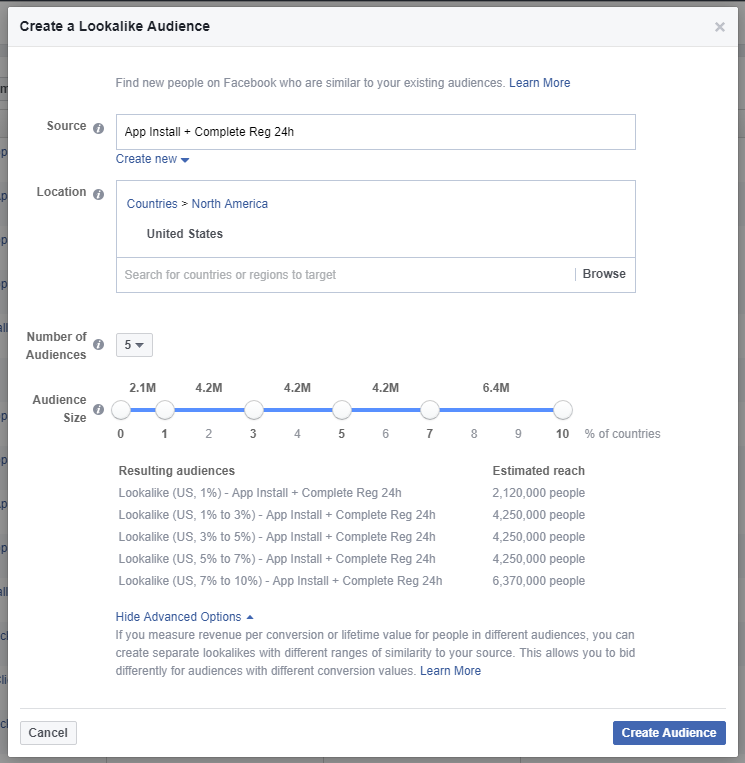 For example, for users who travel frequently, a flight search engine providing information about cheap and fast flight offers may seem irreplaceable, and they will be happy to download that app.
#Tip: You can use Lookalike audiences to exclude low-value traffic from targeting
It also makes sense to create a Lookalike of users who are unlikely to convert and exclude them from your Facebook app install campaign. This way you can refocus your resources on those who are most likely to make a purchase or subscribe.
Get lower Facebook app install ads cost with Smart Bidding
You should test various methods of bidding to find out what reduces the cost of conversion from your mobile app install ads on Facebook. Do not be afraid to experiment: a bid for your app install ad automatically generated by Facebook puts your ad in the middle of the range and renders you unable to cherry-pick the traffic.
If you manually set a bid 3-4 times higher than Facebook algorithms suggest, you get the most loyal users who react well to the ads, click on the creative and make the desired conversion. Eventually, your advertising costs will be covered.

#Tip: Take advantage of Facebook's law of inertia
This life hack is not very popular, but it may help you decrease your Facebook app install ads cost. When setting a high bid, you get a stream of high-quality traffic immediately. If you see a good relevance score and CTR, you can then decrease the bid sharply, and even then the traffic will keep coming for a while, but at a less expensive rate.
Split your mobile app install ads into Ad sets
In order to track the performance of your app install advertising campaign and optimize the budget at the right time, it is highly recommended to create several ad sets with different bids, creatives, and targeting settings within the same campaign. This way, without spending a lot of time and effort, you can test different hypotheses for the target audience and maximize your results.

#Tip: Do not create too many ad sets
It's not worthwhile to make a hundred ad sets with a step of 10 cents for the same audience and the same GEO. This will go nowhere, as you will begin to compete with yourself for this traffic slice and eventually the cost of app installs will increase. The optimal algorithm is as follows:
Create three or four ad sets.

Run A/B testing.

Put the most money into the ad set with the best performance.

Discontinue the inefficient ones.
Increase advertising budget and scale ads timely
Facebook tends to be friendly to low-budget campaigns. Its tools are affordable even to small businesses with limited resources: you can set a $5-per-day budget and still have your application discovered by your ideal target users (it will affect the volume of traffic, but targeting accuracy won't be sacrificed).
However, when planning and distributing your advertising budget, there are certain rules. Too drastic budget boost may cause a failure of the algorithm, and as a result, you will see a rapid jump in the cost of conversion. Increase the advertising budget gradually, by 10-30% once every few days.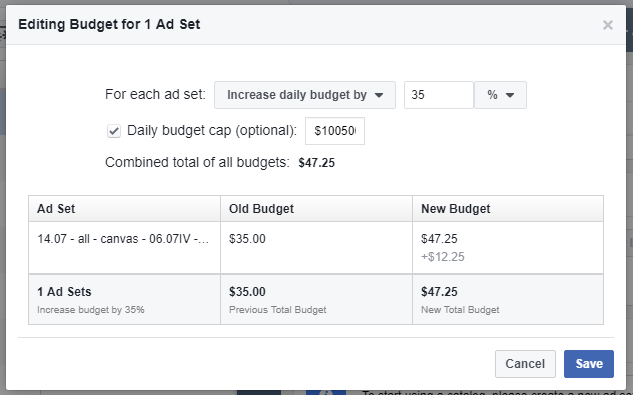 #Tip: Stick with a certain timing to scale your budget
Since Facebook algorithms require at least 24 hours to adapt to the latest changes in your ad campaign, make sure to proceed with all changes at the beginning of the advertising day (after midnight in your account's time zone).
Run ads on a schedule when audience makes the most clicks and installs
Some beginners in Facebook advertising might believe that by running Facebook app install ads 24/7 they reach the broadest possible audience and their potential customers see every single one of their ads. This is a delusion. In order to spend your budget wisely, you must run ads on a schedule.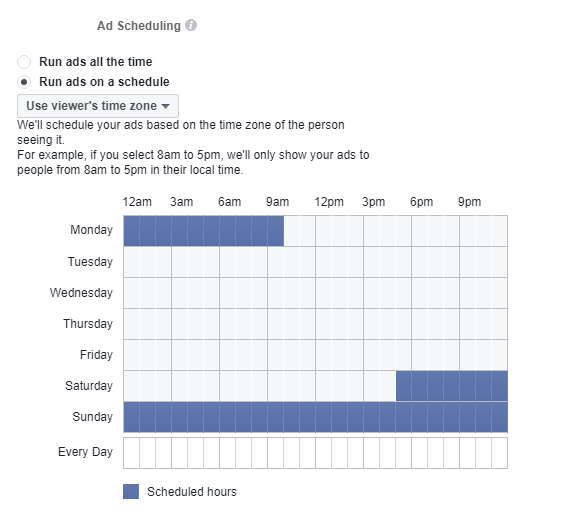 There are no universal tips about when you should deliver the Facebook app install ads to users; this depends entirely on your product, your industry, and your location. That having been said, there are low-traffic hours with a lower probability of installs.
For example, on weekends the user's engagement with Facebook ads falls, and evenings and early mornings on weekdays, on the contrary, are when people are most likely to be online.
Keep an eye on your statistics and determine when your audience makes the most taps and installs. If you carefully schedule your ads delivery, you will see your Facebook app install ads cost go down.
#Tip: Make sure your users are awake
Bear in mind that your ad will be shown to your audience in their time zone. If you are running a national campaign, figure out what daily routine the locals follow. For instance, if you are a marketer from Spain, displaying ads in the afternoon makes no sense since everyone there is taking a siesta at this time. :)
Make sure the Relevance Score is high enough
The relevance score is calculated on the basis of positive and negative feedback collected from the target audience. The more positive feedback an ad gets, the more competitive it is at auction and, consequently, cheaper for advertisers. And if your Facebook ad gets a lot of negative feedback from users, it may decrease your ad's overall value.

When choosing the content for your creative, make sure to follow the Facebook policy.
The initial Facebook moderation occurs automatically and determines whether or not there is a gross violation of the rules. After approval, an ad can be displayed to users, but users still can complain about it, and if the moderator decides to block this ad or, worse, to ban your ad account, it will be almost impossible to reach technical support. So you should carefully read the policy and guidelines at the very beginning.
#Tip: Monitor the frequency of impressions
If you target a relatively narrow audience, sooner or later Facebook starts showing your ad repeatedly to the same slice of the audience. This can cause app install ad fatigue, and users may start complaining about your ad. This in turn usually results in bad relevance score, low CTR, and high conversion cost.
To avoid this, you need to keep track of your statistics, and when the frequency of impressions is close to 2, stop this creative and start showing a new one. You can try to rotate visually different creatives every day to prevent users from getting bored and to keep your advertising fresh.
More practical tips on how to spend less money on Facebook ads and get high-quality traffic you will find in this guide: "TOP 15 Life Hacks: Make Facebook Ads Work For Your App"