One question I get very often from fellow mobile marketers is what's the difference between Google Play experiments and SplitMetrics? Let's see.
It's clear that Apple App Store doesn't allow A/B testing for app store pages, so marketers have to bypass the store with custom coded landings or software like SplitMetrics. At Google Play, the experiments are there and free, so why go elsewhere?
Short answer: while Google Play indeed allows mobile publishers to run experiments on their app pages, it comes with significant limitations. Let me explain.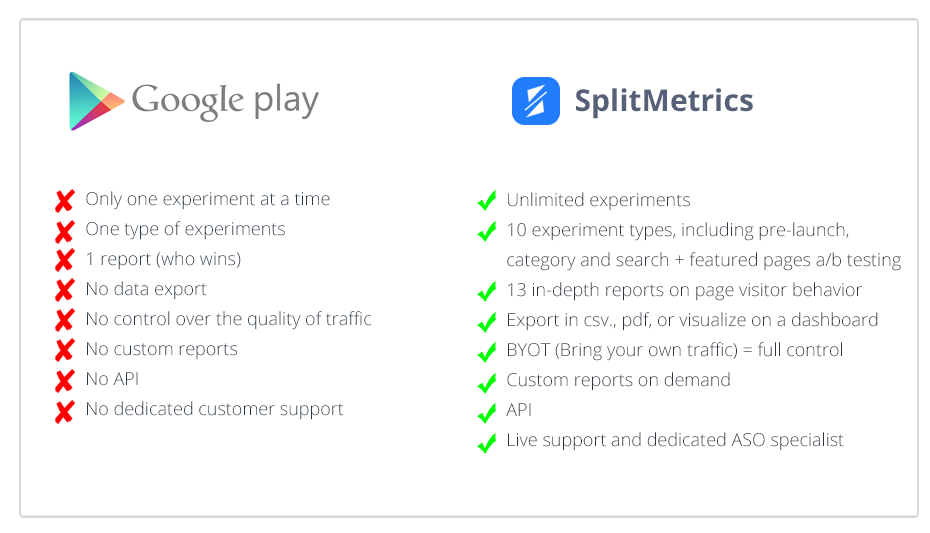 You can only test one experiment at a time. Marketers who want to test items such as localization, icons, and screenshots separately for 360-degree optimization are left with no option but do it one thing at a time.
You can only test published apps. If you want to run an experiment prior to launch (validate the concept and collect emails), Google Play won't be of much help.
No other options beyond the very basic conversion test. You can't test and optimize conversion for search and category or test how you measure up to your competitors. With SplitMetrics, you can play and see if people would download more if, say, you added Apple Watch support or upped the number of your reviews. Essentially, you get to test any creative app page alternative your marketing team comes up with.
You don't know what actually worked. In Google Play, you can see the overall conversion result, but you don't see what visitors did on the page, how long they stayed, how deep they explored and scrolled. For example, it could be your third screenshot that triggered the majority of conversions. With that in mind, you can decide to move it to the front-runner position and optimize for an even higher conversion rate on your app page.
You can't export data. If you need stats for your internal reports, you can easily export a raw .csv file or forward a pdf to your manager. Alternatively, you can view test results on a beautiful and intuitive dashboard.
You don't get full control over the quality of traffic you're sending to the page. Although testing on Google Play is technically free, because you can rely on organic traffic, there's no way to see how different customer segments will react. When you drive paid traffic to the page for testing, you can get accurate data on how each of your profiled user demographics interacted with the page.
No customer support or ASO help. SplitMetrics has been working with hundreds of app developers on a variety of app page design experiments. We want our clients to succeed, so we generously share the wealth of knowledge we've collected.
In addition, you get to test both Android and iOS apps with one tool. Now that's a win-win.
Get the full scoop on our product features here.