Welcome to Spooky October 2023.
It's that time of the year when people watch and play horrors long into the night while looking forward to Halloween festivities. These thrill seekers are also likely to decorate their home screens with Halloween app icons.
Changing your app icon to align with a seasonal theme like Halloween can make your app stand out in app stores. Users are more likely to notice an app when it has an eye-catching icon. Designing a Halloween icon, therefore, may lead to increased visibility and app downloads.
Halloween-themed updates can help keep users engaged and entertained. Special Halloween content, features, or promotions within your app can encourage users to continue taking advantage of it throughout the season and beyond.
The only question is where ASO managers can find intriguing concepts.
First, you can always take a cue from the designs of horror mobile games. They are really good at sending a chill down your spine.
And second, you can browse icons that were updated specifically for Halloween.
We've got an array of ghoulishly good choices of app icons to inspire you. Get ready for the thrill.
Halloween Horror Nights App Icons
If you're a fan of all things terrifying, the Halloween horror nights app icons are perfect for you.
Halloween horror nights icon must look scary. They should create a sense of urgency/intrigue around your app.
Halloween horror nights icon must look scary. They should create a sense of urgency/intrigue around your app.
Here are several steps that will help you achieve this effect:
Sense of Dread: Let your Halloween tell a story by showing that something terrible must have happened. Stains of blood or a haunted house will perfectly cope with the role.
If We Were Villains: Transform your app or mobile game's character into a villain. A dark cloak, chilling smile or vampire fangs will change the appearance of any hero.
Darkness All Around: Make sure that the icon's atmosphere is hostile by putting fog and night onto it.
Bad Omens: Ravens, snakes, and black cats are often considered to be harbingers of death. A pretty nice idea for a frightening Halloween icon, huh?
Monsters and Killers: Use famous villains from books and movies — Count Dracula, Ghost Face, Freddy Krueger, etc. — to attract your target audience's attention.
Hunt or Be Hunted: Put two characters on your Halloween icon. Make one of them a hunter, and the other one — a victim. This will set up a life-threatening story right away. Users will be intrigued!
Don't hold back when designing something like this.
Halloween Aesthetic App Icons
Halloween aesthetic is all about creating a thematic atmosphere that captures the spirit of the holiday.
To create an appealing icon — the one that will make your target audience want to see your app on their home screens immediately — you don't have to go overboard. If you have no wish to scare potential app users away, you can turn your attention from the horror nights vibe to more classic options.
These Halloween icons still have that eerie feeling about them, but they don't look too murderous (unlike the pack from the previous section).
Here are some key elements of the Halloween aesthetic you can use for your icon:
Spooky and Eerie: Halloween aesthetics often feature elements that evoke a sense of spookiness. This can include dark and dimly lit settings, cobwebs, skeletons, and ghosts.
Pumpkins and Jack-o'-Lanterns: Carved pumpkins with creepy or cheerful faces are a quintessential part of Halloween aesthetics.
Gothic and Victorian Influences: Some Halloween app aesthetics draw inspiration from Gothic and Victorian styles, featuring old houses and characters dressed in vintage clothing.
Candlelight: Flickering candlelight adds a haunting touch to Halloween app aesthetics.
Dress-Up: This can include witches, vampires, ghosts, zombies, and other fantasy characters.
Occult Themes: Some Halloween aesthetics incorporate elements of the mystical and occult, such as crystal balls, tarot cards, pentagrams, and other symbols associated with magic and fortune-telling.
Harvest and Autumn Elements: As Halloween falls in the autumn season, the aesthetic often includes nods to the harvest season with cornstalks, scarecrows, and fallen leaves.
Feel free to explore different Halloween app aesthetics ideas to find the best concept for your icon.
Halloween Cute App Icons
Sometimes it's better to look cute, not creepy. A Halloween icon is not an exception.
Cute icons are perfect for those who want to keep the Halloween theme light-hearted. After all, the holiday isn't all that scary (let's forget about the celebration's pagan roots and darker meanings for a second). Halloween is also the day of guising and trick-or-treating, and these traditions are pretty nice! What's more, we can incorporate them right into app icons.
The easiest way to do so is to give your app or mobile game's character a makeover by having them dressed as other beings and/or heroes. Feature your protagonist as a vampire, nun, devil, or a typical Wednesday girl, and you'll be golden.
You can also provide them with a traditional Dias de Muertos makeup — it will definitely help your icon stand out both on the app stores and phone home screens.
As for other options, you can design a cute Halloween icon by making usually frightening beings look funny. Dancing skeletons and adorable bats will certainly do this job.
Cute icons also enable you to step away from the classic Halloween colors and try out something new. Pink is the new black in 2023 — why not experiment with it? Just make sure to carry out A/B tests before having this icon grace your product page.
Mac Halloween Icons
When looking for Halloween icon inspiration on the App Store, ASO managers often go to the iPhone & iPad Apps section — and forget that you can find cool ideas on Mac Apps too.
Take a look at this pack of well-crafted icons, and you'll get what we mean.
A word of advice: do not limit yourself to one source of inspiration. References are everywhere. Browse through phone wallpapers, widgets, book covers, movies. Follow the news to get information about pop culture trends. For instance, this year we can expect a lot of Barbie and Oppenheimer-inspired costumes at Halloween parties. Maybe it's a sign you can give your app icon a similar makeover!
Black Halloween Icons
If you prefer a sleek and mysterious Halloween theme, the Black Halloween icons are a fantastic choice for an app or mobile game.
This color favors simple designs. Don't overstuff your icon with elements, it's better to focus on a Halloween-themed logo or one character.
If you still want to focus on several elements (for instance, to illustrate a landscape), water black down with dark teal, dark green, or similar shades to set a mild background contrast.
Black will look especially advantageous if you use a bright color for your logo or a character. Glowing eyes, for example, will be a scary sight on a total black canvas.
Whether you're into minimalism or just love the color black, these icons will make your app stand out.
Dark Blue Halloween Icons
As Christian Dior once famously said, midnight blue is the only color that can compete with black. And while we here have no experience of designing outfits, we can use the fashion guru's advice to create stunning Halloween app icons by replacing black with dark blue.
Black app icons may be way too gloomy and restrictive sometimes, so it's nice to have an alternative shade to try out.
A dark blue Halloween icon will definitely set a mysterious mood as this color is traditionally associated with night and a starry sky. The nicest thing about it is that it will let you feel more free than black when it comes to composition, light, and other colors.
This means you can focus not on one element only, but on a landscape or a group of characters. A haunted house, a sleeping city under a sinister moon, a coven of witches, or even a Lovecraftian creature will be a great choice for these icons.
In a nutshell, with shades of blue and eerie Halloween imagery, these app icons will be perfect for those who want to deviate from the usual orange and black palette.
Purple Halloween Icons
Purple symbolizes intuition and wisdom. It's often linked to psychic and magical abilities, making these icons perfect for a unique home screen experience.
First, just like dark blue, purple and its shades can be a solid alternative to a black icon background, as it's also one of the night colors. Remember the Wednesday promo pack of photos by Netflix? They also used purple a lot. You can follow suit and design your Halloween icon accordingly.
Second, purple is often used as the primary color for witches' costumes, so you can dress your characters up in violet mantles and hats.
And third, you can use purple to bring Halloween magic to life. Spells and their effects will look stunning within this palette.
Orange Halloween Icons
Of course, we can't forget the classic Halloween color.
Orange Halloween icons capture the essence of the holiday with vibrant orange hues and can easily get app stores visitors in the spirit of October. After all, this color is particularly symbolic for the festivity — orange is the color of harvest, pumpkins, and fire.
When designing an orange Halloween icon, pay attention to the other colors you're using. You can play with different orange shades or adjoining colors, such as red and yellow.
Another option is to combine orange and black — this mix of colors will create a contrasting image, adding a hint of mystery to the icon. After all, dark silhouettes of witches, cats, and bats on a sunset-like background look pretty stylish, don't they?
An orange Halloween icon is also a perfect chance to style it with various Jack-o'-Lanterns, both frightening and funny.
Wizard hats, ghosts, zombies, the word 'boo', and other classic symbols of the holiday will also work well on an orange Halloween icon.
The Bottom Line
Halloween is a fang-tastic time in every sense of the word.
You can be whoever you want, even if for a little while — as well as your app. It's a great time to step away from what you usually do and try out something unorthodox.
Designing a special Halloween icon is also a great way to promote new app content, for example, an advanced level in your mobile game. Or just to remind that iPhone user that your app is cool and is worthy of gracing their home screen.
One last tip from us is simple — A/B test everything you make, any concept, from cute to frightful. And have fun!
It's Halloween; everyone's entitled to one good scare.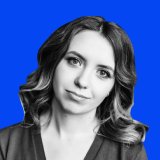 Anastasiya Starovoytova
Content Manager
Anastasiya is Content Manager at SplitMetrics. She lives and breathes writing and has a real feeling for app marketing and mobile growth.
Read all articles →