This is a guest post by Ilia Kukharev, Head of ASO at AppFollow. Ilia won ASO Personality of the Year at ASO Conference 2019 in New York.
In today's world, 4 years can almost feel like a lifetime, especially in the realm of technology. App store optimization is no different, and here at AppFollow, we've seen a lot of changes since 2015. It would take an entire book to get through every single one so let's hit the most important highlights.

What's Changed and What's Remained the Same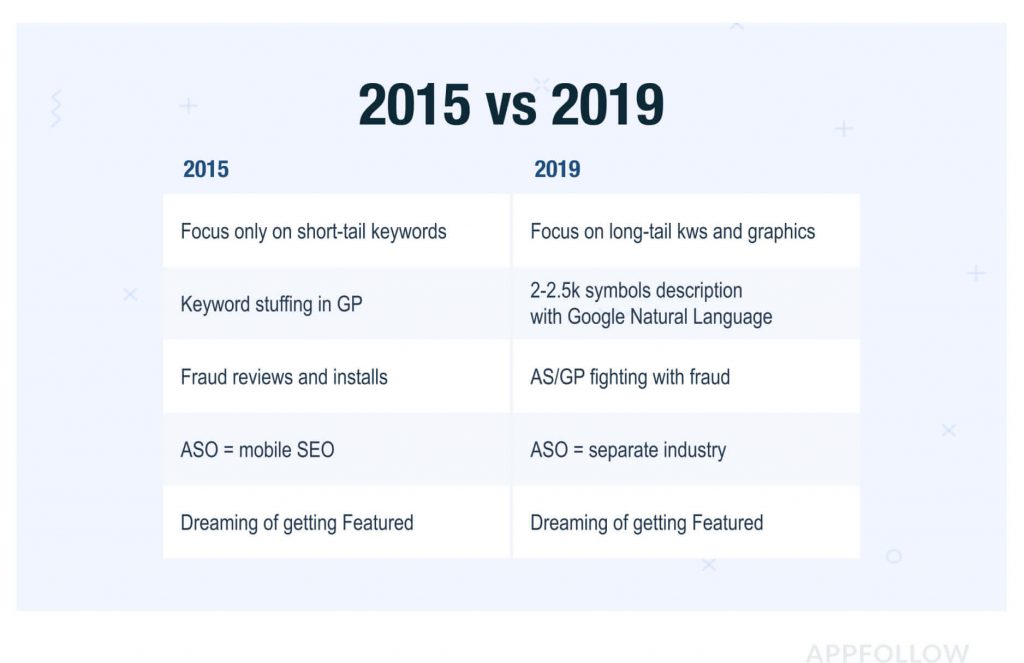 App Store Optimization: Keywords
2015: Keyword stuffing is all the rage. App store optimization for keywords centers on stuffing keywords into the description without much regard for natural language. The more keywords, the better.
2019: Keyword stuffing is no longer effective. The focus has shifted to long-tail keywords, graphics, and natural language. The idea is to write in a way so that Google can determine what your app is about.
Fraud
2015: Buying reviews and incentivized installs are common ways to optimize. Fraud is under-addressed on the App Store and Google Play.
2019: the App Store and Google Play are waging war on fraud. Fake reviews are readily deleted, just like incentivized installs are. Accounts that use these strategies will get banned.
Featuring
2015: Getting featured is everyone's dream. If you get featured, you'll get installs and live life as a happy developer.
2019: Getting featured is definitely a goal but not enough to truly grow your audience and install base long-term.
The Big 3 from 2019
2019 was another landmark year for app store optimization. Now that the year is drawing to a close, we've pinpointed the biggest updates that all app developers and publishers should be aware of.
1. Ongoing Store Personalization
Personalization has been a huge trend across industries when it comes to establishing a competitive difference within saturated markets. The mobile app industry is no different. The Today tab in the App Store is almost 100% personalized. While the App of the Day and Game of the Day sections remain the same, the rest of the tab varies widely across users. Apple analyzes your purchases and downloads to try to present users with the most engaging collections.
On the topic of personalization, the App Store continues to expand its capabilities for localization. You can now localize your app pages for Arabic and Hebrew, opening up new markets. The same is true for Google Play, which allows custom store listings by country. You can localize your text to suit multiple dialects (think French for France and Canada) as well as your app's screenshots, descriptions, subtitles, etc.
2. Fighting Fraud Subscriptions
Remember how we said the App Store and Google Play were both waging war against fraud? That includes subscriptions. Thanks to the iOS 13 update, users will now receive a warning if they attempt to delete an app with an active subscription. A pop-up appears explaining the options, noting that the subscription will remain active even after its removal unless it's cancelled. Users can select either "manage subscription" or "keep." Selecting the first option will take them to the Manage Subscription interface where it can be cancelled.
This update isn't good news for apps that rely on subscriptions from users who have deleted their apps. However, it's another sign as to how much the App Store is cleaning things up. Apps that steal personal data are also being canned fast.
3. Updates to Google's Rating System
Google finally updated their rating system. In the past, the system looked at your overall rating, beginning with the first day your app was published on Google Play. In the new system, the last 30 days bear 90% of the weight in your rating factor. The idea is to allow users to see the most current state of your app and its user experience. This is just more reason to ensure that your app continuously improves with new updates and bug fixes.
Bonus: the 30 Symbols Bug
The 30 symbols bug is still a problem. It all began on May 16 when Apple stopped indexing subtitles with 30 or more symbols. If you have 29 symbols or fewer, you're in the clear. Remember to check the subtitles in all of your applications so you don't miss out on being indexed for critical keywords on the App Store.
Current Challenges for ASO
Be sure to keep your eye on these current challenges for app store optimization as you optimize your strategy in 2020 and beyond:
Your number of keywords is limited. Most apps only have 30-50 relevant keywords and 5-10 major keywords.
Apple tells us that 65% of all downloads come from search. We've found that more and more users are searching for apps using branded keywords. Think: "Skyscanner" vs "cheap flights."
Long-tail keywords don't work like we expect them to. While people will search for "cheap flights from London to New York for Christmas" on Google, they won't make the same effort while searching for apps. You can still leverage this strategy for new apps as it will earn you around 10 to 20 installs a day.
Search results and recommended apps are highly personalized to each user. The days of optimizing for specific search results are over.
What's Next in App Store Optimization
With an eye to the future, here's what's next in app store optimization.
Browse Channel
The future of app store optimization? It may very well be the Browse Channel. Though this section is currently being underestimated by developers, the browse channel gets a lot of space and traffic. In fact, almost all categories of apps receive the majority of their traffic from this channel. The Health & Fitness category gets a whopping 84% of traffic from browse. Only medical and music still get most of their traffic from search.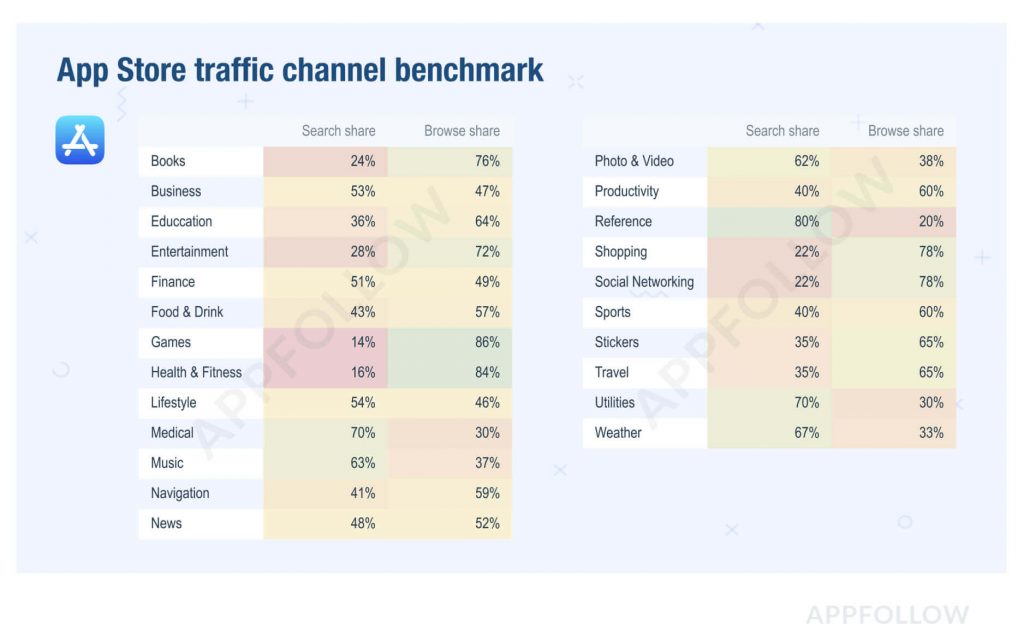 Google Play's browse placements tell a similar story. Users can find new apps in the Similar Apps, You Might Also Like, Suggested for You, and Recommended sections. Google is all about trying to help users find the apps they need. So much so that even if you search for a branded term, you'll see apps from the brand's competitors.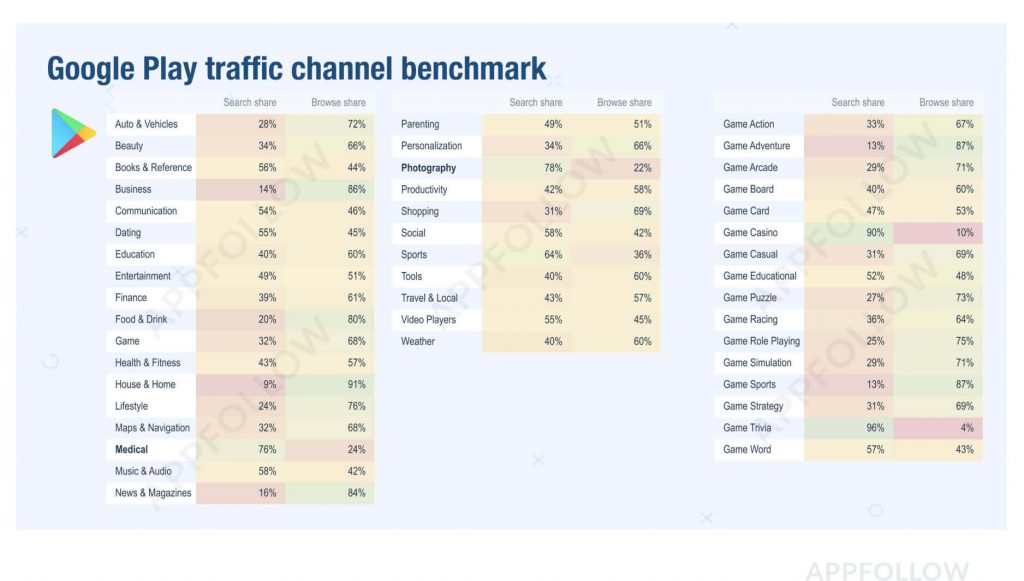 Only photography and medical apps are getting more traffic from search than browse on Google Play. So, what does that mean for you as a publisher?
Some takeaways:
Optimize icons and screenshots for browse.
Screenshots should show an app in-action or gameplay for a game.
Make sure Google likes your description.
Grow your brand so users will search for it.
Use the same category, keywords, and tags as your biggest competitors so your app will show up under Similar.
Engagement Rate and Overall App Quality
An overarching theme to app store optimization in 2019 is quality. The App Store and Google Play are prioritizing high-quality apps that provide the best user experiences. While it sounds obvious, keeping your crash and not responding rates low is paramount. Apps with lower ANR (Application Not Responding) and crash rates get recommended more in Google Play. You can check your data inside the Google Play console in the overview of vitals to see where your app stands.
With the App Store, the correlation isn't quite as direct. It doesn't factor crash rates into rankings, but frequent crashes will impact reviews which could, in turn, affect your rankings.

Image source: Google Play Console
Localization
The amount of consumer spend in the App Store is growing significantly in Asian countries. You can no longer stick to optimizing for one country. Instead, you need to optimize for the globe and take time to translate your screenshots and metadata. Then, you can analyze which countries respond the best to your efforts and optimize your graphics, colors, and branding for local markets. This strategy can be integrated with your ad campaigns to increase installs and revenue.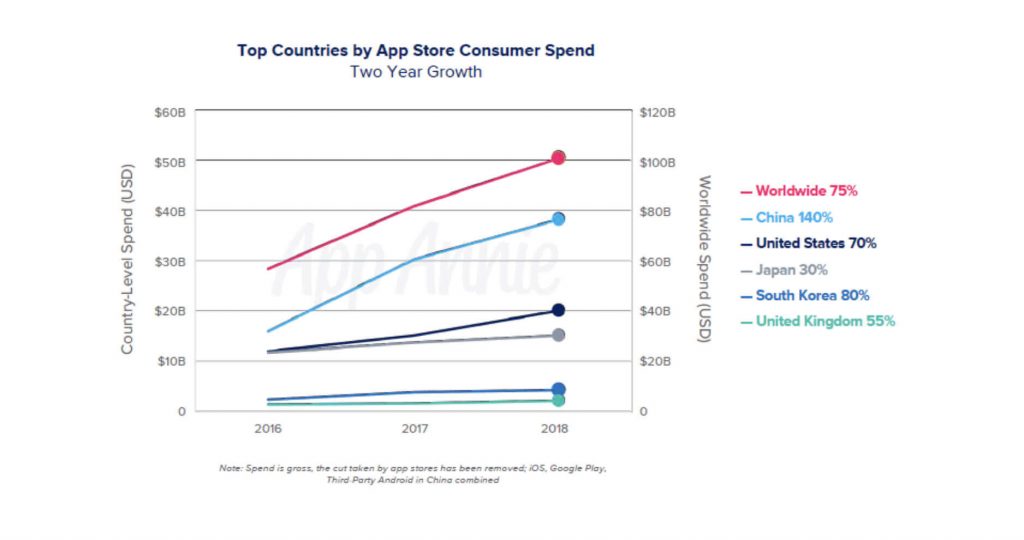 Image source: App Annie
Ratings and Reviews
Too often people forget about just how important store reviews are to gathering user feedback. In 2015, reviews were an afterthought, if they were thought about at all. Now, everyone is realizing just how critical reviews are. The higher average rating your app has the more installs you'll receive, the more users you'll acquire, and the higher your revenue will become.
With so many reviews coming in daily, how do you prioritize which ones to respond to? Don't just focus on low ratings or 5-star reviews. Instead, look for detailed reviews, featured reviews in each country, and updated reviews (especially if your rating decreased). You can use AppFollow's mobile app review monitor tool to receive and reply to reviews quickly.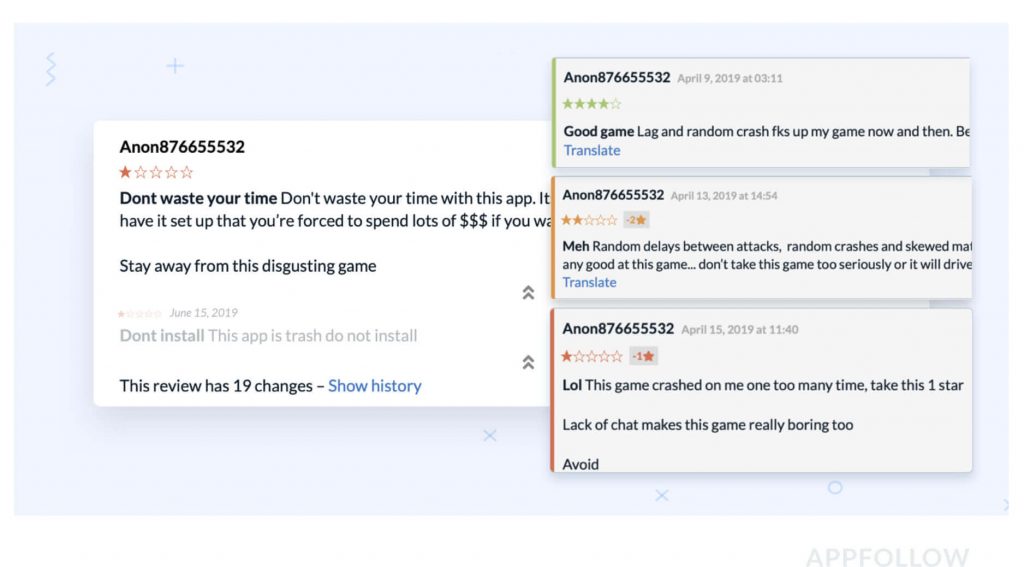 Reviews with decreasing rating are among the most critical. (Image source: AppFollow)
Remember, the more positive reviews, the better! Positive reviews create an airbag effect, protecting your app after an unsuccessful release.
The Grand Summary
Whew! The State of app store optimization has never been bigger or more complex. Save this guide as you optimize your strategy for 2020 and let us know which techniques deliver the most results. As you make plans, keep this list of takeaways handy:
Optimize for the store and browse over anything else.
Keep tabs on your engagement rate and overall app quality.
Localize for different markets. New users are waiting for you!
Monitor your average rating and take in feedback from reviews.
Make sure strategy comprehensive. Localization or keyword strategies on their own aren't enough.
Stay consistent and repeat these tactics each day.
Boost conversion and installs with SplitMetrics A/B testing
Request Demo