Wondering how best to choose a mobile app marketing agency?
Want to know what services app marketing agencies usually offer?
When it's a right time to outsource app marketing to an agency? How to choose a mobile app marketing company? How agencies do mobile marketing and what they do to avoid miscommunication with clients?
What are mobile app marketing agencies?
Mobile app marketing agencies are firms that you can outsource part or all of your marketing needs to. Many agencies service a wide variety of marketing channels, but some specialize in select services.
These days there are also many growth strategy agencies, which focus on the AARRR stack (user acquisition, activation, retention, referral, revenue), rather than solely acquisition, which is the most common agency remit.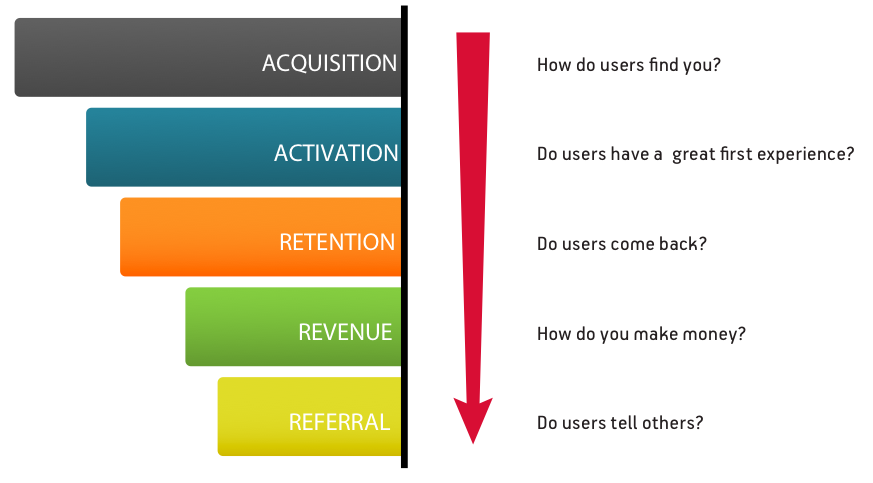 There are also black hat agencies, which guarantee certain results and employ shady tactics such as bot installs or paid reviews to achieve seemingly incredible results. While this can be tempting, yet we (and the vast majority of the mobile app marketing industry) recommend that companies stay away from black hat agencies.
What companies come to your mobile marketing agency as clients?
There really is no archetype for a company that comes to a mobile marketing agency as a client, as we have had clients ranging from single developers to multinational corporations. Companies seek help from marketing agencies for several main reasons, which typically include that the company doesn't have the time, people, expertise, or toolsets to support their marketing efforts.
That said, smaller companies typically contract agencies to manage their organic marketing efforts, while larger companies prefer that agencies manage their paid marketing efforts.
The benefit of hire a mobile app marketing company is to leverage years of experience spent working with dozens, hundreds of even thousands of apps. This generally yields a deeper understanding of the marketing strategy and tactics, with which the agency is able to:
make fewer mistakes as an inexperienced marketer would;

generate results more quickly;

extract a greater ROI from budget resources;

use industry tools which may be expensive or difficult for companies to license or learn;
agencies also frequently build their own useful internal tools or processes (we have several).
These reasons may be why companies look to become clients of agencies; but as the company grows and becomes better positioned to handle their own marketing efforts, they may eventually choose to bring their marketing efforts back "in-house."
Several of our clients have either sought our help for a specific marketing requirement or brought their marketing back in-house, and we don't mind, as it usually means that the company is growing and becoming a more successful enterprise. In this case, we enjoy being a resource that the company can tap for specific future needs, whether it's a quick call, a training workshop, or a future engagement that we are better positioned than the company to handle.
What services do mobile app marketing agencies offer?
Here is a deeper dive into the breakdown of services agencies offer, by marketing channel as well as other, related services:
App Marketing Channels
Paid Social – the largest, total buyer-wise mobile app marketing channel (largely driven by Facebook and Instagram), paid social is a great channel that uses deep data acquired on users to combine deep targeting abilities with the scale of the display.
Paid Search – a high ROI marketing channel for web and app companies alike, paid search is often managed by agencies in tandem with paid social or display.
App Store Optimization – ASO forms the base of mobile app marketing and can help reduce paid marketing costs and boost ROI by increasing the overall contribution margin of free downloads from the app store page. There are a growing number of ASO-specialized agencies, but many generalist mobile marketing agencies also list ASO as part of their services.
Display – the largest digital channel, dollar-wise, display bests supports large scale marketing operations with billions of potential impressions and need of sophisticated tools to manage.
WOM/Referrals – the "y" or sometimes vowel of marketing strategies, only some agencies think of referrals as a unique marketing channel that should be optimized.
Engagement (Email, push, in-app messaging) – due to higher costs of user acquisition, engagement marketing is more vital in mobile marketing than web marketing.
PR/Influencer – earning a mention from a publication or influencer can drive a big boost in downloads. There are many PR-specialized agencies, but many offer onetime PR/Influencer campaigns as part of a launch plan.
Organic Social – most useful for brands which can build and benefit from a community connection with users, there are many agencies that specialize in social management alone.
Traditional marketing (direct mail, radio, print, TV) – still the largest marketing channel by total spend, mobile marketing agencies are increasingly working to help mobile apps tap crossover from digital to traditional marketing, and to accurately track that crossover, too.
Other App Marketing Services
Strategy – a bit of a high-level buzzword, strategy directs the execution across all channels and is concerned with how to achieve the company's goals, given their resources, business model, and other factors.
Branding – the look and feel of strategy, branding is the sexy part of marketing that many agencies use, not only to win awards and generate buzz, but also to differentiate app companies from one another from the customer's perspective.
Analytics – taking in data points and using them to spin insights and inform decision making, analytics supports strategy and the management of each channel. Analytics is especially important for mobile marketing, due to the App Store middleman between the first marketing impression and post-install events.
Monetization – some agencies can also help companies generate more revenue from their user base, though this service is far less common than user acquisition.
Incipia is a performance marketing agency, specializing primarily in paid and organic search, with a secondary focus in paid social and WOM/referrals. Our definition of the phrase "performance marketing," means that we are less branding and general-strategy-oriented, instead focusing on executing an existing strategy within a subset of channels.
How do clients choose mobile app agencies?
Decision criteria that clients typically use to
agencies include the agency's price, client history, process and results. This generally lines up with how we recommend a company select an agency. Here are some more consideration points for each item:
The mobile app marketing companies' record of results
If the agency has not achieved positive results for any other clients, then what are the chances that they will do so for you? Also, ensure that the agency has experience optimizing for the KPI that matters most to your company's goals.
The app promotion agency's client list
Like app ratings, this is a way to use the wisdom of the crowds to vet a service; though asking for more details on the work done for the company, a case study/testimonial, or even to speak with an agency's prior clients is even better.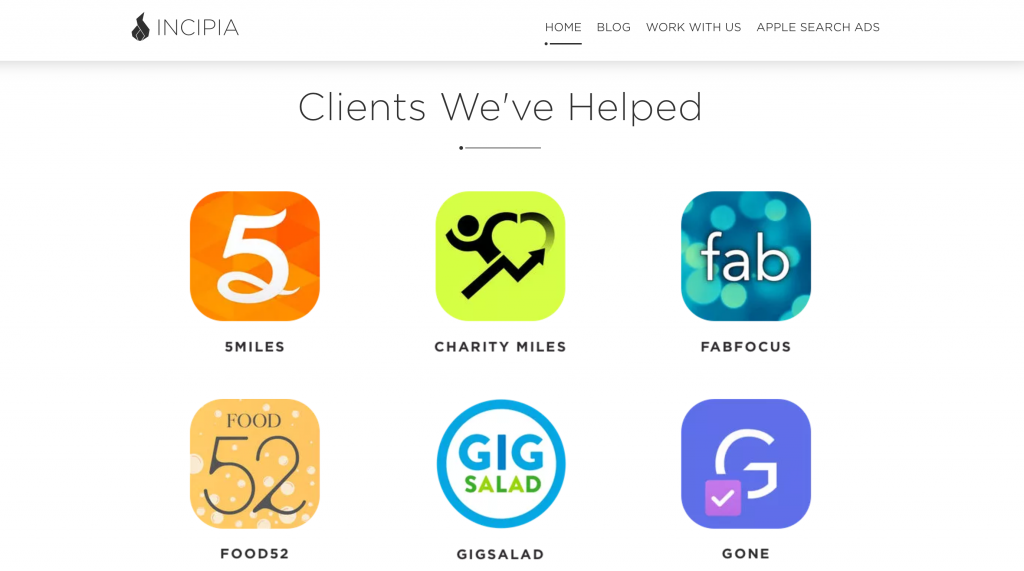 Price for app marketing services
Price is a tricky one, as in most cases price can be a signal of quality; however, mobile marketing has become a high-priced industry, and so many agencies charge significantly more than the tangible value they provide.
Don't feel drawn into paying an agency's price if you cannot afford it. There is no guarantee that an agency will succeed in the project you contract them for, so don't assume that hiring an agency will immediately return your investment in that agency.
You can seek other options, such as a smaller, lower-priced agency, an off-shore agency, or a freelancer, but don't slacken in your vetting of the consultants you consider, and if none meet your bar then perhaps try a different marketing strategy.
App marketing process
If you are hiring an agency for their expertise (which is the most common reason), ask a trusted marketer you know to review the agency's process and weigh in on whether the process makes sense for your goals.
Sometimes an agency's process may make sense for another company (e.g. larger, international, when inclusive within some larger strategy), but when applied to your company that process is no longer a good fit. In this case, the agency may not be a good fit.
Lastly – don't be afraid to negotiate or ask additional questions. Over time, agencies will hone their pitch process to a sharpened point, but you are the buyer, and most of the time, agencies will want your business. So make them work for it!
Occasionally you may encounter an agency that does not budge on their price, and that's okay – it never hurts to ask, and if you still find that they are the right fit for you, you have lost nothing.
How do agencies do mobile marketing?
While our process depends on the channels that we are managing (e.g. ASO vs paid social), our work style focuses on:
Accurate Expertise

– we specialize in what we know, and we don't oversell ourselves or try to manage marketing efforts that we don't have a solid understanding of and experience in. In this manner, we ensure our clients have a positive experience in working with us.

Value-add Insights

– while our clients contract us for specific channels, such as just ASO or Apple Search Ads, we often contribute additional recommendations as we identify them, such as review prompt optimizations or suggestions on ASO when managing Apple Search Ads.

Transparency

– we don't hide performance from clients, even if we are encountering challenges. We surface them as they arise and figure out how to overcome them, either enlisting our clients to help or at the least keeping them informed.
Our process normally encompasses these general components: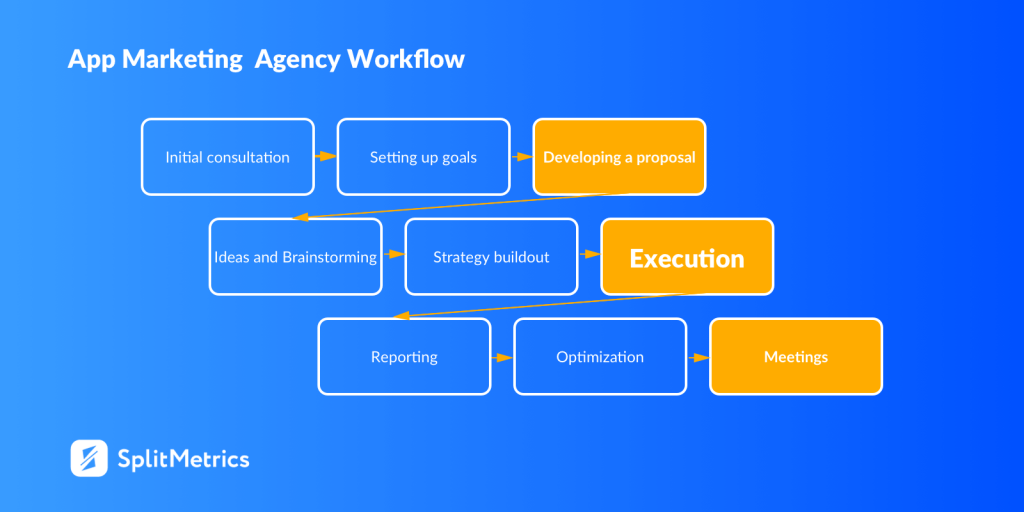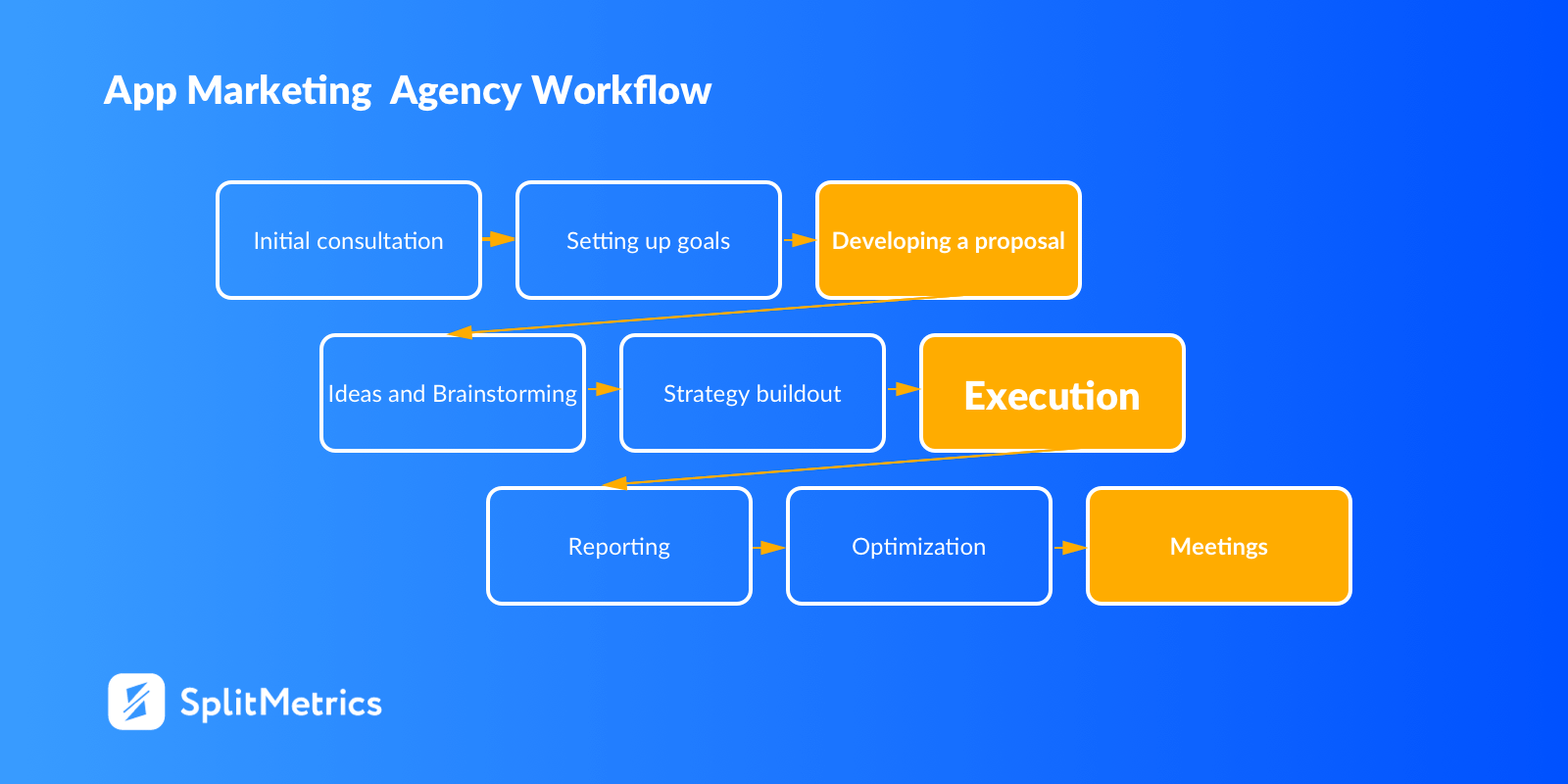 Stage 1. Initial consultation
The first touch point is an informal, open session where clients can pick our brains on mobile app marketing, our experience and our recommendations. We, in turn, ask questions to understand what our client's needs are and whether we are a good fit.
Stage 2. Setting up goals
What is the KPI (key performance indicator) that matters most to your business? We use our client's KPIs to inform our marketing execution and to define our criteria for success, whether it's maximizing installs at a certain CPI, attaining 100%+ ROAS (return on ad spend), or another KPI.
Stage 3. Developing a proposal
After the initial consultation and once we learn our client's goals, we create a specific set of recommendations and an execution plan designed to accomplish those goals, and then review the proposal with our clients, answering any questions they have along the way.
Stage 4. Ideas and Brainstorming
Once we officially begin working with our clients, we ask for:
their most relevant competitors,

details on their target market,

information on what marketing activities have worked or not worked in the past,

creative or copy inputs,

relevant keywords,

anything else that will help us move from optimizing to performing faster.
Stage 5. Strategy buildout
We perform the research, set up the creatives, build out the targeting and campaigns, and start the A/B tests as called for from the agreed-upon plan.
Stage 6. Execution!
When we turn the marketing live, we constantly review to make sure things are working well, and if not we make adjustments.
Stage 7. Developing the reporting rhythm
We create a transparent document for our clients to see what changes we are making and to analyze our performance using cohort-based analysis, with our client's KPI as the focus.
Stage 8. Optimization
The largest part of our work is ongoing reporting, analysis, research, buildout and execution (in a word: optimization), all focused on our client's goals and delivering results against their KPI.
And of course, meetings with clients
We recommend a weekly or bi-weekly meeting, though for some clients we hold email or Slack-based digital check-ins. We mold to our client's communication style and preferences; we have held meetings at 10 pm for Chinese clients, we have driven to local clients for in-person meetings, and we have blocked out several hours availability for busy clients.
Who works on clients' projects?
Some clients prefer working with a smaller team – it typically means more direct access to top talent such as the experienced founder/partner, but it means the small team can handle fewer clients or a smaller slice of the client's needs.
Other clients prefer working with larger teams – while it often means more work will be done by junior-level talent, if the work is repetitive it's less of a concern, and it means the larger agency is more equipped to handle larger projects. Larger teams also have a more established track record, which translates into less risk for getting approval from the client's stakeholders. Though larger companies typically prioritize their time on larger accounts and may allow smaller accounts to languish.
What if miscommunication happens?
Miscommunication happens. That's a simple fact.
While we try our best to avoid miscommunications by being transparent and keeping our clients informed via meetings/digital check-ins and reports, we have had instances where our expectations became mismatched with our clients'.
In these cases, the best method is for each side to clearly explain their expectations, and to determine whether there is a middle-ground to rejoin the expectations of each side, or whether the miscommunication is fundamental enough that the best course is to move on, which is also okay and happens sometimes.
For example, a client may assume that downloads mean active users, which is not the case. In this instance, if the client has misinterpreted their KPI as downloads when they meant active users, then at the first opportunity (likely when we open the floor of the first week's performance meeting to the client to raise questions/concerns), we can re-center our goal on the client's active user KPI is and educate the client further in how mobile app marketing operates.
The goal is to resolve the issue in communication with a more pure, straightforward form of communication, to tackle the root that caused the initial issue. Our solution is to provide the client with pure and transparent communication so that they can make a well-informed decision.
In this case, we will continue to be transparent that the forecasted performance for downloads will likely not match the performance for active users, and we will present a new plan, recommendations, and forecast to the client for review.
The client may choose a mobile app marketing agency to:
A) accept or adjust the new plan;
B) take their business elsewhere;
C) ask us to maintain the prior download-set goal.
If the client chooses option C, then we will do our best, though if we are unable to, we have at least attempted to bridge the expectations gap with the client before moving forward.
Tips for companies how to find the best mobile marketing agency:
1. Check the agency's social/blog for relevancy and freshness.

2. Look for thought leadership – this proves that the agency has taken the time to truly understand their craft, as a teacher must learn their craft even better than a student in order to teach others.

3. Ask your network about their opinion of the agency.