How to Make the Most of Mobile A/B Testing
This is a GameCamp's webinar by Google for Startups dedicated to the topic of app store optimisation via mobile A/B testing. SplitMetrics shared insights, recommendations, case studies and best practices on how to make the most of app store A/B testing.
Watch the recording to find out all about:
user flow for app store A/B testing;
what you may test before launching your mobile app or game;
real cases of pre-launch A/B testing for mobile games & apps;
weak and strong hypotheses;
the most important app store product page elements;
how to test those elements to get outstanding results;
whether you should add a video preview to app stores;
tips for mobile game publishers;
major mistakes in mobile A/B testing
and even more.
Put you knowledge into practice: try out SplitMetrics app store A/B testing platform, attract new users, boost the install rate and optimise the overall performance of your app or game on the App Store or Google Play.
Boost conversion and installs with SplitMetrics A/B testing
Request Demo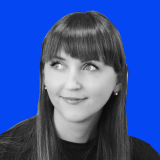 Lina Danilchik
Content Marketing Lead & App Growth Evangelist at SplitMetrics
Lina is Content Marketing Lead at SplitMetrics. She provides mobile marketers with best practices and tips on app growth, ASO, user acquisition and Apple Search Ads. Lina is also the host of App Growth Talks.
Read all articles →