Google Play Store Listing Experiments is a prominent tool for mobile A/B testing. It has a number of advantages: it is free, it supports simultaneous testing of app description in five languages and allows you to run tests with the help of both paid & organic traffic or with just organic traffic.
However, at some point mobile publishers that have successfully been growing their apps or mobile games with the help of app store A/B testing, face a challenge: Google Play Store Listing Experiments become insufficient for the conversion rate optimization. They need to test more, need more insights for data-driven decisions, but they hit a wall since Google Play has a number of limitations when it comes to A/B testing experiments.
To help you stay alert, we share a number of bottlenecks that indicate that it is time for you to move on and opt for another app store A/B testing platform that would fit your business needs.
1. A/B testing results received from Google Play Experiments differ from the results you get from paid traffic sources.
And it is totally logical. Paid traffic is always more targeted, while running Google Play Store Listing Experiments implies that organic users who may not be your target audience will affect the A/B testing results.
At the same time, SplitMetrics mobile A/B testing platform enables you to customize targeting settings and run A/B testing experiments for users that correspond to your Ideal Customer Profile.
2. You don't have enough data to make informed judgments
With Google Play Experiments, mobile publishers never know why the audience preferred one variation over another. They cannot track user behavior on variation pages: how much time on average visitors spent on the variation page, how many of them scrolled through the screenshots and so on.
In contrast, SplitMetrics platform provides you with in-depth analytics and a wide range of metrics that enable you to look into how users interact with your app's page, what elements draw their attention and encourage them to tap the download button. You will get information on click to install rate, engagement rate, average time on page, conversion rate improvement and other crucial indicators.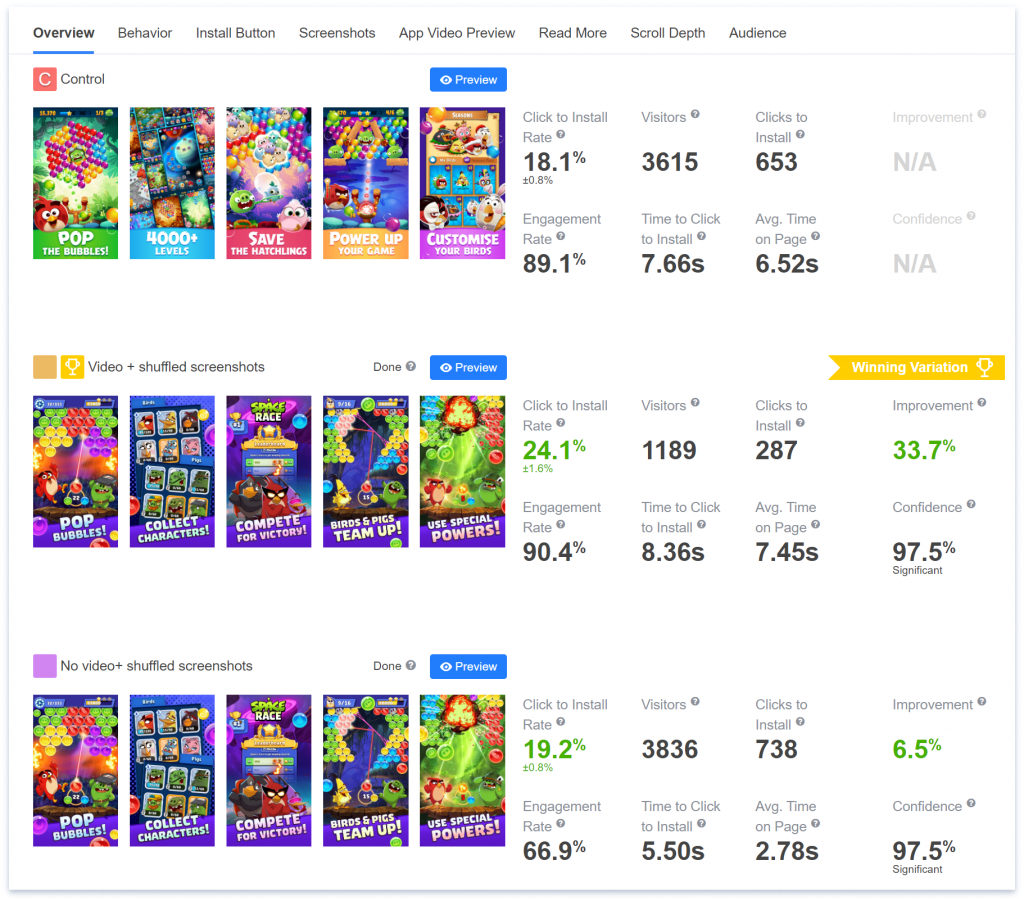 3. The number of experiments and elements available for A/B testing is not enough
Google Play Store Listing Experiments enable publishers to run only up to five experiments at a time and test only app page visuals.
On the SplitMetrics platform you may run as many experiments as you wish and A/B test all app store product page elements: from app's title to the number of reviews.
In addition, with Google Play Experiments, you have no chance to test your app on the Search and Category pages and compare the performance of your app in, say, search results to the performance of your competitors. In SplitMetrics, three testing environments – product, search and category pages – are at your disposal.
4. You have an iOS version of your app
But you, obviously, cannot A/B test your App Store product page with the help of Google Play Experiments. Additionally, the results gained from testing your hypotheses on Google Play will be irrelevant for the App Store: users on different app stores tend to behave differently.
So you need a universal solution that will enable you to run A/B tests for both the App Store and Google Play. SplitMetrics is exactly this kind of solution: you don't need multiple tools for both stores, you have it all in one platform.
5. You need to validate your app idea or features
In our article on Business of Apps, we shared insights and tips on how to validate mobile app ideas, concepts, features and game settings with the help of mobile A/B testing. Unfortunately, Google Play Store Listing Experiments preclude such an option: on Google Play, you cannot run A/B testing experiments before launch.
But you can do that with SplitMetrics. You may test your app idea, prioritize features, decide on your mobile game setting, styles and characters, find out what storefronts you should target and more. Enhance your app listing page before it goes live to skyrocket from the first day on the app store.
Wrapping up
If this sounds all too familiar, it is time to turn your attention to SplitMetrics mobile A/B testing platform.
Run A/B tests for both the App Store and Google Play Store.
Test each element of your app store product page and run as many experiments as you need.
Check how users react to your app on the search and category pages and compare its performance to competitor apps.
Get granular data on how users interact with your app page.
Take full control over experiments and finish them when the significance level is reached.

Boost conversion and installs with SplitMetrics A/B testing
Request Demo