In this blog post, we are going to reflect on the recent industry changes that might be important to you as you do App Store Optimization and make app growth decisions. Read mobile marketing news for September 2020.
iOS 14: App Store related updates
The most important event related to app store optimization was the release of Apple's latest version of the operating system. On September 16, the day after the "Time Flies" event, iOS 14 started rolling out. As of the time of writing, the adoption rate of the latest iOS is at around 40% and growing, according to the data by Mixpanel: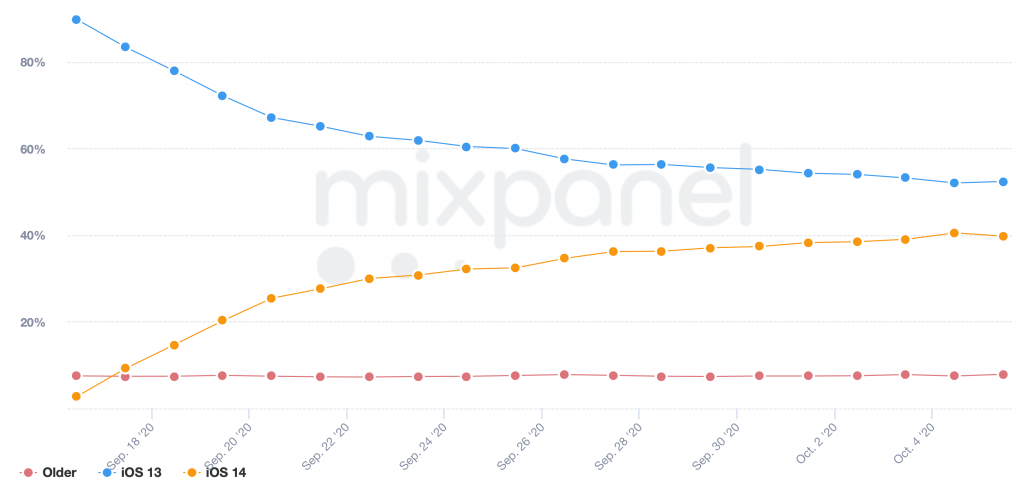 Along with the home screen widgets, a new Translate app and picture-in-picture mode, as well as updates to Siri, Messages, Maps, etc., iOS 14 came with some new features that might influence app store optimization.
App collections above the App Store search
With iOS 14, the App Store has been enhanced with app collections that go with "Get" buttons, meaning this is another place where your app or game can be downloaded from. However, it remains unclear how one can make it into this curated section.
The app collection is horizontally scrollable, which means users might choose to discover apps through this section instead of scrolling down through the organic results. So the update might result in the conversion rate decrease for some apps.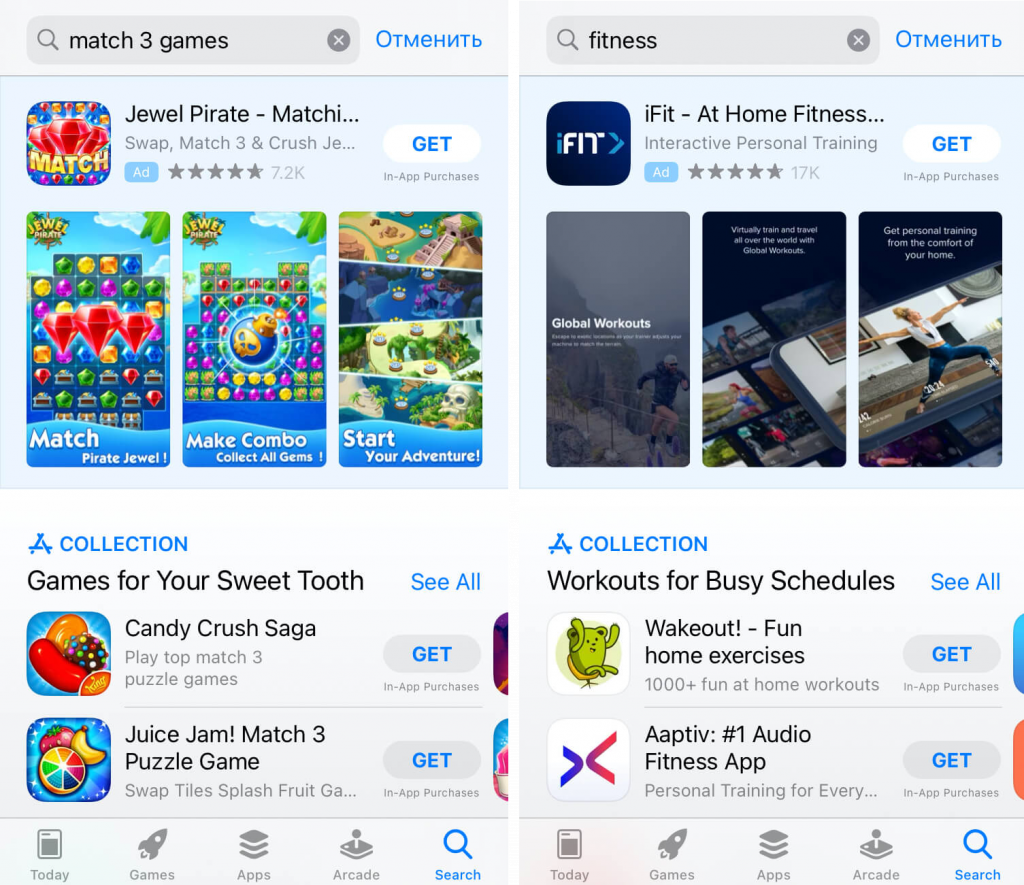 Automated typo correction in App Store search
With iOS 14, misspelled search terms will automatically be corrected and show search results for the correct spelling. This will prevent app marketers from ranking for less competitive misspellings that they add to the keyword field. This common strategy won't work anymore, so it makes sense to reconsider your app's metadata.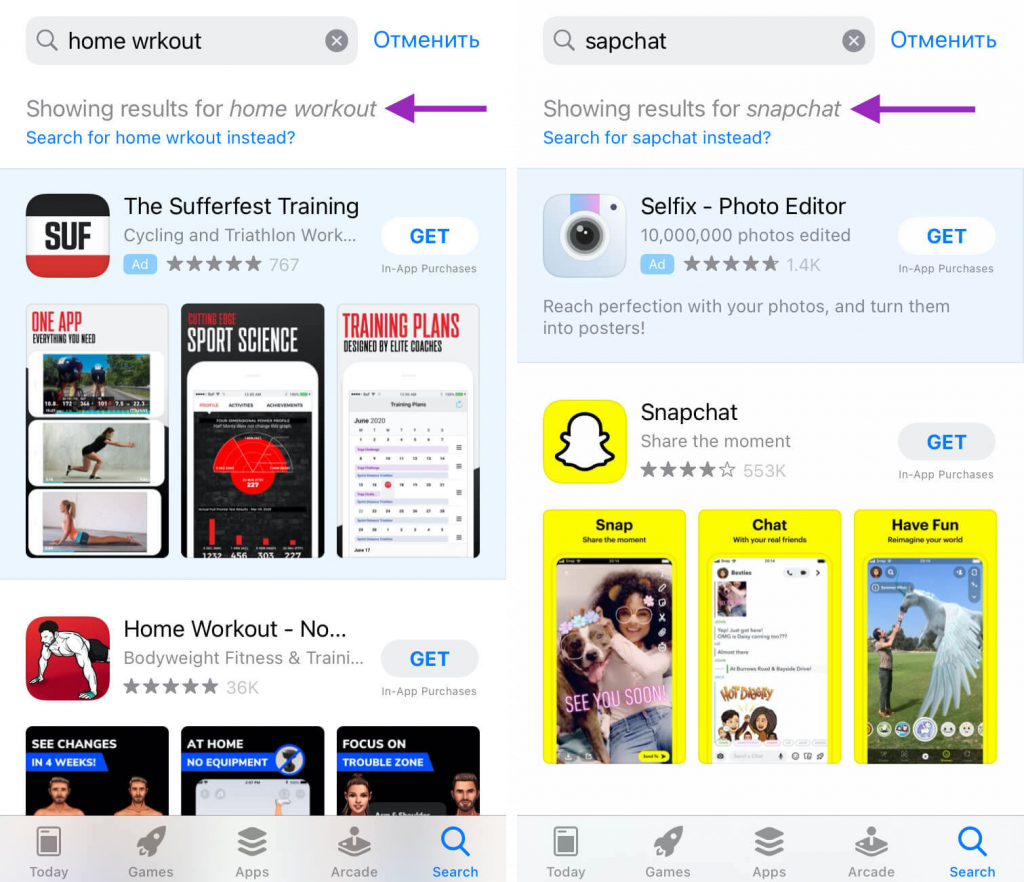 However, for now the auto correction is not available for all the countries, probably because the feature is being rolled out in phases.
Updates to the product page details
The information below the app icon and the "Get" button was also slightly remade. Users will see a usual horizontal panel complemented with the developer name, language and size: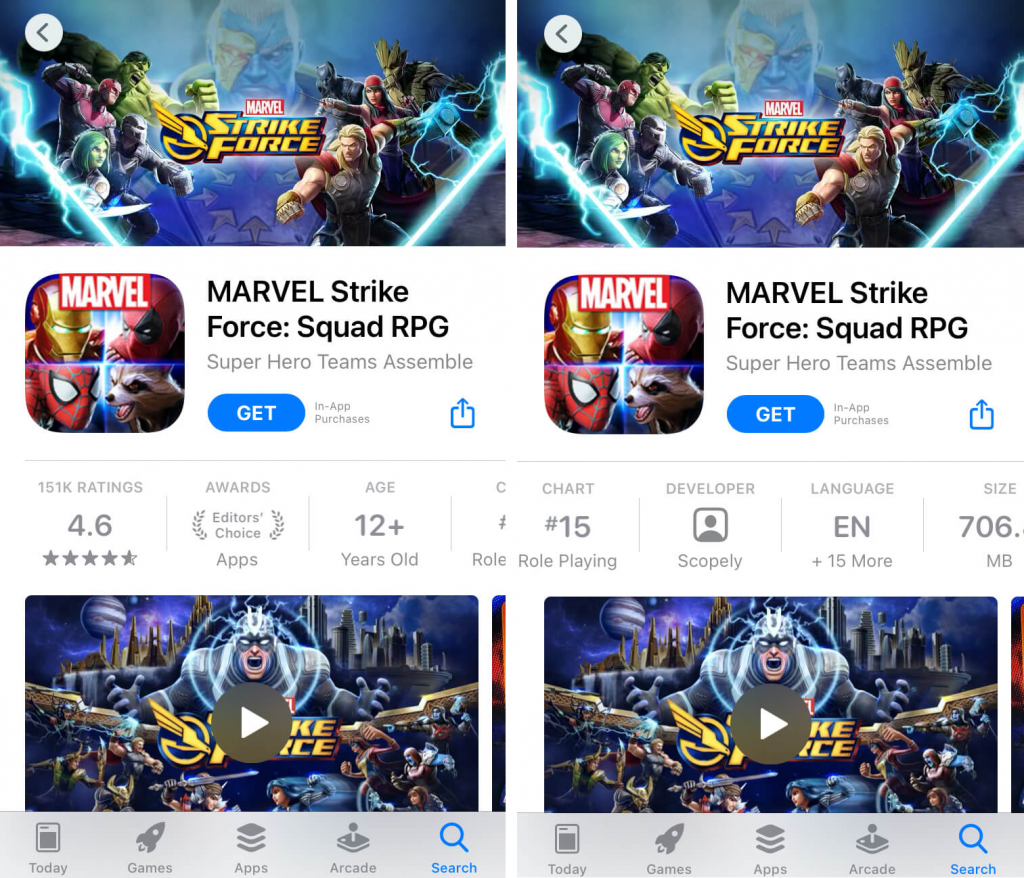 Now these additional elements, especially the app size, may influence user decisions to tap "Get". However, the impact on the conversion rate is not likely to be huge, as users have to do extra scrolling.
App Clips: a new way to explore & discover apps
Available on iOS 14 devices, App Clips offer instant access to the app's functionality without having the app installed. App Clips can be launched through Messages, Safari, Maps as well as NFC tags or QR code scanning, and help do tasks like renting a scooter or ordering a taxi here and now.
After grabbing an idea of the app through an App Clip, the user might download the full app's version.
On the one hand, this is a huge app growth opportunity for app publishers: by showcasing the app the way best they can they might get users engaged and prompt them to download apps. On the other hand, there is a risk that users might give up downloading apps and use App Clips instead, which are faster and lighter. The impact of App Clips on downloads and app growth is yet to be understood.
IDFA: changes postponed till next year
iOS 14 was supposed to bring a tremendously huge change to the mobile marketing industry – IDFA deprecation.
The new privacy protection policy requires that app publishers explicitly ask users to allow their advertising data to be tracked through the Identifier for Advertisers (IDFA) by showing them this pop-up message: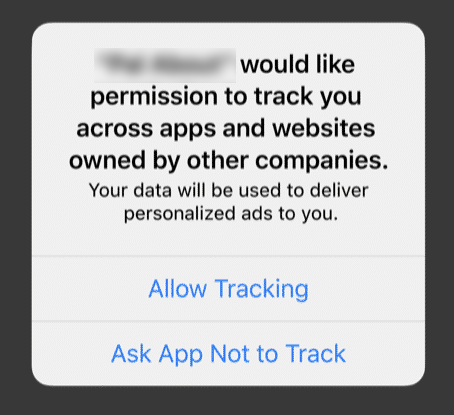 The changes will affect monetization and UA, as the identifier is indispensable for attribution, analytics, retargeting, look-a-like audiences, etc. App publishers and marketers are likely to face higher acquisition costs due to the affected accuracy of attribution and limited targeting. Moreover, IDFA deprecation dramatically affects MMPs and ad networks like Google and Facebook. The major industry shake-up happened as the new policy was announced in June this year, but Apple decided to postpone the implementation of the policy until early 2021:
To give developers time to make necessary changes, apps will be required to obtain permission to track users starting early next year."
This made the industry exhale and get ready for IDFA changes, which are apparently inevitable. Until IDFA is deprecated, we can't know for sure how users will respond to the pop-up message, but opt-in rates are predicted to be at around 10-20%.
What Facebook says
In its blog post, Facebook admits that the IDFA changes implemented by Apple will have a significant negative impact on its Audience Network and their limited ability to deliver targeted ads on iOS 14:
We know that this may severely affect publishers' ability to monetise through Audience Network on iOS 14, and, despite our best efforts, may render Audience Network so ineffective on iOS 14 that it may not make sense to offer it on iOS 14 in the future."
According to Facebook's estimates, publishers and developers using Audience Network might lose over 50% in revenue on non-personalised ad campaigns, and warn about lower CPMs on Audience Network and probably other ad networks on iOS 14.
As of the time of writing, Facebook takes a wait-and-see stance as to the final policy details from Apple and keeps collecting IDFA on iOS 14.
What Google says
Google gave a low-key response to IDFA changes. In their help centre, they encourage developers to get prepared for iOS 14 and customize the explainer pop-up message. They recommend updating Google Mobile Ads SDK for iOS and configuring the SKAdNetwork, Apple's privacy-safe attribution framework, to measure the value they get from apps.
How MMPs react
Mobile measurement partners have come up with different responses to Apple's IDFA deprecation. Here're some of them:
AppsFlyer

gets ready for the post-IDFA environment with their

aggregated attribution solution

for maximising insights from SKAdNetwork.

Adjust

shares their own solution for granular iOS 14-compatible attribution called

the "Attribution Hash"

.

Singular offers first-to-market SKAdNetwork support to allow advertisers optimize their campaigns while preserving end-user privacy.
Google hints at changes to Android 12
Google is intended to facilitate the user experience for installing third-party app stores on Android devices. The tech giant announced this on Android Developers Blog, referring to the developers' feedback that the decision is based on. Android already allows users to download apps from app stores other than Google Store, and Google points that it's vital that developers have a choice in how they distribute their apps.
We will be making changes in Android 12 to make it even easier for people to use other app stores on their devices while being careful not to compromise the safety measures Android has in place."
Google is yet to share the details on the next year's Android release and third-party app stores. As for Google Play, the company clarified their requirements on using Google's billing system when charging for in-app purchases of digital goods. In fact, the requirement is not new, but there are cases when developers bypass the Google Play's billing policy. App publishers will have to make the necessary updates until September 30, 2021.
That's it for app growth trends and news as per September 2020. If you feel like learning long-term mobile marketing trends for 2020-yearly 2021, check this guide with opinions from the industry gurus.