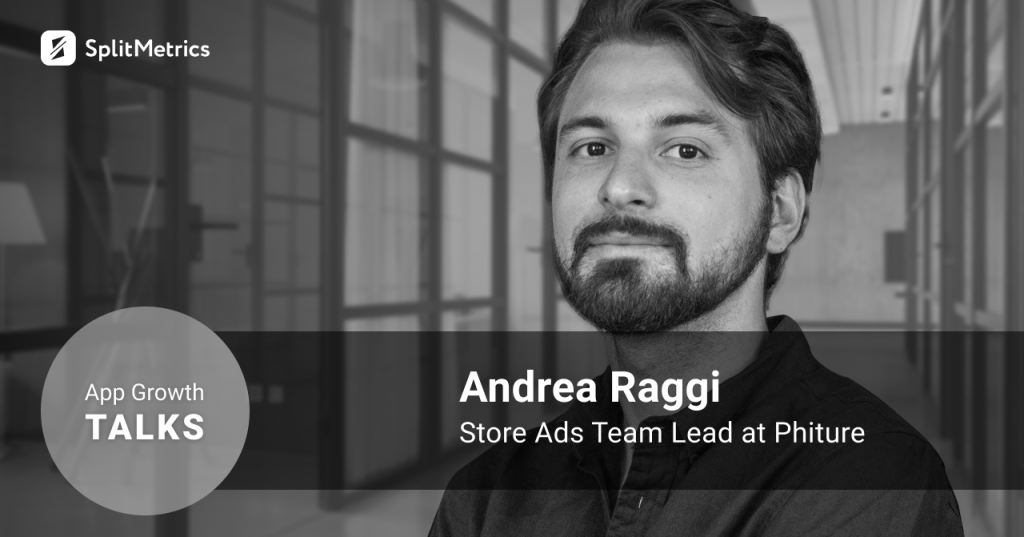 This is the fourth episode of App Growth Talks, a series of interviews with ASO, Apple Search Ads, mobile analytics and growth experts. Today's special guest is Andrea Raggi, a prominent expert on mobile performance marketing, user acquisition, in particular Apple Search Ads, and Store Ads Team Lead at Phiture, Mobile Growth Consultancy based in Berlin.

How do you use Creative Sets in Apple Search Ads? Any best practices?
I like Creative Sets testing because they are a potential way to increase not only your Apple Search Ads conversion rate but also your organic conversion down the line.
I believe it could be a helpful resource to help you discover whether a different combination of screenshots or different assets might be converting users to download better than your current ones.
If you decide to run Creative Sets tests in Apple Search Ads I would recommend to run A versus B variants. I would not recommend running an A/B/C test as that would slow down the testing process since you will need lots of additional downloads. The approach we follow at Phiture is always starting with a hypothesis: that gives us an idea on what and where to start testing. Another tip on where to start is choosing very different value propositions or selecting assets that are very different in nature (portrait vs. landscape assets or app preview vs. no app preview).
Once you have chosen what to test, to evaluate the winners I would suggest to pay attention to the tap-through rate (TTR) since that signals users interest as well as ad relevance. However, I recommend you to identify the winning version based on the conversion rate from Impressions to Downloads because that's how you are actually acquiring users.
Finally, when measuring the results of the test, it is important to:
make sure that you have an industry standard 95% confidence interval or higher;
have at least 1,000 downloads per variant to validate your experiment and ensure your test has enough data in its sample, hence giving it enough reliability.
Many publishers are concerned about the cannibalization issue. What would you say about Apple Search Ads brand ad incrementality?
Cannibalization is certainly a hot topic everybody is talking about lately. I have carried out many tests with clients on it and the results were very different. Cannibalization can happen, but there are very different extents to which your app may experience that. I have seen almost no cannibalization to medium-high cannibalization.
I have also seen many benefits generated from Apple Search Ads, such as brand defense, higher visibility and, in some cases, a boost in organic traffic too thanks to higher category rankings.
If you are concerned about cannibalization and the resources invested in Apple Search Ads, I would certainly recommend testing its overall impact by, for instance, pausing your campaigns (or top ranking keywords) for a week and measuring the impact on organic traffic change.
If you decide to stop your Apple Search Ads efforts though, you should consider the possible trade-offs such as the complete loss of brand defense and the potential impact on visibility in the App Store.
Are you ready to give up your first line of defence and allow your competitors to appear in the App Store before you do? Are you ready to lose at least a good 20-30% of users to those competitors?
On top of that, Apple Search Ads can be extremely beneficial for small apps that do not rank high organically or for companies that rely on acquiring users with keywords that have a low organic rank. Losing that visibility could trigger a lower amount of downloads and a drop in category rankings.
While it can be difficult to answer questions on cannibalization on the spot and without evidence, I would certainly recommend evaluating the potential impact of it first and then base your decisions on the obtained data (and potential trade-offs) and decide on whether to opt out of your Apple Search Ads efforts.
Another hot topic I cannot ignore: Apple removes IDFA. This is certainly a game changer. In your opinion, what should we expect?
Apple's iOS 14 and the willingness of Apple to only allow collecting IDFAs with explicit consent will represent major changes to the mobile industry.
One major implication could be a shift from deterministic user-level ROAS optimization to a probabilistic campaign optimization based on an expected outcome.
Is mobile marketing and its measurement of performance going to become more similar to TV advertising, where we are not able to precisely determine the amount of revenue we are generating?
Another major shift could possibly involve moving away from being media buyer optimizers to becoming marketing strategists, or even placing even more attention on the topic of incrementality. In regards to the former, as we won't be able to directly track events (and revenue) for many users, we will possibly need to shift our focus even more on strategy and execution. In terms of the latter, we could increasingly focus on a probabilistic guidance on where money should be spent (how do I allocate it to network A, B or C?) and how that could potentially help companies get incremental results.
While many things are still uncertain, we know for sure that the deprecation of IDFA will result in the reinforcement of user privacy. People will have control to decide whether to allow their behaviour to be tracked or not within the apps.
I believe that this is certainly a good step to be taken and it gives power to users to decide what to do with their privacy.
Moreover, since the IDFA has been around for some time, it has established itself as the main source for advertisers to track data and identify users' behavior within one app. As a matter of fact, thanks to its convenience and insights it can provide, the whole mobile advertising industry has been building on IDFAs since it is the most effective and precise way to track mobile advertising performance on iOS. For instance, Mobile Measurement Partners (MMPs) utilize IDFAs as one of their main building blocks to attribute installs.
Many companies will have to rethink themselves (and possibly their business model too!). For instance, will Google follow cope with the pressure that they are facing on increasing users' privacy?
We're about to witness a revolution in the industry and this is very exciting, in my opinion.
What's next in Apple Search Ads? And will it expand and develop into something bigger?
Yes, definitely. Apple is increasingly seeing an increase in revenue coming from this side of their business. As such, we have to expect Apple Search Ads expanding and developing into something that goes beyond the App Store listings. For instance, recent updates to the APIs possibly suggest that the next forefronts of the new ad placements will be "News" and "Maps".
Here users will be able to find, on the one hand, editorial content which can be promoted among 'normal' news articles. On the other hand, I expect certain shops, restaurants, etc. to be able to promote themselves on a map.
In sum, I see the potential for Apple to grow in the ads business. This revenue stream will probably increase and become more important for Apple's future and diversification of its portfolio of products and services. As such, I believe that they are just preparing the groundwork to expand to something bigger.
Thank you so much, Andrea, for sharing eye-opening insights and tips on Apple Search Ads!