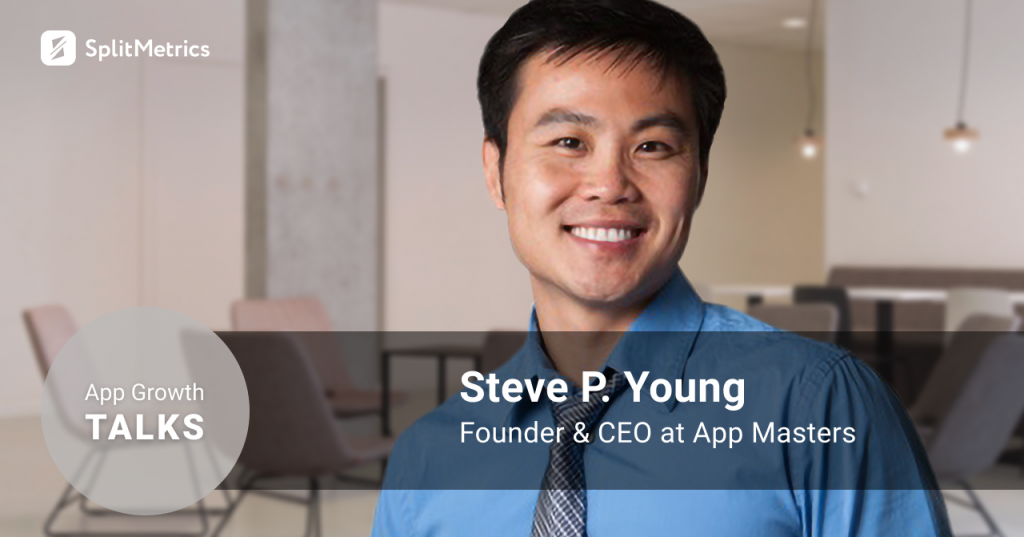 This is the fifth episode of App Growth Talks, a series of interviews with ASO, user acquisition and app growth experts. Today's special guest is Steve P. Young, a prominent expert on app store optimization, user acquisition and mobile marketing. Steve is a Founder and CEO at App Masters, an app marketing agency.
Editor's Note: In the podcast I called Steve a CEO and co-founder of App Masters, while he is actually a founder of course. I apologize to Steve and our listeners for that.

What do you think of Apple Search Ads? Is this channel a part of your app marketing strategy?
Yes, definitely. People come to me and ask, "I've just launched an app, how can I get users?" One of my favorite ways of doing that is through Apple Search Ads. Spend a couple of hundred dollars, get a few hundred users, see what they are doing within the app, how they are converting and think how you can tweak your app. 
One of my clients increased conversions by dropping his onboarding experience from seven screens to four screens. These are like tests. 
I love Apple Search Ads as a way to get your early users to see what their conversion rate number is, what the retention numbers are. Start with Apple Search Ads Basic, spend a few hundred dollars, ask Apple to find keywords that work for you.

I know that you guys [SearchAdsHQ] have a lot of tutorials on Apple Search Ads Advanced, but in the beginning, you can just start out with Basic.
Spend a little bit of money on a Discovery Campaign. Enable the Search Match option, set your cost per acquisition goal and let Apple find keywords for you.
Take good-converting keywords out of the discovery campaign, add them to the negative list and also put them to the Exact Match campaign. Discovery campaigns help you to figure out various keywords that you might be missing. If some keywords are super-expensive, I also put them as negative.
What are your thoughts on the post-IDFA world?
I am not an expert on the attribution stuff. But what I have to say is that the app stores are constantly changing, and I love it. I love when things change, that's why I love apps, because with mobile games and apps, the things are constantly changing.
We just have to adapt. Sometimes we just overexaggerate the impact of something because we don't know what exactly is going to happen.
I think we are not going to be affected as much as we think.
In your article for Entrepreneur you advise to target competitors' keywords. And what would you recommend to apps that would like to protect their brand names from competitors?
Article mentioned: 5 Simple, Low-Budget Growth Hacks to Increase App Downloads

There is not much you can do to protect your branding. If people are using your brand name you may reach out to Apple and say that this is your trademark. But other than that there is not much you can do to protect yourself from other companies using your brand names. 
And if you're looking to target your competitors, you can try to find competitor search terms with really high traffic and lower competition. I also always try to find complementary apps that have bigger brand names, and we saw good results sticking to this tactic with one of our clients in terms of increasing the number of downloads. The traffic was really through the roof.
What would you recommend to apps that are going to expand to new regions?
Localize. As simple as that. If you don't want to localize, use Apple Search Ads. Put it to a different country and see what Apple recommends as keywords for that particular region. Then go to Google Translate to see what these keywords mean. That's a great way to start localizing your keywords. 
What's your toolkit for successful app store optimization and user acquisition? Please name the top three tools you can't do without.
One – for ASO is AppFollow. Two – App Radar. Thomas [Kriebernegg] and I working together on a collaboration. I Use AppFollow for actual keyword research and I also use App Radar, it's a great way to get the data on the keyword traffic. Three – AppAdvice is a great tool that could provide you with really massive results.
You ve just mentioned Thomas, he is actually my next guest in our App Growth Talks. To finish up, what's your take on the current app store trends? And what trends in the App Store and Google Play Store should we expect for late 2020, early 2021?
I am not a Nostradamus but subscription-based apps are going to be the key. A lot of simple app ideas – I think that's where the trend is headed. It's already there now but I am sure we will continue to see that.
Thank you so much, Steve, for sharing your thoughts!