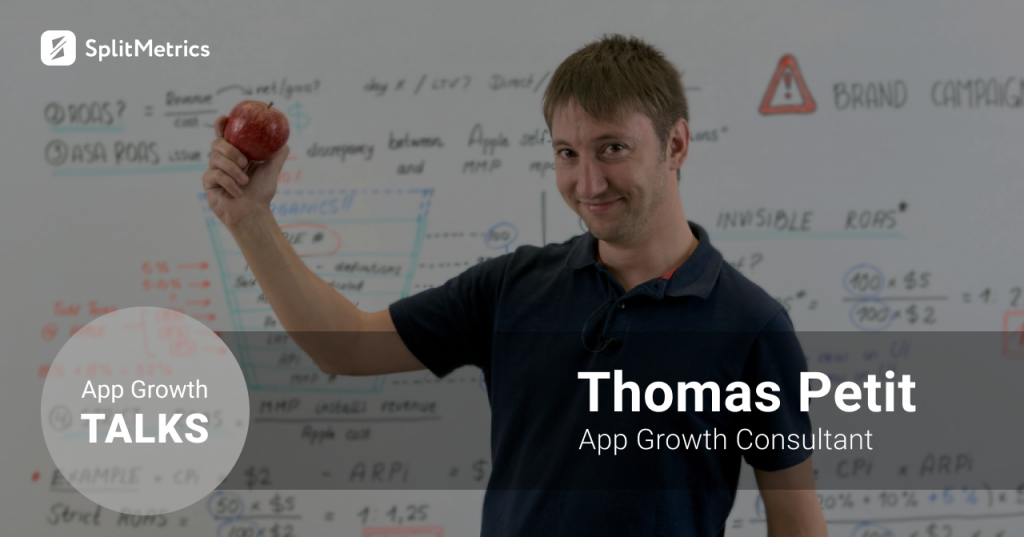 This is the first episode of App Growth Talks, a series of interviews with ASO, User Acquisition, Mobile Analytics and App Growth experts. We're starting with an interview with Thomas Petit, a world-renowned Mobile Marketing Expert and independent App Growth Consultant.

What would you say to brands who are afraid to use Apple Search Ads because of the possible cannibalization of their organic traffic? I know that this is a real pain point for many publishers.
I'll quote Steve Jobs on this: "If you don't cannibalize yourself, someone else will". I'm not denying some cannibalization effect, especially if you hold high positions, but there's definitely also incrementality to get, or loss to leave on the table.
By choosing conservatively to stay away from it [Apple Search Ads], you leave a very strategic place to your direct competitors, who get a chance to steal high value traffic from you. Search is different in this regard from social & display: you're creating competitive opportunities for others in your market. From a strategic standpoint, I believe it's a mistake, especially for those who can easily afford a small proportion of their budget to avoid this situation.
And that's without even considering two more things.
Firstly, there is cannibalization, but there's also uplift to get from Apple Search Ads.
In a recent case I worked on, we built a complex media mix model to understand uplifts from different channels, and Apple was by far the channel which had the biggest impact on organic, 50% higher than Facebook Ads and over 3x versus Google Ads! And that's from an account with a fairly high share of brand…
Secondly, beyond the results themselves, the unique insights you can get: given the opacity of organic search data, running ads provides some clarity you can't get any other way. That's especially true when you get activity spikes: think PR, influencer, social, OOH [out-of-home advertising]. For the datapoints alone, that trade off is worth it in my opinion.
How do you assess Apple Search Ads brand ad incrementality?
Incrementality versus cannibalization has finally become a hot topic, especially on Apple Search Ads but not only. It's always a challenge with new user acquisition as you can't isolate control cohorts… I believe the only way to try and quantify these effects is by interrupting your usual ads pace to run both fully paused and stress test periods, the later with likely unprofitable bids, in order to assess which level is ideal for your app. Such testing doesn't always provide as much clean data as I wish, and are rendered much harder when you run harder-to-track activities such as influencer marketing or TV, but that's how I recommend to understand the full effect of Apple Search Ads. To avoid harming growth goals and confirm with several data points, I'd recommend to rotate such tests across locations.
Which approach are you taking on LAT ON now? You've been an advocate of extrapolation, then switched to testing with LAT ON/OFF. Which one proved to be the most data-driven and helpful in terms of scaling in Apple Search Ads?
Measuring only what arrives through MMP or the self-attributed API is definitely a partial picture of the whole effect of Apple Search Ads. But extrapolating LAT is a tricky one. Those users may not behave the same, and my experience shows this method (where you would assume the impact is what you see plus the LAT ON ratio) isn't fully reliable either, and in some cases overstates the truth. Complex problems are rarely solved with easy solutions, I would recommend a mix, by separating LAT OFF cohorts, running some extrapolations, running pause tests, as well as monitoring closely your "Organic LAT ON" cohort in parallel, both on the quantitative (install volume) and qualitative (in app retention & conversion) sides.
For those interested to hear more on that, tried to dive deep on this topic in a recent interview in the very recommendable podcast Shamanth Rao is running on The Mobile User Acquisition Show.
Speaking of Limit Ad Tracking, I wonder what's your opinion about Apple keeping to limit access to data and thus creating a closed ecosystem. That could potentially increase its competition with Google and Facebook. Don't you think so?
I wouldn't relate directly providing users an option to limit ad tracking with maintaining the ecosystem closed: Apple isn't doing it to build the walls higher around its moats like its competitors, but to follow its stance on privacy which I believe is good for everyone in the long term.
Of course the marketer in me wants granular and deep data, but I'm also a citizen with concerns over Google business model fundamental conflict with consumers & competing businesses interests. We've gone way too far in data harvesting and exploitation without regulation. At the end of the day, I believe giving people a real option to limit ad tracking is good.
If you think the actual LAT issue on Apple Search Ads is a problem, you're in for a big surprise soon. There's a long due earthquake happening later this year, as Apple is about to go much deeper in this direction, with a mandatory consent on iOS14 that will affect many players way beyond Apple Search Ads. The exact consequences remain to be seen, but the impact of this change will affect the whole industry. Definitely something to monitor, and personally I'm welcoming such a change even though it will bring limitations to mobile measurement as we've known it so far.
As of how this will affect Apple Search Ads, it's also to be determined, but I believe measurement will be aligned to other channels, resolving the difference in approach we need today.
What's your take on the future of this channel? How will it evolve further?
I see it growing way further what we currently know it as. My bet is that Apple will build on top of it, for the long term, and at a much larger scale.
I revealed in a workshop in April new beta placements in News and Stocks apps, I think there are many more of those to come which will convert "Apple Search Ads" into "Apple Ads", one of the very few networks able to dispute the tightly controlled duopoly.
Thank you so much, Thomas!