Everyone wants to be a winner but how to become one?
In a highly competitive market, any advertiser faces the challenge of reaching and keeping the leading positions sooner or later. "Leadership and learning are indispensable to each other," said John F. Kennedy. At SplitMetrics Acquire (formerly SearchAdsHQ) we took this quote as our road map while developing a new feature – your secret weapon for scaling – Apple Search Ads Insights.
No need to use third-party tools for getting competitors' insights, no need to rely on gut instinct while setting the bids. We offer an intelligent solution to provide an accurate data-driven understanding of your market positions and share of voice for keywords, make decisions on bid changes and defeat your top competitors – all in one dashboard. Who are your competitors, and what keywords are they using? What is your share of voice compared to other apps? Are there any opportunities that other bidders might have missed? Find all the answers in the SplitMetrics Acquire Insights dashboard.
We found an opportunity to see Share of Voice in the SplitMetrics Acquire platform to be extremely useful. We can instantly see the position we have and understand what we shall do with the bids at that exact moment without a need to download any CSV reports! That's amazing! In the future, we are planning to set up the automatization using these metrics. Thanks for the new release!
How Splitmetrics Acquire Insights make a difference
Splitmetrics Acquire makes a true revolution with Apple Search Ads Insights. All the insights related to Share of Voice data and Search Popularity are gathered along with performance metrics for more efficient, dynamic keyword optimization. You can not only see the whole picture of the competitive landscape but use it along with performance metrics to make instant adjustments and optimize bids in one dashboard.
No need to analyze Excel sheets manually or use third-party tools for parsing competitors' insights. No gut instinct or guessing for your bidding strategy anymore. We gathered all the insights in the Splitmetrics Acquire dashboard for your efficient data-driven bidding.
The feature is currently available for the US, Russia, Spain, Germany, Great Britain, Australia, France, Canada, Netherlands, and Italy, with more storefronts to come.
What's under the bonnet of Insights?
The feature delivers aggregated data and analysis in one dashboard along with the opportunity to make instant changes in your bidding:
Your app's Share of Voice
Competitors' Share of Voice
Keyword Search Popularity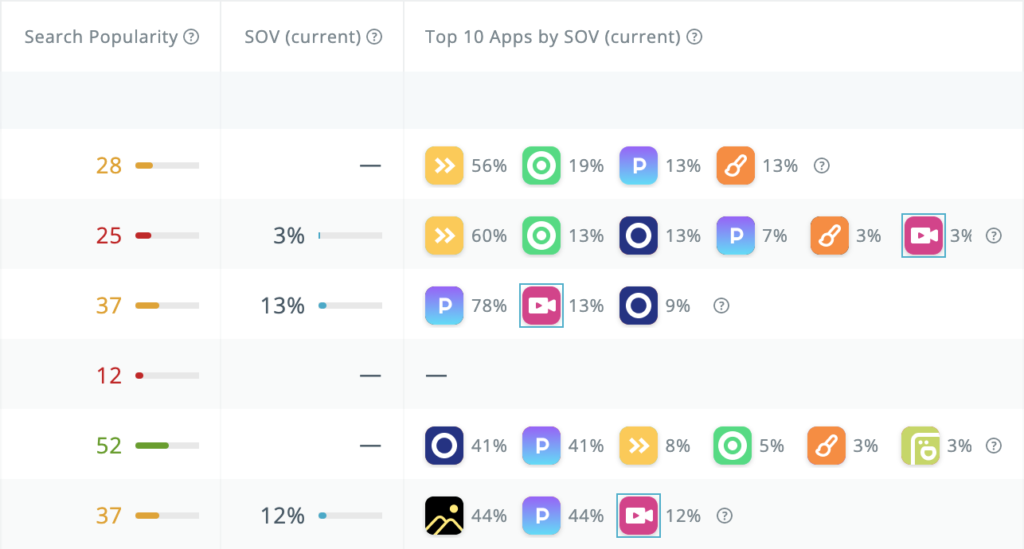 Know where you are with Share of Voice
Understand the current app position with your app's Share of Voice. This metric shows your app's share of impressions for a certain keyword in Apple Search Ads. SplitMetrics Acquire displays the estimated average share of your keywords for the last five days leaving out random anomalies to provide you with more accurate results. Track your share of voice to see how bid changes affect your app positions. In this section, you can also understand which additional SoV you could gain for your app by increasing bids and protecting your brand keywords, even generic ones.

Spy on the competitors
Which apps are displayed the most when users enter the search term? This feature helps you take a look around and discover your top-10 competitors and their Share of Voice range while bidding on each of the selected Apple Search Ads keywords.
This section delivers your multiple insights:
What's the distribution of impressions between competitors?
Is your SoV comparable to other bidders?
Who is bidding on your brand keywords?
Find what keywords other competitors are bidding on and add to your account. Insights provide you an opportunity to instantly adjust your competitive strategy and optimize bids – all in one dashboard in the SplitMetrics Acquire platform.
Unlock keyword potential
Search popularity will let you know how frequently users search for a particular keyword. The section shows the latest data from Apple Search Ads for the last 24 hours. The final data is highlighted in a relative-grade color to help you understand the most popular search terms instantly. Track search popularity status and get insights and data for decision-making before adding new keywords to your account.
Within one SplitMetrics Acquire dashboard, you can find the keywords with both growth potential and low acquisition costs and increase the bids to get more market share. Avoid budget leaks by investing in keywords that aren't worth competing on. Instead, focus on increasing bids on the search terms with the highest potential.
You can unlock new opportunities by adding keywords with medium-range search popularity and long-tail keywords. These keywords might be less competitive and more relevant to the app and could bring you more conversions at a good price. Keep an eye on your brand keywords to protect them and tack high-volume keywords that are lucrative to your app. We also do not recommend words with a Search Popularity rank ≤ 10 as they might not be worth bidding on.
The Search Popularity feature can become your real game-changer if following the recommendations above and use it together with our built-in Apple Search Ads Keyword Planner.
Ready to move on to data-driven optimization? Book a meeting with us to spot your app growth needs and discuss the opportunities with a SplitMetrics Acquire expert.
Maximize your Apple Search Ads ROAS with SplitMetrics Acquire
Request Demo