SplitMetrics got a chance to speak with Steve P. Young, the host of AppMasters podcast and the founder of Pixel Happy. We discussed how to get organic app downloads by crafting a perfect product page on the Apple App Store.
SplitMetrics: What are the key factors developers should consider to trigger the growth of organic app downloads within their app store optimization activity?
Steve P. Young: App store optimization is tailoring your Apple App Store presence for downloads. Developers should have the right keywords in the app name, description, and your keyword field. App's icon is to be really engaging and screenshots on your Apple app store page should tell the right story to iPhone users.
One of the biggest mistakes app developers make is not focusing on the Apple App Store presence. Normally, iPhone app developers get all the keywords right, but their icon and screenshots leave much to be desired. It makes sense to start with these two elements optimizing the entire Apple App Store presence. Run a mobile A/B test to understand which layouts trigger app's conversion growth in the store.
In fact, a well known copywriting formula A.I.D.A. (Attention, Interest, Desire and Action) can be applied to screenshots on the Apple App Store. The first screenshot of an app store page gets attention, the second gets interested, the third creates a desire to download the app, and the last one includes the call to action. In my blog post, I go through different examples of developers applying this theory.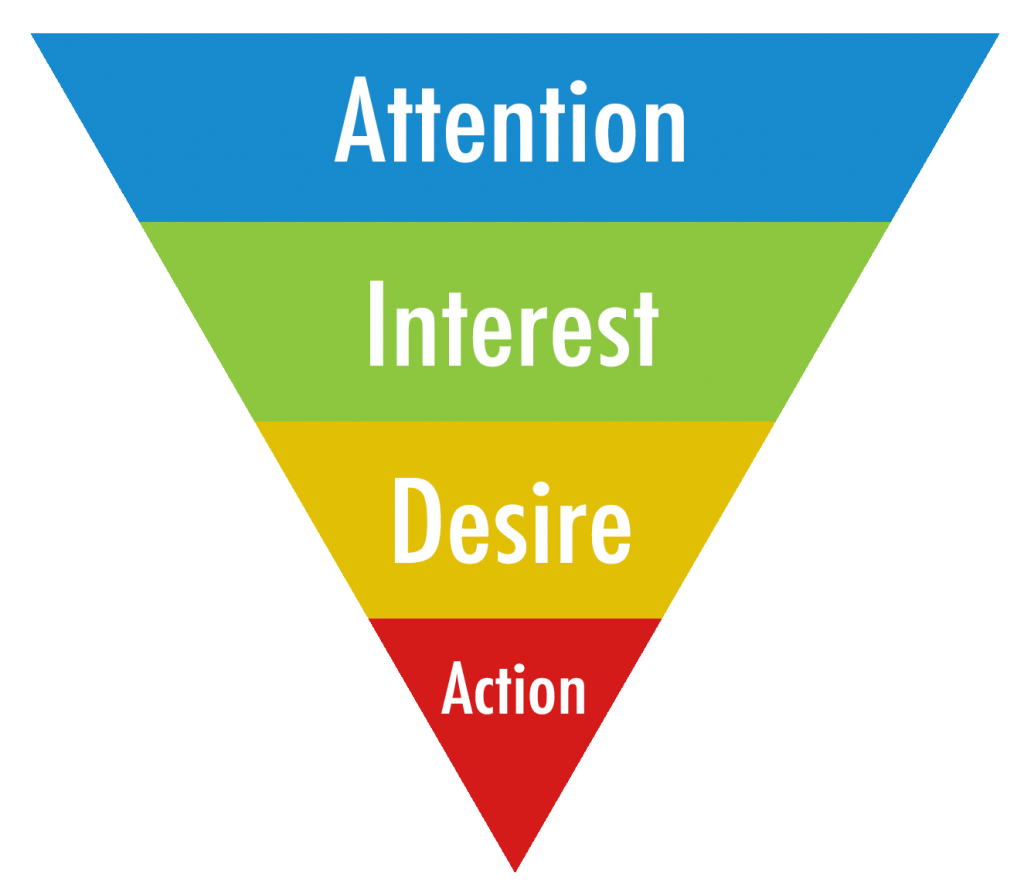 You mentioned that an icon on the Apple App Store should be engaging. How can developers achieve it?
It is all about presenting. I would say that using faces is an easy way to achieve engagement growth. This hint worked with a lot of educational apps I used to create. The second thing is to make your app store icon different. Do a quick search to see what other people are using as their icon. Apple App Store is a great showcase.
For instance, it seems that every 'to-do list' app has a checkmark on its icon in the Apple App Store. Developers of such iPhone apps should make their product stand out while being clear about app's functions.
It's always good to experiment with various colors. Maybe blue dominates on app store icons in your category, so go under orange to contrast. The main question is what you can do to stand out in this whole canvas of icons on the Apple App Store.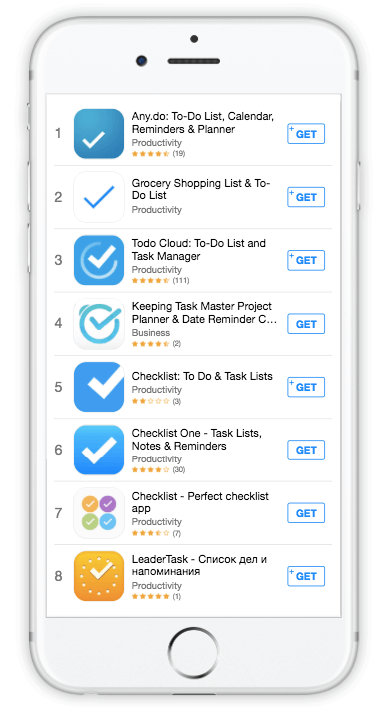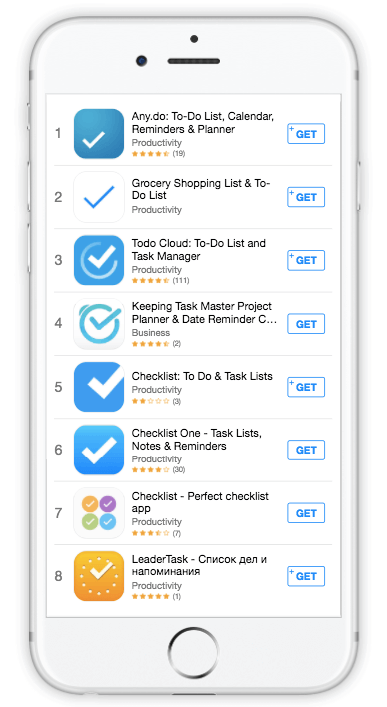 What are the main factors developers should focus on when they start optimizing for the Apple App Store?
Developers polish the keywords of their app first. I prefer OneLook which provides a reverse dictionary. For example, if I'm a developer of a productivity app, I should type in "productivity" and OneLook gives me a bunch of words related to the term. Then I put that into Sensor Tower to measure the traffic score and overall competition. Some developers use Google Adwords for it as well.
When do you start marketing your Apple App Store app?
As early as possible. Let's imagine I'm a developer who created a prototype of an iPhone app and a video showcasing app's features. First, I should send my pitch to a reporter asking for a brutal feedback: "Can you tell me exactly what you think of this idea on a scale from 1 to 10." If nobody responds, you may have a great idea nobody cares about.
I can also link the reporter to my video and inform him that there is an iPhone app prototype in existence. In such cases, the chance of some really good feedback grows. Applying this strategy as early as possible allows developers to keep reporters engaged as app's release in the Apple App Store gets closer. "Remember that idea I told you about. You said it was great. Do you actually want to cover it?" The earlier you start sharing an app prototype, the more feedback you get.
How do you track ASO activities impact?
I'll recommend using the SplitMetrics A/B testing tool. At figuring out what works in terms of clicks in the Apple App Store, screenshots, etc., it's good to use a tool like Sensor Tower to see how well your app's rank has gone and check if there is a growth of more organic downloads from the store.
Once I optimized one of my apps and got 233% growth just by changing the app name and keywords. I did nothing to the screenshots or the icon. Thus, it's all about tracking the growth of app downloads based on every single change you make on the Apple App Store.
How do you get started with ASO to increase the number of organic app installs?
If you're just starting out with an iPhone app, keyword field should be your top priority. At polishing your keywords, test everything else if your app is already live. In case your app is in development, use a tool like SplitMetrics to figure out if this or that screenshot, icon, title are worth using on the Apple App Store. It's really useful to do a lot of testing and soft-launches. Utilize all resources that you have out there preparing your iPhone app for its release on the Apple App Store.
How to craft a title that works for your audience and triggers growth of your iPhone app store ranking?
I'd try to use keywords in my app name. There are some clever ways developers can put it in there. I'd also highlight key benefits. I experienced a 233% growth once: app's name was 'ABC DJ' and I changed it to 'Phonics Play – Get Kids Hooked on Alphabet Sounds'. My aim was to rank well for 'Hooked on Phonics' on app stores. Thus, 'hooked' and ' phonics' were cleverly incorporated in the same app title. As a result, I ranked number 4 on the app store at the time.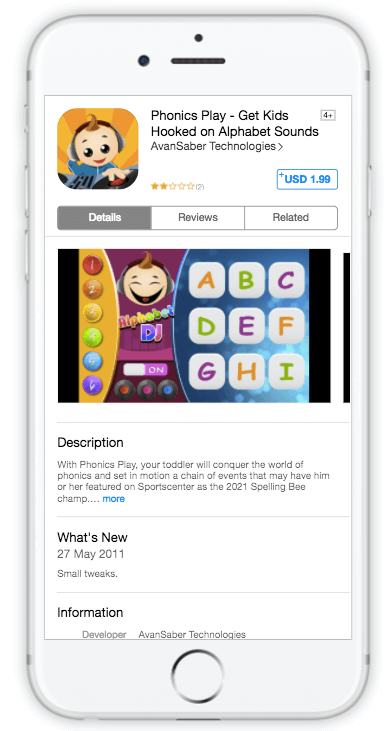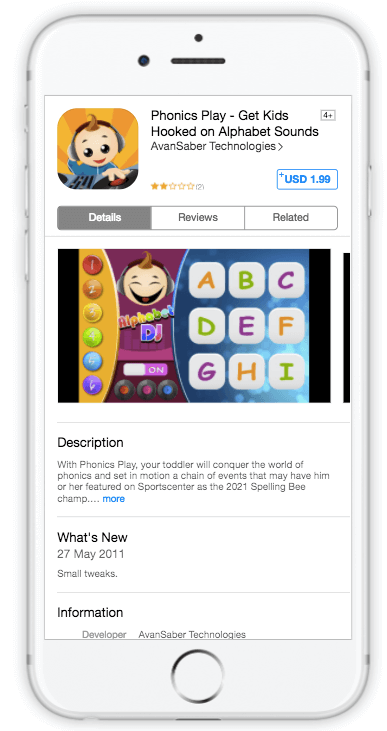 Source: splitmetrics.com
I'd also recommend avoiding straightforward lists of keywords. Reviewers are going to say that you are trying to spam the Apple App Store. Developers should put main benefits of their iPhone app and try to waive keywords they are targeting.
Which app store page element has the greatest conversion impact on the Apple App Store?
I'd say screenshots, this is my hypothesis. People are going to search, find your app, and maybe download it right away if they've heard a good review about the developer. However, the vast majority will want to learn more, and nobody likes to read long paragraphs. So, screenshots should tell everything a user should know about an iPhone app. Icon brings people into the door, screenshots convert them on the Apple App Store.
Which app store page elements would you test first?
I'd test app's icon first. It is like a subject line. Developers aren't going to get anyone to the app store product page if their icon stinks. If you fail your icon, forget about screenshots. Apple App Store visitors are never going to even see them or care that much. So, test an icon first.
What do you do with app's description on the Apple App Stores? They say that people don't read them.
There have been some rumblings about descriptions not being indexed by the Apple App Store and obviously, Google Play indexes a lot. Using copywriting methods for app's description is going to help developers optimize it for keywords. After all, there is still going to be a percentage of those who read, so I'd still pay attention to this Apple App Store page element.
There are lots of traction channels: ASO, PR, influencer marketing, and Apple App Store description is one of them. So, it shouldn't be neglected. It's vital to use good keywords making it engaging and fun. I'd also talk about social proof. If an app was featured by different publications or a developer got a thousand five-star ratings, it's worth being mentioned.
What are the main things that every app developer should consider promoting their iPhone app on the Apple App Store?
There are a lot of different channels. Just pick one or two for major focus and you're going to be fine. As for PR, a lot of developers featured by Apple understand it'll last for a week only, so they need prompt coverage. Thus, they leverage PR as one channel. ASO is also a channel, getting influencers to talk about your app is another one.
I've also talked to developers with millions of downloads who achieved it without any PR. Their app just got featured by Apple and then they did influencer marketing having people to share their iPhone app on social media. My clients, app developers, get downloads growth just through the PR that we help them with.
Focus on a few things at a time. I see the biggest problem is that app developers are trying to do too much at once. Pick one or two different things rather than spreading yourself so thin doing PR, influencer marketing, etc. No one is really good at all of them. It's better to hire different people for specialized tasks.
How do you get reviews and ratings quickly in the Apple App Store?
Make sure that this is a part of your development and the UI. When are we going to ask for app reviews? How are we going to do it? What's the best time within the app to do it? These questions are better to be answered during app's development.
When developers launch their iPhone apps, they should get friends ready to download and review it as these five initial reviews will show up on the Apple App Store. Keywords and reviews tend to get indexed. When you have really good keywords in the reviews there's a chance of store rank growth.
How do developers decide which pricing point is the most profitable for their app?
It depends on the Apple App Store category. You probably need to make it free for games unless you have the different channels already set up. For example, The Dark Room hit number one of paid gaming apps in the store and held it for a long time. It was a very popular title on the web already, so they just moved on to mobile. In such cases, developers can charge users as there's an audience already in.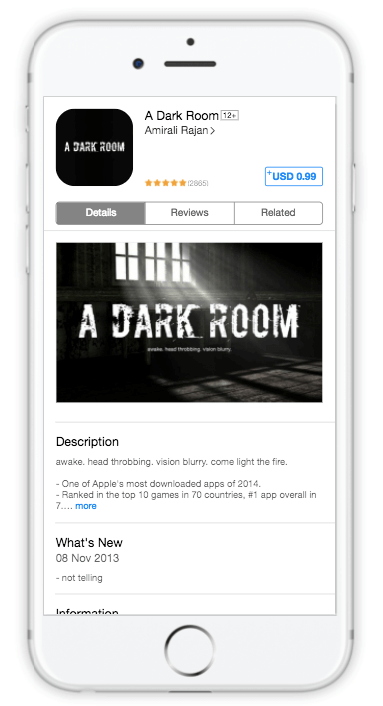 Another example: one of my past clients had a million followers on Instagram, it's a really big platform. He made a paid three-dollar app, and we managed to hit number two under paid apps in the store through the PR outreach. Promotion is what matters here. If you have no brand, no connections, then maybe the free app is your best bet because your store category calls for it. Nevertheless, if you're a developer of a productivity app, you can go straight to charging as lots of people charge in this store category
Both app store category and your marketing strategy really matter. Don't go free because you're a game developer and everybody says your app has to be free. I don't think that would be true. If you have a good marketing strategy, you can do fairly well by charging for your iPhone app.
What type of companies can benefit from ASO?
Everybody can really benefit from it. You can see the biggest brands doing it. Some major companies have a SEO strategy, others don't do it and spend tons of money on paid acquisition. It's a low-hanging fruit and they can rank well in the store because of the paid acquisition. Paid acquisition triggers downloads, engagement, and reviews growth, gives the power to knock out lots of indie developers out of the Apple App Store.
However, I see the trend when a lot of big companies start using PR and ASO due to ever-increasing paid acquisition cost. So, they need to leverage other marketing channels to see what they can harness, what kind of traction they can get for it. Indie developers have to be careful and start creating better apps. They might have to do a little acquisition too, as big players get more and more interested in App Store Optimization and PR.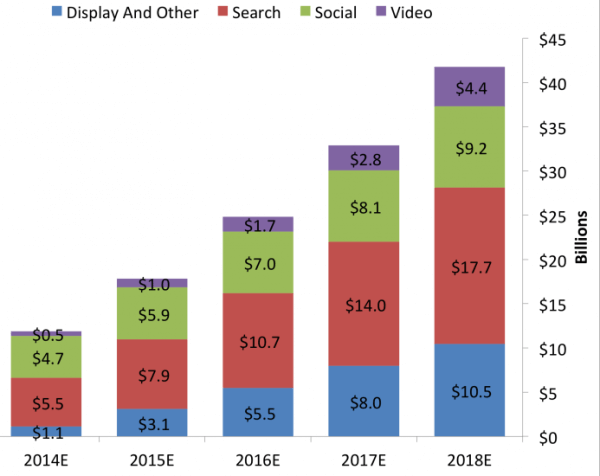 Is there something most iPhone app developers miss or don't know about App Store Optimization?
The trick I'm known for now is the paid-to-free strategy. It helped us achieve over 100 000 thousand downloads in a weekend. Transitioning apps which debuted in the Apple App Store in 2009-2010 from paid to free results in seven digit number growth of downloads.
At the moment I saw AppAdvice covering lots of such cases, so I just pitched them: "I'm going free tomorrow. Would you want to cover it?" They covered it and I got close to 40.000 downloads within a couple of days. Thus, if you go from paid to free make sure you pitch AppAdvice, BGR, or other sites. I found that AppAdvice is probably one of the biggest. Give them the exclusive on your free campaign and they're likely to cover it.
What would've happened if you hadn't told AppAdvice?
I started to ask myself this question at some point. Guests of my podcast said that developers don't have even to pitch anybody, that if one transmits an app to a free model, the App Store will boost the downloads growth itself. I decided to check it, so I waited for about a month and I went free again. I didn't tell anybody, even my friends. I got hundreds of downloads again thanks to this strategy.
What about free apps?
If you have a free app, you can make one of your in-app purchases free. We applied this strategy with some app developers, they made an in-app purchase go free and got covered for that. The only thing you have to know that this newly free in-app purchase should be non-consumable. This should be something that app store users can buy only once. For instance, a full free subscription isn't an option, it's better either to unlock something or remove an ad in such cases.
It has been great talking to you. Thanks for great insights on how to grow an app on the Apple App Store.
If you want to try out mobile app marketing strategies that are working today go ahead and contact Appmasters.