Here is an article by the Zorka.Agency team who share their experience with the readers of SplitMetrics blog.

There is a sociological phenomenon suggesting that people are more likely to trust those who are addressing them 'from a stage'. This explains why Influencer Marketing is still one of the most reliable and effective ways of reaching the right audience and getting them interested in your brand. Let's have a closer look at how to use Influencers in your next mobile app advertising campaign, and why App Store Optimization (ASO) is quite important.
What is Influencer Marketing?
Influencer Marketing is a marketing tool that focuses on partnering up with influencers (opinion leaders) to drive traffic to a mobile app.
Influencers have a large number of followers on their social media which gives developers an opportunity to quickly reach their target audience in different GEOs. Moreover, influencers' recommendations look authentic and blend seamlessly into their content. This is a really effective way of reaching and engaging with your target audience.
According to Influencer Marketing Hub, Influencer Marketing Industry is set to grow to approximately $13.8 Billion in 2021, and 62% of advertisers intend to increase their influencer marketing budget over the next 12 months.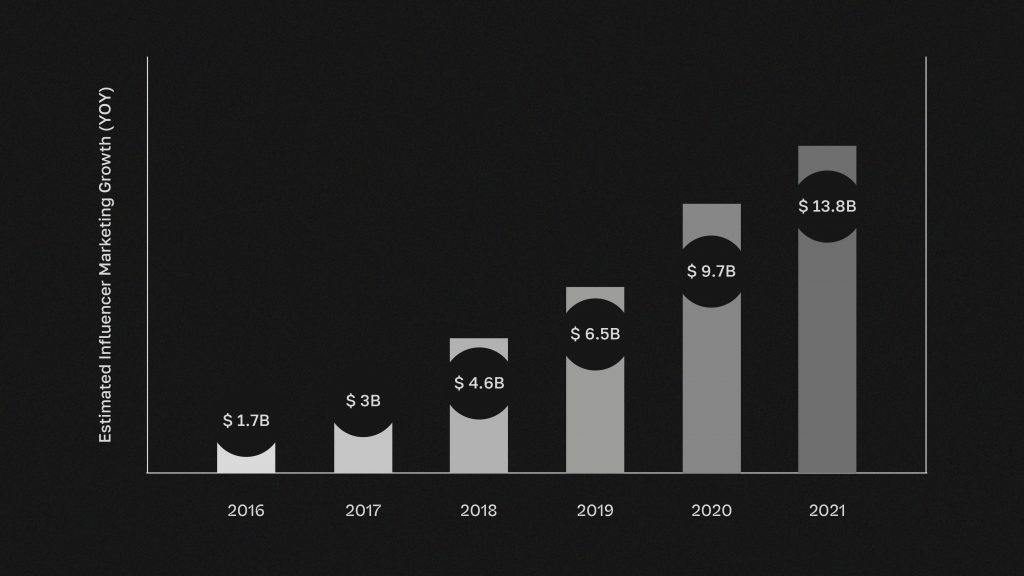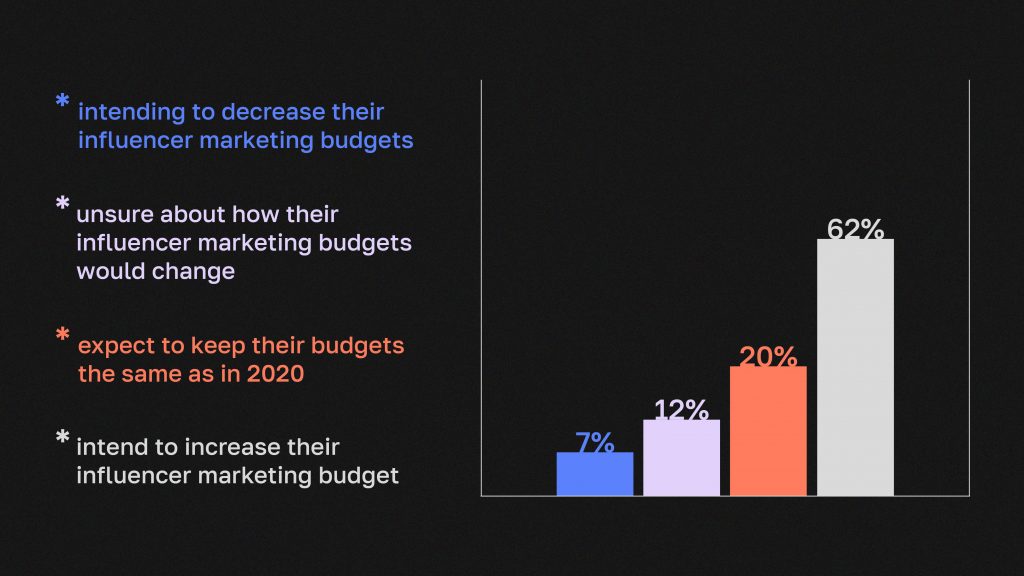 Targets that Influencer Marketing addresses at different stages of the application lifecycle
Influencer Marketing is a rather versatile tool which can be effectively used at any stage of product launch. Generally, these stages can be defined as the following:
Testing and Quality Assurance;
Pre-registration;
Soft launch;
Global launch;
Audience management.
1. Test and QA. At this stage, bloggers primarily act as a focus group to test the application. This approach helps to gather highly valuable feedback from expert influencers. For instance, such mechanics work perfectly for games.
Note: You may also take advantage of SplitMetrics A/B testing platform to validate your mobile app's idea or game's concepts.
2. Pre-registration. At the time, when the app is not yet available for download, a call for pre-registration from various influencers can be a very effective tool to warm up the audience and generate a buzz around the product. There was a similar story with Clubhouse, when the app was only available to iOS users.
3. Soft launch. Influencer Marketing serves as a tool to test the in-game mechanics of the product, as well as getting your target audience familiar with the product and testing various types of advertising campaigns in different regions.
4. Global launch. As the application gets released globally, social media influencers become the source of the product knowledge for their subscribers. Also, they encourage their followers to purchase (download) the app.
5. Audience management. At later stages of product development, Influencer Marketing helps advertisers maintain the loyalty and engagement of current app users, attract new ones and re-engage those who have become inactive.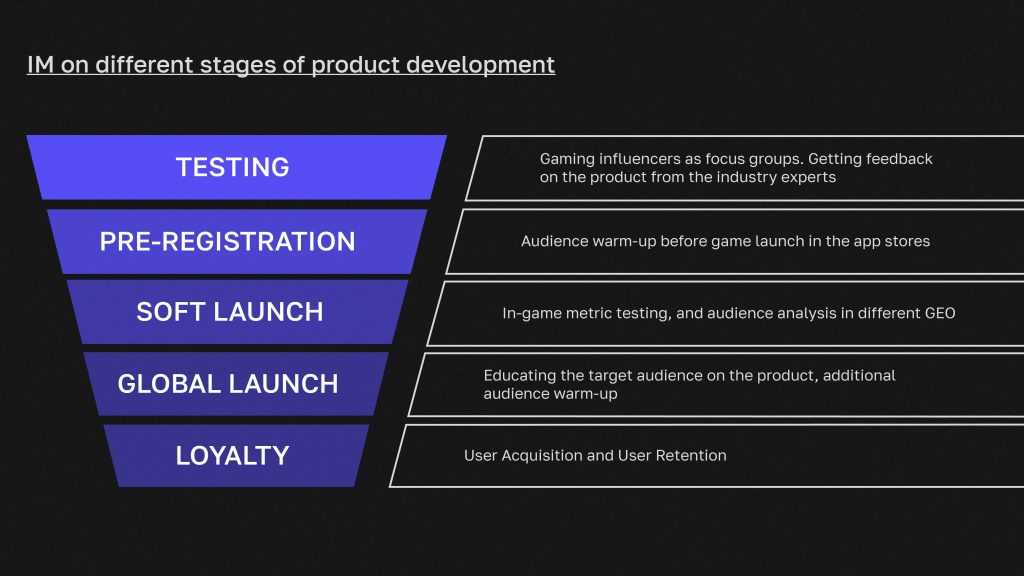 Influencer Marketing and ASO
Every Influencer Marketing campaign is based on a simple yet really effective strategy. In most cases, a similar consistent approach results in equally high performance. So, a user sees some information about a product or an app in the influencer's publication. Then they either click on the tracking link in the description box of the video/post and get redirected to the app store, or they turn to a search engine to learn more about it.
According to Zorka.Agency's in-house data, around 20-50% of app installs are generated by sponsored advertising with bloggers are organic.
Therefore, a well-executed App Store Optimization (ASO) strategy significantly increases an app's chances to rank higher in the app store and not to lose any audience to its competitors.
4 things to do before launching an Influencer Marketing campaign
1. Set up tracking and campaign analytics
The first thing you should do before launching an advertising campaign is to set up your tracking and analytics. It doesn't matter whether it is going to be a paid sponsorship with influencers or a performance marketing campaign on social media. Later on, this will give your marketing team the means to timely optimise the advertising campaign. For example, they'll be able to see which blogger failed to meet the set KPI's. The customer journey, e.g. 'click – install – in-product event – purchase', should be absolutely transparent to your team.
2. Test your product first
Bloggers are rather picky, especially when it comes to the biggest influencers. No one will be willing to promote a product that hasn't made it past its testing stage and has some serious flaws. Make sure your product is properly tested before you launch your marketing campaign. Otherwise, not only do you put your reputation at risk, but also the blogger's.
3. Develop creative assets
Bloggers are going to use the assets that you'll provide them with. Therefore, make sure that all the images and videos are high-quality. Also, it is really important that your assets are memorable and engaging. Of course, bloggers know their audience well, and they perfectly understand how to reach and engage with their followers. But the key message, USP and the product features should be clearly stated in the advertising brief.
4. Consider adding sponsored link bonuses
Firstly, this applies to those bloggers who you'd like to get involved in your advertising campaign. As for some freemium apps on the market, you could give away a paid subscription to a blogger. Hence, they will have an opportunity to learn more about their product first-hand and tell their followers about their personal user experience. On the other hand, the audience will find it far more appealing to download and install the app via the sponsored link if they can get some bonuses in the process, e.g. temporarily boost their accounts.
Final thoughts
Influencer marketing is one of the most powerful modern marketing tools. It offers a wide range of product advertising opportunities and can be used at different stages of product development. Partnering up with influencers brings audience trust to another level. It generates demand, and helps brands engage with their current audience. Ultimately, Influencer Marketing drives up the brand's sales and results in an increased ROI.