Today, mobile devices are the primary aspect of digital media success. They transform market opportunities, business models, and operating models at an enhanced rate. Hence, when implemented significantly, can help revolutionize your business plan of action.
This article is a result of a cooperation between SplitMetrics and FinancesOnline, a platform for SaaS / B2B software and financial products reviews. Taking from both of our backgrounds in finances, SaaS / B2B software and mobile app marketing, we bring you this list of trends to look out for in 2023.
As a result, here's a list of the top 15 mobile trends 2023 that we believe all app developers, publishers and marketers should be aware of.
Main trends in mobile for 2023
1. 5G Global Adoption
The June 2022 Ericsson Mobility Report shows that around 580 million mobile consumers chose 5G subscriptions by the end of 2021. In 2022, the number is expected to hit 1 billion, which by 2027 will be 4.4 billion.
5G global adoption renders many benefits over 4G. It delivers faster connectivity, the latency of less than one millisecond, better user experience, and functionality. Additionally, 5G service providers provide more data and improved services.
Future mobile app development technologies also include virtual reality, IoT-enabled healthcare, connected vehicles and homes, e-commerce, and wearables. Thus, there's high scope for 5G in the future of mobile communications.
With the adoption of 5G, businesses can perform complex tasks quickly, without much interruption. Faster internet connectivity also provides exponential growth opportunities for businesses.
2. Progressive Web Apps
Progressive Web Apps (PWA), also referred to as Hybrid apps, are utilized to build web technologies that are on track to become mobile app future trends. They are employed to provide the users with experience equivalent to native apps.
They are cost-effective, cheaper to build and operate offline. Likewise, they are linkable (and shareable). These apps can be optimized for search engines and don't even need app marketing to be discovered by the users.
In addition, Progressive Web Apps can boost customer engagement, increase page views, and reduce bounce rates. They require less storage space as compared to other native apps.
For instance, Twitter Lite PWA requires less storage space than the Twitter app for Android devices or iOS. PWAs offer major advantages to businesses, especially SMEs (Small Business Enterprises).
They enhance mobile traffic, reduce the use of device storage, and augment load and installation speed. Hence, increasing the average conversion and engagement for businesses. PWAs will remain a significant trend in 2023 and the coming years.
3. Mobile Payments
Payment apps have been around for a while now and as of now the market is strong and diverse, with great solutions coming from banks, operators and independent service providers contributing to its continuous growth. The list of available solutions is impressive: PayPal, Google Pay, Apple Pay, Samsung Pay, Venmo, Cash App, Zelle… and many more.
Mobile payments are convenient, fast, and, most importantly, safe.
The advancement of technology for better functionality, automation, better safety and privacy features played a key role in shaping our expectations beyond 2022. ReportCrux estimates that by the end of 2027, the market will reach USD 8,724.2 billion, at a CAGR of 34.2%. Pretty impressive, considering that in 2019 it was USD 827.6 billion.
Offline transactions also contributed to this trend. Since the Covid-19 pandemic started, the number of in-person communications has significantly decreased and mobile payments have become a safer option. Proximity transactions with smartphones require no person-to-person contact or exchange of money or coins (touched by others). And, they offer an additional layer of security.
Mobile payments eliminate the need of carrying credit cards or cash. Yes, a smartphone can also be stolen, but sensitive data is protected..
With mobile payments, businesses can expedite transactions, creating a quicker and more user-friendly experience for their customers. Both online & offline.
4. m-Commerce / Mobile Commerce
Mobile commerce was one of the most significant mobile trends in 2022 and will be in 2023. Adhering to the lockdown and social distancing scenario, mobile commerce sales have risen at a surprising rate.
Why surprising? Although smartphones were considered key elements of a user's journey towards a purchase, the domination of a PC as the tool chosen to finalize it was undisputed. During the Covid-19 pandemic e-commerce exploded in general and m-commerce followed. Mobile payments, better shopping apps and improved mobile web design did the job it seems.
According to Insider Intelligence, mobile commerce value should reach $620 billion in 2024, or 42% of e-commerce. The research agency claims that tablets, despite forming a significantly smaller population of devices, were important to the formation of this trend. So this may be a piece of information that app publishers should keep in mind.
Mobile commerce can be convenient, fast, and secure. Besides, it offers a plethora of benefits for businesses and companies. Developed with an easy-to-use system, businesses can use mobile commerce to conduct transactions efficiently. It provides a broader reach, allowing businesses to target consumers based on their location, the type of device they use, and their service providers.
5. Wearables
From smart jewelry (rings, wristbands, watches) to body-mounted sensors and fitness trackers, people use wearables for various purposes. According to Statista, the number of wearables will reach more than 1 billion by the end of 2022. In 2023 the wearables market is set to surpass $54 billion according to Globaldata.
Wearable technology gives us more than just accessories for fun. Smart watches, for instance, are used by many to monitor their health as a fitness tracker.
Research was conducted in Northwestern University and Shirley Ryan Ability Lab in Chicago in 2020, wherein a wearable device was designed to monitor early signs and symptoms of COVID-19 patients.
6. Foldable Devices
Within the categories of digitalization, the employment of foldable devices will remarkably increase between 2023 and 2027. According to Technavio, the size of the market is expected to grow by more than $73 billion (at a CAGR of over 15%). So far, foldable devices have been one of the strongest trends in the mobile domain. With their growth, the mobile app development industry has taken a surprising turn. Thus, if you utilize this trend, it can help boost your business efficiently.
What's the appeal? The largest screen size possible on a device that can still fit in a user's pocket or, at least, in a hand.. The everyday smartphone with a tablet-like screen size offers portability and thus is making waves.
Foldable devices can be considered a boon for the growth of your business. They offer an advanced design with several screens to operate. Besides, foldable devices come with a set of smart and innovative key features that improve productivity. Furthermore, they provide greater durability and improved power functionality. In a nutshell, foldable devices are flexible, convenient, and a healthy option for businesses to opt for.
7. Mobile Virtual Reality
Virtual reality is something creative folks around the world have been trying to tackle for a long time now, with varying results. Enter 2022 and Metaverse. Regardless of how we perceive this project, it surely has left an impact. Now, according to credible sources and our own predictions, it seems that after years of experiments, interesting developments followed by spectacular flops (or quiet whimpers), the market is steadily evolving into something that might work on a larger scale.
Hardware still remains a key challenge for the industry, if not for technological reasons than for market ones (we're still waiting for that "aha!" moment among customers). IDTechex, which has been observing the Augmented Reality / Virtual Reality markets for some time now claims that the tech is out of its infancy phase. In 2023, VR will be more and more streamlined and simplified with low-cost, standalone devices contributing to its success. According to the company, the XR headset industry will grow at a CAGR of 13% between 2023 and 2033 (XR — Extender Reality meaning both Virtual Reality and Augmented Reality).
Anyway, it seems that VR is really happening, so keep your eyes open and be the first to take advantage of it, as we all know — being first matters a lot.
8. Mobile Augmented Reality
What is currently bigger and more widely available now (as of 2022)?
Of course, it's Augmented Reality!
This is a technology that has already given us some terrific functionalities and truly immersive experiences in mobile apps for e-commerce (isn't fitting 3D models of furniture in your place on camera just neat?), lifestyle (this means virtual house decoration, trying new makeup or clothes on camera or inside an app), entertainment and gaming (chasing Pokemon or real monsters with the Witcher).
Things will get even better in 2023 and beyond, with the development of dedicated Augmented Reality hardware. The technology already made some bold & successful accomplishments in the professional environment in industries ranging from medicine & surgery and many others.
Scale is king and the popularization of AR on a mass market may be more challenging, but it's certain that app developers may count on new opportunities in 2023 and beyond.
9. Beacon Technology
Beacon technology means using small devices (beacons) to communicate with mobile phones and apps in their proximity. Beacons can be used to greet mobile app users of shopping apps in real life locations… and send them some extra offers. Patients can be guided in large facilities straight to their doctors, streamlining registrations and check-ins.
This tech already has a wide range of applications in e-commerce, retail, healthcare, logistics, banking and marketing. Proximity marketing (a tactic of communicating with mobile users in a specific vicinity) is a term that mobile app developers and publishers should be familiar with. After all, mobile apps with access to the internet already are an important tool used in this fashion.
In 2023, the technology will go even further, delivering precise data on user behavior and shopping customs, driving more implementation and business opportunities for app publishers and developers.
10. Super Apps
Super Apps is a term for large mobile applications that integrate multiple functionalities, thus replacing a number of smaller, separate apps.
From a technical perspective, a super app may in fact be a collection of several mini-apps hiding behind a robust and (hopefully) frequently customizable interface, allowing for the accomplishment of a multitude of diverse tasks.
Regardless of technicalities, a Super App offers a complete, all-encompassing user experience. For example, a mobile bank app may offer additional features like buying insurance, automating payments of utility bills, interactions with official administration and government institutions, payments for parking, tickets and so on.
Growth of certain apps into Super Apps is the natural consequence of the sheer number of new apps being uploaded into all app stores every month. Inevitably, we are reaching a point where users are being overwhelmed by the number of apps being installed on their phones so they are gravitating toward all-in-one solutions.
Superapps was a trend live and kicking in 2022 already and we predict that in 2023 it will be even more popular. Big apps can look for even more opportunities to grow. Everyone should watch their competition and try to explore niches if possible.
11. Mobile Security: Two-step Authentication, Biometrics
The more integrated into our lives mobile apps become and the larger their range of services, the bigger the pressure on security. Super apps may serve as a prime example of why new methods for authentication will matter more in 2023 and beyond.
With the core app including more & more modules (mini-apps), a single breach can lead to a terrifying data loss, stolen identities, credit card numbers, unauthorized access to other services and so on.
We'll see more apps relying on security measures reserved for professional services, like ID verification, two-step authentication and even biometrics (like facial recognition or fingerprint identification).
Investigating these technologies in mobile application development is crucial in finding the right balance between security and usability. Naturally, those depend on an app and its purpose. For a good start, we recommend this article by Avast – it's a comprehensive guide to various security measures.
12. The Internet of Things
More things will access the Internet and have their apps. From Smart TV's to a wide range of devices, including air filters, house alarms and monitoring, lightning systems, kitchen appliances… and smart cars or assistants like Amazon's Alexa.
Forbes predicts that by the end of 2023 there will be more than 40 million smart devices connected to the Internet. Apps for things that want to (and need to be online) have a huge presence on the Apple App Store and are a significant part of the Lifestyle category.
Beacons, AR / VR, Super Apps… they all show that the smartphone will be more and more integrated into our daily activities, becoming our extension and way to interact with the world more and more.
13. Customization, Optimization
In the context of Super Apps, the Internet of Things, beacon technologies as well as AR / VR, many companies find that in the process of increasing mobile app revenue creating a cohesive business environment and great user experience is even more challenging than developing the technology itself.
You may have all the tools at your disposal to build a powerful Super App with wonderful mini-apps developed by separate teams… but the bigger the scope, the more difficult it is to explain it to new users and accommodate them once they install an app.
Customization and optimization become key for user acquisition, adoption of services and ultimately user retention. Customization of apps becomes a must-have feature.
The more complex an app becomes, the more data-driven this process should be — from careful optimization of their product pages on all app stores, to promotion and marketing.
Testing will be more important than ever, just like having a good mobile measurement partner that will give our app means to learn more about its users.
14. Artificial Intelligence & Machine Learning
The larger the scale, the more sophisticated our solutions need to become. Artificial intelligence and machine learning will be crucial in the process of optimizing user experience and ultimately allowing the best customization of mobile apps possible. From news-feeds, product recommendations, notifications, usage patterns and security measures — AI / MR will be a key tool for providing analytics teams with data.
Chatbots are an increasingly popular way for mobile apps to provide customer support. Their market alone (not only for mobile apps) is predicted to reach $13.9 billion by 2027 according to Researchandmarkets.com.
15. Localization
After analyzing hundreds of A/B tests conducted through our platform SplitMetrics Optimize, we highly recommend all mobile app developers and publishers: localize your product and product pages on all app stores.
The inclusion of culturally relevant imagery and messaging on an app's product page can lead to a dramatic conversion rate uplift.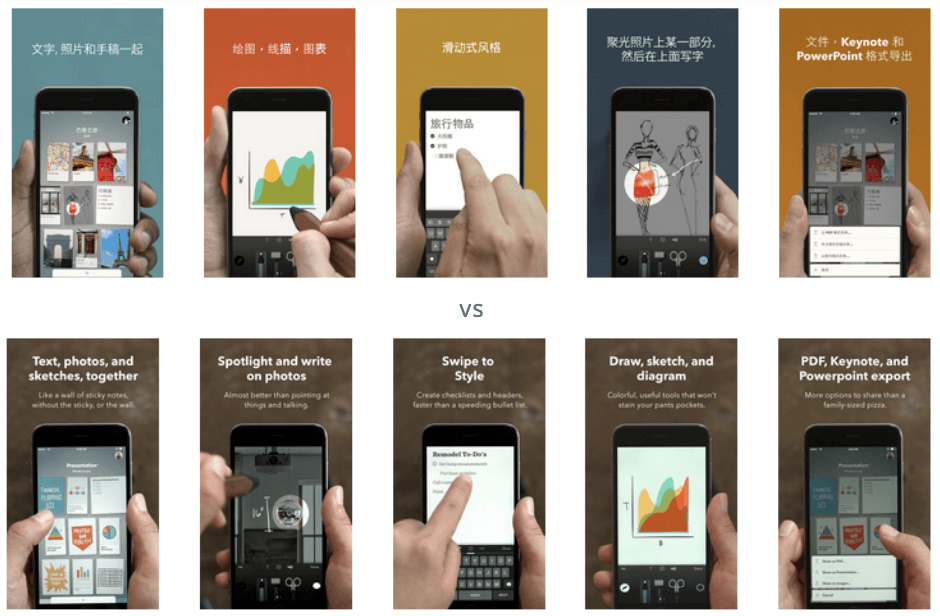 More and more companies are noticing that the key to growth lies in diversification of their offering and messaging. This trend goes beyond marketing & promotion or just providing multilingual interfaces. Apps need to be optimized for a wider range of devices and systems. This trend was big already, but will be even more important in 2023. Lucky for you, if you are a mobile app publisher, you can immediately profit from it. Take a look at these case study to see how:
Mobile Trends For 2023
Without the shadow of a doubt, mobile technology is the future. By using all of these mobile trends, businesses can shape and design their growth model accordingly. Besides, some of these trends are more likely to evolve into a less complex system, rendering companies enough room to flourish.
However, one primary question that you need to bear in mind is: what kind of apps will be in demand in 2023?
When you are already aware of the in-demand apps and mobile trends in 2023, it can be effective for your business strategy.
Here at SplitMetrics, we hope that these trends will inspire you to improve your user acquisition efforts in 2023. Some of them you just need to keep an eye on. But with some things you can get right to work — introducing new features or marketing ideas.
You may also install an accounting software to your business processes to boost your business. Accounting software reduces the screen time on data entry, enabling users to sync their credit cards or business bank payment systems with the software. This helps formulate key financial reports and keeps all of your financial data in sync.