To discover apps up to their needs, Android owners turn to the Google Play Store. It may come as a surprise, but this is the first largest app store, which outperforms its Apple rival in terms of the number of available apps – 2.1 million against almost 2 million (as of Q3 2018).
The numbers are impressive, aren't they? While users have a wide choice, the overcrowded stores are challenging environments for an app to be discovered. One of the things a mobile marketer can do is to build a proper product page. Below is our go-to guide with all the Google Play Store requirements.
Play Store Product Page: Title
The app title is what people will use to search you or spread the word about you. It goes with your app everywhere – in search results, categories, on your product page, etc. No wonder so many things have to be considered when it comes to choosing a proper title.
As per Google's requirements, the title should:
Be unique, easy-to-spell and catchy;

Accurately reflect what the app is built for and communicate the key message;

Be

50 characters

long. Opt for a shorter title, because long ones can get truncated on smaller-sized devices;

Avoid misspellings of common terms.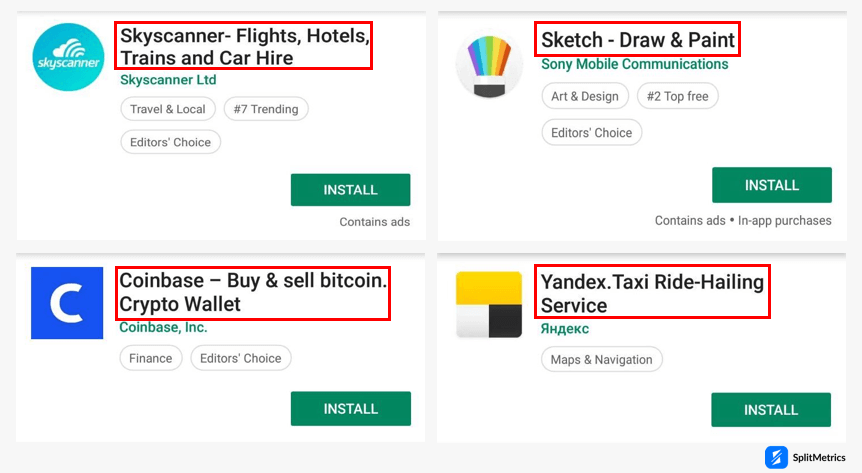 If you provide your app in different languages, don't forget to add one localized title per language.
Keep in mind that Google Play ranking algorithm relies heavily on keywords in metadata. Title with the most relevant keywords included has by far the biggest influence on the app's search position.
Play Store Product Page: Icon
Graphic assets are worth a thousand words. The app's icon is the most visible of such assets, as it's the first thing users see in search results, categories and on a product page.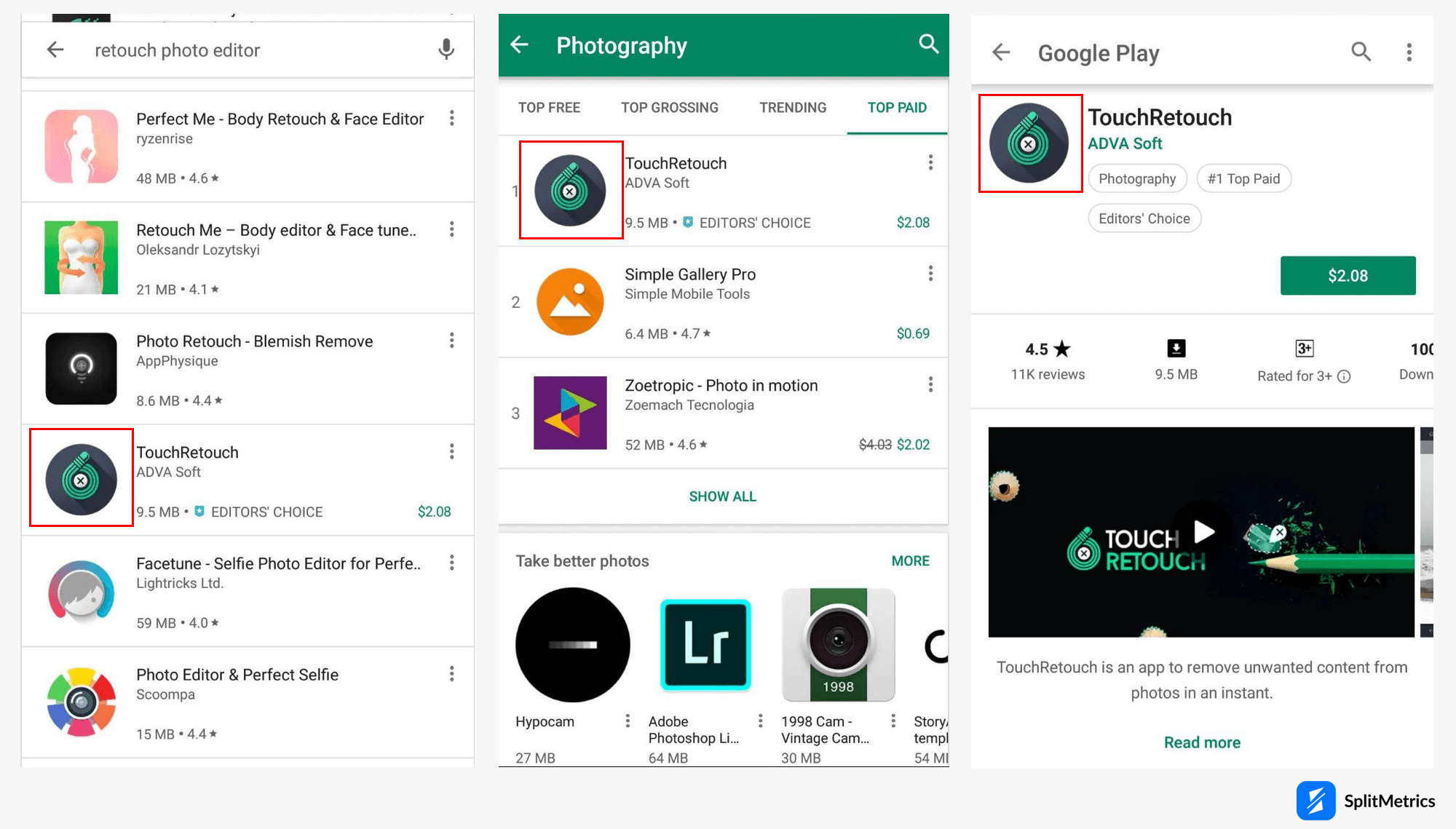 The Play Store visitors browse a huge list of apps, so make the icon eye-catching enough to convert them from impressions to product page views. To stand out in a crowd, the image should be unique, accurate and eye-pleasing visual representation of your app's functionality.
To put an app out there on the Play Store, the publisher needs a high-res icon, which meets the following basic Google Play requirements:
32-bit PNG (with alpha);

Dimensions:

512px by 512px;

Maximum file size:

1024KB.
It may seem quite challenging to create an icon that works, but Google has provided comprehensive design policies which you can find here.
Play Store Product Page: Feature Graphic
Feature graphic used to be at the very top of the product page, even before the icon and the title. In its redesigned version, the Play Store relocated this element to the image gallery before screenshots.
Basically, if you want a feature graphic on your store listing, you have to provide a promo video. The feature graphic will include a "Play" button overlaid and a link to Youtube, so that users can watch a promo video showcasing your app.
A feature graphic is an effective attention-grabbing product page element, which reinforces the app's value and nudges page visitors towards downloading. To make the most of it, bare in mind the following Play Store tips:
Text:

try to avoid it, but if you can't do without it, reduce text to the app title plus a few extra words. Keep it straightforward and use large font sizes;

Colors:

use vivid colors for foreground and background;

Consistency:

feature graphic

should be in line with the app icon and interface in terms of brand

style;

Technical requirements:

JPEG or 24-bit PNG (no alpha);

dimensions:

1024px by 500px;

Localization:

adjust both graphic and text for different markets.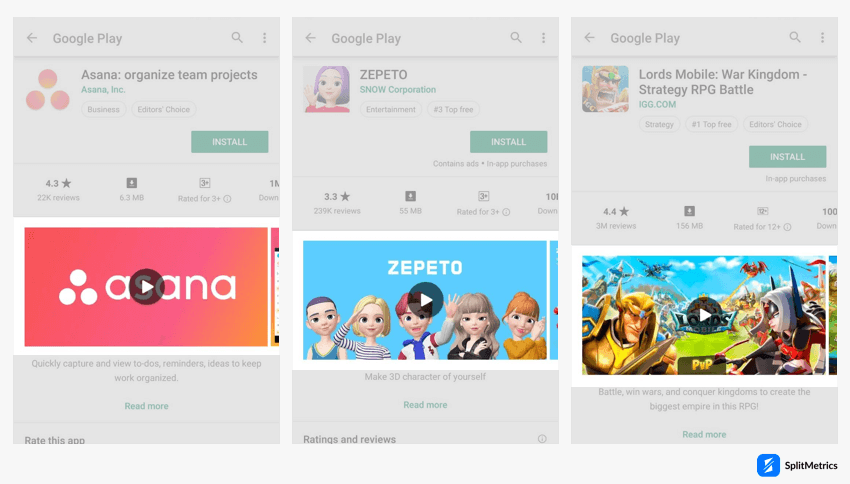 Things to avoid:
Repetition of a logo;

Small details, as they will not be visible on small displays;

Information which needs frequent updates;

I

mportant visual elements shouldn't be placed near the borders, especially near the bottom third of the image;

Licensed content without permission (trademarks, device depiction, etc.) or inappropriate image elements that violate the

Developer Program policies

.
Play Store Product Page: Screenshots
Screenshots are vital for the app marketing. But users definitely want to know what your app is like, so in addition to promotion, the image gallery should showcase in-app experience and best features.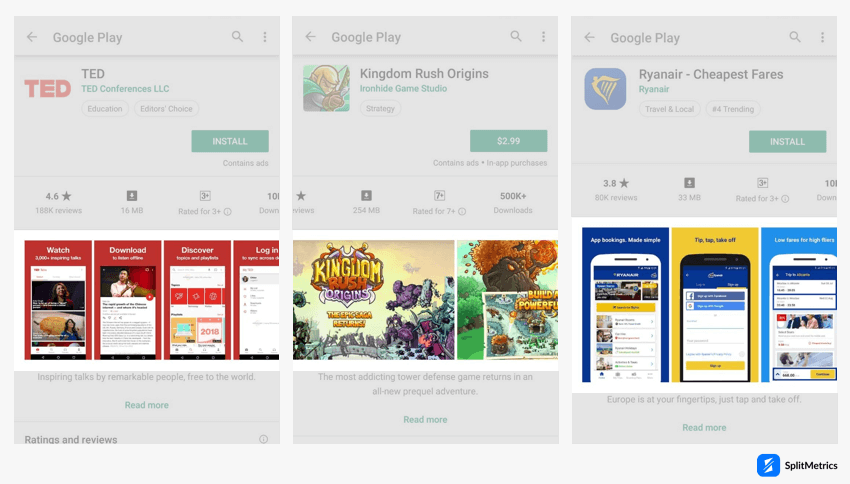 Google play allows to upload from 2 to 8 screenshots for each device type – Phone, 7-inch and 10-inch tablets, Android TV, and Wear OS. The images can be both portrait- and landscape-orientated, and should satisfy the following requirements:
JPEG or 24-bit PNG (no alpha);

Aspect ratio:

no more than 1:2 or 2:1;

Minimum dimension:

320px;

Maximum dimension:

3840px.
Play Store Product Page: Short Description
This is another text-based element on your product page that can encourage users to give your app a try. It summarises the essence of your app in a brief and engaging phrase. The Play Store limits a short description to up to 80 characters. It goes right below the image gallery, and can be expanded to view a long description.
Short descriptions highlight the app's forte, value and purpose, which should be composed using the core keywords to maximize the optimization effect.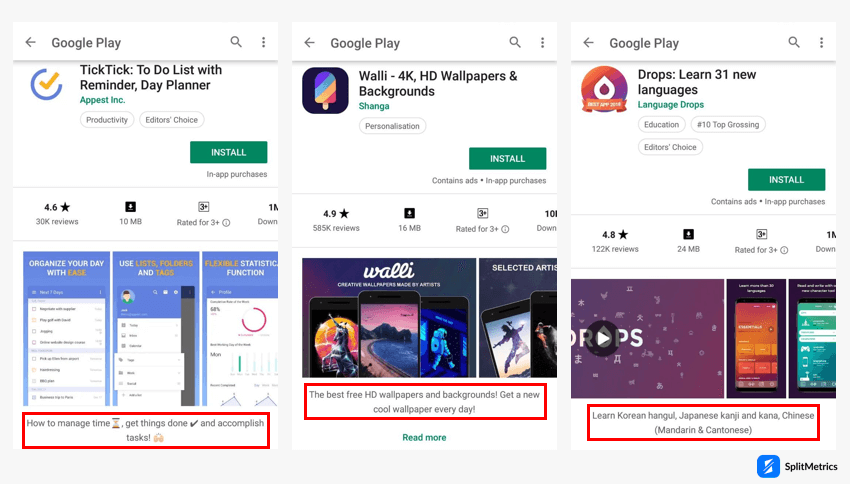 Play Store Product Page: Description
Once you tap a "Read more" button, a detailed description emerges.
Here, the publisher gets extra space to convey the app's message – the top limit of a long description is 4,000 characters. But the best practice, however, is to use shorter descriptions as they will be better displayed on smaller-sized devices.
When you get down to composing a long description, put yourself into your potential users' shoes. True, they would like to learn about your key and exclusive features. But even more the user wants to know the benefits from the app experience. Focus on the value, not the features themselves.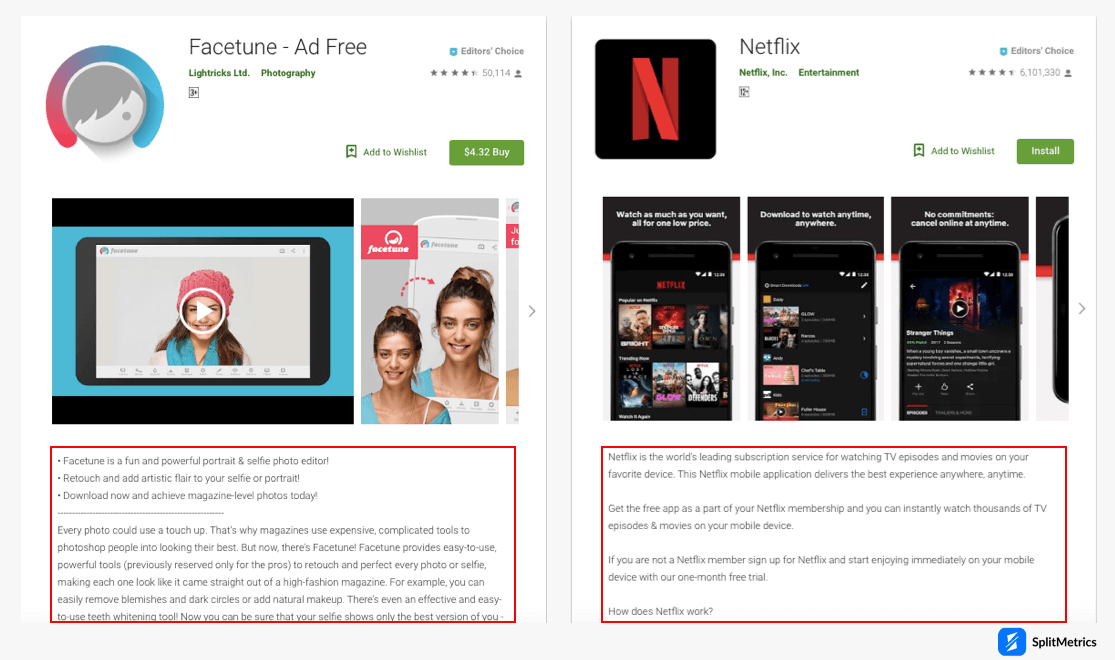 Get the description properly localized and keep it straightforward, engaging, visually pleasing and grammatically correct. Google Play requires to avoid:
User testimonials;

Excessive details;

Misleading references to other apps or products;

Repetitive or irrelevant keywords.
To be on the right side of the store's requirements, study its Content Policies.
With SplitMetrics, you can run A/B experiments to optimize your Play Store app page elements to perfection.