Google Play average time on page is 14 seconds. At the same time, it takes users less than 10 seconds to take action on the store listing pages for games, lifestyle, and social networking apps. The constant need to balance between catching user attention and keeping up with Google Play algorithm updates makes the task of perfecting app preview assets more intricate for mobile marketers.
Since app descriptions are among the most important Google algorithm ranking factors, we've decided to share SplitMetrics' best practices for crafting impactful copies. We've also included top-performing examples from the Play Store, pro tips, and highlighted software solutions to help app developers optimize their store listing pages.
Google Play Console functionality allows for adding short and long app descriptions. Let's dive deeper into new guidelines and best practices for each of them.
What is the Short Description in Google Play Store?
The Google Play store short app description is a brief summary outlining core values of a mobile app or game and is one of the first things users see on its product page. It complements the app title and appears near other store listing preview assets like app icons, developer name, performance metrics, screenshots, and install button. Thus, to convey a consistent message, these elements must be aligned to a central app idea, while also not duplicate each other.
Google Play Store Short Description: Length & Content Requirements
A short description must be 80 characters long including spaces and symbols. Play Store provides a detailed list of recommendations and guidelines for a short description to be accepted, such as avoiding capitalization, emojis, repeated punctuation, call-to-actions, accolades, price and promotional information, stats that imply store performance, or user testimonials. Visit Play Console Help Center to explore up-to-date Google Play Store description guidelines for preview assets.
Length
Max. 80 characters, including spaces and special symbols
Goal
Communicate value propositions
Placements
Store listing page, Featured Apps, Editors' Choice
Dos
Focus on main features
Include relevant keywords
Customize to target markets
Update to reflect the latest app version
Don'ts
Avoid message duplication
Do not use superlatives, testimonials, or promo materials
Exclude emojis, non-standard characters, and symbols
Don't use capitalization for emphasis
Google Play Short Description Examples
To create a well-performing short app description, start with competitive analysis and positioning study. Since app publishers usually localize their apps' description for various markets and languages, this task is not as easy as it seems. Take advantage of App Store Optimization solutions to ease the process and overview competitors' metadata like app title, icons, descriptions, screenshots, preview videos and feature graphics conveniently in one place.
Great examples of short descriptions in the entertainment category: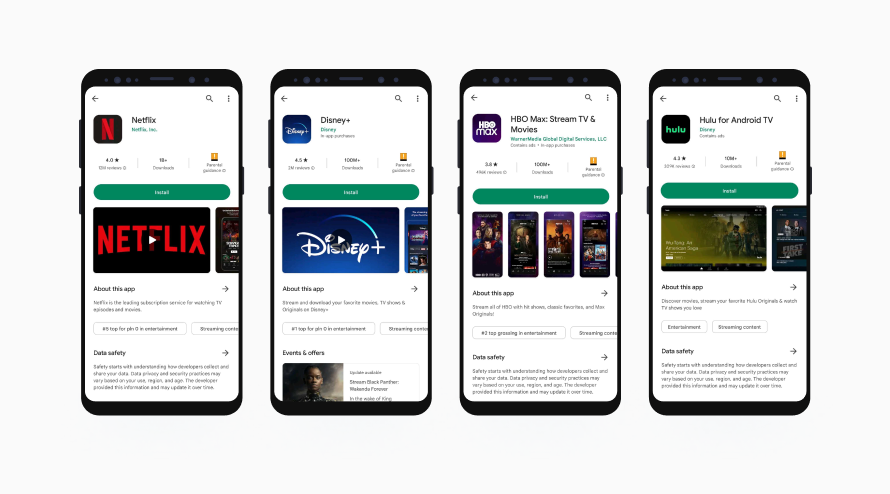 Clearly, these apps are aiming to be relevant for keywords "TV shows", "films", "movies", "news", "live sports", "stream shows". These publishers keep their descriptions simple and focus on key features.
Video players & editors approach the task pretty much the same way: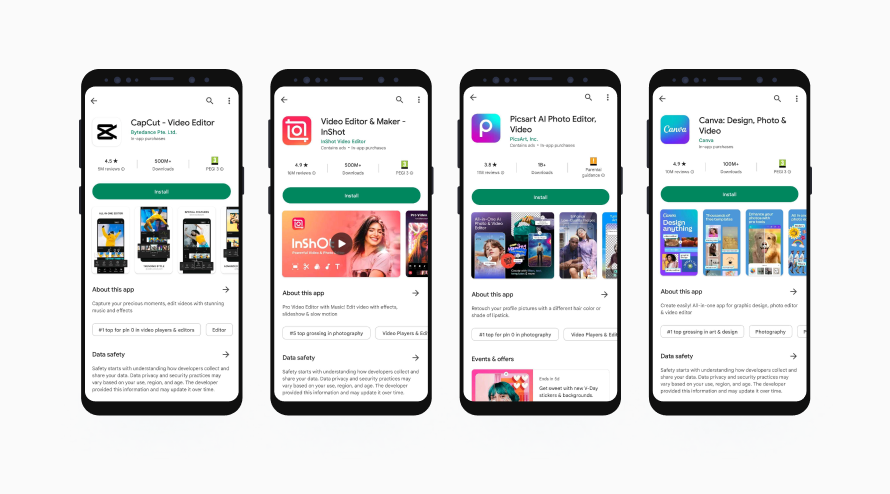 Vital keywords for these apps are "video editor", "video maker", "effects for video", "animator". Not only do they highlight core features, but also set clear expectations of results of video editing with their apps. Note that they also include valuable keywords to app titles.
Music & Audio apps enter the competition for keywords like "music app", "podcasts", "audiobooks", "playlists", "free music":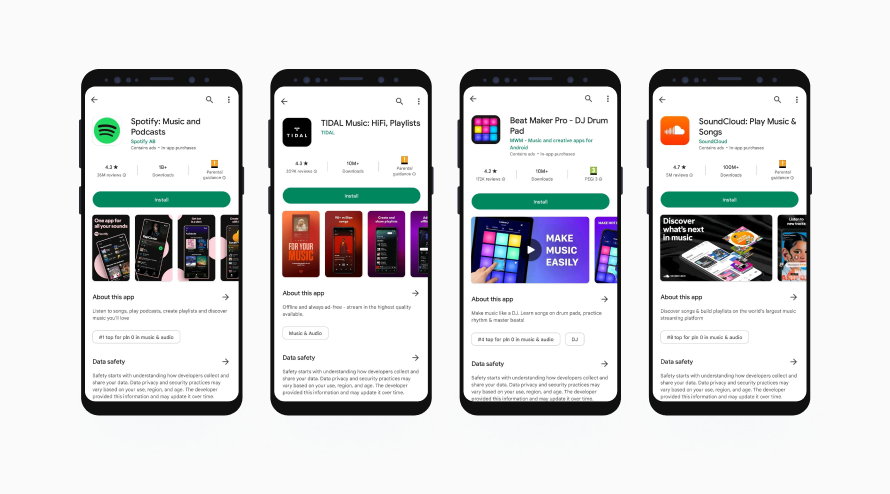 As we see, writing short descriptions is a no-brainer and doesn't require much creativity. Sweet and short messages deliver a clear message and encourage users to read further.
Google Play App Short Description: ASO Tips to Boost Conversions & Installs
Anton Chekhov once wrote: "Brevity is the sister of talent". This perfectly describes the task of writing a short description. Keep reading to explore pro tips for mastering the subtle art of creating short descriptions for Android apps.
Tip #1: Highlight main app features
A short app description should deliver a value proposition to your potential users in a clear and unique way. Answering the following questions might help with creating a top-notch positioning statement:
What is the app about?
What pain points does it resolve?
What are the most important benefits to the user?
Why should people download it?
What features improve the bottom line?
What features set you apart from the competition?
Make sure your description points a laser beam at the most valuable app's features and key differentiators.
Tip #2: Be reasonable with keywords
For sure, a keyword-rich short app description can improve conversion rates and drive organic installs, but it doesn't mean it should consist exclusively of high-volume keywords. Google's search engine is sophisticated enough to distinguish an incoherent text from a consistent message. On top of that, moderators can reject an app from being listed on the grounds of keyword stuffing.
Approach keyword selection process carefully and smartly:
Plan brainstorming sessions with marketing, revenue, and product teams.
Conduct a competitor keyword analysis using ASO tools.
Use platform-native keyword search tools like Google Keyword Planner or Apple Search Ads terms.
Try autocompletions to suggest searches.
Consider using long-tail keywords with a lower competition level.
Join forces with your UA team to find niche keywords through broad-match and discovery campaigns.
Use simple and plain language to communicate your unique selling proposition.
Tip #3: Localize message to target markets
User behaviors vary greatly from country to country. Economic landscape, culture, traditions, political structure, and even urban design – these are only a few factors that influence how people perceive information and make purchase decisions. To help global brands tailor their messages for different audiences, Google Play allows developers to create Custom store listings.
Follow the tips below to do localization right:
Think strategically about what languages you should translate to.
Consider the market competition and number of native speakers.
Set clear expectations about content localization to prevent low retention rates.
Do not fully rely on machine translation and involve a translator with copywriting skills.
Request a backward translation to be on the safe side.
Pay attention to copies' length: English text translated into Portuguese can be about 30% longer.
"Custom store listings" is a powerful functionality allowing for laser-focused targeting and personalization.
Tip #4: Continuously improve and A/B test
Users' demands and behavior are constantly changing, so should your app and its preview assets. With free "Store listing experiments" functionality inside Google Play Console, you can A/B test store listing page elements to boost visibility and conversion rate.
Google Play allows you to create up to 50 custom store listing pages. Apart from descriptions, ASO specialists can customize an app icon, name, title, and graphic elements. App category, contact details, and privacy policy will remain the same across all versions of its store listing.
To ensure your short app description is well-calibrated:
Monitor your competition and run A/B tests on a regular basis.
Clearly formulate the hypothesis and test one element at a time.
Set up a goal and analyze results based on statistical significance.
Don't forget about seasonal spikes that can disrupt your experiments.
Consider advanced A/B testing and hypothesis validation solutions like SplitMetrics Optimize.
Make sure your short description matches the latest release version.
A short description is the second most important app metadata asset for search ranking algorithms. Keep it relevant, eye-catching, and ASO-friendly.
Tools for Writing and Proofreading Google Play App Descriptions that Drive Installs
Typos, grammatical errors, logical fallacy, and incoherence in your app metadata assets can result in lower rankings, decreased visibility and downloads. Below you'll find a list of useful tools to hone your descriptions and copies.
Grammarly
Grammarly is a powerful writing assistant with a free basic version. It helps with locating misspellings, misused words, and missing punctuation. Top benefits of using the tool:
Spot hard-to-read phrases with built-in Readability Checker.
Correct errors with the help of smart suggestions.
Enhance your writing with intelligent Vocabulary Suggestions.
Tailor your app metadata to a genre appealing to your audience.
Grammarly has both online and desktop versions, as well as a plug-in for Google Chrome. At the same time, it only works for English texts, so consider different solutions to localized texts.
ChatGPT
ChatGPT is a language model developed by OpenAI. It gained 1 million users in under a week and created a lot of buzz in the mobile marketing industry. UA and ASO professionals are testing technology to see if it can create ad copies, mine keywords for app metadata assets, summarize reviews, write responses to comments, and generate dozens of descriptions in seconds.
The Beta version of ChatGPT is currently free to use and if you haven't played with it yet, give it a try. Although the results are quite impressive, mobile marketers note a human touch and in-depth product knowledge are still needed to perfect AI-generated copies.
Hemingway Editor
Hemingway Editor highlights heavy-structured sentences and phrases, corrects orthographic and grammatical errors, improves readability and fluency. It also has a free online version.
Online HTML Editor
Online HTML Editor is a great WYSIWYG tool to structure and organize long descriptions. It simplifies the process of adding HTML tags, highlights errors like missing closing tags, and allows you to see how your text will be displayed on the app store in real-time.
At this point, let's switch to best practices for creating a long description.
What is The Long Description in Google Play Store?
The long description is a detailed overview of an app's features and benefits aiming to engage users, immerse them further into product functionality, and entice them to download it.
Play Store Long Description Length
When it comes to the length of a long description, keep in mind that the Google Play store description character limit is 4000 characters including spaces and symbols. It is important to note that most people do not read the entire description. Therefore, it is not necessary to reach the limit. On average, a long description is around 1000 characters in length.
Length
Max. 4000 characters, including spaces and special symbols
Goal
Communicate value propositions
Placements
Store listing page
Dos
Sharpen the first sentences
Create easy-to-read structure
Emphasize key features
Include social proofs, contact details, and technical requirements
Don'ts
Don't stuff keywords
Avoid message duplication
Don't overuse highlights
Don't include information that can mislead users
Google Play Store Long Description Examples
While short description doesn't allow emojis, symbols, repeated special characters, store performance metrics and many other conversion-boosting details, you can unleash your imagination and formatting creativity in the full description section.
Here's how Adobe PDF Reader leverage emojis and bullet lists to communicate their value proposition: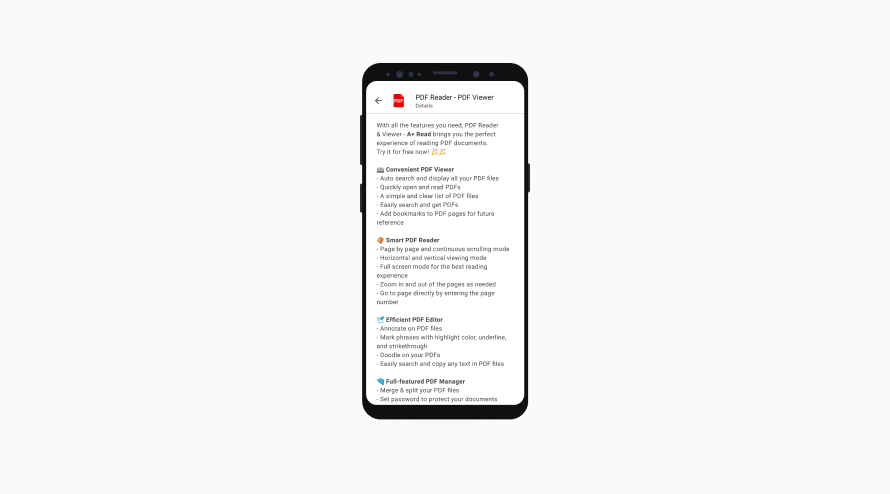 Special characters and emojis are a great way to attract attention and improve readability, but if you want your long description to speak to your users in a professional and formal way, they might not be a perfect fit. We noticed a lot of business apps avoid them: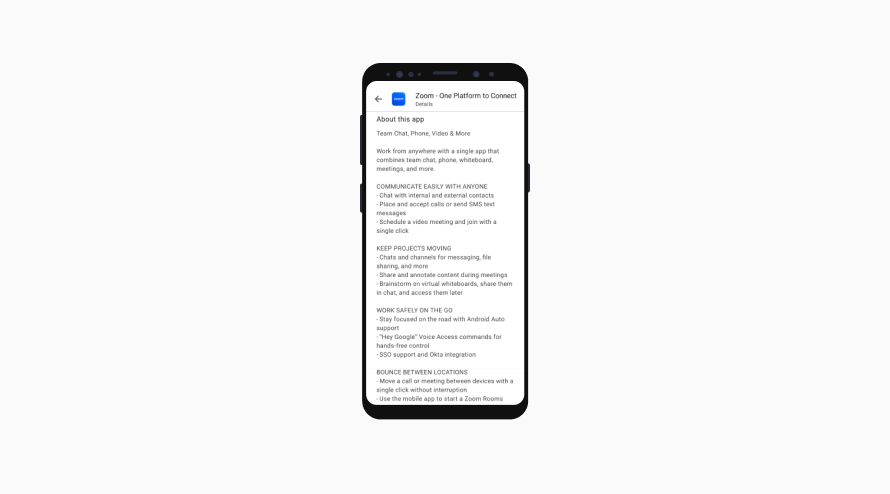 At the same time, from games you might expect a lot of bells and whistles in their long descriptions, but some of top-rated mobile games choose to omit them and focus on the immersive storytelling techniques to engage the audience: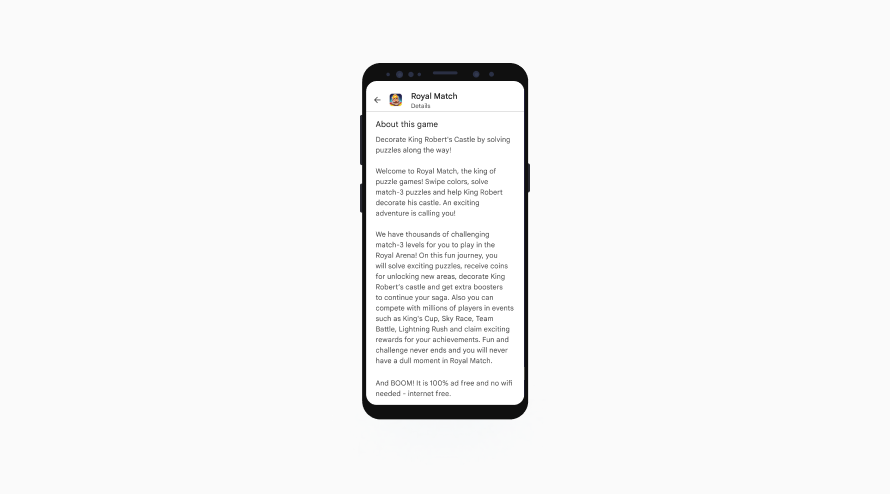 Key to a successful long description is right keywords, great structure, and a good formatting. Let's move on to the best practices for crafting your copy.
Google Play App Long Description: Tips & Tricks
Tip #1: Start with the structure
A well-organized long description can help you tell a compelling story about your app and convince prospective customers to install your app. To make the text easy to scan and read, make one sentence paragraphs, headings, subheadings, and sections.
Consider adding the following sections to your app's long description:
Opening paragraph;
Feature block;
Social proofs section;
Technical requirements;
Contact details.
The first paragraph of a long description is the most important part. It should be interesting, engaging, and inspiring. Mention here your killer features, impressive app performance data, renowned awards, and app's benefits that sets you apart from your competition. Try to keep between 200-300 characters long to ensure proper displaying on various devices.
The feature section is usually the largest one and it should tell a story. Place your features in a way that describes a user's journey and possible outcomes of following it. If an app's functionality can be used independently and doesn't imply a predefined linear user journey, consider starting this section with basic features and moving forward to more sophisticated ones.
Adding a social proof section is a great opportunity to show potential users that your app is successful and fulfilling its mission. Think of using top chart badges, press quotations, anonymous user testimonials, and industry awards.
Sections with technical requirements and contact details can help you provide seamless user experience and avoid disappointments. List here permissions needed, in-app purchases, languages, and modes your app supports. Providing support hotline, email address, website links, social media accounts shows your users that you are a customer-centric business ready to address their concerns.
Tip #2: Format your text for improved readability
Facing a wall of plain text will scare many readers off. Once you have a perfect structure and a great story written, it's time to add visual highlights.
A good way to make the description more visually appealing to the reader is to HTML tags, emojis, special characters, bullet lists, different font sizes, and capitalization. Text formatting is also beneficial to ASO:
It saves space for more words, structure the text;
Draws users' attention to factors influencing conversion rates;
Persuades the reader to install.
Below you'll find a list of HTML tags that Google Play supports:
Formatting style
Opening tag
Closing tag
Example
Result
Bold
<b>
</b>
<b>Bold text</b>
Bold text
Italic
<i>
</i>
<i>Italic text</i>
Italic text
Underline
<u>
</u>
<u>Underlined text</u>
Underlined text
Colored
<font color=color name>
</font>
<font color=blue >Blue text</font>
Blue text
Link
<a href="link">
</a>
<a href=" https://splitmetrics.com/">splitmetrics.com</a>
splitmetrics.com
Line break
<br>
Text <br> break
Text
break
Headline
<h1>
</h1>
<h1>Headline</h1>

Headline
Google Play has an option for emojis, so just select the one you like or check the list of most popular ones to get inspired:
🔥 🚀 ⭐ 👀 ✅ ➡️ 👇 🤩 👉 ❤️
While adding highlights can boost your app's store listing page performance indicators, it's important to not overuse them. Remember, if everything is important, then nothing is. Apply formatting to specific keywords, phrases, or text blocks and include emojis for specific app categories such as games, leisure, or entertainment.
Tip #3: Adapt to local languages
As with a short description, Play Store allows you to translate app's long description. If you're a global brand and targeting users worldwide, putting efforts into localizing the descriptions pays off. Showing your potential users you're ready to go an extra mile and speak their language can help you scale your business faster and successfully expand to new markets.
Tip #4: Edit and proofread the copy
Since a long description is 50 times larger than a short one, it's even more important to proofread it and correct all grammar and spelling errors. On top of proofreading and editing tools like Grammarly, Hemingway, consider hiring professional translation translators to polish your descriptions.
Run A/B Tests
With 3,739 apps published on the Play Store every day, app store optimization is a never-ending process.
SplitMetrics Optimize is an advanced platform for A/B testing, concepts and idea validation that can help you to:
Test any element in Google Play and App Store before or after app launch with 3 testing environments such as product, search and category pages;
Conduct statistically significant experiments with built-in Bayesian, Sequential and Thompson Multi-armed Bandit methodologies;
Monitor over 50 metrics on users' interaction with the app page and easily spot growth opportunities with smart suggestions;
Get ASO insights with deep behavior analytics and benchmarks your results against competitors;
Properly measure and analyze results with smart audience and traffic source filers, as well as automate reporting.
The solution provides out-of-the box integration with major MMP solutions and goes hand in hand with a comprehensive onboarding process and customer-obsessed support experts. It also supports in-app events and web-to-app testing, running multiple tests simultaneously, and suits both Android and iOS apps. For apps at the pre-launch stage SplitMertics Optimize can help to identify the right audience and find product-market fit reducing development risks.
Measure and Analyze
Clean and reliable data is a key to ASO success and without proper measurement you won't be able to track how changes to your store listing elements impacted install rates and revenue. Make sure you store results of your A/B tests in one place and your solution provides flexible reporting capabilities.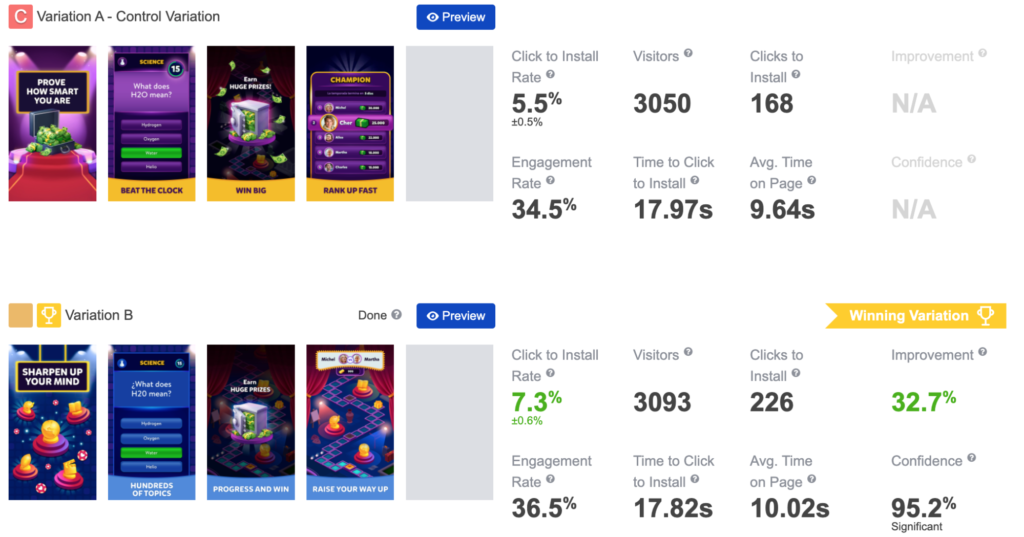 Conclusion
Short and long descriptions are a vital part of your main store listing. They complement your app name, title, and graphic assets. To provide a great user experience, secure enough time for market and competitive research, include valuable keywords to your store listing preview assets, and don't forget to constantly A/B test them. Make sure they include enough information about key features and provide all the tips on making the most of your app.
Boost conversions & installs with SplitMetrics Optimize
Book a demo
Lidiia Mylenka
Marketing and Channel Leader
Lidiia is Marketing and Channel Leader at SplitMetrics. She is a digital marketer with 6+ years of experience building paid and organic marketing funnels for SaaS companies.
Read all articles →