Credible and properly attributed data is key to smarter decision-making on Apple Search Ads campaigns and a profitable scaling of your account. Mobile app marketers turn to third-party tools called mobile measurement partners (MMPs) to track, organize, and visualize metrics of ad campaign performance, including data tied to in-app activity — and understand the performance of their mobile app marketing campaigns across channels.
Choosing a reliable MMP is of utmost importance. You should treat it as a compass that helps you navigate the troubled seas. The task is anything but ordinary, so we've decided to pull together this article and recite some of the best mobile measurement partners in 2023.
How to Choose a Mobile Measurement Partner in 2023
Before deciding on what mobile attribution platform to select, make sure you've gone through this basic checklist containing MMP-related questions first:
What are your mobile measurement needs, objectives and plans? Is the tracker you're looking into able to cover all the metrics you want and provide you with precise data?
Does your selection have partner integrations with advertising platforms of your interest?
Are their anti-fraud tools really up to the challenge?
What is your budget?
Do your MMP options go well with your tech stack?
Is this tool easy to set up and navigate?
Do these MMPs have a thorough customer support process?
Can this platform be a reliable and insightful partner for you? Do they keep tabs on the market shift and integrate new trends into their core?
Inevitably, answering these questions will take time since picking an MMP isn't a standard assignment. To simplify this process even more, we've prepared a list of the best mobile measurement partners in 2023 that have both amazing features and a stellar reputation.

List of the Best Mobile Measurement Partners in 2023
Please note that mobile measurement platforms are listed here exclusively in alphabetical order.
Adjust
Everyone who devoted their career to the mobile industry has heard of Adjust, one of the leading mobile measurement partners in the world. They've been around since 2012 and established themselves as the company with the highest safety standards. One of the principles of their business is "security and user privacy is at the heart of what we do".
Adjust is a trusted partner of thousands of apps and brands. Their customer list includes Yelp, Booking.com, Soundcloud, Spotify, and many others.
What We Love About Adjust as an MMP:
Adjust is widely considered to be one of the most renowned mobile measurement partners. Here are some of the benefits the platform guarantees users:
The company gives you unlimited access to data. Enjoy raw data and information about callbacks, custom events, API pulls, etc. to the fullest!
You're perfectly safe with Adjust as it invests into cybersecurity and enlists top-notch solutions. Their proactive filters keep fraud activities at bay. Nothing suspicious will get to the point of attribution.
This MMP equips you with powerful marketing automation tools so you can manage your campaigns right from Adjust's dashboard.
Their support system quality is unmatched, you get answers from their experts real quick. The customer support team even won the AdExchanger Global Client Services award in 2021.
Adjust attribution makes it easy to understand which of your creatives really work and bring users to you.
They take into account the needs of different companies and have pricing packages (Base, Core, Enterprise) for everyone, from indie developers to corporations.
AppsFlyer
AppsFlyer is another titan hailed by the mobile industry. It's a SaaS mobile attribution and marketing company offering a robust toolkit to anyone who wants to optimize their acquisition funnel and get a clear understanding of their users' journey while getting solid protection from fraud. AppsFlyer was founded in 2011 and has been the driving force for the industry since its inception. No surprise that one of their tag lines is "we don't just lead the market, we helped define it".
An exceptional suite of services and future-focused thinking got AppsFlyer such customers as Disney, Snapchat, Calm and thousands of others.
What We Love About AppsFlyer as an MMP:
To help you learn more about AppsFlyer as an MMP, we've described below some of their features that might be of interest to you:
AppsFlyer links your app installs and marketing campaigns together. You know exactly what brought you conversions.
Thanks to their predictive analytics, you can see the correlation between early user engagement metrics and expected user value.
If your marketing budget requires optimization, AppsFlyer's cost aggregation tool Xpend will give you actionable insights into how to do it right.
AppsFlyer prioritizes user experience and innovation, so you can rely on cool features such as deep linking, multi-touch attribution, SKAdNetwork attribution, fingerprinting, and more.
You can acquire historical data with no sweat by downloading it as a CSV report right from the dashboard. The versatility of filters and data range is another cherry on top.
Their pricing plans (Zero, Growth, Enterprise) are also rather flexible and extensive. The Zero package enables you to use their platform for free.
Branch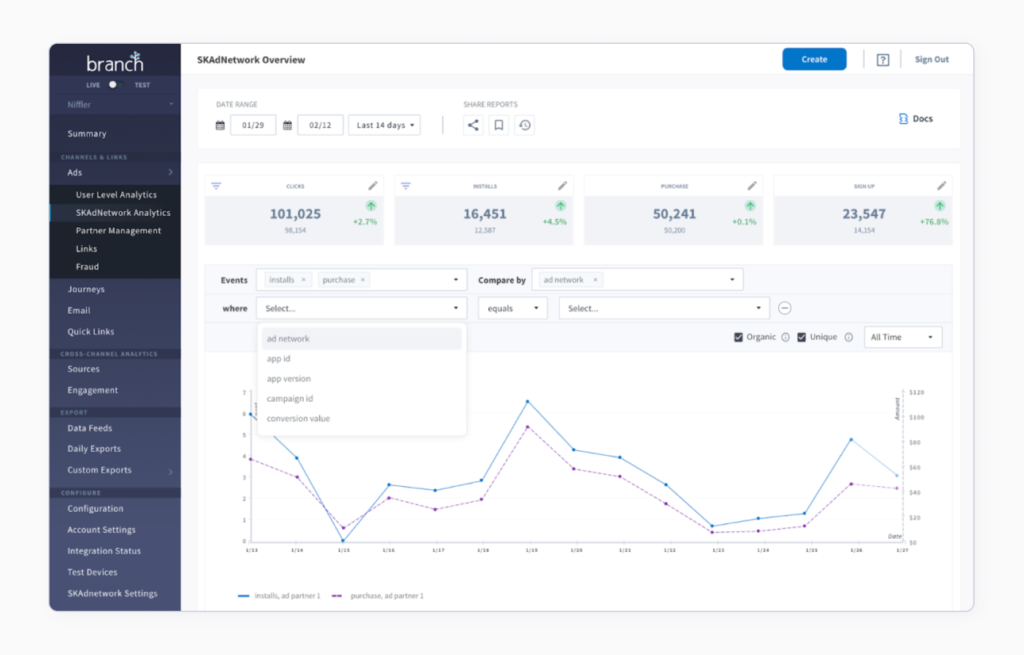 Branch definitely deserves to be crowned as one of the best mobile measurement partners in 2023. Their journey started in 2014 and eventually led them to get over 100,000 apps, including a lot of the Fortune 500 companies such as BuzzFeed, TikTok and Shopify, 2,000 tech partners, and more than 3 billion users around the world.
Branch isn't only an effective mobile measurement partner, it's also a great mobile linking platform that provides a first-rate deep linking experience for its customers.
What We Love About Branch as an MMP:
Branch possesses many merits — and it's really difficult to enumerate all the amazing features you should pay attention to. For this reason, we've listed some of the features and offers from this MMP that we at SplitMetrics love best:
Branch is amazing at the cross-platform attribution — you can always see the split between organic and inorganic sources and events with clarity.
Using Branch is a straightforward experience. You can view the impact of your ad campaigns in one dashboard.
Their solution for deep linking includes deferred deep linking through install.
They keep up with the latest privacy-related changes in the mobile industry and introduced a special tool, SafeTrack, that streamlines your UA strategy and ensures ad tracking compliance at the same time.
They have a great SKAdNetwork support feature, SKAN Unified View, that provides you with deduplicated SKAN and non-SKAN data in one place.
Branch loves to go the extra mile for customers. They are ready to offer you a tailored solution with custom pricing. What's more, there's also a free package for small apps looking for growth.
Kochava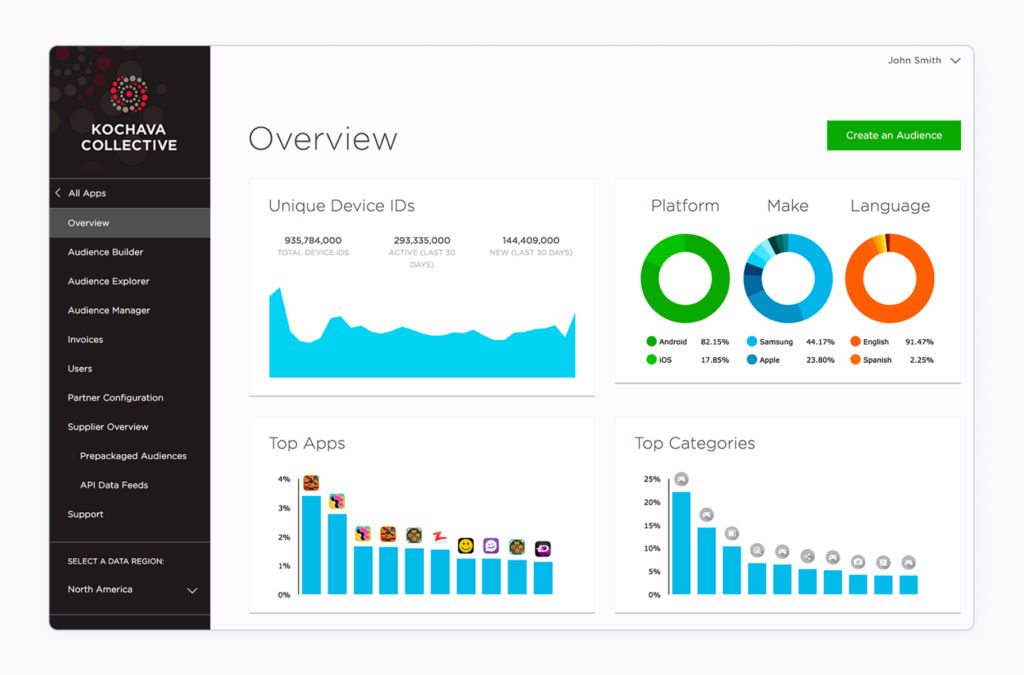 A real time data solutions company, Kochava's main objective is to help you measure everything with one platform that first saw light in 2011. The people behind the company knew the challenges mobile publishers face firsthand as the team was building mobile apps for a variety of industries. Their venture then developed into a full-fledged MMP solution.
The expertise of Kochava's teammates and their innovative solutions won over such companies as BBC Worldwide, CBS, MobilityWare.
What We Love About Kochava as an MMP:
If you've got Kochava in your MMP selection list, consider exploring the following advantages of the platform in more detail:
Kochava has developed a solution for omnichannel marketing known as the Marketers Operating System (m/OS). It's a scalable all-in-one platform that will help you at every stage of your marketing operations.
Kochava has a vast network of integrations, including Facebook, Amazon, and Snap.
Getting raw data out of Kochava doesn't require any payments, even if you're still during your trial period.
The company has set up the largest independent marketplace, the Kochava Collective for the mobile professionals. By buying data here, you can build thorough customer profiles.
With Kochava, you always know what's going on with your key metrics as you can easily set up alerts warning you about changes — in the most convenient way possible (hello, Slack!).
Are you just starting out and have no budget to back you up? You can still experience Kochava as they have a totally free pricing plan for beginners and independent developers.
RevenueCat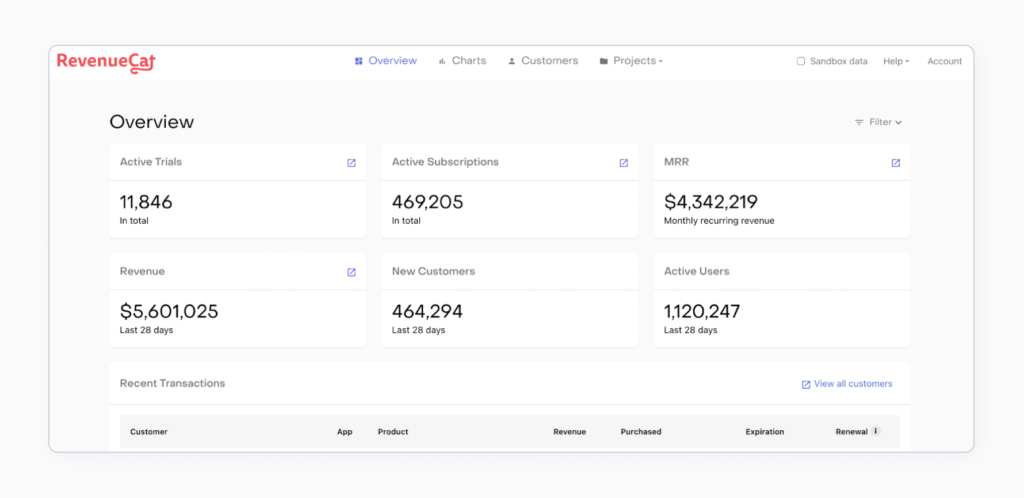 When it comes to in-app subscriptions, RevenueCat is a true expert in this field. The company takes the pain out of building and managing in-app subscriptions. With RevenueCat, there's no need for diving into backend coding and server maintenance. All you have to do is put their SDK into your app.
The platform also enables marketers and product teams to get cross-platform analytics, customer history timelines, and in-app event data, ensuring your app grows on insights, not guesswork. Top apps on Google Play and the AppStore (Notion, Zero, PhotoRoom, Mindvalley) choose RevenueCat for their solutions.
What We Love About RevenueCat as an MMP:
There are plenty of reasons to love RevenueCat:
With RevenueCat, you can monitor and tune up all your in-app purchase events in one place and be sure of data consistency.
One of the coolest things about RevenueCat are their automated subscription analytics and no-code integrations enabling you to stitch events to other analytics tools.
RevenueCat has integrations for trial, subscription, and in-app purchase events with Adjust, Apple Search Ads, AppsFlyer, Singular, SplitMetrics Acquire, and other key players.
Their Apple Search Ads integration has recently started to support the AdServices framework. From now on, users will be able to follow campaign cohorts over time and across their key metrics — as well as filter charts according to campaign and ad groups.
RevenueCat has a convenient pricing package for businesses of all sizes. Their offering includes Free, Starter, Pro and Scale plans.
Being an industry expert, RevenueCat often shares valuable insights about subscription-based apps and the mobile app market.
Singular
Singular is a marketing intelligence platform that empowers marketers to grow their businesses with unified marketing analytics. One of their mottos is "go beyond legacy attribution solutions", and Singular's team is true to these words. The platform is a great choice for everyone eager to kill two fowls with one stone: they've got a wide range of solutions for mobile attribution, SKAdNetwork attribution, fraud prevention, ad monetization, and more.
Singular is a well-regarded MMP trusted by companies from the Fortune 500 list. You can find lots of familiar names and brands among their clients, such as LinkedIn, Twitter, Lyft, EA, Rovio, and others.
What We Love About Singular as an MMP
Here's just a short list of some of Singular's best features:
Singular unites tools for both marketing campaigns and mobile attribution, so it's a solid pick for both marketers and developers as they can use one platform to achieve multiple goals.
It provides you with a clear and complete ROI overview. With this MMP having your back, you know exactly how effective your campaigns are.
You can extract logs and user-level data with no bother.
The platform has a number of cool attribution features, such as touchpoint optimization, multi-touch tracking, and lookback windows.
As for pricing packages, they've got three major options: Standard, Premium, and Enterprise. The latter enables you to request custom-tailored data connectors and data pulls.
There's a free 30-day trial!
Tenjin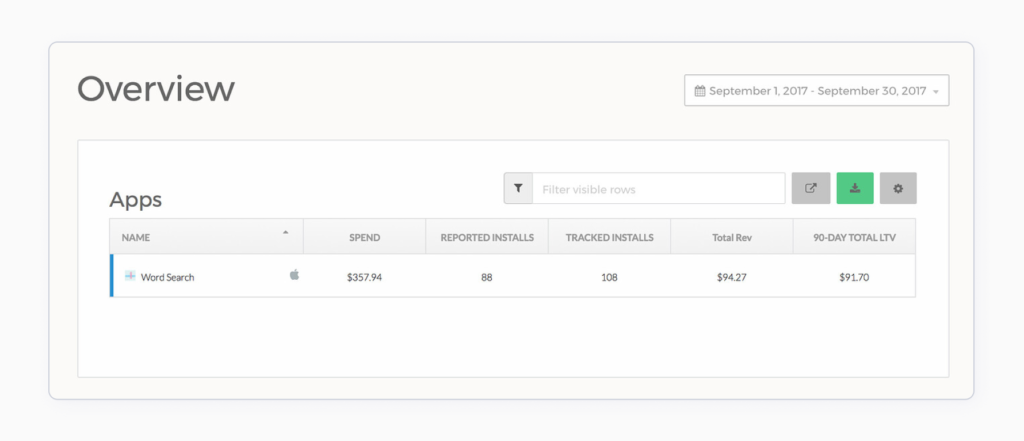 If you're developing a mobile game, you should really look into Tenjin, the partner of such publishers as Voodoo, SayGames, Ruby Games, and many others. This mobile measurement partner has been a gaming darling for a while — and deservedly so.
The company's mission is to equip you with the Growth Data Infrastructure that will help you accelerate your growth. Tenjin supports mobile app and game publishers with prominent industry features like cost attribution and ad revenue trackers. What's more, they allow you to track your attribution for free!
What We Love About Tenjin as an MMP
We've mentioned a few advantages of choosing Tenjin as your MMP. Here's a more detailed look at the platform:
As we mentioned above, Tenjin provides you with free mobile attribution. This is a great opportunity for small and mid-sized businesses who are tight on budget.
With Tenjin, you pay as you grow. Their free package is extensive enough to cover your mobile attribution needs. As for more high-end solutions, the company provides you with two additional options, Advanced and Pro.
There's a free demo for you to try out.
Obtaining historical data from Tenjin's dashboard is pretty simple. The data is exported as a CSV log file.
Their DataVault platform allows you to get direct access to user-level data.
Tenjin is renowned for gaming benchmarks reports and insights and knows for sure what it takes to grow a game into a massive hit. If you're into gaming, they're your guys.
How to Integrate Apple Search Ads and MMP?
One of the most important aspects of working with MMP is that you can stitch together the in-app data with spend data from Apple Search Ads (with granular dimensions of campaigns, ad groups, and keywords) and get a bird's eye view of your account and optimize ROAS.
Unifying different data formats from your MMP and Apple Search Ads while manipulating multiple Excel sheets is time-consuming, with a high chance of data discrepancy and mistakes. That's why at SplitMetrics Acquire (formerly SearchAsHQ), we designed an in-built integration solution to bridge the gap between Apple Search Ads and your MMP.
Take advantage of a built-in integration with our reliable partners: AppsFlyer, Kochava, Adjust, Branch, Tenjin, Singular, AppMetrica, RevenueCat. Connect your MMP in a snap, tack subscriptions, purchases, registrations, the app opens, revenue, or any custom metrics. Integrate your MMP in 10 minutes and see the full-funnel analytics within a user-friendly interface.
Besides providing a reliable solution within SplitMetrics Acquire, an our support team manually double-checks your data and keeps an eye on significant changes to ensure 100% accuracy.
Maximize your Apple Search Ads ROAS with SplitMetrics Acquire
Request Demo