App Annie revealed their annual report on app economy 2017 Retrospective. As expected, the market keeps growing. Annual app downloads exceeded 175 billion which means 60% growth since 2015. Consumer spending upturn is even more impressive. Thanks to 105% growth from 2015, this metric reached 86 billion dollars in 2017.
Another index that showed considerable growth (30%) is time spent in apps. According to AppAnnie, each user spent nearly 1.5 months of 2017 in various apps. It means we dedicate about 12.5% of our lives to staring at mobile devices last year.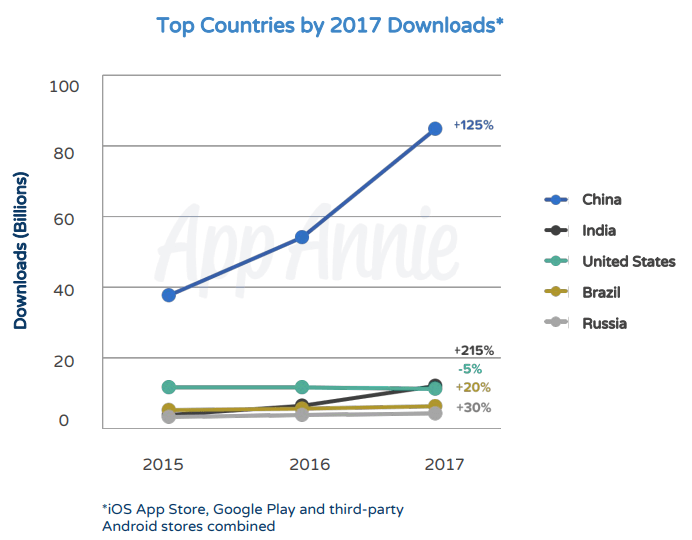 On the average, users have about 80 apps on their phones. However, only 40 apps are used at least once in the course of a month according to 2017 Retrospective.
The Indian market keeps maturing due in no small part to the introduction of the unlimited 4G access. India became #2 Country by Downloads in 2017 leaving the United States behind. However, China keeps its leading positions and even strengthens it, outpacing the nearest competitor by more than 60 billion downloads.
When it comes to downloads, top countries are the following:
China;

India;

the United States;

Brazil;

Russia.
In the context of monetization, China is way ahead as well with really impressive 270% growth. This market is followed by the United States, Japan, South Korea, and the United Kingdom. It is expected that in the near future consumer spends will go sky-high in other emerging markets such as Russia, Brazil, and Southeast Asia.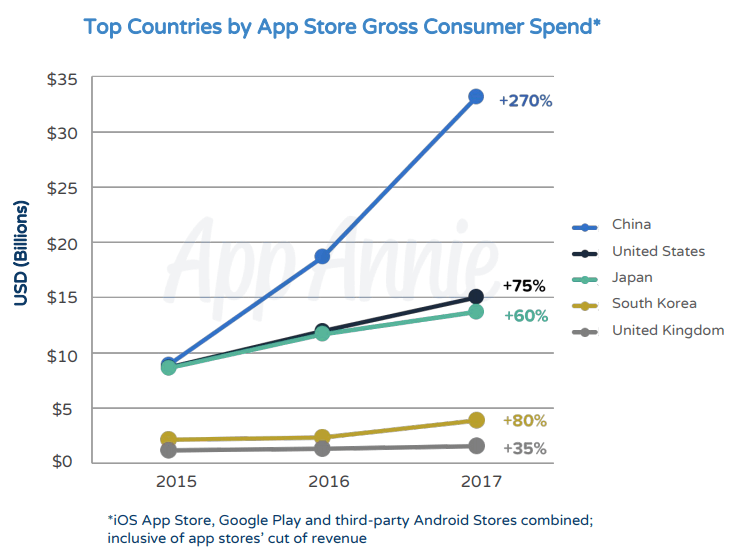 App Categories: Games
What concerns categories, Games keep ruling the day. They lead in terms of downloads and grossing on both Android and iOS devices. Gaming market keeps growing as well which supports the overall trend.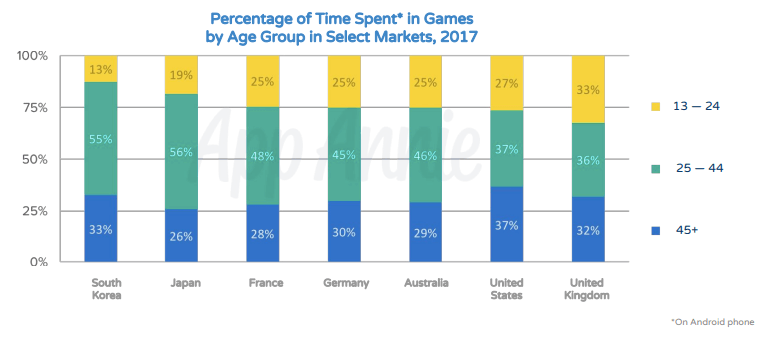 However, there is still room for surprises. It turned out that 75% of time spent in games accrue to people over the age of 25. It's an important insight for game publishers as they should understand that teenagers are no longer their target audience.
After the smash success of Pokemon go in 2016, it was expected that we would see Augmented Reality (AR) boom in 2017. Nevertheless, the expectations have not been met. There are only 3000 AR games out of 1 million names available in major app stores.
The game 'Honour of Kings' by Tencent became one of the biggest hits in 2017. It got the title of the most used game globally in Q4. Moreover, this very game experienced phenomenal growth in China, one of the biggest markets which is extremely hard to get into (especially for external companies).
Another high achiever of 2017 is the Lineage Franchise which managed to bring popular MMORPG franchise to mobile. 'Lineage 2 Revolution' Netmarble and 'Lineage M' by NCSOFT earned their place in the ranking of top-grossing games both in the App Store and Google Play.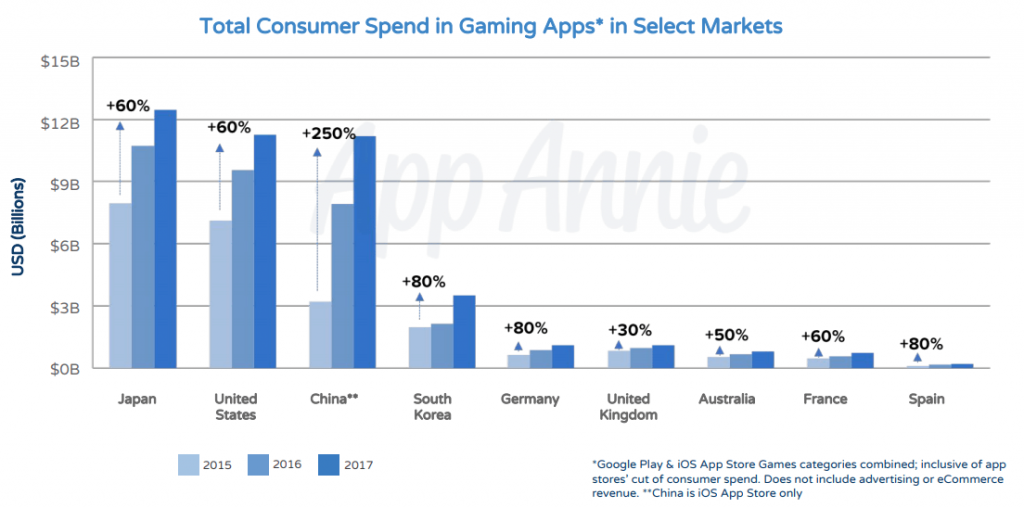 App Categories: Social
More than 2 billion people all over the world use one of the Top 5 Social Apps at least once a month. Facebook, Whatsapp, and Instagram (the last ones belong to the Facebook family) keep leadership in the majority of markets except for the Asian.
Last year also proved that Snapchat has a lot to offer not only to the millennials. It can boast an impressive unique reach among other demographic profiles. In fact, 30% of Snapchat users aged 25-44 can't be found on Facebook or any other social media.
Thanks to timely strategic feature extension, the monthly active users (MAU) of Instagram grew 30% over the last two years on the US market.
Telegram showed impressive MAU growth as well, it grew by 75% globally. It may be explained by the encrypted messaging feature that gains traction and the fact that the company stays non-profit. The example of Telegram proves that it's possible to stand out even in a crowded category.
App Categories: Finance
Apps in this category show phenomenal growth, especially in Indonesia and Brazil. Russia, China, and Germany are among rapidly increasing markets too. Average MAU of finance apps showed 30-50% growth in Tier 1 countries.
These days, finance apps start to gain recognition in such traditional areas as:
banks;

online payments;

money transfers;

local payments;

service consolidation and budgeting;

investment and trading platforms;

insurance;

credit checking.
2017 became the year of booming cryptocurrency prices, it predetermined the emergence of cryptocurrency management apps. The performance of such apps is intertwined with the rates of cryptocurrencies themselves. Peaks in trading favor brilliant performance of such apps and vice versa.
Yet another trend of the emerging markets in Asia is the evolvement of cashless societies especially in India, China, and Southeast Asia.
App Categories: Retail
Digital-first retail apps experienced twofold average sessions per user compared to traditional retailers in 2017. Thus, traditional retailers have to work on engagement cultivation to stay competitive.
2017 was marked by the most successful month ever. November 2017 saw the record-breaking key figures:
Nearly $23 billion global mobile sales on Singles Day in Tmall;

100 million hours spent in Android shopping apps in the US within Black Friday and Cyber Monday;

$2 billion spent on mobile in the US during Cyber Monday.
The category leaders Alibaba and Tencent keep expanding investment in top grossing apps in Southeast Asian.
The report admits the growing importance of mobile marketing activities.
According to App Annie, 65% of downloads in iOS accounts for organic traffic. Moreover, the search volume for the keyword "Black Friday" experienced 115% growth in November 2017 in comparison to three months prior. That's why apps need extra ASO efforts to retain competitiveness.
App Categories: Video Streaming
Consumer spend shows a triple-digit increase in the course of last two years in all markets under analysis. Investing in original content, steam services trigger apps growth. Nowadays, TV giants have to compete with online services worldwide.
India calls for special attention here. Since the introduction of the 4G network, video consumption increased by more than 6x in this country.
App Categories: Travelling
The travel industry has shown the move to mobile over last couple of years. Travel app on the key market grew by 25-50% in 2017. These days, mobile ads are used at each stage of traveling:
trips inspiration;

research before traveling;

recommendations review

booking;

transit;

navigation;

memories sharing.
It's curious that traditional travel companies managed to regain users from extremely popular aggregators and meta-search tools. It is the consequence of apps quality refinement.
Another interesting trend – ride sharing apps such as Uber, Lyft, GetTaxi, etc. are phenomenal leaders of the category. Ride sharing apps revenue reached impressive $45 billion in 2017. Such services have a perspective of growing their income even more thanks to expansion into such areas as food and package delivery. Financial services is another revenue opportunity.
App Industry Leaders
The report by App Annie indicates that the world's most popular apps in terms of monthly active users are:
Facebook by Facebook;

WhatsApp Messenger by Facebook;

WeChat by Tencent;

Facebook Messenger by Facebook;

QQ by Tencent.
The list of top games with the best MAU looks as follows:
Honour of Kings by Tencent;

Anipop by Happy Elements;

Clash of Clans by Supercell;

Candy Crush by Activision Blizzard,

Pokemon Go by Niantic.
When it comes to worldwide consumer spend 'Netflix', 'Tinder' and 'Tencent Video' are leading among apps while 'Honour of Kings', 'Monster Strike', and 'Fate/Grand Order' top the gaming segment.
Worldwide leaders by downloads among apps and games are 'Facebook Messenger', 'Subway Surfers', 'Facebook', 'Honour of Kings', 'WhatsApp Messenger', and 'Clash Royale'.
One thing is for certain, app markets managed to push new boundaries in 2017. The industry keeps maturing and offers new extended monetization opportunities to the publishers. This can do nothing but inspire publishers to achieve new heights.