Splitmetrics Acquire Now Supports a No-Code Integration with Leading BI Solutions to Help App Developers Streamline Data Flows and Unlock Insights.
Siloed and poor-quality data cost organizations an average $12.9 million per year in losses, according to Gartner. To help app leaders make well-informed business decisions based on a single source of truth, SplitMetrics Acquire now offers a no-code integration with the most commonly used and custom BI solutions, such as Tableau, Microsoft Power BI, Looker, ClickHouse, etc.
"Multichannel marketing approach leaves app marketers with multiple data sources they have to rely on when optimizing their UA campaigns: ad managers, MMPs, product analytics platforms, CRM, to name a few.

At SplitMetrics, our goal is to empower app professionals with intelligent and user-friendly solutions they need to make data-driven decisions faster. With a no-code integration between SplitMetrics Acquire and leading BI solutions, user acquisition managers can now streamline campaign reporting, improve data accuracy, and boost Apple Search Ads performance based on custom metrics and various attribution models."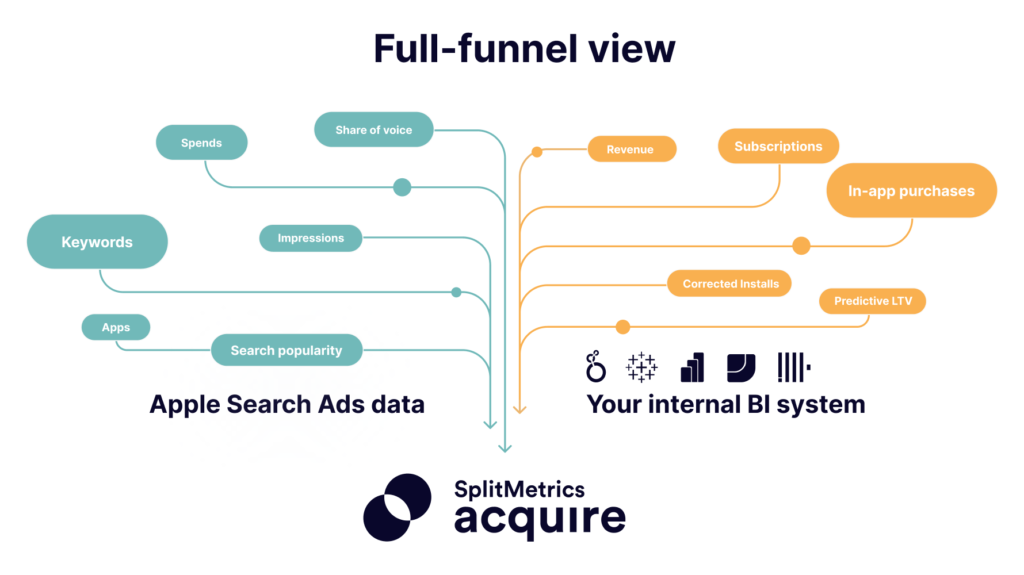 Feature Overview: Next Level of Apple Search Ads Optimization & Reporting
According to the Market Pulse research by Matillion and IDG, organizations have on average over 400 different data sources. With so much data in place, it's no wonder that more and more companies start adopting the single source of truth approach with a BI solution as a centerpiece of the user intelligence system. SplitMetrics developed the no-code BI integration to help app publishers and developers:
Ensure consistency of data stored across multiple sources, including SplitMetrics Acquire accounts, BI systems, MMPs;
Make informed decisions on Apple Search Ads optimization and scaling based on accurate and up-to-date data;
Optimize Apple Search Ads campaigns towards custom metrics and assign conversions according to tailored attribution models;
Gain a competitive advantage through improved keyword optimization, bid management, audience targeting, and campaign analytics;
Save time and costs by identifying campaign inefficiencies and achieving operational excellence.
"Every business is unique and has its unique combination of revenue streams, technologies, UA strategies, data models, and market conditions. One size rarely fits all, especially when we're talking about medium- and large-sized enterprises. We built a no-code BI integration for SplitMetrics Acquire to empower our clients with an innovative solution for Apple Search Ads management that fits their unique business needs and, at the same time, maintains high data quality and consistency."
The no-code BI integration for SplitMetrics Acquire feature allows users to:
Simplify, automate and accelerate data transfer from BI systems to SplitMetrics Acquire;
Leverage business-specific metrics from BI systems to improve Apple Search Ads campaign performance and reporting;
Upload historical data with day granularity (up to 365 days) from BI systems to SplitMetrics Acquire for reliable, complete and consistent reports across all platforms;
Update campaign performance metrics in SplitMetrics Acquire retroactively to ensure high data accuracy when identifying new market trends and building future predictions;
Track costs and optimize towards metrics on various levels, such as campaign, Custom Product Page, or keyword;
Automate data mapping process with SplitMetrics' smart algorithms to save time and ensure smooth data migration.
Maximize your Apple Search Ads ROAS with SplitMetrics Acquire
REQUEST A DEMO
Use Cases: Take Advantage of the No-code BI Integration for SplitMetrics Acquire
The no-code BI integration for SplitMetrics Acquire will benefit app publishers and developers in the following cases:
There are custom metrics and attribution models in place. Leverage the no-code integration to optimize your Apple Search Ads campaigns towards these metrics and ensure proper reporting across all platforms.
BI system is already incorporated into a company's business processes and serves as a single source of truth. Use the no-code integration to build Apple Search Ads campaigns automation and optimization based on BI metrics and insights.
There are discrepancies between Apple Search Ads and MMPs. Reduce data silos, unlock meaningful insights and allocate your marketing budget to high-revenue campaigns by creating a unified data ecosystem.
MMP limitations due to organizational policies and privacy regulations. Create a direct integration between the BI system and SplitMetrics Acquire for improved campaign management and scaling, while complying with privacy laws and regulations.
Key Benefits: Elevate Your Mobile Ad Campaigns with Optimization Based on Your BI Data
To sum up, there are 4 key benefits of using the no-code BI integration for SplitMetrics Acquire:
Maximize ROAS of your Apple Search Ads campaigns. Utilize BI insights and metrics to build Apple Search Ads campaigns automation and optimization strategies and enjoy unparalleled results from the right data.
Create a reliable ecosystem for data-driven decision making. Consolidate your data in one place for a comprehensive overview of your business activity, full-funnel visibility, and confident decision-making.
Build automation, optimization, and attribution YOUR way. Equip your organization with an agile technology infrastructure that suits your business needs, strategies, and approaches, as well as allows you to be more responsive to fast-changing market conditions and user demands.
Improve work efficiency, save time, and cut costs. Achieve operational excellence through streamlining your organization's processes, integrating software solutions into one app growth ecosystem, and aligning teams with the company's strategic goals.
User Guide: Unlock the power of your data with the no-code integration between your BI solution and SplitMetrics Acquire
If you already have a SplitMetrics Acquire account, reach out to your Customer Success Manager for best practices and instructions on how to get the BI integration add-on. In case you do not have the active account with SplitMetrics Acquire, but want to see the solution in action – request a live demo and our app growth experts will be happy to help.
Unlock data insights with no-code integration for SplitMetrics Acquire
REQUEST A DEMO