TechCrunch reports that in the first quarter of 2022 the app market kept growing with global app downloads reaching 37 billion across iOS and Google Play. The latest analysis by data.ai also reinforced the existing tendencies within two major app ecosystems – iOS continues to drive consumer spending while Android users drive the majority of new app installs.
As we all know, growth goes hand in hand with the competitiveness of the mobile industry. It makes understanding the latest app growth trends a must for any mobile app developer. This Checklist for 2022 by SplitMetrics will shed light on 7 actionable tips that will help your app get discovered and stay ahead of the competition.
Download App Growth Checklist for 2022
1. Keep experiments out of the product for as long as possible
This recommendation by Hannah Parvaz, Head of Marketing at Uptime, should be taken into consideration in the context of fierce store competitiveness. Be it defining the price policy, polishing the user journey, or optimizing store presence, there are far better options than turning your app and its store page into an out-of-control experimental playground.
For price testing, you can start by asking people what would be an insane price to pay for the app and work back from there. Or use 2 different landing pages with different prices. Andy Carvell from Phiture also suggests using in-app messages as a great way to not go through product development.
However, the most straightforward and professional approach is to opt for specialized testing solutions like SplitMetrics Optimize. Thus, from pre-launch and beyond, you'll be able to address such app growth needs as features testing, targeting refinement, app store optimization, and ideas validation.
The latter seems to be one of the core pre-launch activities that can make or break your future app. That's why the next section of this checklist is dedicated to idea testing done right.
2. Your testing hypotheses should be based on product motivation
As one of the Growth Gems by Sylvain Gauchet states, you can always buy growth, but you can't buy engagement. It must be built into the product. That's why it makes sense to preoccupy with product motivation at the earliest possible stage.
"If you can't name your customers' internal trigger, you're flying blind"
You need to understand the psychological itch, the uncomfortable emotional state that gets people to search for an app like yours and come back to it. Be it boredom – focus on entertainment; in case of loneliness – try to connect people together; dealing with stress or anxiety – offer insurance.
When it comes to games, it's essential to define which of the 6 core motivations rings the bell with your audience: collection, creation, crafting, competition, growth, or progression.

That's when the SplitMetrics A/B testing platform comes in handy. Emulating store experience, you can test creatives that represent various product motivations and identify the internal trigger of the audience and concepts that resonate the most.
When your app is ready to take the app stores by storm, it's vital to ensure your product page is optimized to prevent losing any organic traffic. That's when the key ASO guideline enters the game. We'll take a look at it in the next section of our checklist.
3. Thorough testing of store creatives is a must
The necessity to test your store page elements is not a caprice of overly enthusiastic mobile marketers these days. Ignoring it may cost your app a considerable conversion drop.
Let's consider the example of video previews to show how it works. In a world where video content is on the rise, it seems every store page needs one. Sure, testing whether you need this store element at all might seem counterintuitive and excessive when, according to Wyzowl research, 87% of video marketers reported that video gives them a positive ROI. Notably, only 33% of them felt that way back in 2015.
However, video preview remains a wild card of ASO. Being one of the most controversial app store elements, it generally gives conversion uplift to Games, Photo & Video, and Health & Fitness apps. At the same time, a video preview might be the reason for conversion decrease in other categories. That's why it's a bad idea to invest in a quality video preview before ensuring it wouldn't hurt the performance of your app.
When your store page is optimized properly, it's time to preoccupy with paid UA. Pay extra attention to Apple Search Ads as this channel keeps growing its potential and becomes one of the fastest-growing ad networks. The upcoming sections of our checklist will help you handle this ad channel like a pro.
4. Don't ignore benchmarks setting your Apple Search Ads bids
With the impressive average CR of 62.22%, more and more app publishers make Apple Search Ads an integral part of their paid UA strategy. Naturally, they face a growing rivalry which leads to a significant CPT increase. The Average Cost per Tap reached $2.27 by the end of 2021.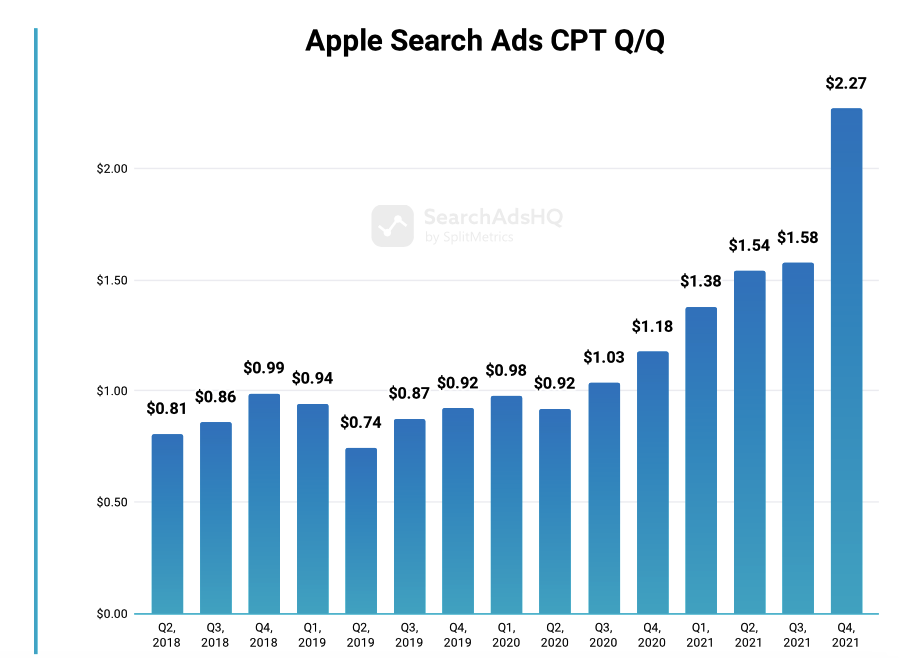 Setting up an Apple Search Ads campaign, it's essential to keep in mind the average CPA and bid accordingly. Otherwise, this channel won't work its magic.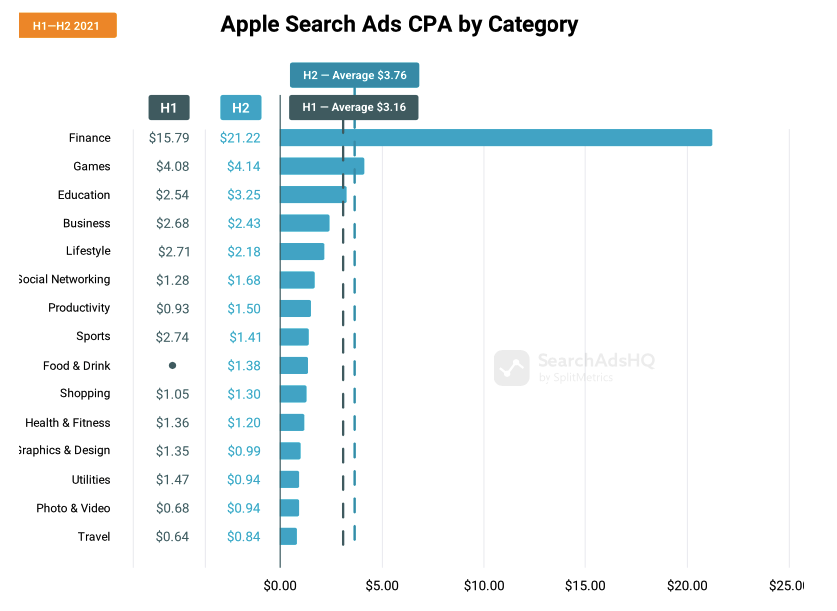 If you're serious about Apple Search Ads, it's sensible to consider using SplitMetrics Acquire to get full control of your ads performance and leverage automation to grow ROI. One of its features called Apple Search Ads Insights will help you forget about blind bid settings based on your gut instinct only. The tool will give you an accurate data-driven understanding of your market positions and share of voice for keywords.
5. Increase your TTR with the help of custom product pages
If your Apple Search Ads TTR gets below the benchmark in your category on the App Store, there's a way to improve it by taking advantage of iOS 15 new feature — custom product pages.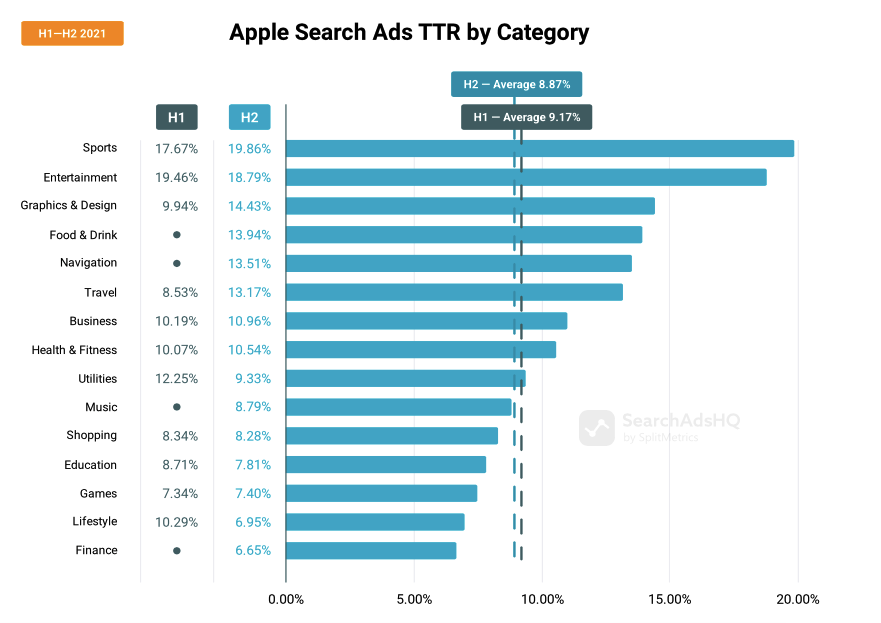 The update gave app marketers a long-awaited opportunity to showcase different features to various user groups. Now it's possible to create custom product pages tailored for themed keywords of each Ad Group within Apple Search Ads. Mind that ad variations using custom product pages are available in the SplitMetrics Acquire platform as well.
Along with customizable screenshots, promotional text, and app previews, this makes paid ads more personalized and relevant. To provide the most consistent user experience for each segment of your target audience, try to:
align a specific visual asset and message with a separate semantic of keyword group;
align a specific visual asset and message with the target audience (gender and age, new users, or returning);
align a specific visual asset and message in terms of audience segmentation (based on product analysis).
start from 1-3-5 custom product pages at the beginning.
use available screenshots to streamline your workflow.
redistribute existing screenshots or create new ones to increase the number of ad variations.
You've started getting organic traffic in the selected market and are able to calculate the break-even point.

The volume of traffic in the selected country or region is enough to get installs and conversions every day and optimize.