Many clients turn to us with the same question: can we do anything more to optimize keywords and other metadata on the App Store and Google Play? They are already pretty good, but the sky is the limit, right?
However, the truth is that you cannot optimize app store product page metadata again and again, and expect a big boost in organic downloads.
Speaking of two major levels of optimization on the app stores – search optimization and conversion optimization (there is also browse optimization but we won't consider it in this article), you always begin with optimizing an app for search. You should first of all make everything possible to increase your app's discoverability in organic search. Once the metadata (keywords, titles and descriptions) are optimized, you may proceed to conversion optimization and work your magic on the product page elements.
At first, with each iteration of metadata changes you are getting substantial increase in organic reach. But after a few iterations, when there is no room for big changes and you start making minor tweaks, instead of big jumps in performance, you will notice small incremental improvements.
Let's dive into the details.
Search Optimization
Search optimization is the main thing you should start with on the App Store and Google Play. Any other app store optimization efforts are not very impactful until you optimize your mobile app so that it ranks for targeted keywords 5th or higher. This will help you get the maximum boost. In case you didn't hit the top 5, don't give up trying to get the best results.
Search optimization on Google Play or the App Store is carried out in stages and usually takes multiple iterations. Once you've uploaded keywords to an app store, added them to the title, subtitle and keywords field on the App Store, and title, short description and long (full) description on Google Play, wait for a couple of days. In that time frame you will get the first results and realize how the App Store and Google Play responded to the metadata on your product page. Your next steps include regular keywords monitoring. A good practice is to check keyword performance weekly, but you can also do it every day, resources permitting.
Don't forget about holidays and other seasonal events: at Christmas season, during the summer or on Thanksgiving Day people tend to search for specific things. Check what they are looking for and adjust your keywords to get a seasonal boost.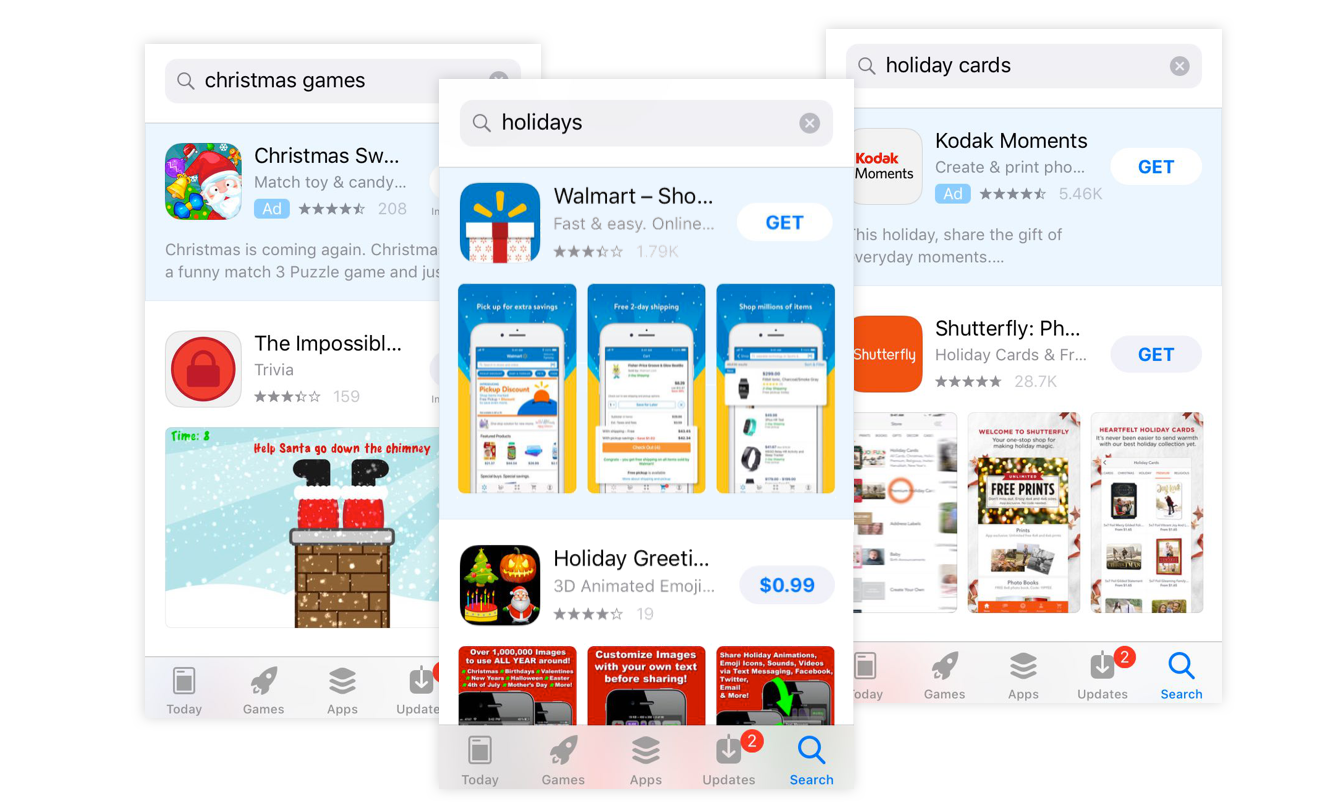 So, why can't I re-optimize a mobile app for app store search again and again?
After each optimization you will cut off keywords that don't work for your app and add those that perform well. Over time, you will find the optimum number of relevant keywords for which you rank high on the App Store and Google Play – the basis of search optimization. And even if you add some more regularly, in the context of the dashboard analytics, the changes will be so insignificant, that will make very little impact. Also note that keywords on the App Store are limited to 100 characters (take out characters you might need for branded keywords), so after a few cycles of optimization your keyword field will be pretty close to perfect with almost no space for changes.
New suitable keywords that make a difference, as a rule, appear rarely.
OK. But when does it make sense to re-optimize keywords and other metadata?
When algorithms on Google Play or the App Store change. You will understand that by getting alerts about changes in keywords performance from SearchAdsHQ or detect anomalies in rankings with the help of tools like AppTweak or ASO Desk.
When there are new players in the market. They may influence the popularity of certain search terms by having a strong brand or novel features which people are specifically looking for.
When your competitors release new functionality and features that matter to users. For example, you own a fitness app and one of your main competitors has suddenly started to position their product as a face fitness app. The reason behind this move could be that face fitness and other similar search queries are popular among users and bring huge amounts of traffic.
And of course, when you release new functionality for your app – in this case, you'll need to adapt the keywords to your brand-new feature.
When there are updates to your product positioning. If you'd like to shift the focus to other features of your mobile app to help users see it in a new light.
During the holidays and other seasonal events. You would want to optimize for event-related search terms.
Got it. Anything else?
In order to not miss out on anything, use third-party management platforms with keyword monitoring functionality and automatic alerts, such as SearchAdsHQ. What value do such tools bring to your app's search optimization?
If you are just starting with search optimization on the App Store, use them for keyword ideas: run discovery campaigns and mine core keywords.
Some of these tools are also utilized for Apple Search Ads campaign management. How does this help? Even if you rank outside the top 5, they can enable you to occupy the leading positions: get to the top of the App Store search page where ads are placed. Just a reminder: 65% of downloads on the App Store come from search.
Such platforms serve as smart assistants that monitor keywords performance day and night. You'll timely receive data and make effective use of that data: optimize your product page keywords when it is needed (see the previous section).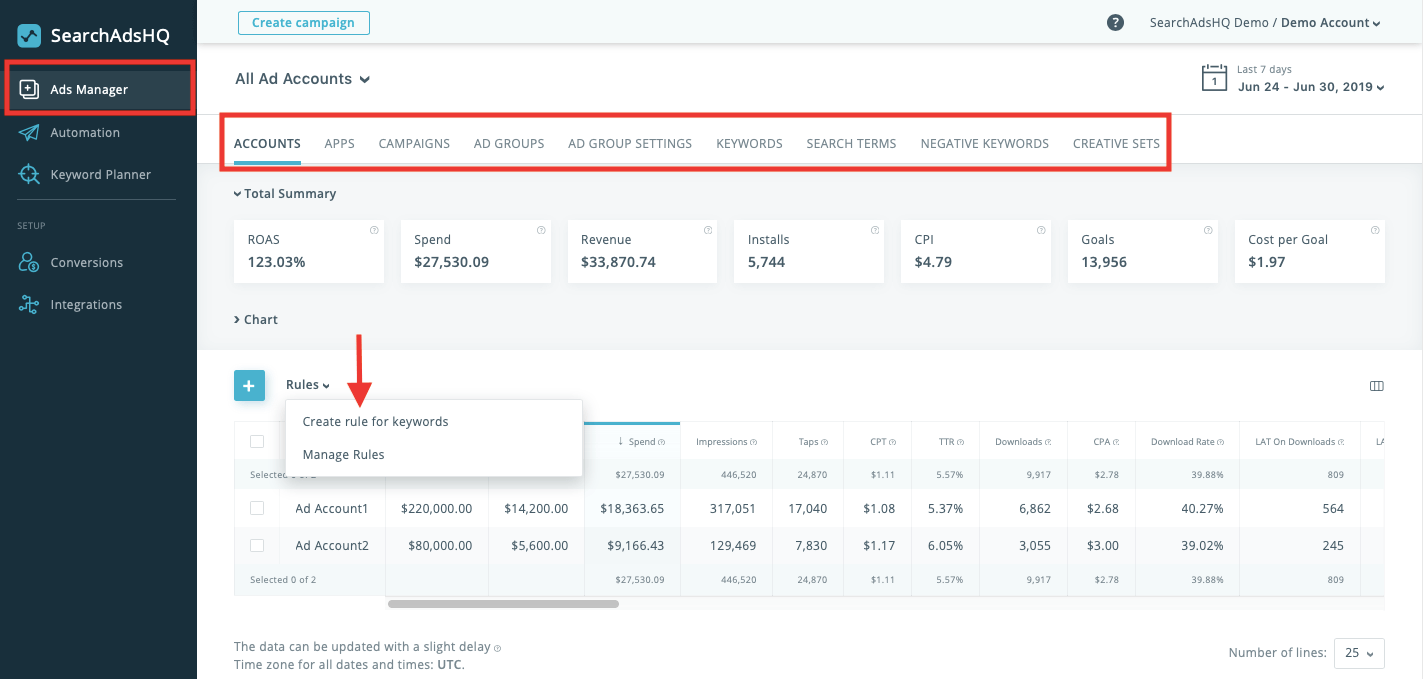 Once you are done with app search optimization, move on to conversion optimization.
Conversion Optimization
Optimizing your app store product page elements, such as icon, screenshots and video to meet the expectations of your target audience will increase the conversion (click-to-install) rate on the product page. Keep in mind that you can also optimize certain product page elements for the view-to-install rate: conversions that you'll get when users see your app (its title, icon, etc.) and download it directly from search.
How can I optimize the icon, screenshots, etc.?
You can optimize your app store product page elements with the help of A/B testing. Google Play has a free tool to run store listing experiments. However, note that with Google Play tests, you cannot always understand what actually worked: which screenshot performed the best, etc. And, of course, Google Play Store Listing Experiments can't be used on the App Store. So, you'll need to make time for testing Google Play and the App Store product pages separately.
You may want to turn your attention to all-round conversion rate optimization tools like SplitMetrics A/B Testing Tool. SplitMetrics tool provides testing for the App Store and Google Play. By testing different variations of your app's icon, screenshots, video and even localization, you will find out what works best for potential users. Based on experimental evidence you will be able to fine-tune all the product page elements both on the App Store and Google Play, and consequently optimize the conversion rate.
Apart from A/B testing, you can test creative sets in the Apple Search Ads or collect information on top-converting creatives utilized by mobile user acquisition companies.
In simple terms, the main goal of optimizing the elements of your page on the App Store or Google Play is hitting the needs & expectations of your target audience.
Why can't I optimize conversion endlessly?
1. Once you've hit the bull's eye, it is really hard to find something that your target audience will like significantly more. When after A/B testing you are aware of users' preferences and have optimized your product page elements, you've probably achieved – or are very close to – your best possible conversion rate. Subsequent optimization will deliver only incremental improvements.
2. Another reason is that users, as a rule, see the big picture. They may pay no attention to small details on the screenshots and so on. The image of your app on an app store they see immediately, impacts their first impression.
Now I understand. Nonetheless, when should I try to re-optimize conversion?
We were talking about the case when your product page is literally perfect and nothing could beat the icon, screenshots and video you've chosen for your product page based on data from multiple experiments. However, there are plenty of good reasons to optimize conversion when SplitMetrics A/B testing tool is indispensable. Here they are:
After App Store or Google Play redesigns. In such cases you need to adapt your creatives to the updated environments. For example, with Apple adding the Dark Mode to iOS 13, mobile developers now have to optimize for that. The most recent Google Play's store redesign also requires changes to fit the new user experience.
Again, as with app search optimization, conversion optimization is needed in the holiday seasons. Optimizing your app for specific events may bring you excellent results. That's why flexibility and the right timing are so important.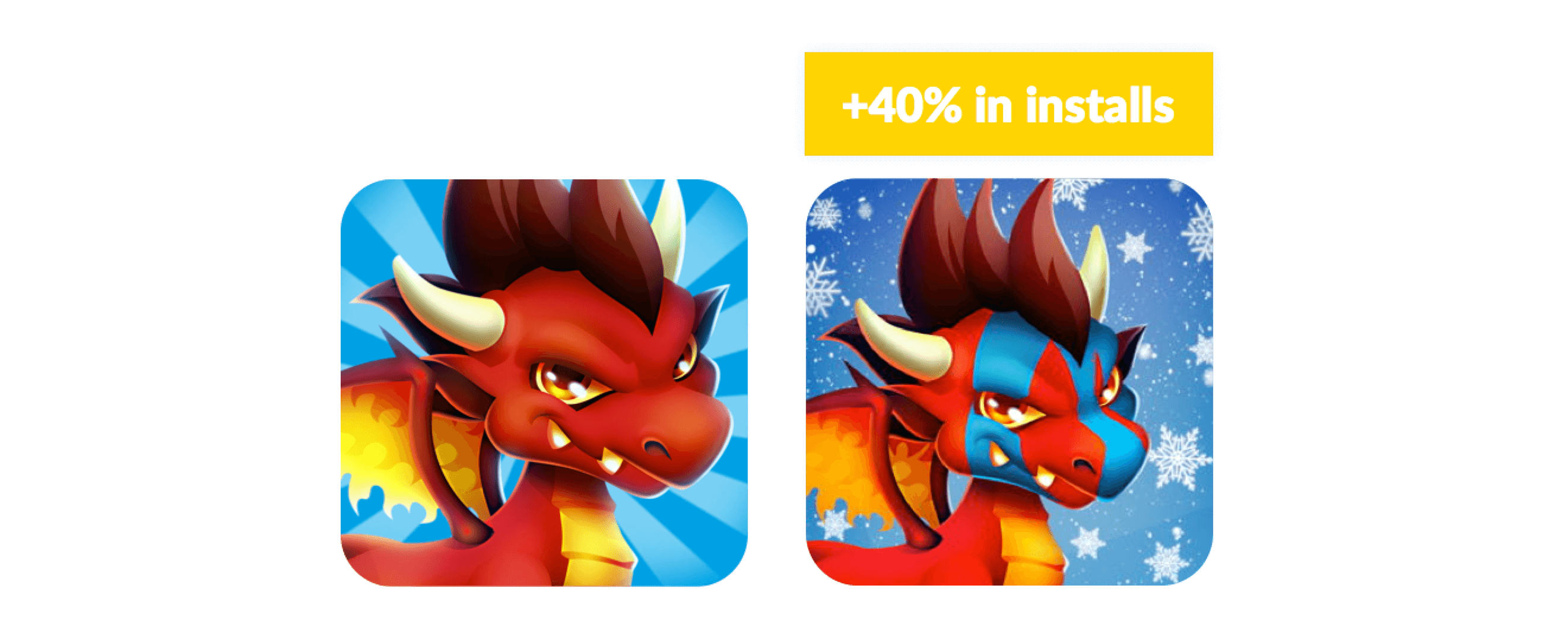 To differentiate among competitors. You should always keep an eye on what your top competitors are doing in order to successfully differentiate your value proposition and build a strong brand. In addition, nothing prevents you from borrowing some good ideas.
If the company is changing the portfolio and going to focus on a niche audience. In such a case, mobile apps are polished a little bit to fit the needs of this specific audience.
If you have changed or started using new ad networks. This paragraph is not about changing creatives in app stores – but rather about optimizing them for each ad network. Each ad network shows different conversion rates, user behavior, and reaction to the ads also varies greatly, so you may get completely different outcomes from campaigns targeted for the same audience. Experiment with a few visuals for each ad network for the best results.
To test out new salient trends in design. For example, now in 2019 you might want to add gradient 2.0 or dark themes to your screenshots to keep pace with the most acute design trends. However, keep in mind that they may or may not work for you, but the cost of missing out may be high if you don't give it a try.
In case your colleagues from the marketing team discover that some creatives (banners, landings, etc.) surprisingly perform better than others. For example, pics of nature with landscapes show unprecedented conversion. Exploit the finding: add such images to your app store images and test them. Beware though, what works on Facebook and in other ad networks may not work at all on an app store. So, A/B testing is a must here.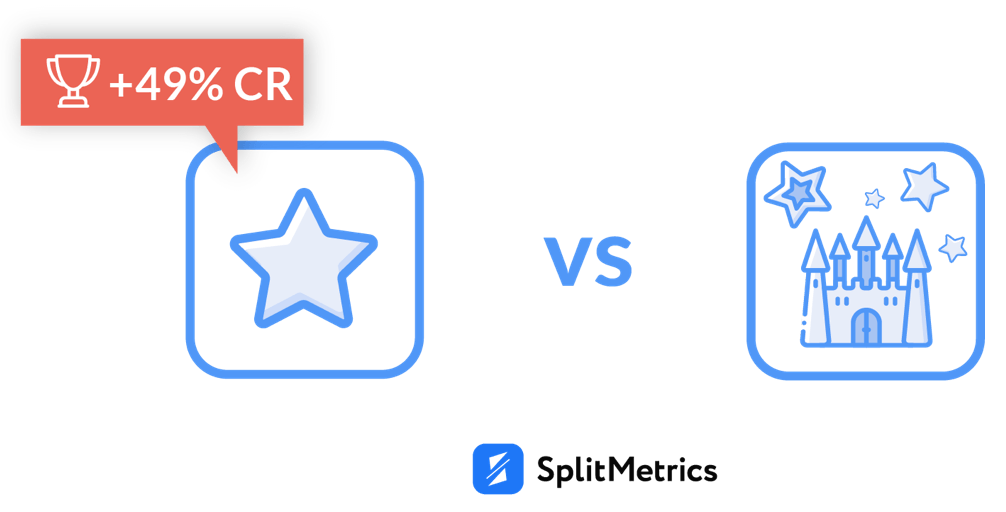 Now I understand. Nonetheless, when should I try to re-optimize conversion?
We have discussed the ins and outs of App Store Optimization (ASO). If you can't optimize your app endlessly, what you still can do for its growth? Find the answers below.
Increasing Brand Awareness
The brand is the heart of any marketing activities. In mobile app marketing, branding helps in narrowing the gap between your app and its audience, resulting in greater organic growth. For ASO, the vital role of the brand is even more specific:
Search visibility. Search traffic accounts for ⅔ of all installs on the App Store and Google Play, the majority of which are driven by branded search queries.
Browse visibility. Well-known brands are more likely to be featured in the app stores. For example, TikTok took over the Internet in 2018 and went viral on a global scale. Shortly afterwards, Apple featured an editorial story on video self-streaming apps, and TikTok's app icon took 50% of the whole banner.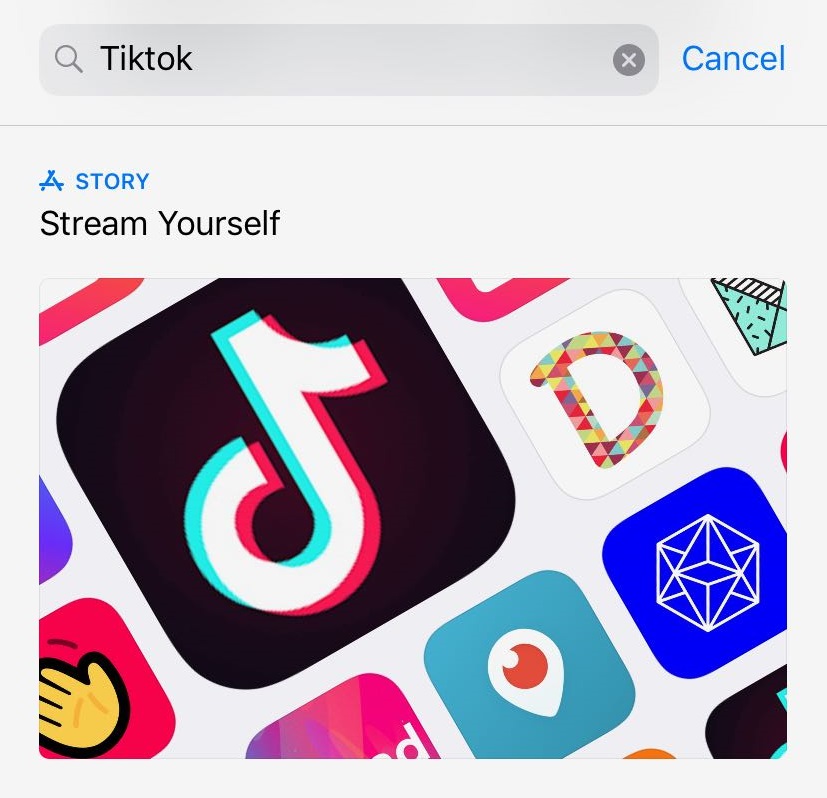 Conversion. An app's icon and title are the two assets almost always visible everywhere an app appears in both of the app stores. They are also the assets that carry the brand logo and name, respectively. If users can recognize your brand, they will recognize your app. With strong brand strategies, this means greater opportunity for conversion rate optimization.
What are the ways to drive app growth by increasing brand awareness?
All the benefits of a strong brand are out of reach if users simply don't know anything about your company or app. For this reason, the brand awareness of your app could make or break it. Here are the methods you can take advantage of to build a powerful brand awareness strategy:
Performance marketing. Best known for its ability to optimize for gaining specific results from users, performance marketing is powerful for driving both direct app growth (via pre- or post-installation conversion events) and indirect app growth via brand awareness. You can optimize performance marketing campaigns for relevant KPIs, such as the number of views, to make sure a lot of users see your app. With the help of social media like Facebook and Instagram, the online reach of performance marketing is massive.
Retention and CRM. Invest in strong user retention and CRM efforts to improve customer loyalty. Loyal users tend to become referral users, who make a reliable "earned media" channel that is helpful in driving brand awareness via online word-of-mouth. All you need is a flawless marketing infrastructure to make CRM and retention campaigns run smoothly.
Offline marketing. Traditional media such as TV, radio, and billboards sometimes provide great potential for app marketing and brand communication. TV, for example, remains "unmatched" in terms of the reach and impact that it provides to marketing activities.
Content marketing. Our digital age is chanting "content is king" for a reason. Content marketing is a proven method to increase brand awareness and drive mobile app growth. Besides, getting your content strategy right can keep users "hooked", thus improving their loyalty.
Influencer marketing. With the help of social media, influencers have become a formidable force in contributing to mobile app growth. They act as online brand ambassadors and can advocate for your app's brand to a pool of your potential users. Influencers with a large fan base, such as celebrities, could be your "super referral users" who make a significant amount of people aware of your app's brand.
Getting Featured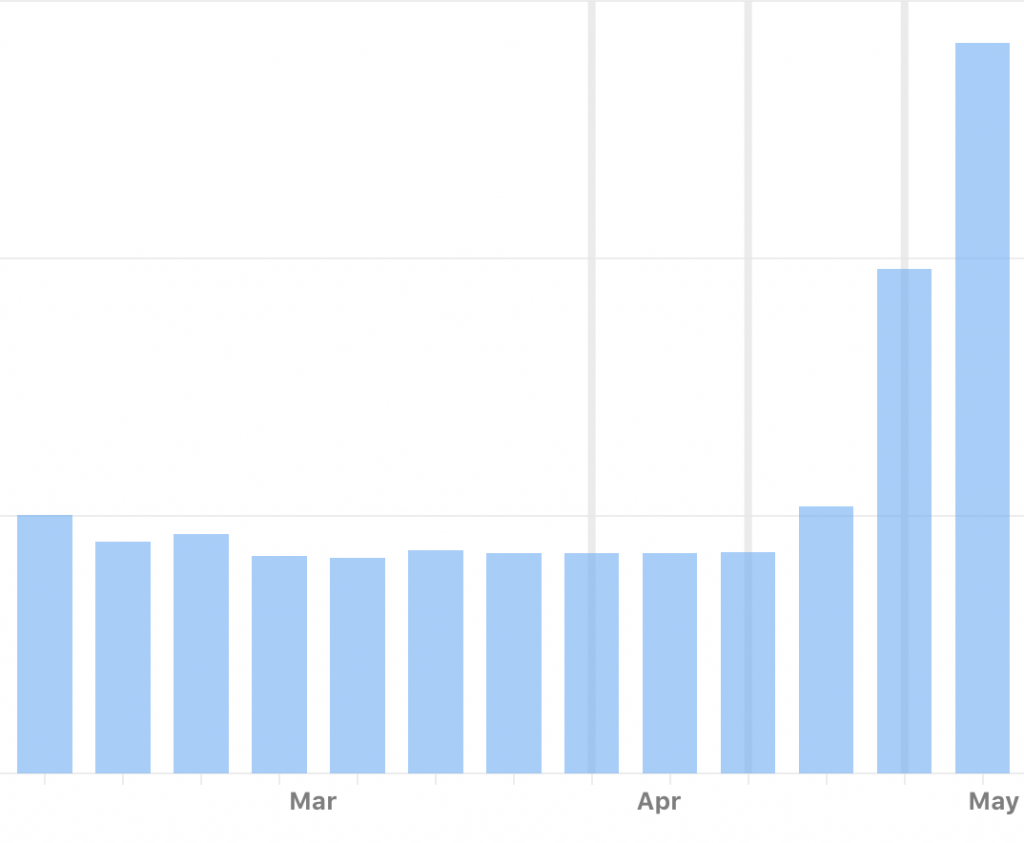 App featuring is one of the most powerful ways to boost traffic and app installs. Despite mainly bringing short-term growth that's often associated with low conversion rate, retention rate and life-time value, publishers still dream about it, imagining the potential boost in organic growth that getting featured may bring.
Such an impact generally comes from the massive "real estate" that featured apps receive. An app making it to the Today tab in the App Store could typically claim about 50% of the entire screen of an iOS device with their feature banner. With massive real estate comes massive visibility: more users will see your app on the App Store, and see it in greater detail.
In addition, getting featured could improve your app's conversion rate. The Editor's Choice award, for instance, could help your app gain trust from users, thus increasing the conversion rate. Alternatively, the App of the Year award could trigger the fear of missing out among users, and thus motivate them to download your app. These are just a few examples of how getting featured could improve an app's conversion rate in the stores. Do it justice, and the impact will be enormous.
Sounds convincing. But how can I get my app featured on the app stores?
Getting featured takes real work and careful preparation. A high-quality mobile app, optimized metadata and product page elements are essential, as already discussed in the first part of this article. However, several marketing activities are also required. A crucial factor is the pitch deck that you send to Google or Apple. This is your chance to persuade them to feature your app in their stores – so use it wisely. Another one is a seasonal marketing strategy. Seasonality is sometimes so powerful that some apps managed to successfully get featured with a seasonal pitch instead of a product update pitch. Finally, because Apple and Google are known to be selective and careful when approving apps for the App Store and Google Play respectively, it's important to maintain positive relationships with them.
Viral Marketing
Virality is no stranger in the world of mobile app marketing. In recent memories, so many apps have gone viral that we have begun to take the phenomenon for granted. One thing we can't ignore, however, is the significant impact that going viral has brought to certain apps.
Take Candy Crush, TikTok, the FaceApp, and the massive impact that going viral had on them, for example. Candy Crush grew by 11.5 times in revenue in just a year for going viral, TikTok also grew its revenue by 275% over a year while also beating Facebook, Instagram, Youtube and Snapchat in monthly downloads in the US thanks to its viral status, and the FaceApp has recently got downloaded 12.7 million times over a week since it went viral.
How do apps go viral?
Marketers often use a framework commonly known as the viral loop to describe an app's virality. The idea is to get users to see your app, install it, want to share it, and share it with others. Then the "others" see it and install it – and so it goes on in a loop.
While "see" and "install" can already be driven by the usual user acquisition activities, the tricky part is to get people to share your app around. Viral apps that have successfully managed to reach this point show the following patterns:
High relevance. Be it a viral campaign or an in-app mechanism that could trigger virality, the content needs to be relevant to its audience – the app's users. For instance, Candy Crush already had an addictive gameplay before it went viral, so users became highly engaged to a point that they just couldn't resist and had to invite friends in order to continue when stuck.
Strong stimulation. Viral apps have a hook that stimulates users to stick around and share around. TikTok, for example, created a platform where virtually everyone receives "an equal chance at fame". Since some people couldn't resist becoming a celebrity, they were hooked to fuel the app's viral status by downloading it millions of times.
Great shareability. It's simple: the more shareable the app or its viral marketing content is, the broader and faster it spreads. Either you have an app feature that allows users to directly invite others to use your app, or run a viral campaign where the message or action is understandable, memorable, challenging yet replicable, and communicable.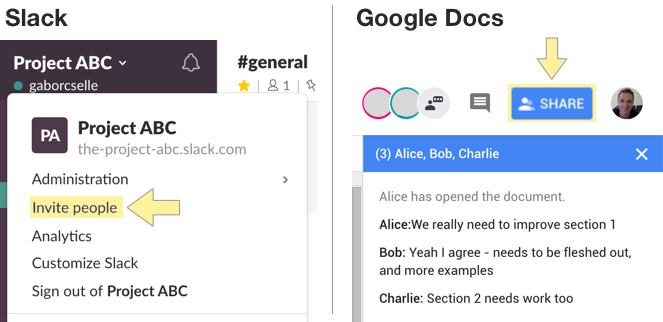 Slack is designed to go viral with the "Invite" feature in the app. Google Docs enables people to collaborate (Image source: Gabor Cselle).
Powerful trigger. As the last touchpoint that "generates an action", the trigger is what kick-starts your viral marketing success. Often coming under the form of a call-to-action, thought-provoking message or challenge, a powerful trigger emotionally urges users to install and/or share an app with their friends. Take the Timberman game, for instance, which allows users to publish a Tweet to challenge everyone in their Twitter network to "beat" their in-game high scores. While the game triggers the challengers to "show off" by sharing it online, it simultaneously triggers the challenged to feel provoked into installing it.
These are the most common patterns among viral apps in the past. They can help you set the stage for your app's viral marketing as well.
Lessons Learned
You cannot optimize your app on the app stores endlessly. After a few iterations of optimization, you will start noticing only minor improvements.
Search optimization always comes first. Other efforts are significantly less impactful until you optimize your mobile app so that it hits the top 5 or higher.
Always take seasonality into account and adjust metadata and product page elements to specific events.
There is a place for metadata re-optimization in certain cases, including changes in store algorithms, updates to your positioning, seasonality and changes in the competitive landscape.
To stay on top of keywords performance, use third-party management platforms with keyword monitoring functionality and automatic alerts.
Leverage app store A/B testing to get more data on the performance of your app page creatives, in order to optimize conversion rates.
Re-optimize the App Store and Google Play product pages in situations that include app store redesign, changing your target audience, testing new ad networks or discoveries made by the marketing team.
Instead of constant optimization of your app store metadata and creatives, consider raising brand awareness, trying to get featured on the app stores and preparing the ground for virality to promote your app and get more users.
This article was written in collaboration with Binh Dang from Customlytics.
---