Apple Search Ads Advanced has announced new exciting updates that provide you with higher optimization flexibility. As an Apple Search Ads partner, SplitMetrics Acquire platform has recently updated functionality to support changes and delight our customers with the best possible experience and smoother workflow.
Search tab campaigns moving to cost-per-tap pricing
In May 2021, the App Store welcomed a new great opportunity for publishers and marketers – Search tab campaigns. This new ad placement enables UA managers to reach out to target users before they even start to search. On the other hand, Search tab ads help users discover new apps or games quickly. At SplitMetrics Acquire, we seamlessly integrated Search tab ads into our platform and have supported it since day one.
Apple Search Ads Advanced Search tab campaigns are transitioning to cost-per-tap (CPT) pricing. That means you'll only pay when a customer taps on your ad.
Note: Search tab ads are not available on the App Store in mainland China.
We expect increasing demand for Search tab campaigns soon, and SplitMetrics Acquire is fully equipped to support the changes with the best possible user experience!
Apple Search Ads's recommendation is to duplicate the CPM campaign for booking new CPT campaigns that will remain on hold until its launch. On the transition date, the CPT campaigns will start running and the CPM campaigns will be paused automatically. Apple Search Ads team has recently announced: "Any CPT campaigns you book now will be placed on hold until CPT pricing goes live in July. Your existing CPM campaigns will run as scheduled. Once CPT campaigns are live, your previously created CPM campaigns will be put on hold and you'll no longer be able to create CPM campaigns for Search tab. We'll notify you in advance before CPT ads start serving in July."
Please align with the recommendation from Apple Search Ads on the Search tab ads CPT model.
The SplitMetrics Acquire role
Considering this update in Apple Search Ads, all your Search tab ads in the SplitMetrics Acquire platform and automation rules for Search tab campaigns and ad groups would be paused after they were held in Apple Search Ads during the transition process.
After duplicating Search tab campaigns, the default max CPT bid* will be 0.01 (in your current currency). All your duplicated campaigns with an updated pricing model will be paused by default.
With the default max CPT bid, you can determine the maximum amount you're willing to pay. The actual cost results from a second price auction, which calculates what you pay based on what the closest bidder is ready to pay. As a result, you can bid competitively without the worry of overpaying.
Control your performance by changing Search tab campaigns max CPT bid and status in the SplitMetrics Acquire platform. You can adjust it anytime, just as you do with bids for search results campaigns.

Effortlessly control Search tab campaigns bidding with new spots for effective growth
As the pricing model has changed, recalculate your CPM bids based on a simple formula:
CPT = (CPM/1000) / (TTR/100)
Reach to our latest report on Apple Search Ads Benchmarks to understand the industry benchmarks and make data-driven decisions on optimizing your bidding strategy if your TTR is exceeding the target.
Top recommended automation rule
Control your bids based on cost per goal metrics and full-funnel view, and effectively scale.


Set automatic campaign Start and End dates
Specify your campaign Start and End date to manage your campaign's launch and finishing dates automatically. Start date is required and End date is an optional setting. It gives more flexibility to automatically manage the campaign's launch and finishing dates.
The SplitMetrics Acquire role
The opportunity to set up campaigns with Start and End date is already available on the platform.
The SplitMetrics Acquire Team delivers the best user experience to help you run even more successful ad campaigns.
Daily budget
New possibilities to use daily budgets for current and new campaigns will be live in SplitMetrics Acquire soon.
Daily budget is a new setting that indicates the average amount you would like to spend on your campaign each day in a monthly period.
With Daily budget, you can achieve more goals as your spending can exceed your daily limit to get more downloads/installs. But your monthly spend won't be more than your daily budget multiplied by the average number of days in a calendar month — which is calculated as 30.4 days. Hence, you will fully control your monthly budget.
The benefit of daily budget management is that you can optimize your spending on days where there are opportunities to get more downloads. For instance, on business days for a business app, or otherwise on weekends for a delivery app or game.
You can adjust a campaign end date to calculate your overall spending for your campaigns and not exceed the budget. Your campaign spend will automatically extend to each new month without an end date setting based on your daily budget amount.
After the Apple Search Ads release, your daily budget is automatically implemented to all campaigns – for the new or duplicated ones. You can also switch your existing campaigns to daily budget anytime or keep your current settings using a lifetime budget and using lifetime budget and daily budgets together.
To understand your monthly budget in terms of daily budget usage – you can multiply your daily budget by the avg. number in days per month (30.4 days).
With a daily budget of $100, your total spending per month is expected to be no more than $3040.
Since this update, UA managers can flexibly optimize their campaigns while controlling costs.
The SplitMetrics Acquire role
The feature is available within the SplitMetrics Acquire platform.
Take control of campaigns' daily budgets with SplitMetrics Acquire automation
The number of taps and downloads can vary from at to day within one month. While managing higher traffic volume, you might balance cost per goal or cost per action more easily having less volatility. The SplitMetrics Acquire team's assumption is that the maximum daily budget can achieve as much as 2X of the average daily amount on the most lucrative days (i.e., days when there are more opportunities to get app installs)
You can improve your daily budget management along with seeing the full-funnel metrics by setting up automation rules within the SplitMetrics Acquire platform. Control daily budget of your campaigns by automatically taking optimization actions or receiving notifications on changes only.
Top recommended automation rules by SplitMetrics Acquire
2. Assure you're hitting your KPIs.


Get notifications when the campaign's daily budget exceeds the limit of 1.5X of the current daily budget.
3. Get more conversions with an updated and more flexible daily budget system, see your full-funnel metrics and get control of every step with SplitMetrics Acquire.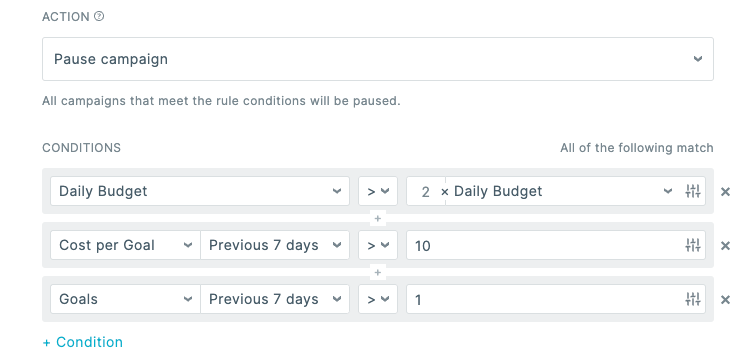 Pause the campaign if the daily budget exceeds the 2X limit and if the actual cost per goal is higher than the target one. Reactivate the campaign on the following day when goals/conversions raise, and the cost per goal stays within the target.
Streamline the app scaling with remarkable features that simplify your optimization and maximize revenue. SplitMetrics Acquire offers a unique combination of automation and expertise to unlock new opportunities for successful app growth.
Maximize your Apple Search Ads ROAS with SplitMetrics Acquire
Request Demo