It's the most wonderful time of the year: the high season is just around the corner, and ASO practitioners do their best to update their app creatives to get into the holiday spirit and get extra downloads.
As exciting as it is, replacing icons, screenshots, and app video preview can be challenging, especially if you have too many ideas flying around. The secret to great seasonal ASO is to find that one trend that will help you stand out from the crowd. In a nutshell, it's no longer enough to give your female character a random Harley Quinn makeover during Halloween or decorate screenshots with several Jack-o'-lanterns just for the sake of it. You should know exactly what is going to work.
This is where A/B testing comes into play. We at SplitMetrics always encourage you to test and validate your concepts before going with them to the app stores. With seasonal ASO, your decisions should be not only holiday-driven, they should also be based on data.
To make things easier for you and honor the upcoming holidays, we created this SplitMetrics' Holiday Special guide to ASO and A/B Testing with creative trends and tips for 2022-2023. No tricks, only treats!
The Data Behind This ASO and A/B Testing Seasonality Guide
Before we dive into creative trends and tips for holidays in 2022 and 2023, it's necessary to point out how SplitMetrics' team created this ASO and A/B testing seasonality guide.
We collect and analyze the information from real A/B tests of existing apps via our in-house solution, SplitMetrics Optimize, an advanced mobile optimization platform for data-driven decision making, validation of concepts, and features for iOS and Android.
SplitMetrics Optimize enables you to cut risks, run tests during the pre-launch stage and discover the winning combination of creatives that will definitely steal the attention of your audience. The platform is SplitMetrics' foremost tool for gathering ASO benchmarks and mobile trends (by the way, you can checkout the latest benchmarks here).
For this article, we've run over 1000 A/B experiments to understand which trends bring you the greater amount of downloads.
Seasonal ASO: What to A/B Test?
Seasonal ASO can be compared to a trickster: everyone wants to benefit from it, yet not everyone succeeds. The truth is that successful app store optimization for holidays depends on multiple factors, and your app's category plays an important role in it.
We utilized SplitMetrics Optimize as a tool to set experiments with visual ASO and tested new icons in winter Christmas style to find out if seasonal aspects influence the CR much in our case. The Conversion rate increased by 5% after release. The Improvement metrics in the experiment on Splitmetrics was 78,7%. The Time to Click to Install has decreased by 4%.
Let's take a look at the apps that, according to our data, run seasonal A/B tests most often:
Photo & video apps
Lifestyle dating apps
Casino games
Casual and hyper-casual games
Simulation games
RPG
Adventure games.
Each of these app categories and game genres has their own specifics. For instance, a photo editing app may want to promote a new in-built feature that allows users to transform themselves into magical creatures during Halloween. In this case, it's not enough to change an icon, it's also worth showcasing the feature through screenshots or video preview.
Since we've already mentioned page elements, time to reveal which of them get their holidays makeovers on a regular basis this year. There are no surprises here, the most influential creatives take lead one more time:
Icon
Screenshots
App Video preview
The most popular holidays and events for app store optimization in 2022-2023 are also quite predictable:
Halloween
Black Friday & Cyber Week
Christmas
Saint Valentine's Day
Of course, the popularity of a certain holiday heavily depends on the storefront you operate in. The region will directly affect your ASO efforts as the customs and perceptions of some colors and attributes varies by location.
During one of our A/B tests for the Chinese storefront, we've noticed that green and blue colors are a poor choice for creatives as they don't spark an interest among users. In general, the winning color for the region is red. Pale pink also proved to be an appealing choice in one of the tests resulting in a 5.2% conversion rate boost.
Seasonal ASO: Creative Trends in 2022 and 2023
We're finally getting to the most festive part of the guide! This section aims at exploring the most popular ASO creative trends for the holiday season in 2022 and 2023 and will provide you with actionable tips for different high days.
ASO Tips for Halloween
Halloween is an ancient holiday originated in the Celtic celebration known as Samhain. It has both a dark, Gothic side, and a fun one — with masquerade parties, mysterious games, and cheap thrills.
As a result, mobile marketers can draw inspiration from multiple sources and attributes connected with darkness, death, and pop culture. It's only natural to wonder what attribute to go for. Should you depict your game's main character as a vampire? Or explore the holiday's roots with the Celtic symbols?
We've run A/B tests to find the most engaging creatives and shaped our findings into the trends below.
Be scary. The attributes of fear will send shivers down your users' spines, and they will love you for it. Consider using images of skulls, mummies, and ghosts on your creatives.
What's more, having your characters show emotions of fear or making them look creepy is a good idea to arouse users' curiosity and motivate them into downloading your app. Creatives based on visual salience tend to influence human behavior. We've explored the phenomenon in our two-part research. Read the first part here and then follow up on the second one to understand how visual salience for app store optimization works.
Iconic horror movies can be a source of inspiration not only for you, but also for your audience. Try to turn your app's characters into a chilling flick like Joker or Scream.
Go for a gothic fairytale. Users still love haunted castles, creepy places, bats, and vampires, and the app stores are no exception.
Don't cast aside traditions. The orange color and good old pumpkins are a classic, yet beloved creative twist.
ASO Tips for Black Friday
Black Friday typically takes place on the fourth Friday in November and opens the holiday shopping season in the United States.
This is the busiest time of the year for eCommerce apps, and 2022 is about to see 64% of global consumers using their mobile phones and tablets (apps included) to shop, according to the Modern Mobile Consumer. It's a great opportunity to get into the spotlight. Mobile publishers can use the date to feature special deals and sales available within their apps.
To increase conversions, try out the following creative trends and tips.
Black is the right color. Bright brand colors aren't the only ones that capture users' attention — black, whether its sole black or a combo with other colors, fits right into the theme of Black Friday and can help you stand out from competitors in a stylish way.
Discount symbols are a sure-fire way to catch the eye: the dollar sign $, the percentage symbol %, the word 'sale' are all great things to try out. However, you need to be careful when putting currency symbols on your product page and always follow the App Store and Play Market guidelines.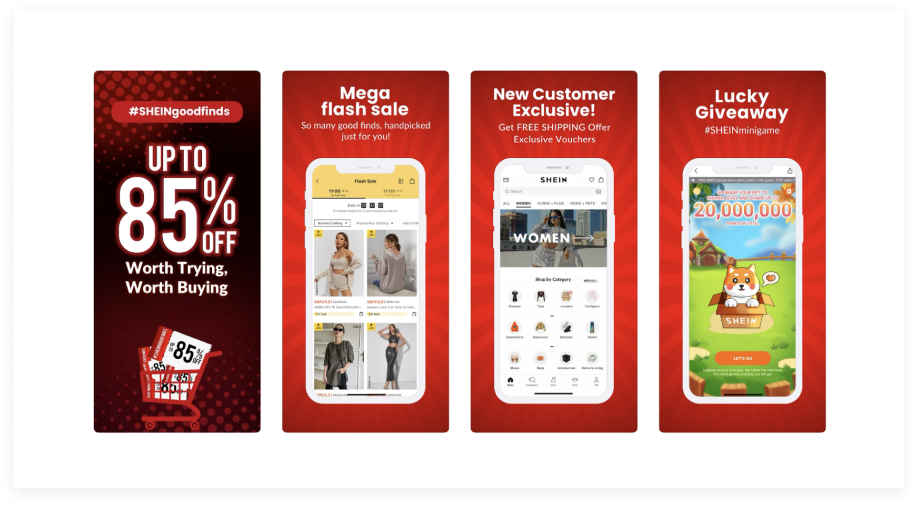 ASO Tips for Сhristmas
Christmas is one of the most heartwarming holidays in the world. Combining both religious and social features, this festive day prompts mobile marketers to test and validate concepts connected with winter, Santa, gifts, and family.
Statistically, the holiday observes an increase in consumer spending on apps. Statista reports that on New Year's Day 2021, customers spent about 540 million U.S. dollars on iOS apps. As for global App Store spending, its amount was about 1.8 billion U.S. dollars between Christmas Eve and New Year's Eve 2020. What's more, e-commerce apps aren't the only one enjoying a boom during the holiday season. Cooking, music streaming, health & fitness and mobile games also bask in the Christmas glory, says Adjust. This surge of popularity is easily explained by lots of free time people have during the festive season, so gaining and retaining users with stunning Christmas visuals is a must.
All the data confirms that seasonal ASO for Christmas is something you should explore.
For your next brainstorming session, we suggest trying out these actionable tips that can be used for Christmas app icons, screenshots and video previews.
Believe in the classic magic of Christmas. Attributes such as Christmas garlands, snowmen, red and white scarves, hats, snowflakes, gingerbread houses traditionally perform well.
Make a bright accent on one of the app's heroes, especially if you have a well-recognized mobile game character. Have them wear winter or even traditional Christmas clothing.
If you take this route, make sure that these holiday elements are big and noticeable so that users can instantly focus on them.
ASO Tips for Saint Valentine's Day
A tale of an epic love is as old as time — and yet is one of the most popular topics out there. The celebration of all the enamored couples, Saint Valentine's Day, is still one of the most commercially successful festive days. No wonder that mobile marketers can also use that to their advantage.
The holiday is significant for the Lifestyle category and its dating segment. However, Adjust found out that last year global installs across all verticals experienced an increase of 8.7% compared to the monthly average. This makes seasonal app store optimization for Saint Valentine's Day even more poignant.
Here are the mobile trends we suggest looking into.
Traditional symbols of love show great performance results, especially for dating apps. Hearts, Cupid, and the red color are all worth testing out.
If you apply changes to your page elements, make sure they are in the forefront.
As for mobile gaming, showing two characters being in love with each other is a great way to convey the holiday spirit.
A curious fact: the word 'love' brings poor results.
General A/B Testing Guidelines
Collecting concept ideas for your seasonal ASO strategy is a great way to start out and proceed to the next stage.
However, you need to keep in mind some rules regarding seasonal A/B testing:
According to our benchmarks, seasonal ASO updates can help you increase conversions up to 14%, so give it a try.
We recommend conducting A/B tests a month before you change creatives on the app stores to go through several iterations and find the best option from the list.
Test results in the App Store and Play Market may differ from each other.. It is important to test them separately.
The behavior of users may differ depending on their region.
Streamline your ASO strategy together with Apple Search Ads operations. They can be a powerful duo, especially when it comes to seasonal campaigns. Check out these holiday season guidelines for running Apple Search Ads to maximize the results.
The Bottom Line
Working magic during the times when people crave it can be tricky. Instead of going in blindly, make sure you plan your seasonal ASO strategy in advance and make data-driven decisions with the help of a solid A/B testing approach.
Boost conversion and installs with SplitMetrics Optimize
Request Demo