App Store Product Page Optimization (PPO) and Custom Product Pages (CPP): Benefits, Challenges, and Tips
And now, with new iOS 15 game-changing features — custom product pages and product page optimization — finally live, we'll discuss how to fit in your strategy to keep up with the digital transformation, how to make the most of the new developments, what challenges they entail and how to overcome them.
Read the latest articles about iOS 15 and Custom Product Pages:
iOS 15 custom product pages and product page optimization – the essence
Let's start with a quick review of iOS 15 custom product pages. According to Apple, with this new feature, you can create additional versions of your App Store product page on iOS 15 or later versions to showcase specific features of your app or, for example, characters of your game. App Store custom product pages can have screenshots, app previews, and promotional text different from the default ones and localized for any region.
And here is a short summary of the product page optimization capabilities. This feature enables you to test three variations of your App Store product page against the current version of your app's page. What elements can be tested? Your visual assets: icons, screenshots, and app previews.
What's the difference between app store custom product pages and product page optimization?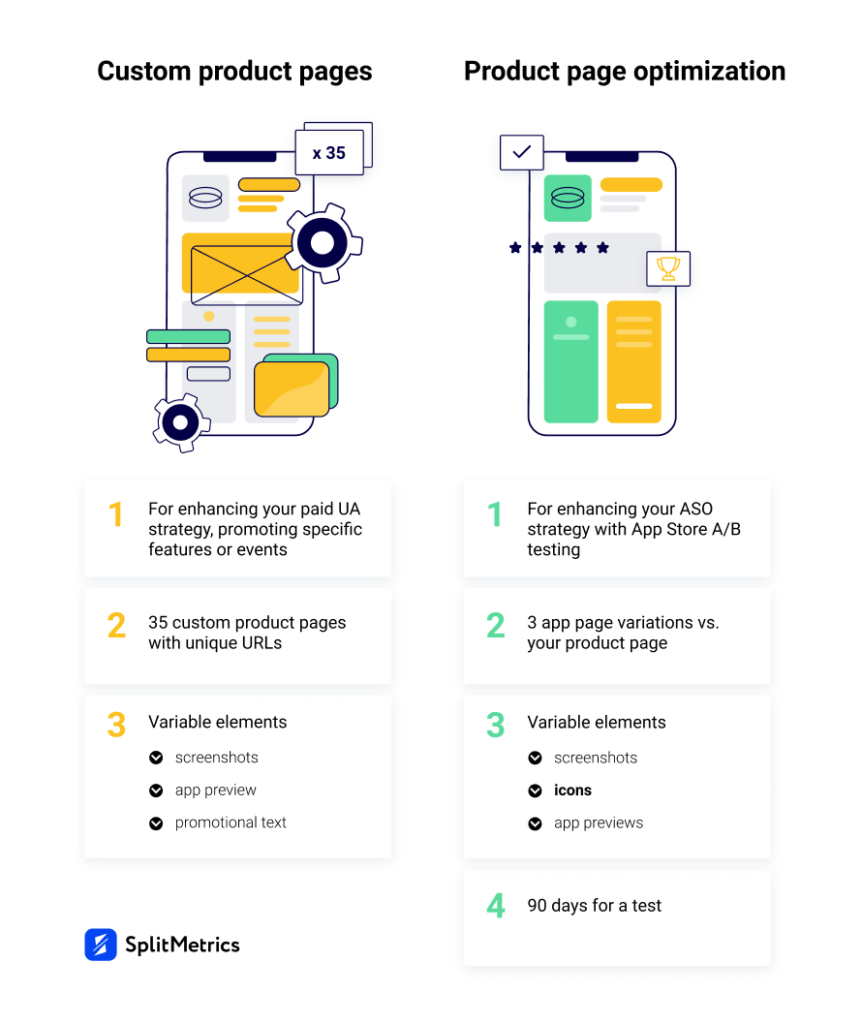 The benefits of custom product pages and product page optimization
Custom product pages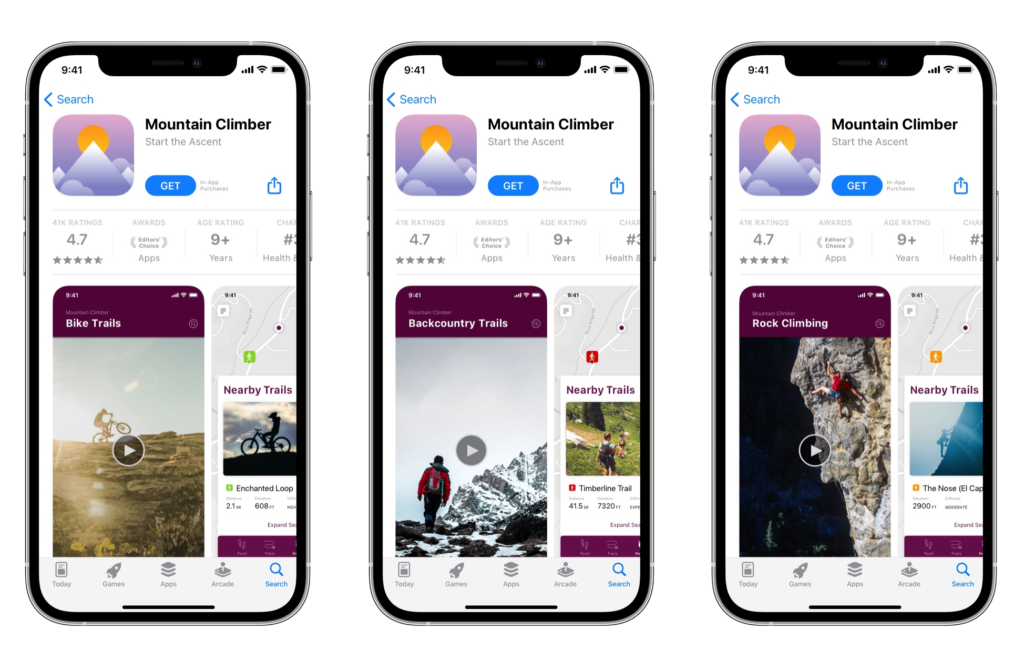 1. Take advantage of up to 35 custom product pages to streamline your paid UA strategy.
Create a customized page for each UA campaign, develop ad creatives that will convey the main idea (or CTA) of the campaign and will correlate with the content of this store page. This will help you to attract traffic to your app, optimize ROAS and increase the conversion rates.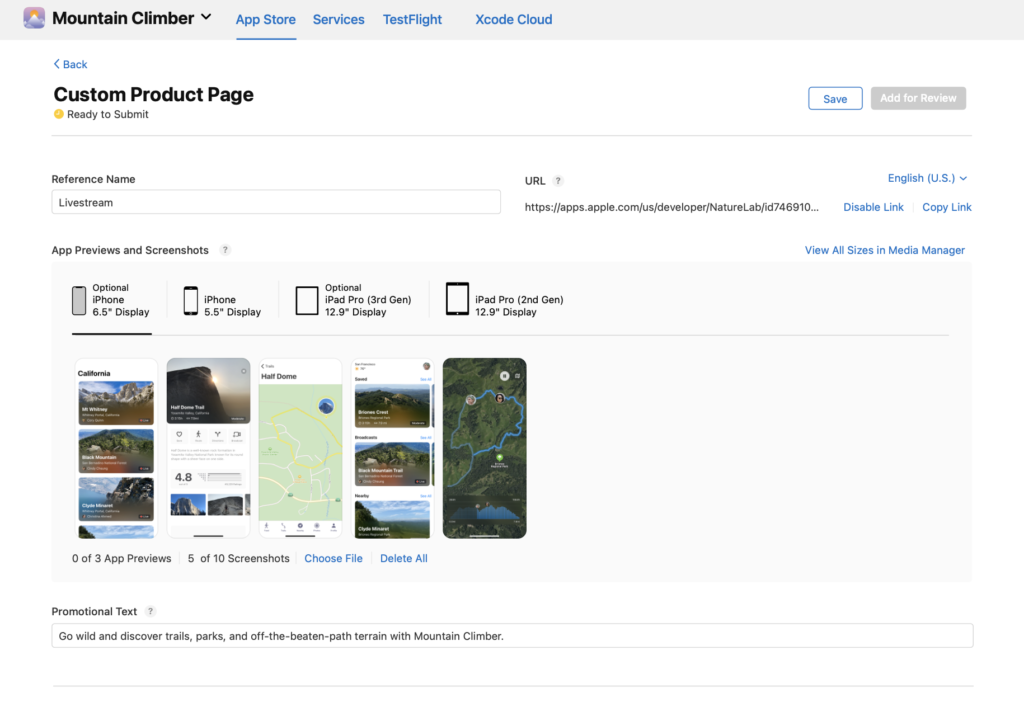 2. Translate specific messages to the specific types of your target audience.
This can be reached by showcasing different features to the various types of your audience. For example, if you have an app for booking flights and finding hotels, you can create an app product page for those who'd like to book flight tickets and another page that will highlight your hotel reservations feature.
Similarly, you can optimize your app on the App Store based on the location of target users and focus your efforts on the most attractive markets.
3. Enhance your Apple Search Ads campaigns.
Starting from January 2022, custom product pages are available in Apple Search Ads. Marketers are able to align ad creatives to keyword themes or audiences and take users to a custom product page when they tap.
Note that new ad variations will replace Creative Sets, but you'll still be able to see historical data for Creative Sets.
Optimize your Apple Search Ads campaigns with SearchAdsHQ
Request a Demo
App Store product page optimization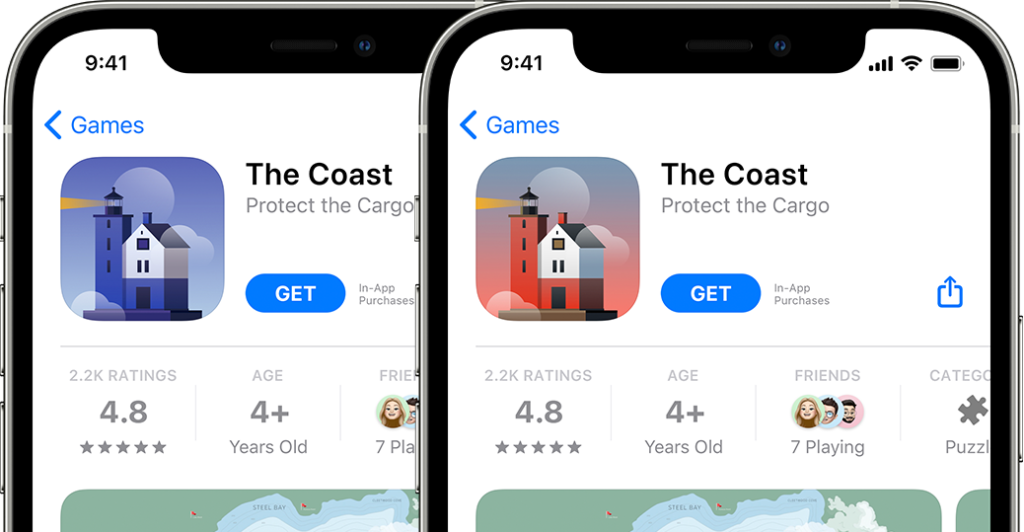 1. Identify the most demanded features or the most engaging gameplay, find out what design helps to increase the install rate conversion, run seasonal A/B testing experiments.
The latter one will help you, for example, attract more attention to your app on Halloween or draw users from China on Chinese New Year.
2. Get analytics revealing conversion rate, impressions, and some more metrics enabling you to compare the performance of your tested pages against your original App Store product page.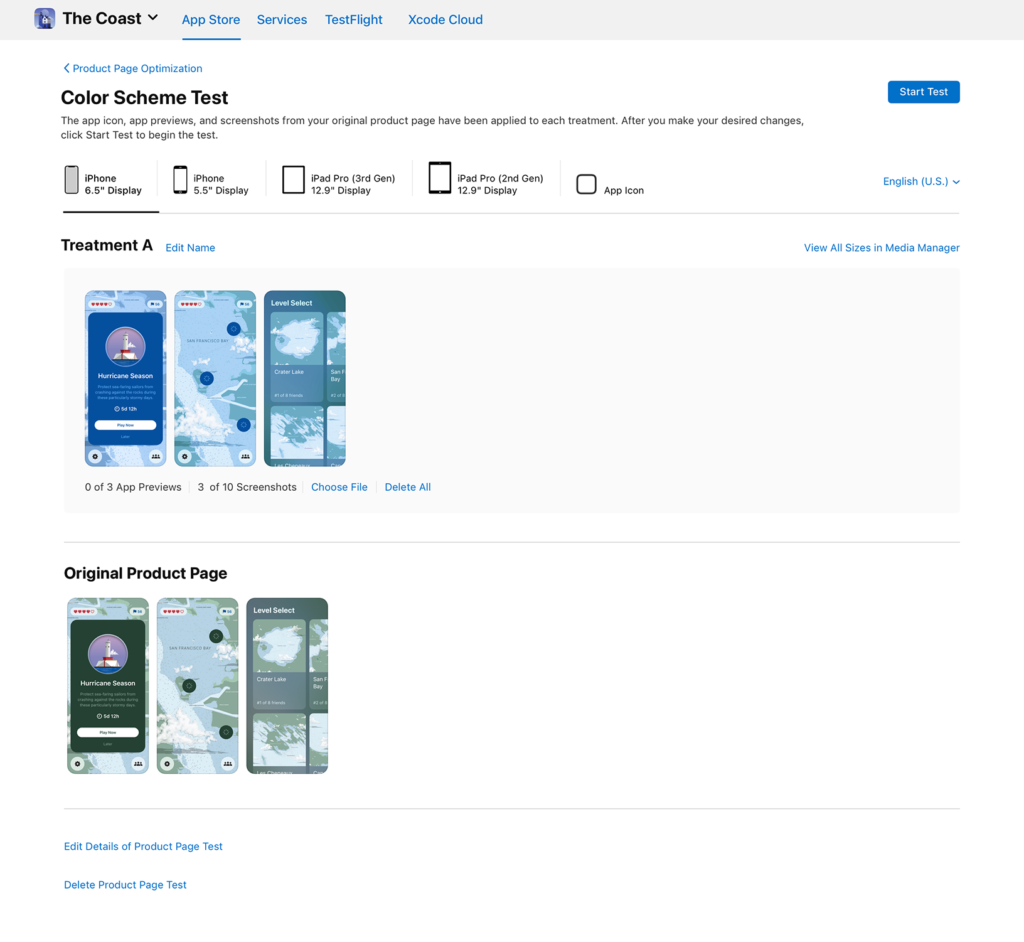 Challenges using custom product pages and product page optimization
With all the unconditional advantages iOS 15 updates bring to the whole mobile industry, there are still some challenges. Forewarned is forearmed, so here are some custom product pages' and product page optimization challenges you might face.
1. Let's face it, 35 pages are really a lot. And with the opportunities provided comes the question of how to allocate resources to manage such a big amount of product page variations and develop multiple creatives for those variations.
2. Limited analytics: custom product pages don't provide you with insights that reveal which creatives perform best for each type of your audience. Also, the more product page variants, the more statistical significance is eroded.
The analytics provided by product page optimization is also limited, with only a few key indicators highlighted.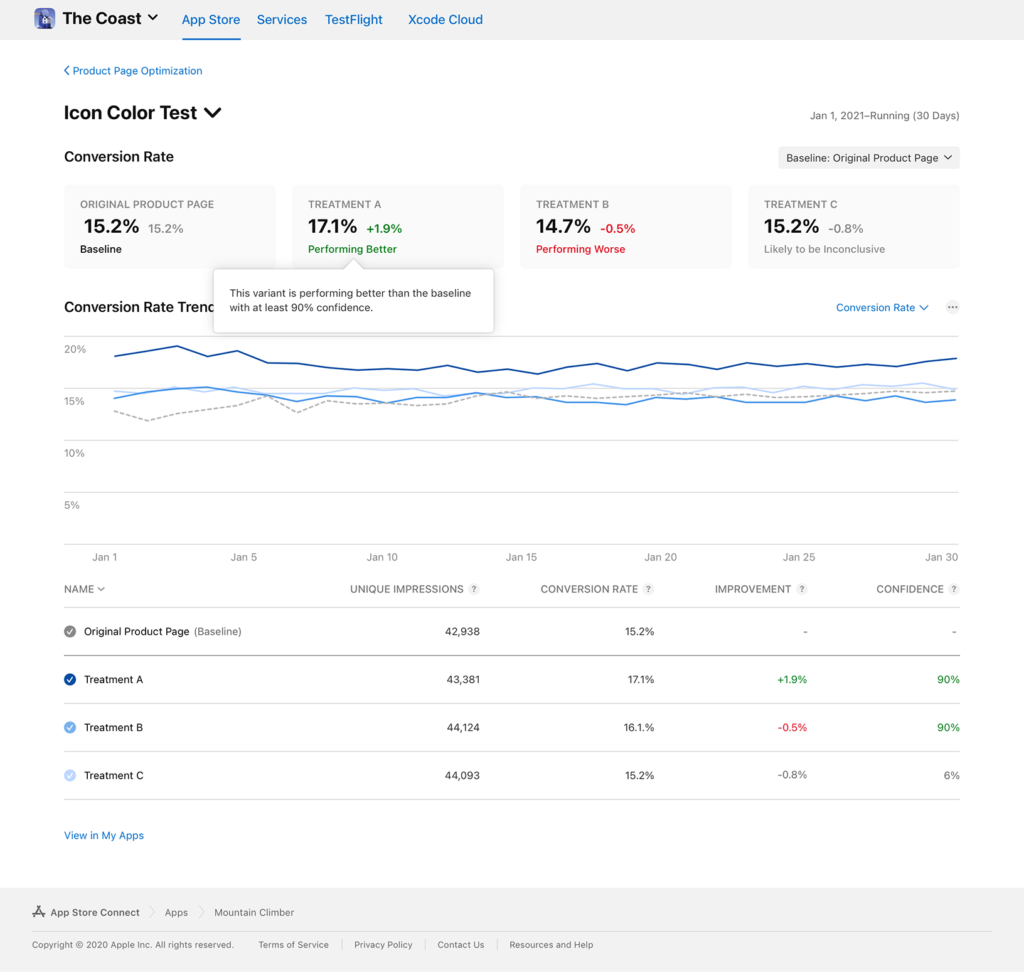 3. Historical data on what visual assets performed the best help to identify some patterns, saving you time and money. It's not clear yet whether you'll have unlimited access to historical data on the product page optimization experiments.
4. iOS 15 updates say for themselves: only iOS 15 users will see variations of app pages.
According to Mixpanel, the iOS 15 adoption rate is about 80% as of March 2022.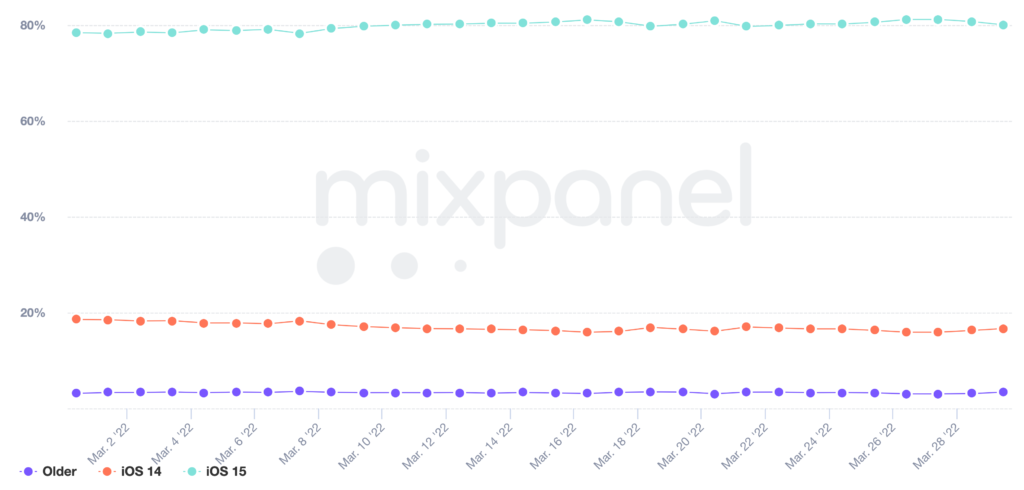 5. The Limited number of A/B testing experiments.
According to some early data, ​​you can run only one test at a specific time period.
6. Users that will see one of your variations in terms of product page optimization might be also able to see your other variations.
7. Lack of industry benchmarks and tips. ASO and A/B testing benchmarks are helpful when you build a hypothesis you'd like to check by running experiments. SplitMetrics, with years of hands-on experience managing and analyzing tests, delivers expert advice and benchmarks to its clients.

SplitMetrics' place in the industry's ASO and A/B testing
We've already shared our perspective on the long-awaited iOS 15 updates. Now we're excited to share that we're developing our product — SplitMetrics Platform — designed to effectively address all the challenges related to app store A/B testing.
We're building a product that helps to connect the dots: collect, analyze and prioritize ideas for creating & optimizing mobile apps at different stages of their lifecycle. A product that transforms these ideas into research projects, allows you to prepare the necessary assets for experiments and systematize insights gained from them into a full-fledged knowledge base the teams can access to get historical data or industry benchmarks.
The above-mentioned challenges include:
1. Custom product pages' management
With multiple UA campaigns and customized app pages, it's crucially important to keep track of each experiment (Is an URL valid? Does it lead to that exact custom product page it should lead to?).
SplitMetrics' product allows you to take full control of all experiments and flawlessly manage them with all due attention to the details.
2. Full-funnel analytics
Above we discussed limited analytics as one of the key challenges you might face using custom product pages and product page optimization.
SplitMetrics' product enables you to evaluate full-funnel metrics when testing an idea with real users. You get the data across the whole funnel: CPI, conversion rate, page analytics and even user feedback.
3. Creatives' testing
Visual assets' design is a large piece of work when it comes to ASO and A/B testing. With SplitMetrics, you may develop creatives based on research and off-the-shelf hypotheses, test them and find out what works best for your app.
4. Business insights and market benchmarks
A/B testing is never an end in itself. Mobile developers and marketers are looking for actionable insights to make data-driven decisions and grow their apps.
We plan to provide even more insights to our customers, as well as full support in interpreting the results of A/B tests. So that even if you are new to the industry, you can take advantage of our product and run experiments.
5. Lack of unified space for A/B testing
Mobile marketers now need a large number of tools at hand to run an A/B test: for building hypotheses, designing creatives, and bringing together all data. Imagine if you had a unified space to centrally manage all tests? With SplitMetrics, such a dream becomes a reality. Plan, set up, manage and analyze the results of the A/B testing experiments in one place.
The value of our platform is in creating a single hub for A/B testing experiments: from building a hypothesis to the creatives' design, test analytics and reporting.
The big update is coming. Stay tuned!
Boost conversion and installs with SplitMetrics A/B testing
Request Demo