Paid UA – how to choose the right market to promote your app
User acquisition implies different ways to advertise an app or game on various channels in order to drive relevant traffic to the app store page and induce users to install the app.
If you're looking for a solid app promotion strategy and struggle to understand which markets you should target in the first place, this article is for you. SplitMetrics Agency, which always has a lot of marketing ideas, shares insights on how to choose the right markets for your app and reasons why the US is not the only option.
Pros & cons of the US market for app UA
Let's start with the pros.
1. Large market volume with active users of smartphones and mobile apps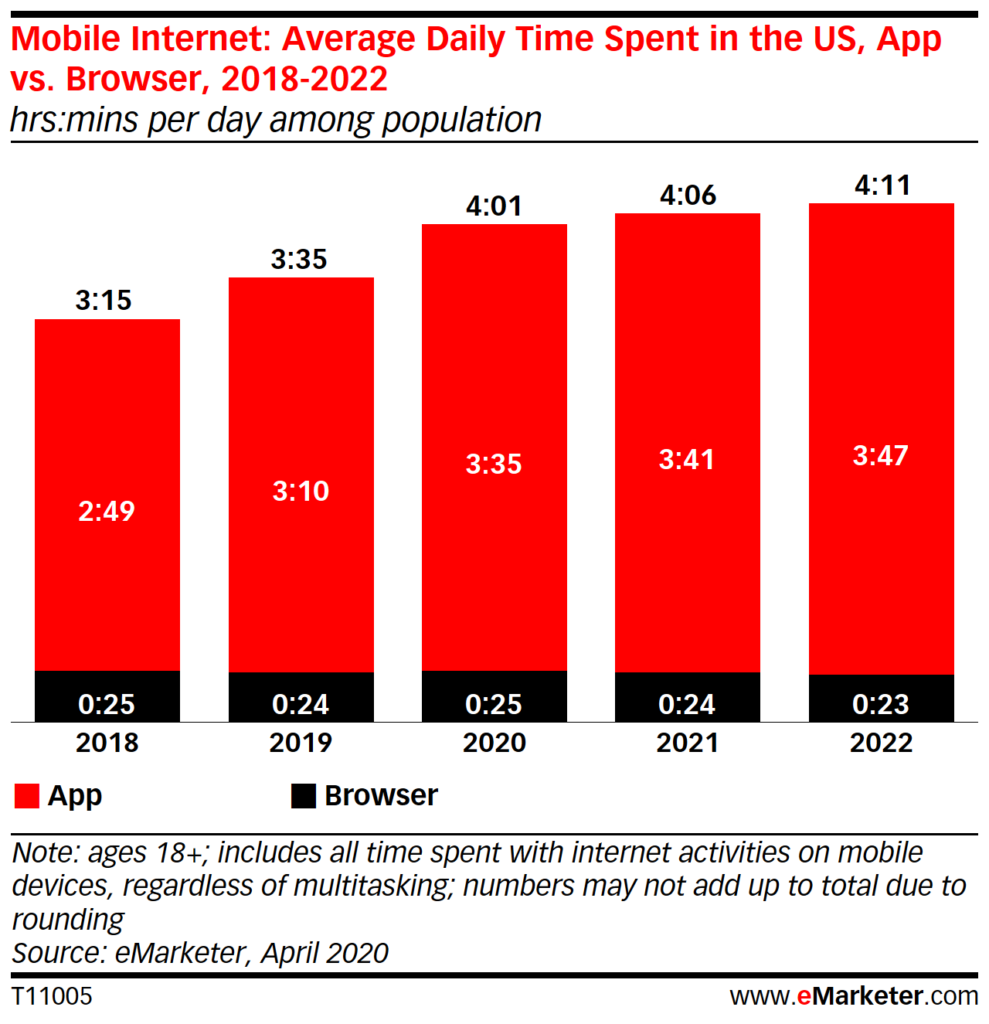 In the US, according to eMarketer, users spend 88% of mobile time on apps – and this time amounts to 4 hours per day. These indicators continue to grow year-over-year.
Mobile-heavy categories in the US include Games (where the devices represent 94% of digital time), Social Media (92% share) and Entertainment (83%), according to Comscore's report on the global state of mobile.
Big market means big opportunities, and if you aim at the US market, you can buy large amounts of traffic.
2. Solvent users
This point is related to the previous one. The US is a big mobile market and one of the most advanced countries in the world where people who actively use mobile apps are also more willing to make in-app purchases, pay for subscription, etc.
And here are the disadvantages of the US as a target market for mobile app user acquisition.

1. Oversaturated market
Given the advantages of the US mobile market, there is a lot of competition out there, and it's harder to succeed – make it to the top charts or draw the attention of users to your app against the background of dozens of well-established rivals.
2. Demanding customers

In this oversaturated market with a huge variety of apps, mobile customers are used to the immaculate quality of apps, so it's difficult to surprise the user. Because of this, the conversion may be lower at all stages of the funnel in comparison to other less competitive markets.

3. Well-armed competitors
Due to the two above-mentioned factors, your competitors in the US mobile market apps are usually close to perfection. The apps are optimized for performance (conversion) and monetization. This makes it harder to beat them on the battlefield.
4. Market doesn't tolerate mistakes at launch
If an app is new and the first UA campaigns in the US market result in low retention, there is a very good chance that you will waste a majority of your budget without being able to optimize quickly. And in order to collect enough data, you need to spend a large majority of the budget.
5. High costs
Being the most competitive market, the US has the highest acquisition costs. According to the Apple Search Ads Benchmarks Report for H1 2021, cost per acquisition and cost per tap in the US were the highest in 2021. The costs followed the uptrend – CPT increased by 32% and CPA increased by 60% in comparison to 2020.
Why it is worth considering other markets to promote your app
App Annie, in a report on mobile usage growth during the pandemic, shared the dynamics in time spent on using non-gaming mobile apps in a number of markets worldwide. Most markets saw an increase in this indicator, and what's interesting is that the US is not the fastest growing market.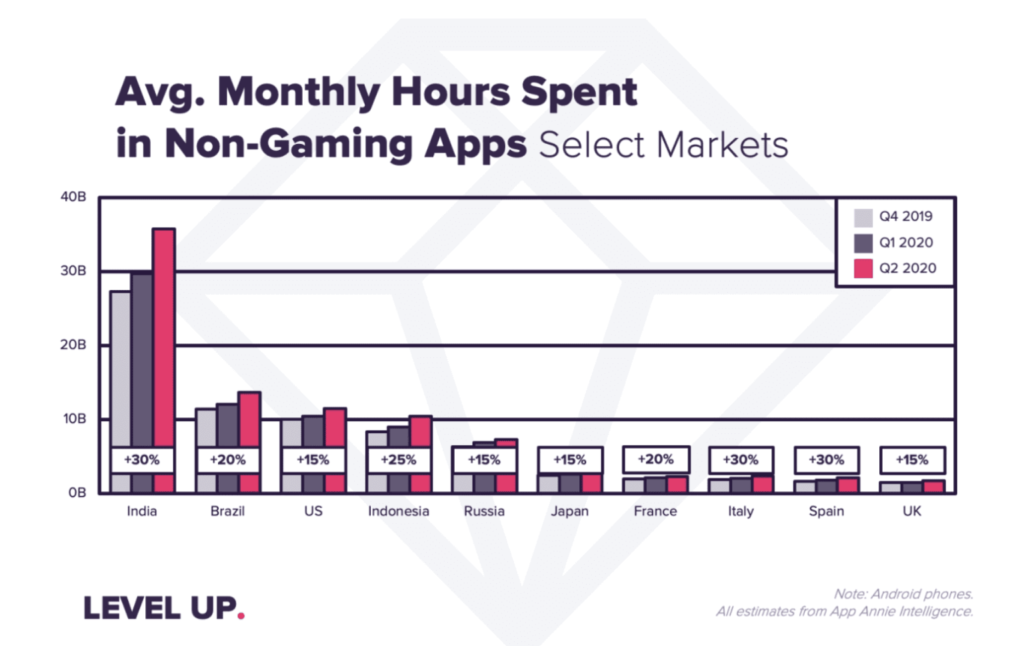 And the graph below illustrates top countries by app store downloads.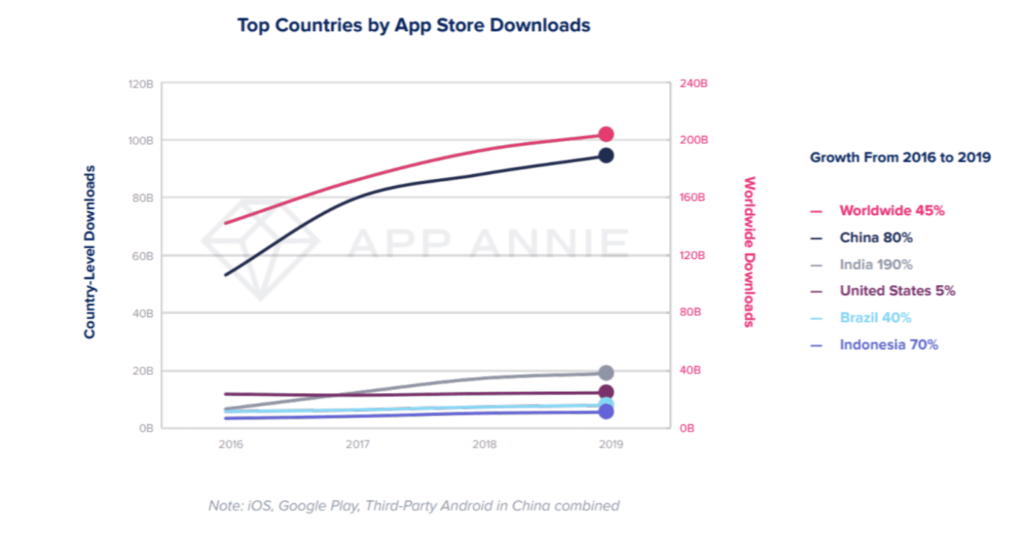 Over four years from 2016 to 2019, the number of app downloads in China has grown by 80%, which makes this market really attractive for mobile app user acquisition.
Other emerging markets, such as Brazil, India and Indonesia are also experiencing a strong growth trend, which the United States market doesn't demonstrate.
With the advancement of technology, the potential of relatively new markets across the globe is growing. You might want to turn your attention to these markets alternatively.
How to choose the right market and attract new users to app
1. Check out what your competitors are doing
Explore strategies your rivals resort to. What markets do they target for app user acquisition? Take advantage of tools, such as AppTweak, AppMagic and others to find insights and analytics on the paid UA strategy of your competitors.
2. Check CPA benchmarks for various markets
And also, try to calculate potential CPI. Then focus on organic ARPU for the specific market and estimate whether you'll be able to get CPI lower than ARPU in this target market.
Checklist: How to make sure you've chosen the right market for your app
SplitMetrics Agency has prepared a checklist to rely on when making sure that the market you've selected is the best choice to promote your mobile app.
You've started getting organic traffic in the selected market and are able to calculate the break-even point.

The volume of traffic in the selected country or region is enough to get installs and conversions every day and optimize.