Unlocking the Full Potential of Apple Search Ads with Custom Product Pages
2023 is the year when app marketers are forced to rethink their strategies and decide on the best channels to invest in and tech stack to use. According to Singular ROI Index, Apple Search Ads is the second-biggest ad channel by spend on iOS. And in AppsFlyer's ROI Index, it was stated that Apple Search Ads tripled its market share since first half of 2020 and took over as the #1 media source in iOS.
That's why we gathered industry experts from tonestro and SplitMetrics for an App Growth Point to hear them sharing the latest Apple Search Ads trends and challenges, custom product pages best practices and successful use cases.
In this article, we'll dive deeper into how SplitMetrics Agency helped tonestro leverage Apple Search Ads search results ad variations using custom product pages to address unique challenges and drive outstanding results.
But to begin with, SplitMetrics follows the mission to keep you informed about all the latest trends, benchmarks and developments in mobile marketing.
That's why we've recently launched SplitMetrics' Apple Search Ads Benchmark Dashboard, an interactive report providing up-to-date insights on TTR, CVR, CPM, CPT, and CPA. With its help you can benchmark your campaign results against the competition and stand out in a crowded app marketplace, as well as identify opportunities for scale. It breaks down this data not only by overall performance, but also by categories and markets, so that you can gain a granular understanding of how your campaigns are performing across different segments. With this level of detail at your fingertips, you'll be able to optimize your Apple Search Ads campaigns like never before.
Check the real-time SplitMetrics' Apple Search Ads Benchmark Dashboard
About tonestro
tonestro is the world's leading online music education platform, with the mission to change how wind and string instruments are taught, empowering individuals to improve their skills in an affordable, playful, and time-efficient manner. Through its portfolio of apps, tonestro offers an unparalleled combination of high-quality video lessons, live feedback technology, sheet music, and interactive exercises, enabling users to play violin, brass & woodwind instruments.
>5M downloads on the App Store and Google Play.
15 instruments available.
4.9 average rating on the App Store.
Our experts
Magdalena Zawarska, Product Marketing Manager, tonestro.
Anastasia Voronina, User Acquisition Manager, SplitMetrics.
Host: Lina Danilchik, Marketing & Communications Lead, SplitMetrics.
Topics we covered
The role of Apple Search Ads as one of the fastest growing ad networks for iOS.
The latest iOS trends, challenges and ways to overcome them.
The importance of user personalization journey and the main custom product pages functionality.
Tips and tricks on creating the converting custom product pages.
SplitMetrics' cohesive approach on Apple Search Ads management, as well as custom product page creation and management.
tonestro's success stories when implementing custom product pages.
tonestro's target audience and challenges
tonestro primarily focuses on two main groups of beginner musicians:
Users realizing a lifelong dream of learning an instrument for the first time.
Users who wish to reignite their childhood or adolescent music passion.
Each group faces distinct challenges, from finding structured educational content and suitable teachers to accessing sheet music libraries, metronomes, tuners, and learning communities. As tonestro offers all of these features, communicating all unique selling propositions on the main product page screenshots presented a significant challenge.
Implementing custom product pages for Violin Lessons app
The SplitMetrics Agency managed Apple Search Ads campaigns for Violin Lessons・Tuner app from September 2022. By December, the campaigns were meeting tonesto's objectives.
However, while analyzing the results, it was discovered that a significant portion of impressions came from "violin tuner" related keywords (with high search popularity) — connected to product feature which was not highlighted on the app's product page. As a result, with the peak season approaching — Christmas & New Year — tonestro decided to create and launch a custom product page that showcases the violin tuner.
The objectives were the following:
Enhance the results for the violin tuner-related keywords.
Increase user interaction with the tool within the app.
Capture as much traffic as possible during the holiday season.
Custom product page was designed and launched by SplitMetrics Agency just before Christmas Eve. It focused on showcasing the violin tuner while presenting tonestro's violin learning path. The design featured a person tuning the instrument, incorporating a call-to-action to encourage users to return to learning.
As a result, the successful launch of this custom product page with a new ad variation in Apple Search Ads not only improved results but also influenced changes in the app's UI, making the tuner even more accessible for users. Violin tuner-related keywords have become also a part of tonestro's ASO strategy. If you want to dive deeper into the results and learn more about the process, you can check the case study here.
Expanding custom product pages to other products
Impressed by the positive outcomes from the Violin Lessons・Tuner app, tonestro decided to extend their Apple Search Ads search results ad variations using custom product pages to support their Learn to Play Music app. This product offers learning paths for several brass & woodwind instruments, such as saxophone, trumpet, flute, clarinet & more. Therefore, tonestro team faced the challenge of displaying individual instruments on the screenshots effectively. Lack of proper instruments presentation impacted results and confused users.
That's why SplitMetrics Agency designed the custom product pages:
Featuring a musician playing a specific instrument in the first screenshot.
Incorporating crucial search terms and high-converting phrases.
Displaying key benefits in the subsequent screenshots (real-time feedback, progress tracking, sheet music library).
Hinting at learning paths for other music instruments.
Ad variations for this app were launched by our UA Team in April, and already resulted in increased number of app installs and aligned campaign performance with tonestro's goals.
tonestro's commitment to maximizing the potential of custom product pages has been rewarding. With ongoing experience with Apple Search Ads search results ad variations for both of the apps, they continue to observe positive results, surpassing their apps' TTR, conversion rates, and the number of installs. With SplitMetrics managing their campaigns, tonestro is now focused on scaling their efforts and further optimizing their Apple Search Ads campaigns.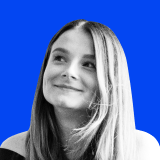 Victoria Vlasova
Marketing Manager
With extensive experience in digital marketing, Victoria is a Marketing Manager at SplitMetrics. She is keen on creating content to bring B2B tech solutions and relevant audiences together.
Read all articles →