At the end of the calendar year, people across the globe look forward to meeting family & friends, exchanging gifts or simply relaxing and having time for themselves. Simultaneously they start looking for apps to help them prepare for the holidays: buy presents, food and outfits, find a place for celebration or a cool mobile game to play. That's why searches and downloads for Finance, Social Networking, Shopping, Photo & Video, Games, Entertainment, Travel and some other categories increase during the holiday season.
The good news is that mobile marketers can also prepare, reinforce their user acquisition strategy by optimizing Apple Search Ads campaigns, and get excellent results: increase impressions in search, drive more downloads and boost in-app revenue.
Generally you may start seasonal activities in late November and continue up to early January. Now, as Christmas and New Year's Eve are around the corner, we've prepared this checklist to help you make sure you haven't overlooked even the smallest detail, seized the momentum and made the most of Apple Search Ads for your app promotion in the holiday season. Let's check!
1. Run a Discovery campaign
Consider running a Discovery campaign during the holiday season because it helps to expand the audience and mine new relevant keywords. Within this campaign, you'll use broad match and Search Match to automatically match your ad to relevant search terms.
Broad match covers close variants of a keyword, such as singular, plurals, misspellings, synonyms, related searches, and phrases that include that term, fully or partially.
Search Match is a perfect option for the holiday season, since you will be able to cover trending searches & new seasonal keywords, and reach out to a wider audience at the right moment. Potential customers, looking for an app similar to yours, will see your ad on top of search results, and you'll get a piece of this audience, beating competitors.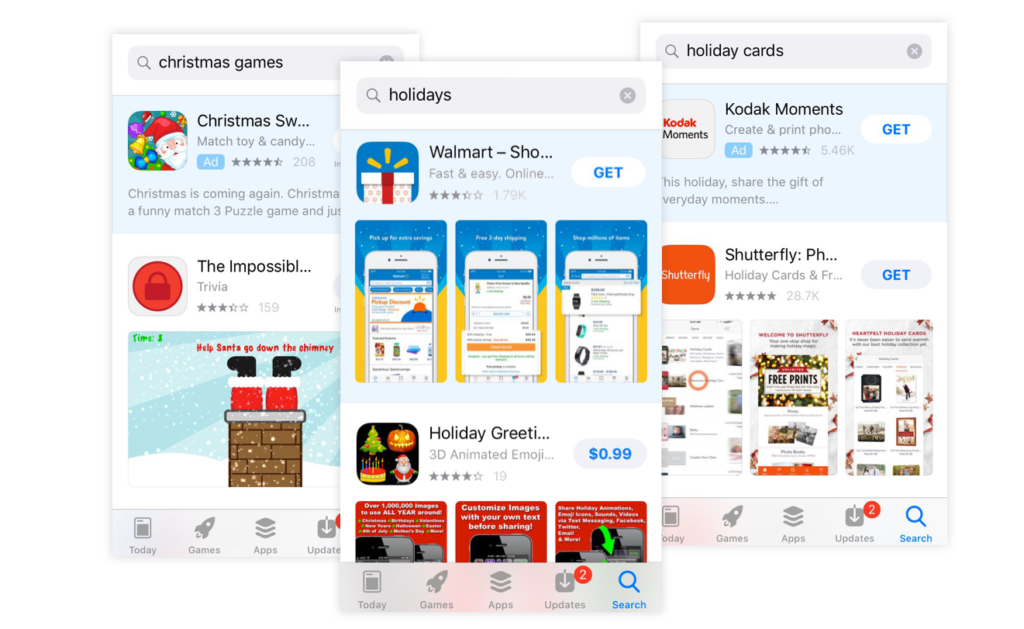 2. Add seasonal keywords
Don't forget to update your list and add relevant seasonal keywords to specific ad groups. Such keywords can help you increase your coverage during the holiday marketing campaign, and attract new customers.
Tip: Consider creating a separate holiday-themed ad group.
We recommend adding more keywords with a Search Popularity > 10.
There are a few options to help you find new season-specific keywords. You may use any of them, individually or all together:
Keyword Planner — inbuilt SearchAdsHQ tool.
Third-party tools for keyword research, such as AppTweak, App Radar, AppFollow.
Run a Discovery campaign using the above-mentioned Search Match and broad match.
Tip: To check the popularity of keywords you're going to add, use Search Ads Keyword Popularity Checker — a free ASO tool, showing keywords' Search Popularity and available traffic per keyword right in Apple Search Ads dashboard.
3. Optimize your creatives for holidays
Review your app store visuals and specific holiday-related elements to the icon and screenshots, refresh app previews.
Using seasonal creatives, you'll enhance your Apple Search Ads campaigns, engage users and drive more installs.

Tip: Run A/B testing experiments to find out which holiday creatives perform best for your target audience.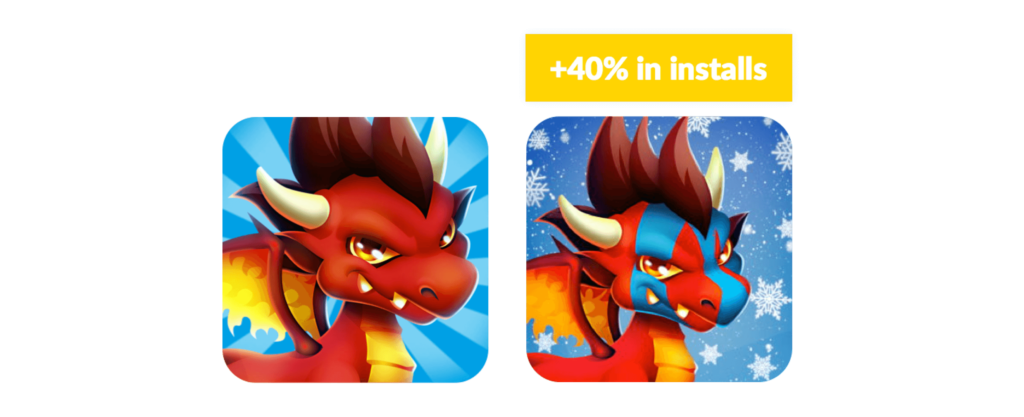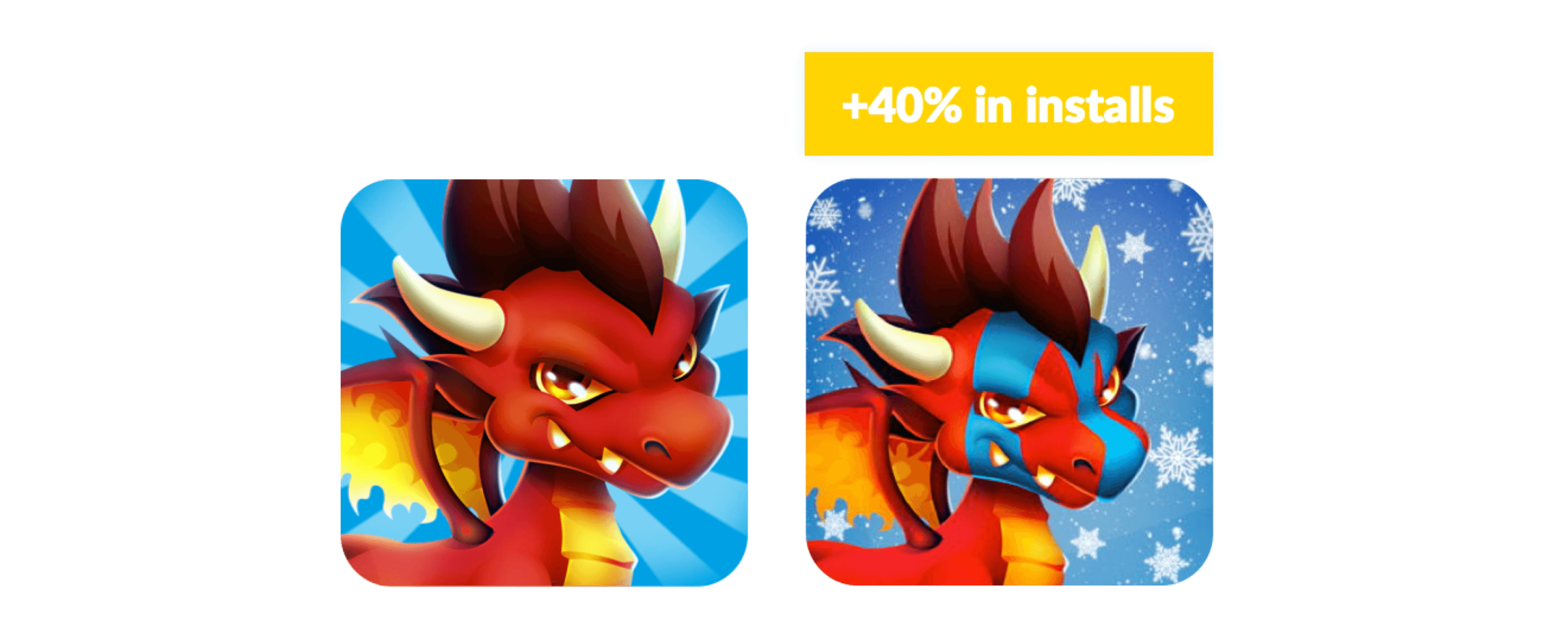 Also, you might want to take advantage of a brand-new iOS 15 feature —custom product pages. Create a specific user acquisition campaign with holiday-adjusted visuals link it to a specifically created product page with these creatives. Win-win!
4. Review CPT bids
Holiday season is a time when mobile marketers work with bids more actively, drastically increase them, and the competition becomes even tougher.
That's why we recommend to be more proactive and review your "regular" CPT bids.
If you take advantage of automated rules, like, for example, in SearchAdsHQ, you're already on top and one step ahead of your rivals. What else can you do to boost downloads during the holiday season? Review and upgrade your rules to make them tailored to the specificity of seasonal campaigns.
In case you change bids once a week and increase them by 5%, try to use a more bold bid Increment (10% or even 20%) and Run frequency (once in 3 days) to respond to fluctuations effectively and promptly, and not miss out on opportunities.
If you haven't discovered automation yet, you might want to take a closer look at automation platforms like SearchAdsHQ. Such a solution will enable you to manage CPT bids more effectively, optimize campaigns and stay ahead of the competition.
5. Increase daily caps
Make sure that you don't lose traffic and don't miss opportunities due to too low daily caps. Overall, avoid reaching daily caps for your top-performing campaigns to not share your traffic with your rivals.
To be more competitive during the holiday season, increase your app's visibility and maximize impressions, raise daily caps for your well-performing campaigns.
To monitor spend and optimize for your holiday season campaigns, use an automated rule — daily cap alerts — to stay updated in case the daily cap is almost reached.
Here is an example of an automated rule in SearchAdsHQ designed to avoid losing potential traffic when Spend has reached your Daily cap:
Spend (Previous Day) > 0.9 * Daily Cap

6. Review impression share with Apple Search Ads Insights
Consider checking the impression share for your season-specific keywords.
In particular, pay attention to your app's Share of Voice. Use Apple Search Ads Insights, a new SearchAdsHQ feature. With this tool, you'll be able to see the estimated impressions' share for the past few days. Anomalies are left out to provide you with as accurate results as possible.
Track your share of voice to see how bid changes affect your app position in search results during the holiday season. What is more, with Apple Search Ads Insights, you can understand how it is going with your rivals' seasonal campaigns, and how much you could grow SoV for your app by increasing bids for the currently trending holiday keywords.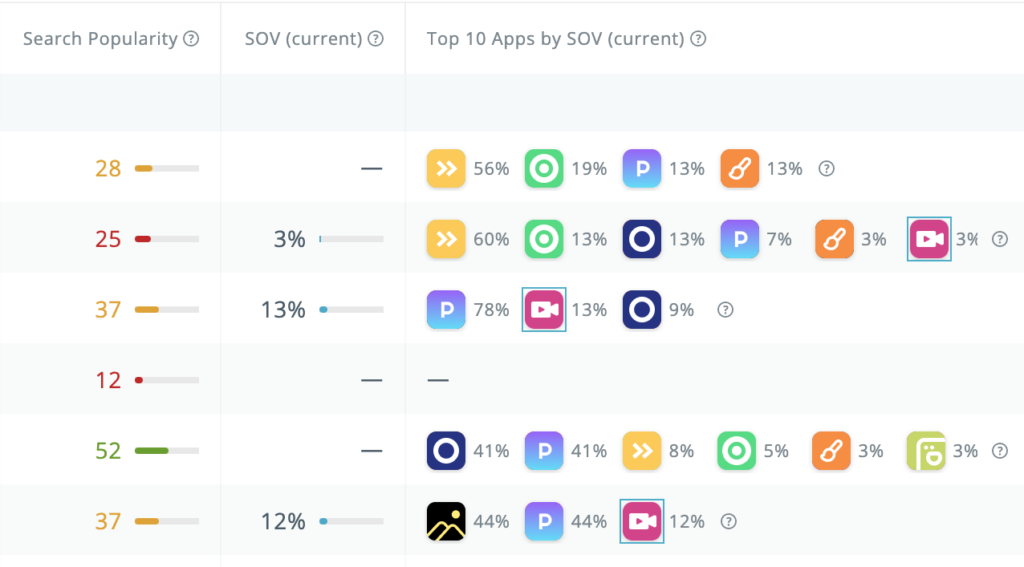 On the screenshot above you can see three metrics that will help you make informed decisions.
Search Popularity for added keywords is designed to track popularity status and check the volume of the keywords based on the App Store searches in one dashboard.
SOV (Share of Voice) is an indicator to understand the current app position and which additional SoV the app can raise by increasing bids.
Top 10 Apps by SOV is competitors' SoV to monitor the top 10 of them who are bidding on your keywords.
7. Re-engage with your customers
Reengagement is overall a huge opportunity, with redownloads representing more than 40 percent of all App Store downloads. And it's crucially important to take advantage of this opportunity before Christmas and New Year's Eve.

Many people look for apps to redownload at the end of the calendar year, since, as we discussed above, they're getting ready for the holidays. So, during this high season, you can reconnect with past customers by adding "Returning users" or "All users" ad groups to your campaigns.
We recommend creating separate ad groups with Returning users only, duplicating all exact match keywords from 'New users' ad groups and running them with a bid that is 10-20% lower.
Tip: Try using Search tab ads for retargeting. This type of campaigns is effective for attracting returning users who used to utilize your app or downloaded it in the past.
8. Reach more customers with Search tab campaigns
Speaking of Search tab ads, this relatively new ad placement available as part of Apple Search Ads will help you catch the attention of people looking for an app on holiday before they even start to search.
Leverage Search tab campaigns to get additional volume and streamline your holiday marketing campaign. Try working with segments (new/returning, age/gender) or ad scheduling as ways to optimize costs.
Search tab ads bring in a whole bunch of benefits:
Drive awareness and downloads of your app;
Enable to reach out to target users before they start searching;
Increase brand awareness;
Boost retargeting opportunities
Increase brand impressions in Apple Search Ads, and also, in your organic search results.
To get more tips and insights on Search tab campaigns, download Search tab ads Benchmarks Report.

9. Use automated rules and smart alerts in SearchAdsHQ
The last but not the least point is all about making your life easier during the turbulent active season, when you need to keep an eye on your holiday campaign and timely make necessary adjustments. Get full control over Apple Search Ads campaign performance by receiving smart alerts or making changes automatically in SearchAdsHQ.
1. Detect a trending keyword or a search term
You can automatically detect and take action if a keyword or a search term is trending. For that, check if the number of installs has increased, and increase the keyword bid, or add a search term to exact match keyword:
Rule example: Installs (Yesterday) > 1.5 * Installs (Day before yesterday)

2. Get an alert when CPI (CPT) increases by 20% to control your costs

Rule example: CPI (CPT) (Yesterday) > 1.2 * CPI (CPT) (Last 7 days)

3. Detect a drop in keyword performance to optimize your ads

Rule example: CPA (Last 2 days) > 1.3 * CPA (2 days before the last 2 days)

4. Take action against Spend spikes or drops (50% decrease) to to keep on track your KPIs

Rule example: Spend (Yesterday) > 1.5 * Spend (Day before yesterday)
Request SearchAdsHQ demo to automate and optimize your Apple Search Ads campaigns.

Happy holidays!
Optimize your Apple Search Ads campaigns with SearchAdsHQ
Request a Demo