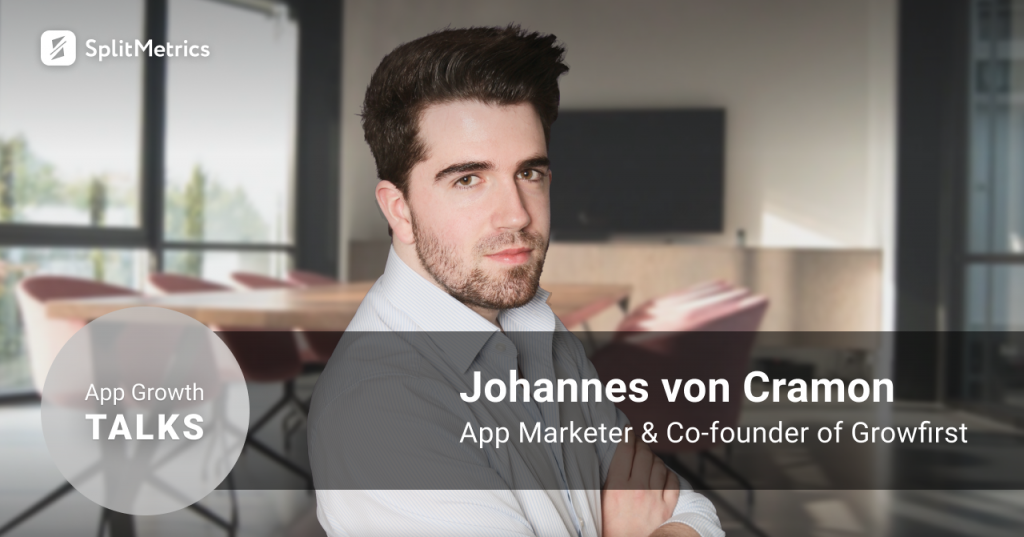 This is the third episode of App Growth Talks, a series of interviews with ASO, user acquisition, mobile analytics and app growth experts. Today's special guest is Johannes von Cramon, a prominent expert on mobile marketing, Apple Search Ads, app store optimization, mobile analytics and retention. Johannes is also a co-founder of Growfirst, an app marketing agency based in München .

Have you ever noticed that Apple Search Ads campaigns boosted organic keyword rankings?
They do like any other paid downloads. So even if you are running campaigns on Facebook, Google and other channels, you get a little boost on organic keywords, that's for sure. But not on a keyword level. So I don't have the experience when spending a lot of money on a particular keyword led to the organic uplift of this particular keyword, and various Apple reps also told us that this is not possible. But like with everything in mobile, a self-performed test is always better than the opinions of others, so I am curious to see other results people might have had.
Apple Search Ads was always the game changer if we discovered unexpected differences in user quality from specific keywords.
We had some clients who were sure that they knew what their most important keywords were in terms of retention and revenue, until we looked into the data after we had set up Apple Search Ads campaigns.
And we found that these keywords only generated downloads but not active revenue and users. I think in many categories there are prominent keywords which drive users to the product page and maybe also to the app but are a little bit too generic, so that you can't build up a valuable user stream upon them. 
And secondly, Apple Search Ads turned out to be a really scalable and profitable channel for some of our clients. Including those of them who had never known about this channel in the first place. This is especially true for very strong brands that can drain competitor traffic on a higher scale, because if you have a strong brand and people know your product, then you can build a very scalable competitor campaign with a decent amount of valuable traffic. 
It's really good to hear that, since many publishers are still struggling to scale with Apple Search Ads, and it's nice to know that it's possible and brings great results. And what's your take on the future of Apple Search Ads? Maybe there are some early signs we can already see today.
I think it's quite clear that Apple will expand their inventory and ad formats, so maybe they will roll out ads in their News and Stock apps, and maybe also…[Listen to the audio version of this Talk to learn about another potential update].
Personally I would prefer further placements inside the App Store, like with UAC, to get with the first three tabs where featurings are now, since it's very difficult for some apps to get featured because there're so many submissions every day. And to get a little bit of a visibility in those first three tabs would be great. But not with UAC analytics and targeting options, we don't need any of them [smiling]. So a display component on Apple Search Ads could do a lot for businesses that have a hard time scaling their campaigns with search only, because obviously, there are apps that are not that search-driven. This is important for Apple Search Ads right now. So this way would be good but depends on the placements and the value of traffic and analytics marketers can get out of this.
Thank you so much, Johannes! Thanks for sharing your opinion on many things along with great insights.