Looking for powerful app marketing tools to leverage the potential of Apple Search Ads? We've got you covered. In this article, we share the list of tools for Apple Search Ads best practices that will help you find relevant keywords, keep an eye on your competitors, analyze post-install events & measure user retention, choose best performing visuals, automate & optimize Search Ads campaigns – and thus achieve synergy.
Keyword Research and Market Intelligence Tools
In order not to waste budget on irrelevant keywords, you need to do the initial keyword research and find relevant keywords your app could potentially rank for. Some ASO and user acquisition specialists utilize Google Keyword Planner for this purpose.
Although Google Keyword Planner is a good tool for finding new relevant keywords, it has a serious drawback: it is designed in the context of web search, which differs from the app store search. App store search queries usually include more typos, since users are typing from their smartphones; they don't include questions and "how to" phrases, and they are less long-tail. So you need an Apple Search Ads keyword tool honed to the mobile apps specificity. Luckily, there is no shortage of such tools, and, what is more, many of them embrace market intelligence features.
Market intelligence functionality will enable you to track your competitors and find out for which keywords they are ranking, assess for which keywords you are ranking and identify areas of improvement.
App Annie
App Annie is an ASO & marketing intelligence tool that provides a lot of data: for example, it allows you to analyze performance trends across your category or track competitive market share with the help of multiple metrics, like the number of downloads, engagement indicators, revenue and more. This tool is a good choice if you'd like to identify growth opportunities, analyze competitors, get insights on the audience base and improve your Apple Search Ads campaigns.
Ad intelligence: yes
Free trial: no
Free version: yes
Features: keyword research, ASO reporting, rank tracking, competitor monitoring, channel management, performance metrics, ROI tracking, channel attribution, predictive analytics
Pricing: available on request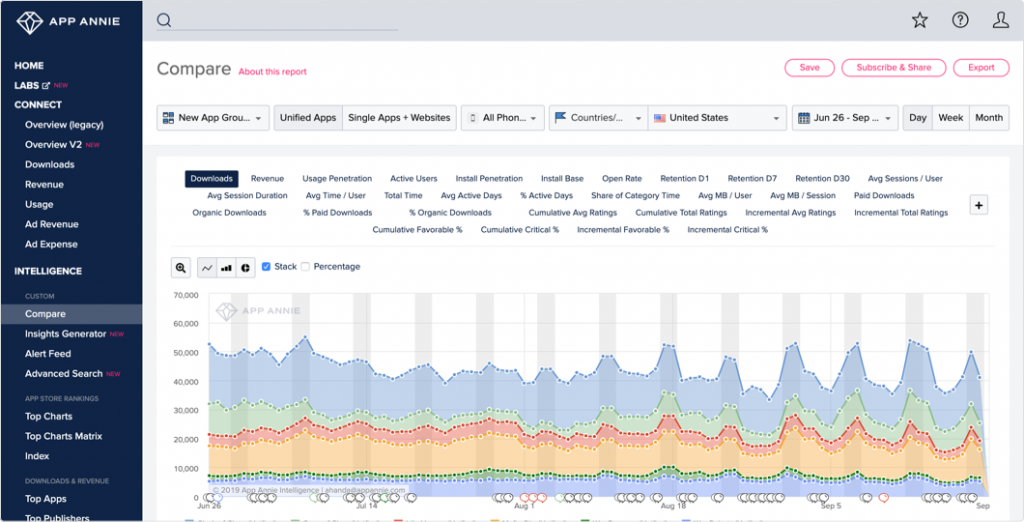 Appfigures
Appfigures combines features for ASO & keyword research, localization, performance tracking through analysis of downloads, revenue & other indicators, and extensive market intelligence functionality. You can analyze the entire app market and keep an eye on your competitors.
Ad intelligence: coming soon
Free trial: yes
Free version: no
Features: keyword research, rank tracking, app store localization, campaign management, conversion tracking, pageview tracking competitor monitoring
Pricing: starting price is $9.99/month, the recommended package is $99.99/month
App Radar
App Radar's ASO & Apple Search Ads Intelligence solutions provide features for finding relevant keywords, checking out organic rankings, identifying ad market leaders and apps that are running ads for branded keywords.
Ad intelligence: yes
Free trial: yes
Free version: yes
Features: keyword research, keyword tracking, localization, competitor analysis, rank tracking, ASO reporting
Pricing: starting price is $39/month; discounts are available if you pay annually
Apptopia
Apptopia is primarily a market intelligence (rather than a keyword research) tool, which is heavily equipped with features for competitors tracking. This solution provides customers with benchmarks, category trends, real-time alerts on competitor apps and other useful features.
Ad intelligence: yes
Free trial: no
Free version: no
Features: benchmarking, trend analysis, alerts, review text analysis
Pricing: starting price is $2000/month
AppTweak
With AppTweak's Ad Intelligence, you can easily protect your visibility against apps bidding on your top-performing keywords, get a global view of competitors' advertising strategies, and better optimize your advertising budget allocation. AppTweak also helps you identify competitors' paid keywords bids, integrate with your Apple Search Ads console, get powerful performance reports, and more.
Ad intelligence: yes
Free trial: yes
Free version: no
Features: keyword research, localization, ASO reporting, keyword & category rank monitoring, benchmarking, competitor monitoring, revenue tracking, channel attribution, retention tracking, review management
Pricing: $69/month (starting price)
ASOdesk
ASOdesk is a classic app store optimization tool that delivers information on rankings, keywords that resulted in organic downloads and some other analytics.
Ad intelligence: no
Free trial: yes
Free version: no
Features: keyword research, Search Ads popularity, estimated users per day
Pricing: starting price for startups is $25 per month billed annually, for other companies the starting price is $127 per month billed annually.
Sensor Tower
Sensor Tower not only enables mobile publishers to get insights on app intelligence, store intelligence and ad intelligence, but also shares research and educational materials.
Ad intelligence: yes
Free trial: no
Free version: no
Features: keyword research, localization, ASO reporting, rank tracking, competitor monitoring, benchmarking, reviews management
Pricing: available on request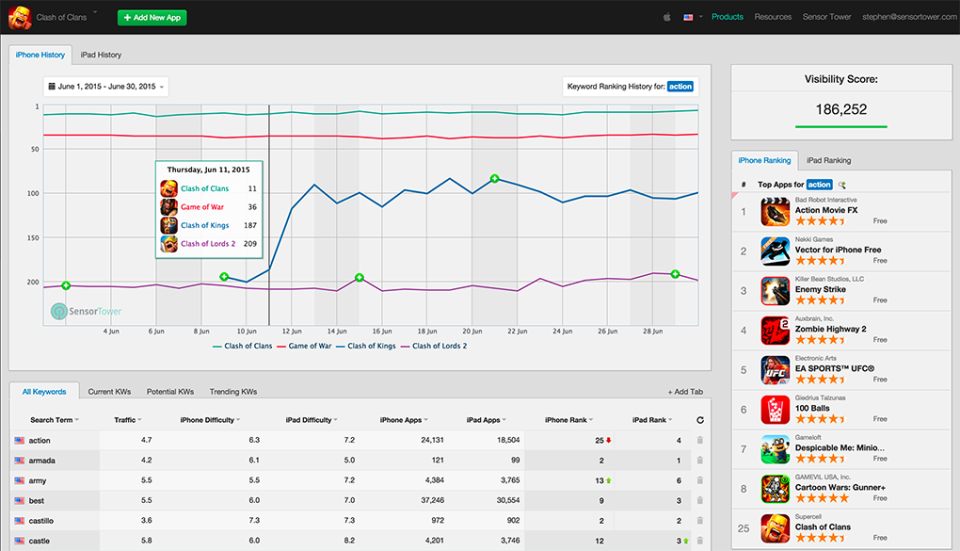 The Tool
The Tool provides keyword research features along with options to track app installs volume per country, data on competitors' downloads and correlation between paid downloads and organic rankings.
Ad intelligence: no
Free trial: yes
Free version: no
Features: keyword research, localization, ASO reporting, competitors tracking, revenue tracking
Pricing: starting price is €29/month
Keyword Planner in SearchAdsHQ
This tool is part of a comprehensive platform for Apple Search Ads management automation and optimization SearchAdsHQ – you will learn more about it in the Apple Search Ads Automation & Optimization chapter.
The Keyword Planner in SearchAdsHQ shows you:
App Store relevance index;
how popular a particular keyword is;
how high your app is ranking for this keyword;
data on the number of users per day who see your ads;
keywords your competitors are ranking for.
Bonus: Keyword Popularity Checker
Popularity Scores in Apple Search Ads show the level of popularity of keywords with the help of blue dots: the more dots there are, the higher the popularity level. However, app marketing relies on accurate data, so if you need to see hard numbers instead of dots, you may take advantage of Search Ads Keyword Popularity Checker. This is an absolutely free Chrome extension that will enable you to see Search Popularity numeric values & max possible impressions per keyword. You may also check the popularity of a particular keyword across various storefronts.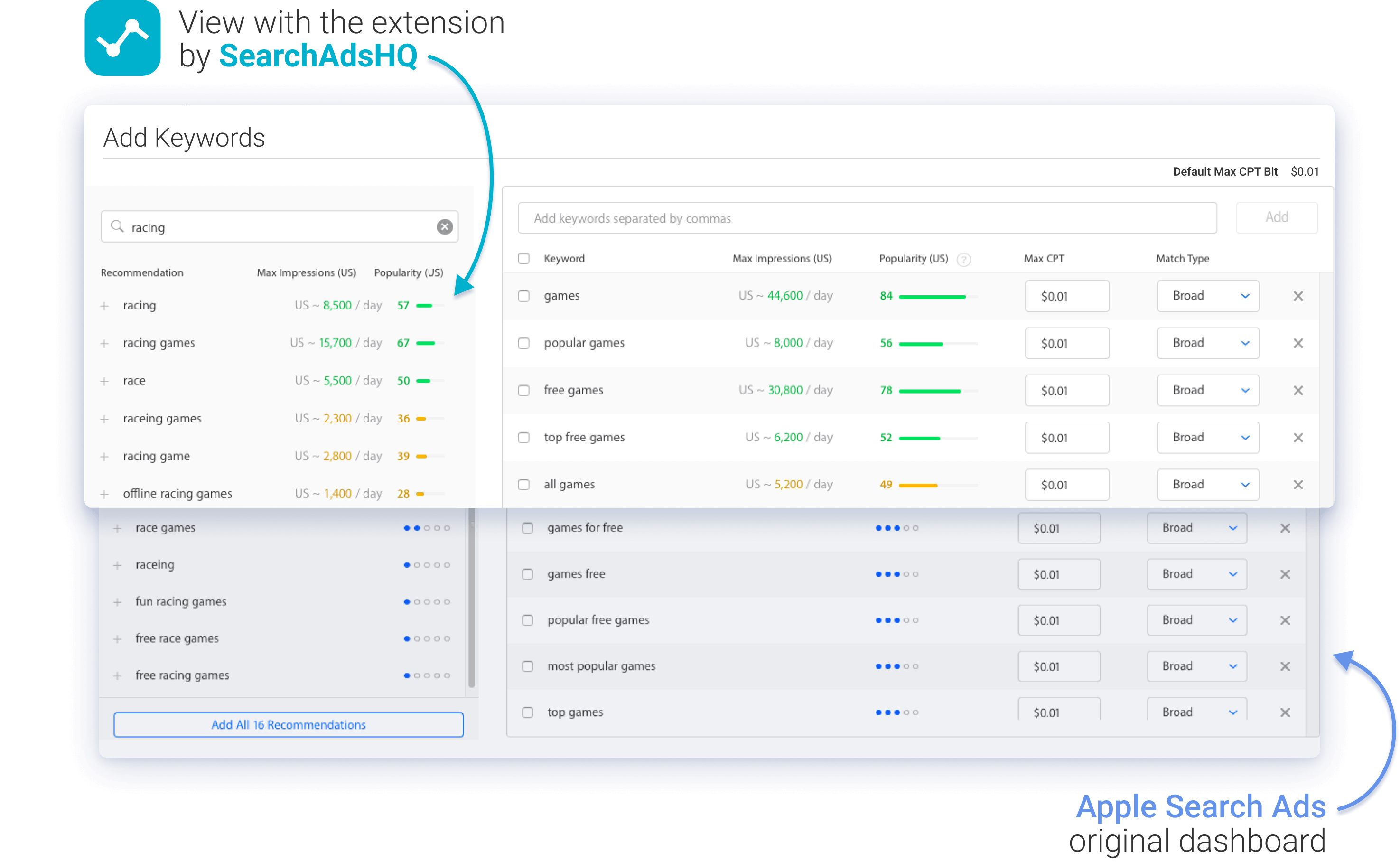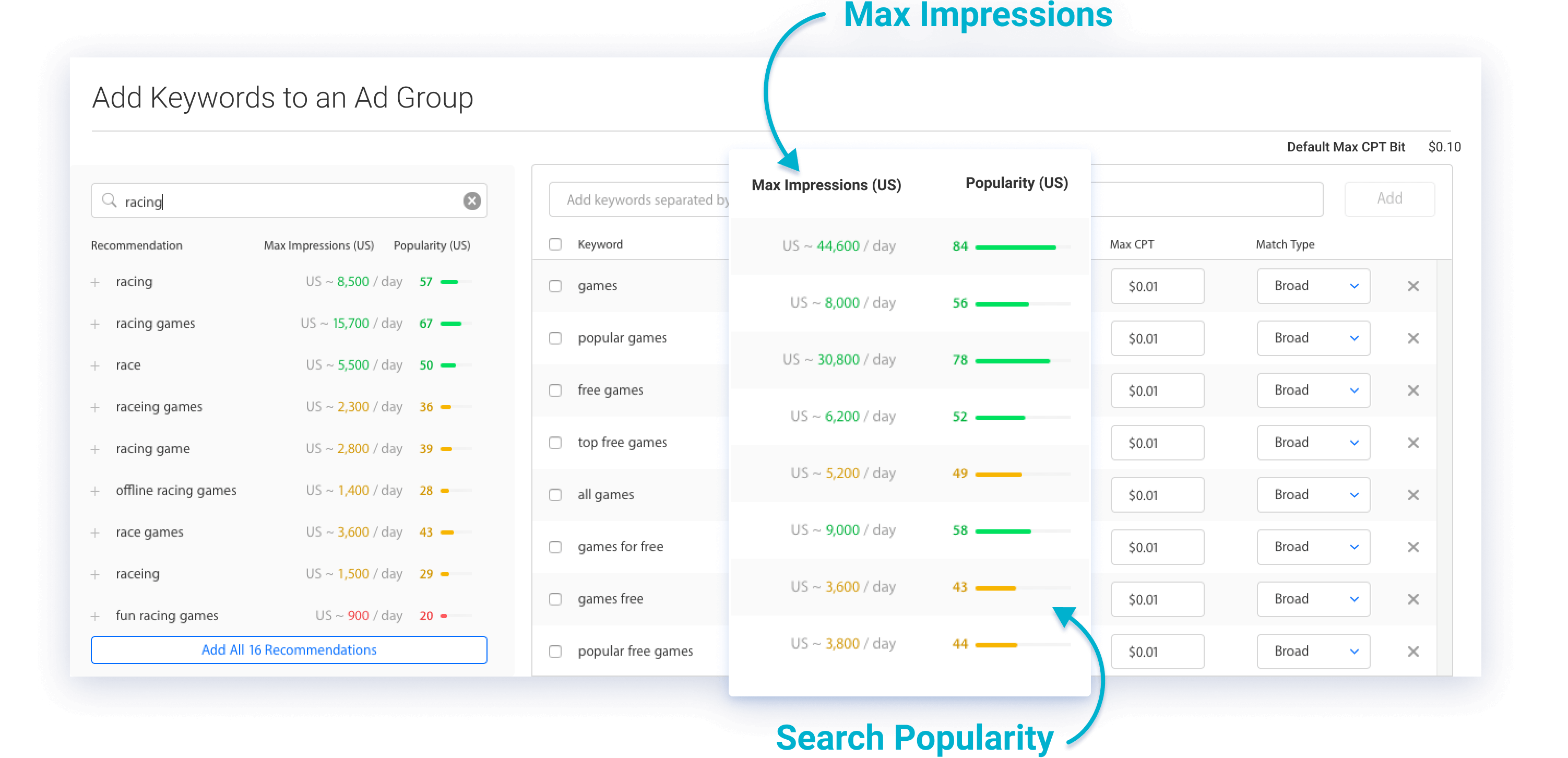 SplitMetrics' Apple Search Ads Benchmarks Dashboard
Leverage SplitMetrics' Apple Search Ads Benchmark Dashboard to assess your search results and Search tab campaign performance, find opportunities and win the competition.

Features: real-time insights on TTR, CVR, CPM, CPT, CPA for Apple Search Ads across app categories, regions and ad placements
Pricing: free

Mobile Measurement Partners
Mobile Measurement Partners (MMPs), or attribution partners, are critical for the success of your Apple Search Ads campaigns. Integrated with Apple Search Ads MMPs enable you to analyze keyword performance at the bottom of the funnel along with post-install events and estimate such critical metrics, as retention and revenue. Let's take a look at market leaders in this field:
AppsFlyer
AppsFlyer is a mobile attribution tool in good standing. This solution is a real deal for mobile marketers and user acquisition specialists: it provides in-depth analytics on conversions, in-app purchases, allows you to measure LTV & ROI, and generate custom reports. A big plus is that it allows you to attribute campaigns from a variety of media sources, including even TV.
Free trial: yes, one month. + free measurement for your first 12,000 conversions
Features: mobile retargeting & retention, cohort reports, LTV revenue reports, audience-based campaigns, real-time results, fraud protection
Pricing: pay-as-you-go, freemium. Pricing for enterprises is available on request.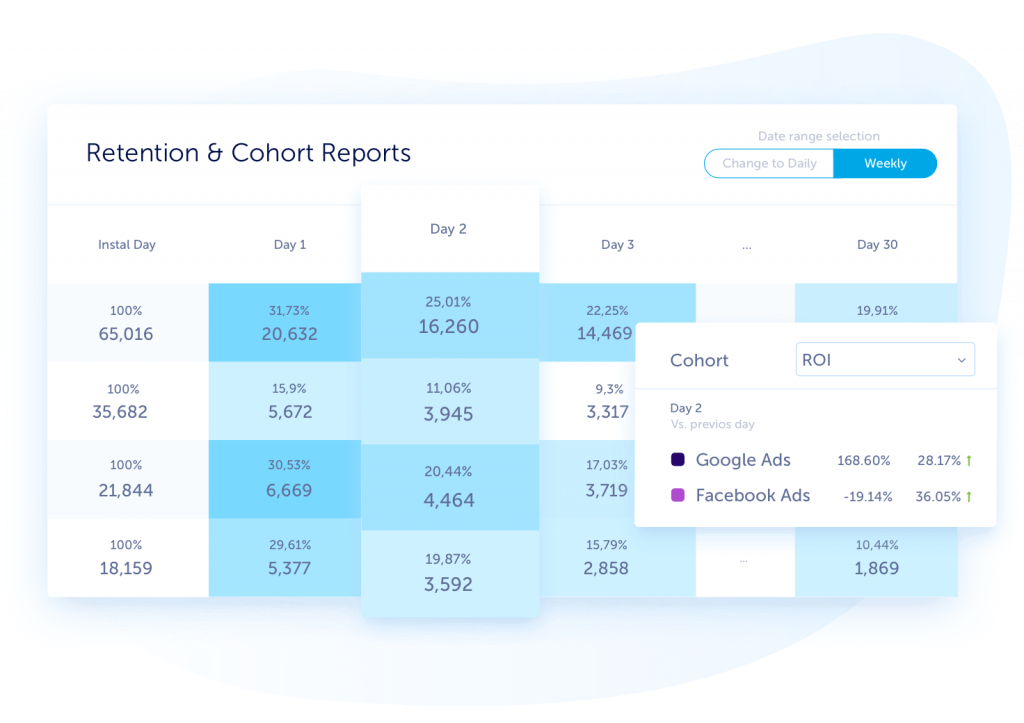 Adjust
Adjust is a fair alternative to AppsFlyer. This mobile attribution tool also supports a variety of media sources, provides app analytics and automation features. It is a tool for mobile attribution, store stats data, campaign tracking, KPIs for apps and more. Cohort analysis feature will enable you to see the statistics for a specific user.
Free trial: yes, one month
Features: offline tracking, cohort analysis, advanced deep linking, campaign automation, support of pre-installed apps, fraud detection
Pricing: monthly license fee based on attributions. Flexible packages. Pricing is available on request.
Branch
Branch is another mobile measurement partner that also describes itself as a deep linking platform. This mobile attribution partner stands out from other MMPs, since it basically delivers people-based attribution.
Free trial: yes, two weeks, for launch & startup tiers
Features: deep linking, cohort analysis, retargeting campaigns, custom user onboarding, content sharing, fraud protection
Pricing: pricing model is MAU-based. Pricing for enterprises is available on request.
Kochava
Like Branch, Kochava provides people-based attribution. It integrates with a large number of third-party tools, and supports user acquisition managers in both research and optimization endeavours. The cool thing about Kochava is that it provides a full-fledged version of the platform for free for non-enterprise clients.
Free trial: yes, one month (for enterprises)
Features: mobile first including SDK footprint, geo-triggered push notifications, predictive churn modelling, data management, fraud prevention
Pricing: transactional, packages are starting at $100 USD per month (can also be based upon MAU or attributed conversions)
A/B Testing Tools
When you run Apple Search Ads, the first thing users usually pay attention to is your icon and screenshot set, the first three screenshots to be exact. You may be lucky enough to have your app downloaded right away – and this is not a big surprise, since most downloads come directly from search. But users may also go to your app store product page to learn more – and again, they will see your visuals that will directly affect their decision whether to download your app or not.
So you need to keep your visuals – icon, screenshots and app previews if there are any – perfect, which means optimized based on data.
The first thing that comes to my mind when I think of a duo "A/B testing and Apple Search Ads" is Creative Sets.
Creative Sets in Apple Search Ads
Creative Sets is an in-built tool in Apple Search Ads that enables publishers to align screenshots & app previews with ad group keyword themes and various audiences, test various screenshot combinations, track their performance (TTR, CVR) and identify what works best for your app.

However, Creative Sets have a number of limitations & drawbacks that make it difficult for this tool to compete with a high-grade A/B testing platform:
Your visual screenshots and app previews can work differently for Apple Search Ads campaigns and organic search results. So, unlike with a full-fledged A/B testing tool, with Creative Sets you won't be able to reinforce your organic ASO strategy.
Creative Sets don't allow you to test the icon, title, and other critically important elements of your App Store product page.
You don't have in-depth analytics on how all your Creative Sets perform (not only custom, but also default ones, which are formed automatically with your first three screenshots). So you, obviously, don't see the big picture.
The number of Creative Sets is limited, so you cannot test as many hypotheses as you need & run as many experiments as you need simultaneously.
This point is not directly related to Apple Search Ads but keep in mind that you cannot apply the findings gained by testing Creative Sets to your app's store listing on Google Play.
So, to optimize your Apple Search Ads and improve your app or game's organic performance, you need a comprehensive solution that will enable you to not only enhance your Apple Search Ads & organic ASO strategy, but also find insights for your Google Play Store listing.
SplitMetrics
SplitMetrics mobile A/B testing platform is a solution that meets these criteria. This platform and a company of the same name provide publishers with opportunities to optimize app store listing and improve the conversion rate, validate mobile app & game ideas, make data-driven decisions and prepare apps for successful launch.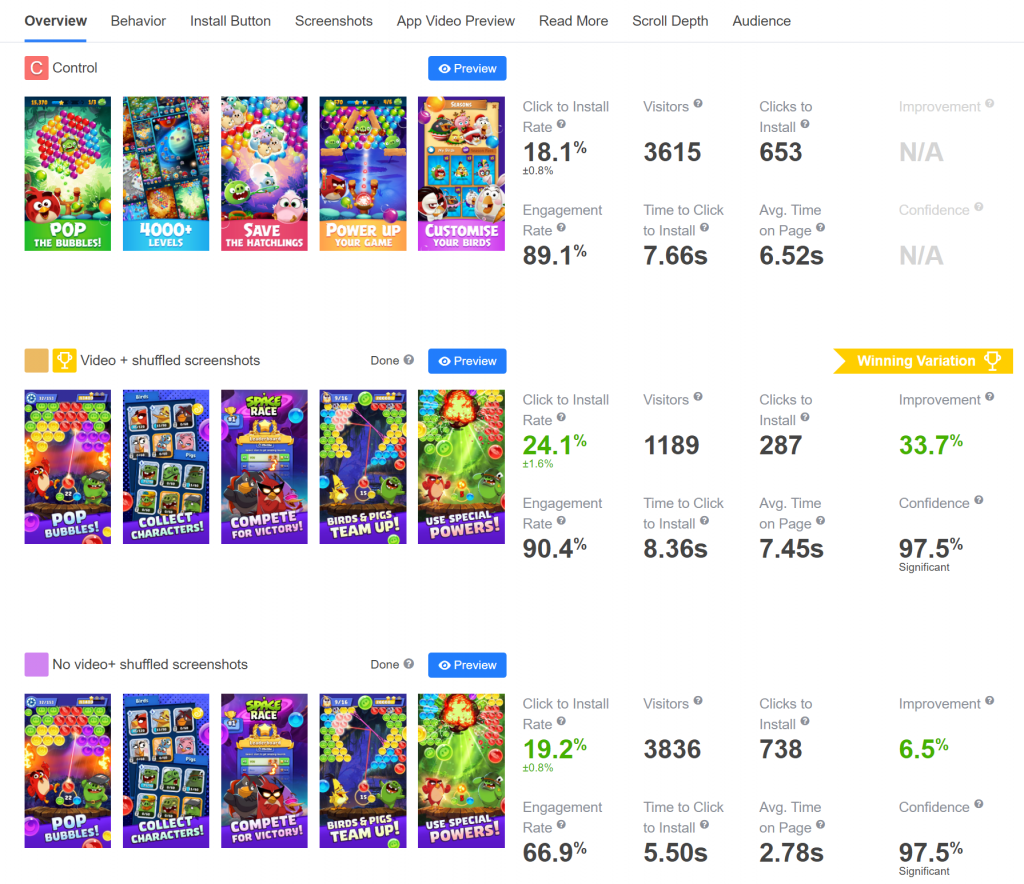 SplitMetrics platform for A/B testing can help you with any of your goals:
Double the conversion rate
Pre-launch A/B testing to ensure success
Validate new app ideas without building an MVP
Compare your app to competitors apps
Test assets before uploading to real store to avoid conversion drop
Localize your app without conversion drop
Check how new positioning affects installs.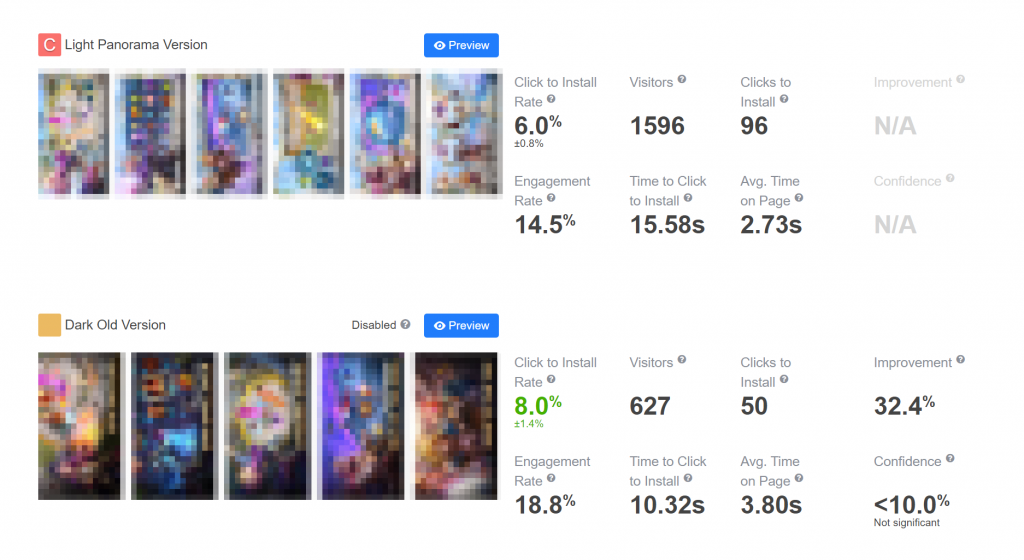 SplitMetrics is the undisputed market leader, and it's not surprising that most publishers choose this platform, since it provides:
All the tests you need
Up to 8 variations per experiment
Unlimited number of experiments for iOS and Android
Test any element, use multivariate combinations
3 testing environments: Product, Search & Category Pages
Full transparency
Control over testing budget via MDE and significance level manual setup
Control of an experiment: traffic distribution, ability to pause variations, clear status messages
Category benchmarks
All the necessary data
Seamless integrations with all current tracking tools
Extensive reports, incl. behavior analytics
Flexible & client-oriented services
Co-managed & managed services
Flexible pricing adjusted to your specific needs
Always-on chat support.
What is more, SplitMetrics provides its clients with partnership in terms of ASO optimization strategy, which includes:
development & implementation of the visibility optimization strategy (keyword research & analysis);
development & implementation of the conversion rate optimization strategy (app page audit, competitor analysis & creative assets production, A/B testing strategy).
The pricing is custom for enterprises. You can take advantage of a free demo and trial.
Boost conversion and installs with SplitMetrics A/B testing
Request Demo
Apple Search Ads Automation and Optimization
And finally, we got to probably the most important piece of the puzzle – tools for Apple Search Ads management, automation and optimization. In other words, if you're looking how to optimize Apple Search Ads, these platforms will help you scale the channel, make your Apple Search Ads campaigns much more efficient and your life much easier.
SearchAdsHQ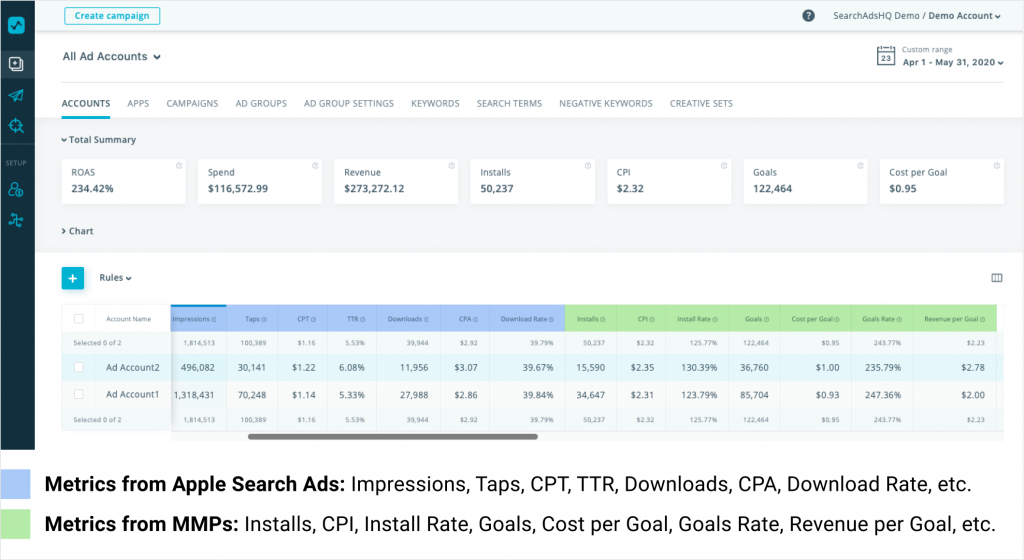 SearchAdsHQ is exactly that kind of platform. Being an official Apple Search Ads Partner, it perfectly complements Apple Search Ads native functionality. SearchAdsHQ provides you with:
full-funnel view, from impressions to purchases;
flexible filters & bulk management features;
and the best part – opportunities to automate your Apple Search Ads campaigns.
It's no secret that when running Apple Search Ads, you need to do dozens of time-consuming but really important tasks every day. You should monitor the performance of your keywords and identify the slightest changes and trends just in time. You should add new keywords to the Exact Match groups, while eliminating bad-performing keywords. You should raise bids for top-performing keywords and decrease for those ones that do not meet your target metrics. Not to mention such routine activities, as duplicating Creative Sets, transferring or duplicating keywords from one ad group to another.
SearchAdsHQ has got your back. This platform does all this work for you, and its automation capabilities are a real treasure trove.
Here's how you can automate Apple Search Ads with Search AdsHQ:
Set a rule to optimize keyword bids by your target metric (like cost per install, cost per acquisition, cost per conversion, cost per goal or ROAS) & keyword bids will be automatically adjusted helping you achieve your KPI.
Set a rule to automatically pause ill-performing keywords, which have high CPT bid, but low ROAS, and thus save your ad budget.
On the contrary, re-enable keywords that start bringing you conversions.
Get alerts when your spend on keywords gets too high so that you can either increase spend cap or pause keywords.
Optimize discovery campaigns: add well-performing search terms to exact campaigns and irrelevant ones to the negatives.
Super-fast bulk management – duplicate the whole account structure to a new storefront in a few clicks – no more exporting & importing in CSVs, creating account structure from scratch and setting bids.
There are over 500 variations of Apple Search Ads automation and alerts in SearchAdsHQ.
And there is more. SearchAdsHQ Team provides clients with all-round support in the form of:
education and training
ongoing account health-checks
Apple Search Ads scaling and optimization recommendations
dedicated Customer Success Manager available for regular sync-up calls.
You can check a demo and get a 14-day trial absolutely free.
Optimize your Apple Search Ads campaigns with SearchAdsHQ
Request a Demo