Over the last few months, Apple Search Ads made a huge leap forward with Creative Sets introduction and significant storefronts extension. Ads in the App Store have already passed the stage of being an effective yet optional user acquisition channel turning into an essential ingredient of any successful marketing strategy.
By choosing keywords for the App Store in the right way, you boost the efficiency of your Apple Search Ads activity, so keywords popularity should come into your sharp focus.
How to choose App Store keywords? To streamline the decision-making, we are happy and proud to introduce our brand new Google Chrome extension 'Apple Search Ads Keyword Popularity Checker'.

Google Chrome Extension for Checking Popularity of App Store Keywords
Apple Search Ads Keyword Popularity Checker by SearchAdsHQ was created to let you see keywords popularity score without leaving your Apple Search Ads dashboard. Thus, you can analyze the potential performance of App Store keywords quickly and efficiently making only data-driven decisions.
It is likely that some of the App Store keywords you use are cannibalizing your Apple Search Ads impressions. The extension will help you:
identify

keywords with low popularity score;

free

your account of money wasting keywords;

decide

whether to raise Apple Search Ads bids.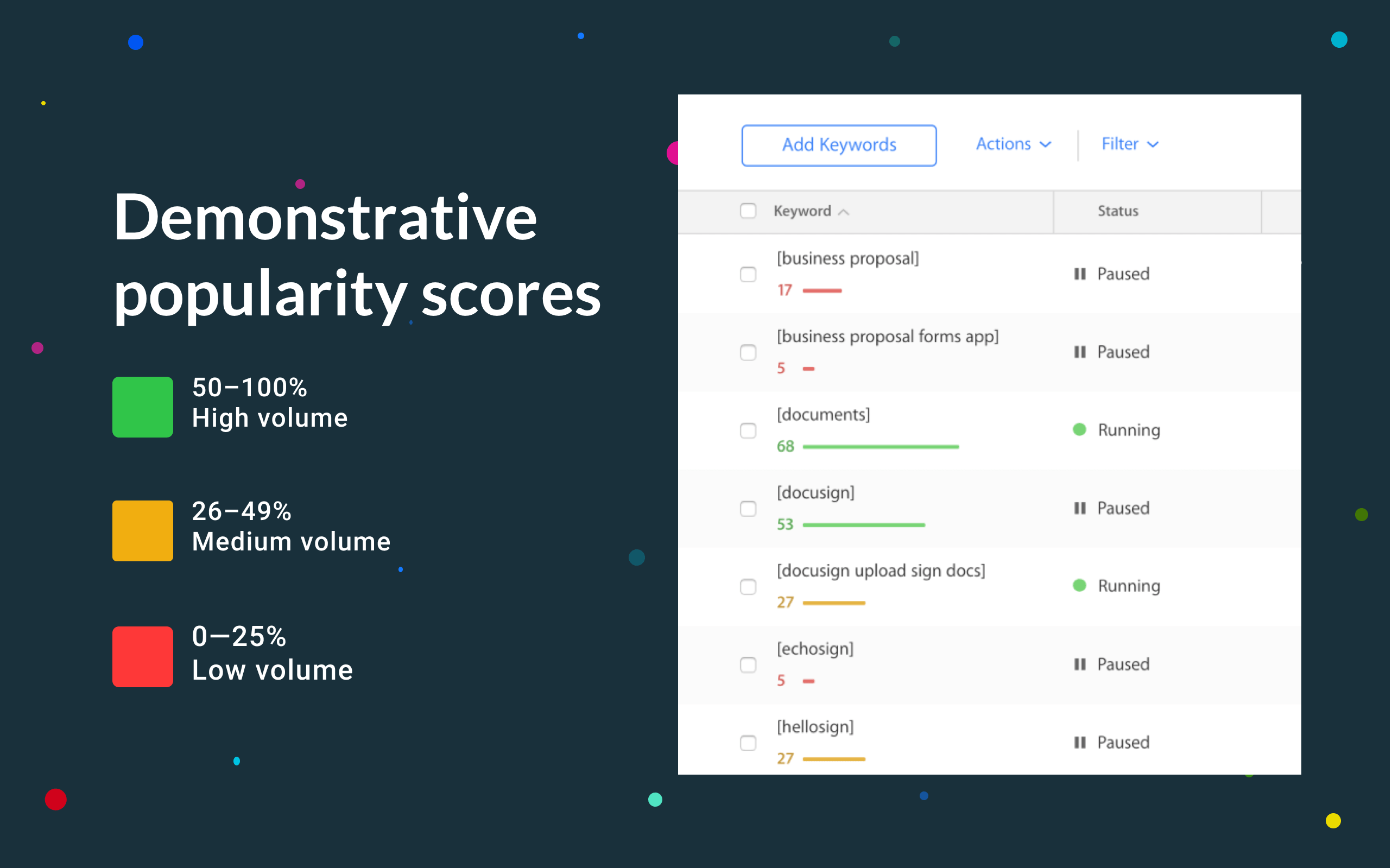 The data is represented in the form of real numbers complemented with colored indicators in order to make the work with the extension even more convenient and intuitive.
Choosing Keywords for App Store with Popularity Checker
Before the introduction of Apple Search Ads Keywords Popularity Checker, users had to perform a tedious series of steps to revise popularity scores of App Store keywords:
Step 1.

Export keywords from your Apple Search Ads account in CSV;

Step 2.

Insert App Store popularity score for each keyword in the CSV file manually;

Step 3.

Сonduct analysis and reach conclusions;

Step 4.

Import the CSV file back to your Apple Search Ads account;

Step 5.

Adjust your ad campaigns in accordance with the analysis of App Store keywords.
Sounds very time-consuming, doesn't it?
Thanks to Apple Search Ads Keywords Popularity Checker this boring procedure is a matter of the past. How does this automation work?
The Google Chrome extension

shows the popularity score

of App Store keywords within your Apple Search Ads account

automatically

;

You can draw

evidence-based conclusions

based on hard numbers and colored status bars right away and change your

Search Ads campaigns

accordingly.
As easy as that!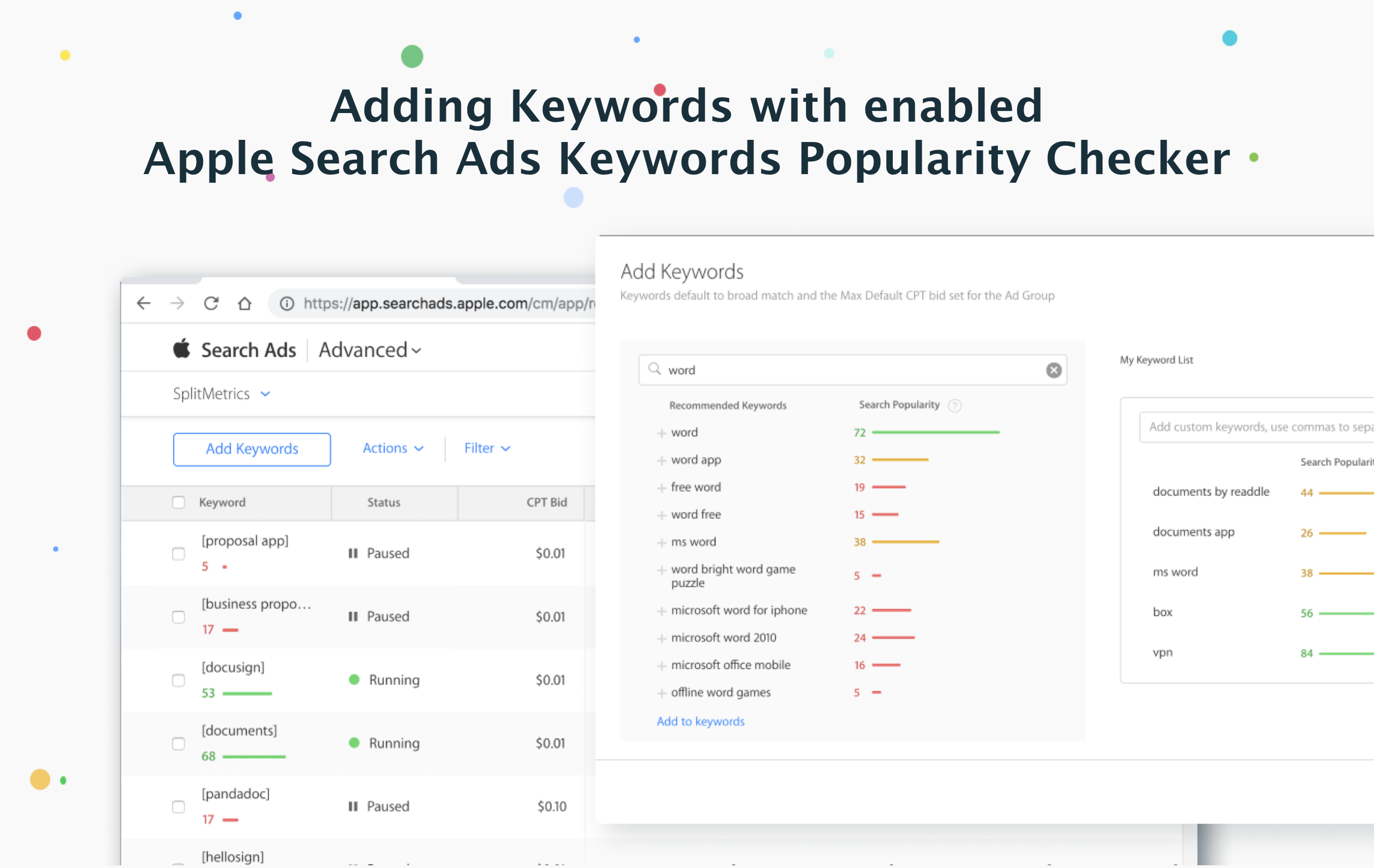 Empowering ASO Activity with App Store Keywords Popularity Checker
Apple Search Ads Keywords Popularity Checker lets you add only App Store keywords with great potential to your campaigns and ad groups. The data goes beyond plain status bars from your Search Ads account, the real numbers help you evaluate potential and indicate promising keywords without effort.
Employing the data-driven approach to Apple Search Ads management doesn't only enhance the performance of your campaigns but also refines your app store optimization efforts in general.
Furthermore, App Store Keywords Popularity Checker ensures the security of your data as it doesn't collect any information on users or their Search Ads accounts. Thus, any third parties can't access this data as well.
SearchAdsHQ provides the best management and optimization tool for Apple Search Ads. We are determined to make your Search Ads experience as smooth and fruitful as possible. SearchAdsHQ is now one step closer to this goal thanks to the emergence of our Google Chrome extension for checking App Store keywords popularity.
Furthermore, you can examine all performance metrics of the App Store ads in our Apple Search Ads Benchmarks report Q2-Q4 2020.