One of the questions we get asked a lot is, "How to start working with Apple Search Ads?"
It's kind of a broad question, right?
Since Apple Search Ads differs from the classic user acquisition channels – Facebook, Google and in-app ads, app developers get confused when it comes to creating and managing campaigns in Apple Search Ads. Instead of targeting and visuals optimization, they dive into a brand new world of keywords and match types.
As it turns out, app marketers who are used to working with Google search ads and keyword optimization can quickly capture the essence and start showing results with Apple Search Ads.
Because they share the same structure, optimization strategies, and bidding tactics.
However, do not hurry to put aside Apple Search Ads if you do not have such experience. There's no magic or nuclear physics behind Apple Search Ads.
It's like submitting your first app to the App Store. Maybe you're not familiar with it yet. But when you follow the process and have store guidelines at your fingertips, it takes 15 minutes to make the world see your app.
And just like launching your application, you are going to run your first Apple Search Ads campaign.
We want to see you succeed with Apple Search Ads. That's why in this post, we will go through the process of:
starting your Apple Search Ads account from scratch;

choosing keywords that eventually drive high-quality users to your application.
Hopefully, this information will help you develop the right structure for your Apple Search Ads account and start getting money out of it from the very beginning.
Apple Search Ads account structure
Why do you need to develop the right structure?
Because it guarantees ad groups out of which you will be getting money.
It helps you distribute keywords logically.
And also the right account structure allows you to optimize spends and start scaling campaigns.
There are several popular account structures with which user acquisition teams intend to manage campaigns in a more effective way. You can find all of them in the fifth chapter of our Apple Search Ads guide.
You can customize the structure for your needs (budgeting and bidding on the keyword level, bidding on the audience level, etc.) as you go.
But if you're only rolling out Apple Search Ads, we suggest you to start with the following canonical structure (by the way, Apple recommends it too):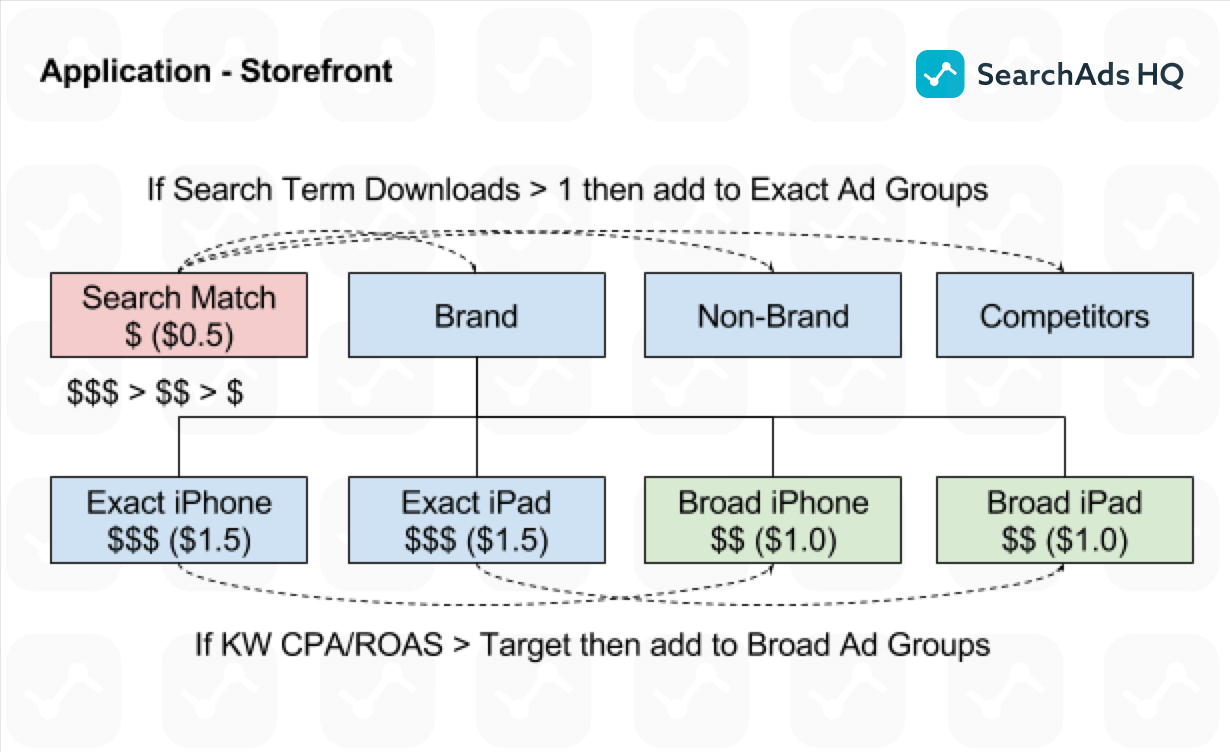 What do we have here?
First, a global group of campaigns is run for one application within one Storefront.
With this structure, each campaign is considered as a group of keywords for which you're running ads. These campaigns can serve keyword discovery (a red square) or optimization (blue squares) purposes.
Discover how SearchAdsHQ top spenders structure their accounts, and learn their keyword performance benchmarks in our 2019 Apple Search Ads keywords performance report.
Discovery campaigns to find Apple Search Ads keywords
Discovery campaigns are aimed at finding keywords for your ads, and Apple does a great job suggesting relevant keywords when you work with Search Match.
To create a discovery campaign, all you need to do is to leave the Search Match option enabled after setting up ads, budgets, bids, and targeting.
For Search Match campaigns, we recommend using the lowest CPT bid – $0.50. In this case, Apple will scan your app metadata and start matching your ads to relevant searches taking your desired bid into account.
The relevance score: Apple analyzes your app's metadata (i.e. title, keywords, etc.) to determine whether your app is relevant enough to show an ad for the keyword you're bidding.
If you work with Search Match, it is important to use neither exact nor broad (Apple BM is truly broad) match keywords in the same campaign. By having all three types of keywords in one campaign, you risk to end up with hundreds of search terms that are almost impossible to analyze and manage.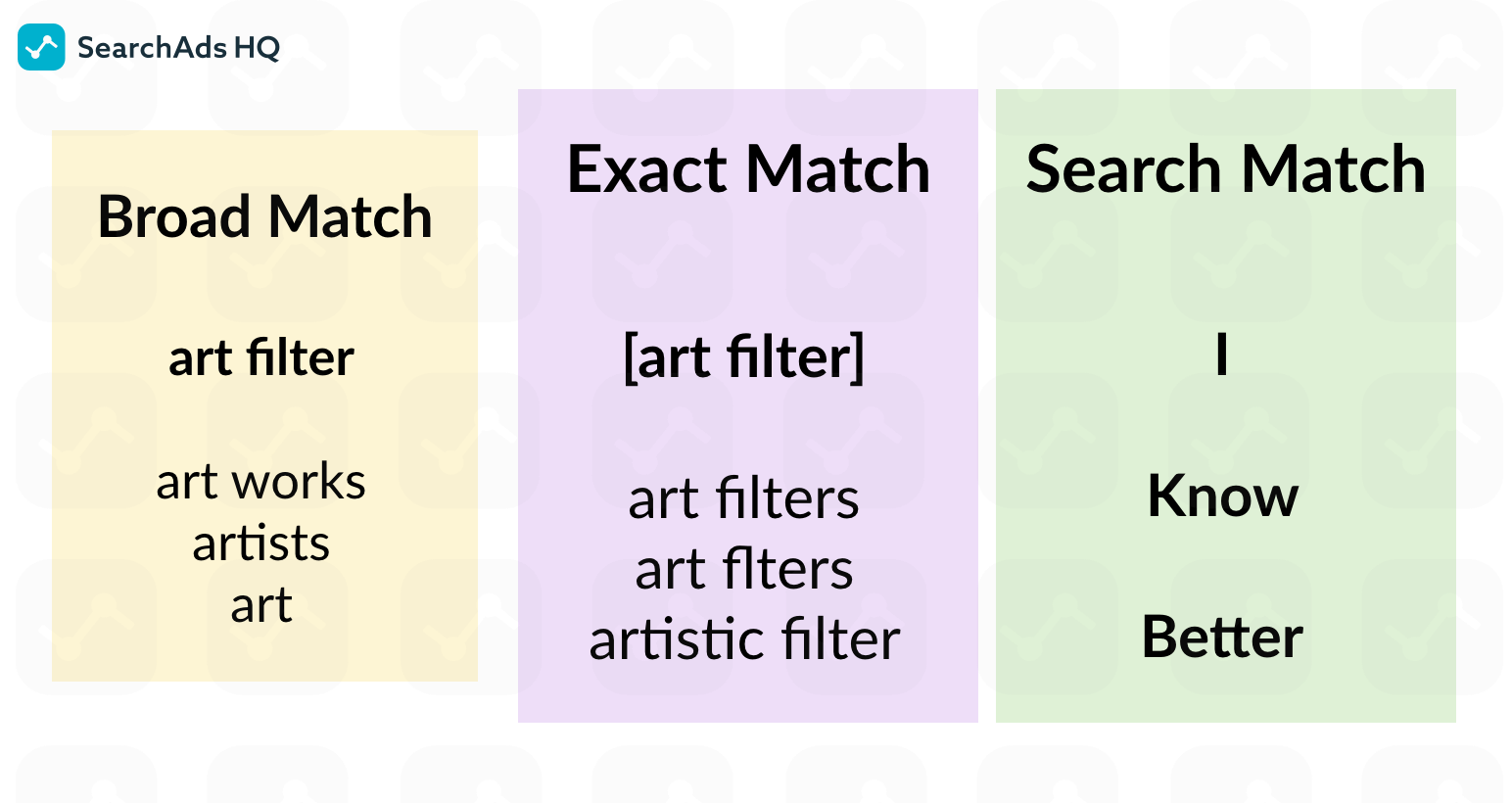 Exact campaigns for optimizing Apple Search Ads
Once you see that there are search terms that perform better than others (generally, these are search terms for which you get downloads or that meet the target CPA), it's time to transfer them from discovery Search Match campaigns to Exact as keywords.
By transferring well-performing search terms to Exact campaigns, you get the full control and can:
manage budgets and CPT bids;

play around targeting options;

evaluate ROAS for each keyword to make a decision on whether you need to increase a bid to get more users or kill the keyword as it burns your budget.
ROAS (Return on Ads Spend) indicates how much money you get for every dollar spent.
Do you need to distribute keywords among different campaigns?
Absolutely.
If you want to manage your campaigns, track performance and optimize them easily, you will want to consider campaigns as keyword thematic groups and split them into:
Brand keyword campaigns;

Competitor keyword campaigns;

Non-brand keyword campaigns (get granular here and create a campaign for each thematic group, for example, filter-related keywords or editor-related keywords).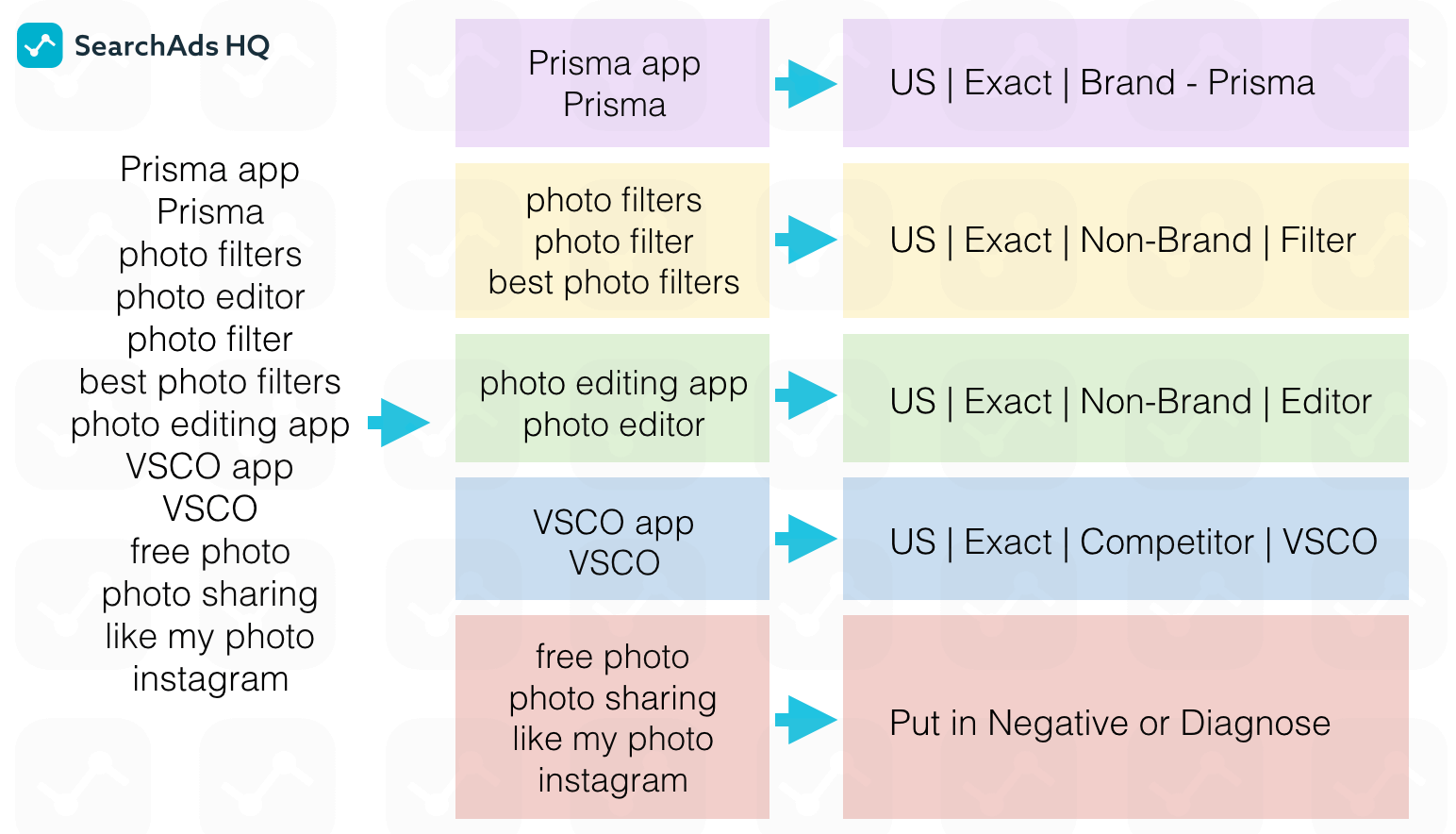 Now, as you have campaigns for different thematic groups, you can allocate your budgets among them and set up higher CPT bids to reach a wider audience and outbid your competitors.
On the Ad Group level of your Exact campaigns, you can also set up targeting options. For example, separate iPad from iPhone users.
For a wider reach, Apple also suggests using keywords with a high ROAS for Broad Match ad groups within the same campaign with lower CPT bids.
Though it may be challenging to create similar ad groups with different settings manually, you can do it automatically in SearchAdsHQ.
To split audiences or create similar Broad Match ad groups in SearchAdsHQ, all you need to do is to multi-select ad groups and duplicate them. For each new group, you can setup up the custom audience or match type properties.
Remember to exclude your keywords from discovery when you transfer them to another campaign. To do so, multi-select keywords and mark them as Exact Match Negatives.
Now you are ready to go!
With this structure, you can fish top-performing keywords with Search Match campaigns and optimize them for installs and in-app purchases in Exact Match campaigns. You maximize ROI by increasing bids of top-performers and getting rid of keywords that burn your budget.
Stay on top of the latest trends with benchmarks for your app category, region and ad placement. Get up-to-date insights on TTR, CVR, CPM, CPT, CPA for Apple Search Ads in SplitMetrics' Apple Search Ads Benchmark Dashboard:

Disadvantage of Search Match
This structure is your long-lasting source of keywords.
If you stop getting new keywords, all you need to do is to increase a CPT bid of your Search Match campaign. Your discovery ads will start running for a wider range of keywords, they will be more expensive though.
As the primary goal of Search Match is finding keywords, you wouldn't expect a discovery campaign to pay off. All discovery expenses should be covered by Exact campaigns, and that's the reason why tracking your campaign group ROI is a key to understanding the overall performance.
The simplest way to start spending less and grow ROI is to decrease discovery costs.
Here's how to do it with the Keyword Planner.
Keyword Planner for Apple Search Ads
Search Match is one of the ways to find keywords that goes alongside:
reading user comments;

going through competitors' app listings;

scanning forums and groups on social media.
With Search Match, you basically pay Apple for keyword suggestions. Other options are free but time-consuming.
To let you start spending less and finding keywords faster, SearchAdsHQ goes with a built-in keyword research and optimization tool supported by ASOdesk – Apple Search Ads Keyword Planner.
Here's how it works.
The Keyword Planner automatically suggests all keywords for which your app is ranking at the moment. And the deep keyword insights are my favorite part about it. Once you enter your app URL, choose a storefront and click "Get keywords", you see the following picture:
The Keyword Planner tells you how popular your keyword is (1), estimates the number of daily users who see your ads (2), shows how high your app is ranking for these keywords (3), gives the App Store's relevance index (4) and takes competing apps to you (5).
Basing on these statistics, you can pick keywords and add to the relevant Ad Group with Exact or Broad Match settings.
It's that easy.
Here you can also peek at keywords of your competitors and similar apps.
So, what does the Keyword Planner give you?
You save time (manual picking) and money (Search Match) on search terms fishing.
You do not fly blind. Since you choose keyword basing on their stats, you get a better performance, impressions volume and audience reach from the start.
To get rid of the ad spend waste, you find keywords you don't want your app to be associated with and put them in Negatives.
You peep at competitors.
Adding to this, since Apple Search Ads influence your organic app rankings, you can identify room for growth and run a series of campaigns aiming at improving rankings – grab from 15th positions to Top-10.
How cool is that?
Summing-up
I can't think about any app development company that wouldn't benefit from a traffic channel with a positive ROI, more relevant high-converting users and reduction in the cost of customer acquisition.
The best part about Apple Search Ads is that it is insanely easy to start working with. Ultimately, your results depend on two elements:
The right structure.
The right tools.
SearchAdsHQ and its built-in Keyword Planner are here for you.
If you want to create your first campaign with SearchAdsHQ, please request a free demo. One of our sales managers will contact you to help you start earning users with Apple Search Ads.
Related Articles