When one year ends and another begins, many of us, willingly or unwillingly though, look back on our ups and downs, achievements and challenges. Now, the calendar suggests summing up the results of the past 12 months. Today we reflect on Apple Search Ads 2018 features. Enjoy our roundup!
May 29: Creative Sets Added to Search Ads
The first remarkable feature of the year – creative sets – was unveiled only in May, but there was another big event to precede it. On February 22, Apple increased the allowable number of screenshots on a product page to 10. Before the release, the image gallery set was restricted to 5.
The enhanced screenshot limit helped app publishers along when Search Ads introduced creative sets. The idea behind the new feature is to align the visual assets already uploaded to the App Store Connect to ad group keyword themes or audience types. To make a creative set, Search Ads managers are allowed to leverage up to 10 screenshots and 3 app previews.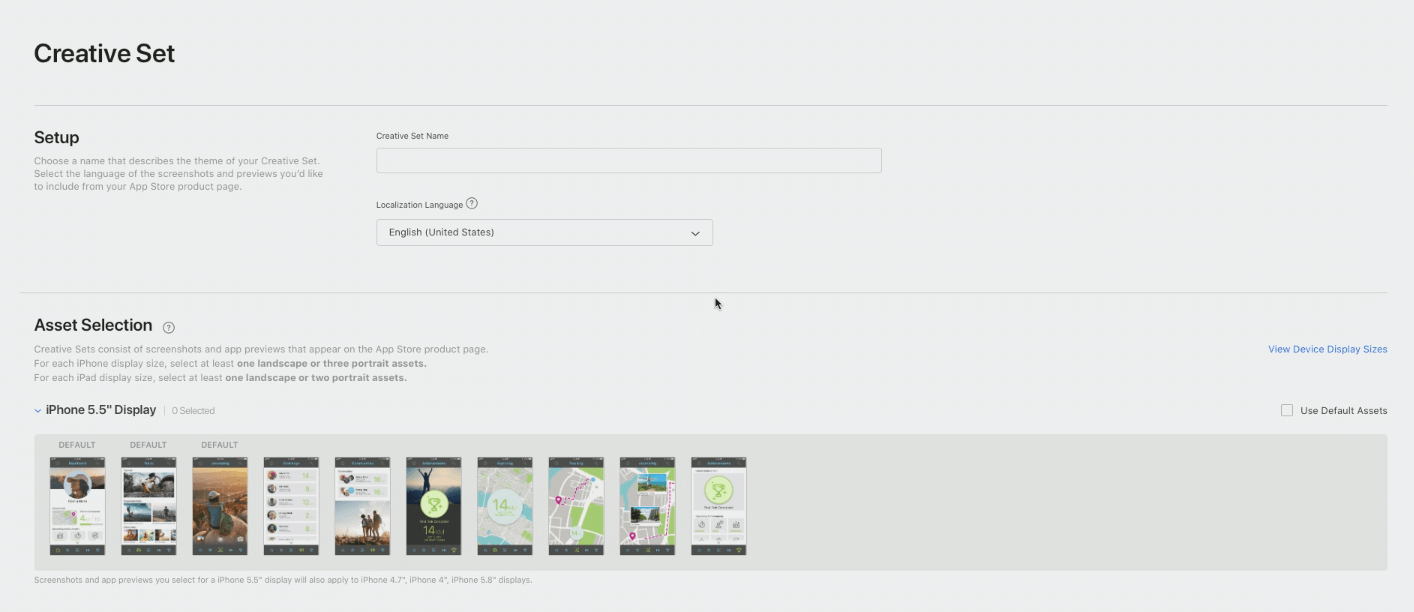 Source: developer.apple.com
In a nutshell, what has changed with the two releases?
Firstly, the alignment of keyword themes and audience segments (based on age, gender, and location) to the relevant visuals improves the overall ad performance and user response. Secondly, additional App Store assets expand variability in creating ad banners, which adds to the flexibility of Search Ads experience.
May 29: Search Ads Introduces Conversion Insights
User behavior may seem a closed book but Apple does its best to provide insights into it. In spring 2018, Search Ads reporting was reinforced with new audience-related metrics: LAT Conversions, and New Downloads and Redownloads.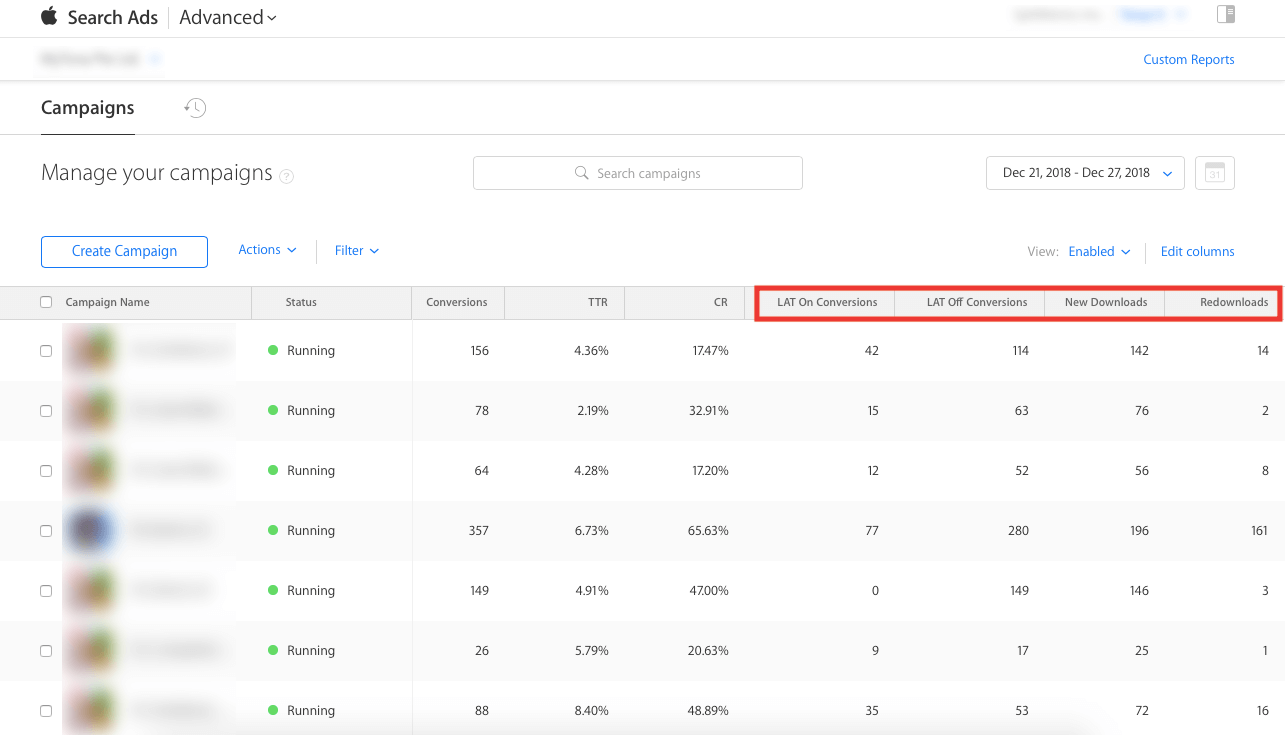 The newly added report positions have added to the transparency of the conversion results.
Apple recognizes that its LAT feature influences Search Ads attribution. With the introduction of LAT On/LAT Off positions, reporting reveals the number of conversions from users with LAT enabled/disabled. These data are vital for marketers to assess the real effectiveness of their campaigns and optimize them if necessary.
New Downloads and Redownloads bring into focus the origin of the audience. Redownloaders, as per Search Ads, are those who:
download an app they already have to another device;

tap on a banner and download the app that they've already downloaded and deleted.
The insights into where users originate from have given Search Ads managers grounds to adjust their campaigns – for better acquisition of first-time downloaders and reengagement of high-intent users.
July 25: Search Ads Expands Storefronts
Apple Search Ads has been doing a great job helping app developers reach quality users. The ad platform reports its average conversion rate to be 50%. Being aware of such a remarkable result, app advertisers were hungry for other potentially profitable markets.
Their desire was satisfied in summer this year when Apple Search Ads expanded its list of available storefronts. Starting from 1 August 2018, developers with advanced Search Ads accounts can promote their apps in 13 countries, instead of 7. The 6 storefronts to compliment the list are France, Germany, Italy, Japan, South Korea, and Spain.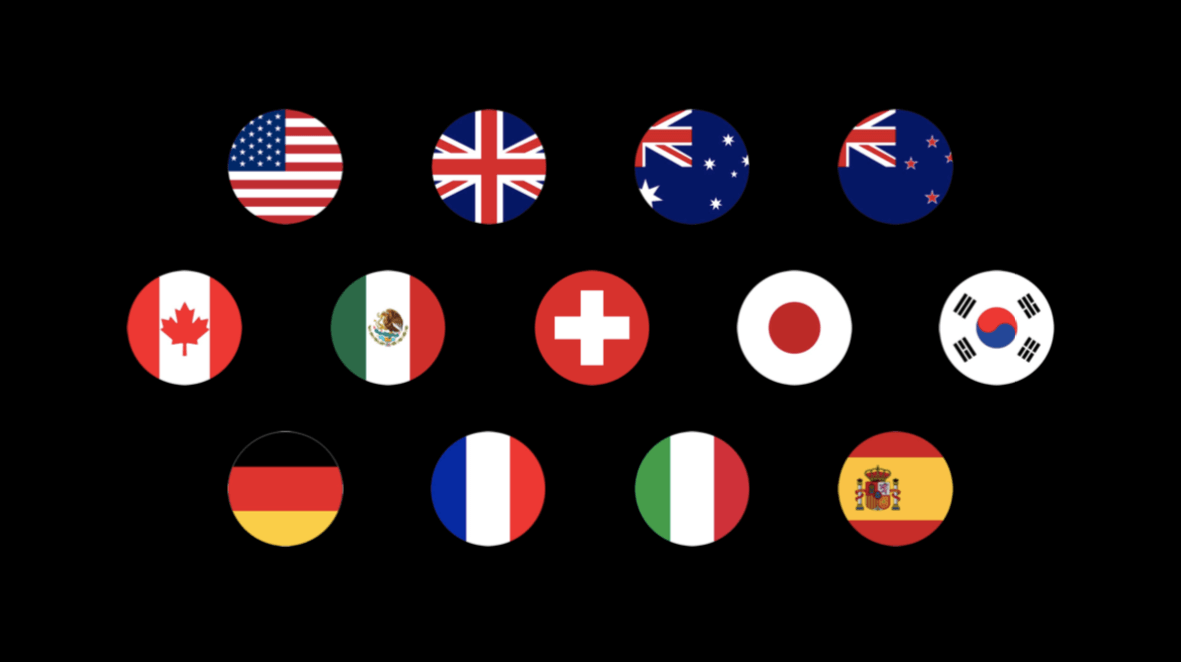 Source: developer.apple.com
Moreover, in the summer 2018 Search Ads Basic got globalized as well. From August 22, Apple has made it available for all the 13 storefronts – Australia, Canada, France, Germany, Italy, Japan, Mexico, New Zealand, South Korea, Spain, Switzerland, the UK, and the USA.
November 12: Search Ads Unveils
Bid Insights
This year Search Ads has enhanced the bidding experience of its users. Bid insights were designed as recommendations to help increase the ad's chances of being viewed. Apple insists that they don't give instructions, but point the possible areas that require optimization using Suggested Bid Range and Bid Strength Indicator.
Guesswork is unacceptable when it comes to spend management. Associated with keywords, Suggested Bid Range is a data-backed insight. To arrive at the range, Apple relies on the bidding history and the performance of competitors' and your own ads on a particular keyword.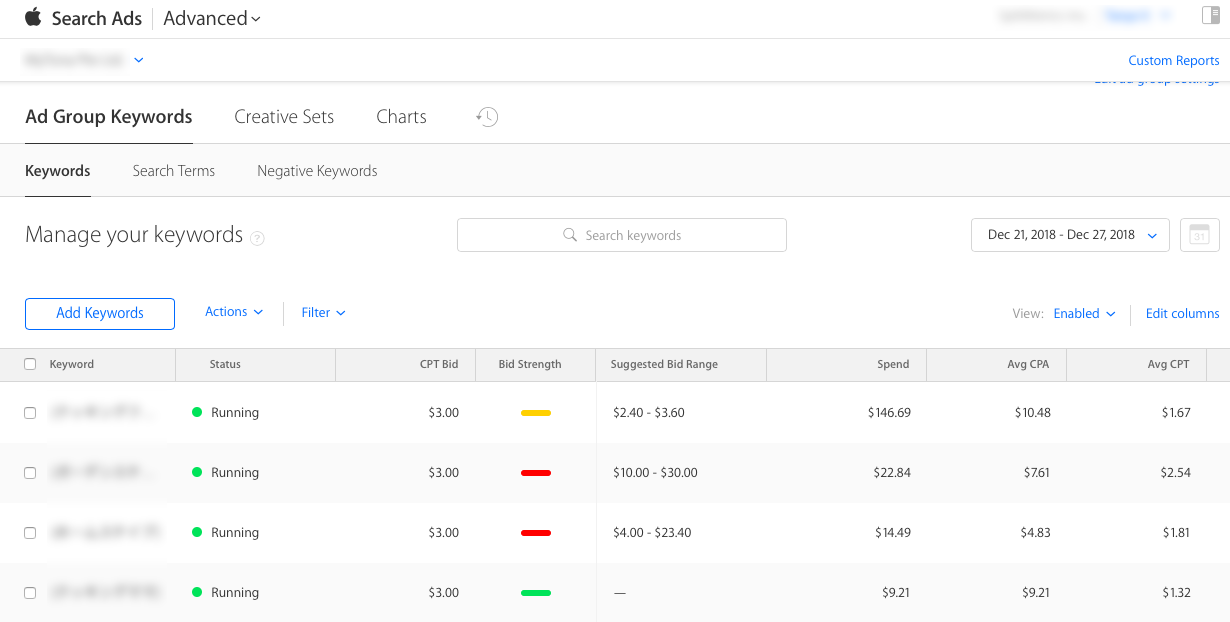 In its turn, the Bid Strength indicator has emerged to tackle the issue of bid competitiveness. App marketers have to position themselves well to succeed in auction-based ad networks, and Search Ads has offered a solution. Based on the red, yellow or green-colored bars, you can conclude how well-placed you are in relation to your competitors' bids and optimize your spend accordingly.

December 12: Custom Reports in Search Ads
This was the last but not least update of 2018. By rolling out custom reports, Search Ads intended to help slice and dice the performance data at the app, storefront, campaign, ad group, or keyword levels. So, how does this new functionality help app advertisers?
Firstly, reporting has become more flexible and can be tailored up to the needs of a particular publisher. Search Ads offers predefined reports, which can be further customized to include the required metrics, dimensions and date range.
Secondly, publishers are free to choose how often they want to run reports – daily, weekly, monthly or only once. The data are brought together in an automatically generated CSV file. This means that more time can be spent on account optimization and reaching goals.
Apple Ads 2018: Round-Up
It's been a fruitful year for Apple Search Ads. The ad network is advancing, and we at SearchAdsHQ do our best to keep up. We even gathered all key Apple Search benchmarks in our App Store ads performance report. We're polishing our platform to automate operations where possible, bring data transparency and easy management on scale, and on top of it, help you hit your advertising KPIs.
What we have to offer? We were the first Search Ads manager to add creative sets analytics. SearchAdsHQ supports all the available storefronts, provides cohort analysis, advanced automatic rules as well as automated CPA bidder. Try out these and other handy features of our platform to enhance your Search Ads experience.
Maximize your Apple Search Ads ROAS with SplitMetrics Acquire
Request Demo