It is well-known that the top position of the App Store search is the sweetest spot for any app. The latest report proves it once again. According to Apple, 65% of downloads come from the Store search directly. This trend makes Apple Search Ads as relevant as possible. On top of that, Search Ads' can boast really impressive average conversion rate of 50%.
To facilitate and empower your Apple Search Ads experience, the SearchAdsHQ team is happy to introduce our brand new feature – automated cost per action bidding. Ever wondered how to optimize your spend without any extra effort from your side? This smart auto-bidding feature is the answer!
Overview of Automated Cost per Action Bidding for Apple Search Ads
SearchAdsHQ automated cost per action bidding is on a mission to optimize your spend choosing bids that will help you reach as many goals as possible. Furthermore, our smart auto-bidding feature ensures that the average Cost per Action (eCPA) doesn't go beyond your Target Cost per Action (CPA).
The key benefits of SearchAdsHQ auto-bidding are the following:
Automated cost per action bidding for Apple Search Ads allows to manages bids based on

in-app actions

that users take;

SearchAdsHQ auto-bidding is a perfect solution for

extensive accounts

with thousands of keywords. The automation allows to

minimize the time

spent on account optimization and

focus on strategy and volume growth

;

Auto-bidding for Apple Search Ads assists in

increasing ads efficiency

allowing to nail the best possible bid without additional settings.

The auto-bidding also

eliminates guesswork and errors

that manual control entails.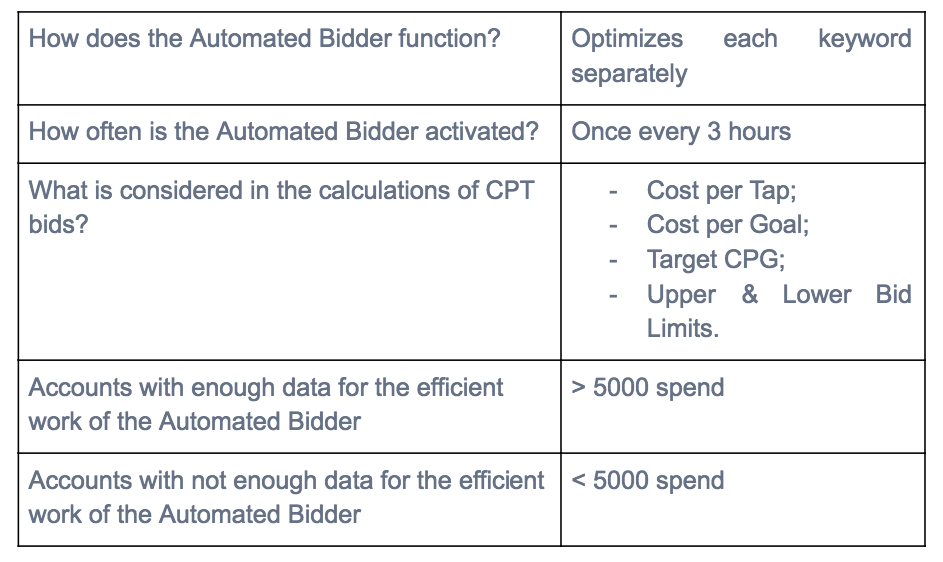 Auto-bidding for Apple Search Ads: How it Works
It's important to understand that automated CPA bidding for Apple Search Ads is activated on the Ad Group level. However, it optimizes each keyword separately. SearchAdsHQ auto-bidding considers the following aspects when calculating CPT bids:
Cost per Tap

(CPT) from the last 30 days (including today);

Cost per Goal

(CPG) from the last 30 days (including today);

Target CPG

(SearchAdsHQ equivalent for Target cost per action) — the max price you're ready to pay for 1 goal. You set up this parameter in the process of activating automated bidding. Mind that you have to choose one value for all keywords of an Ad Group.

Upper & Lower Bid Limits — the bids calculated by SearchAdsHQ auto-bidding will stay within the following limits. You set up this parameter while activating automated bidding. Once again, you are to choose one value for all keywords of an Ad Group. It is highly recommended to pay closer attention to Upper Bid Limit, it should be reasonable and relevant.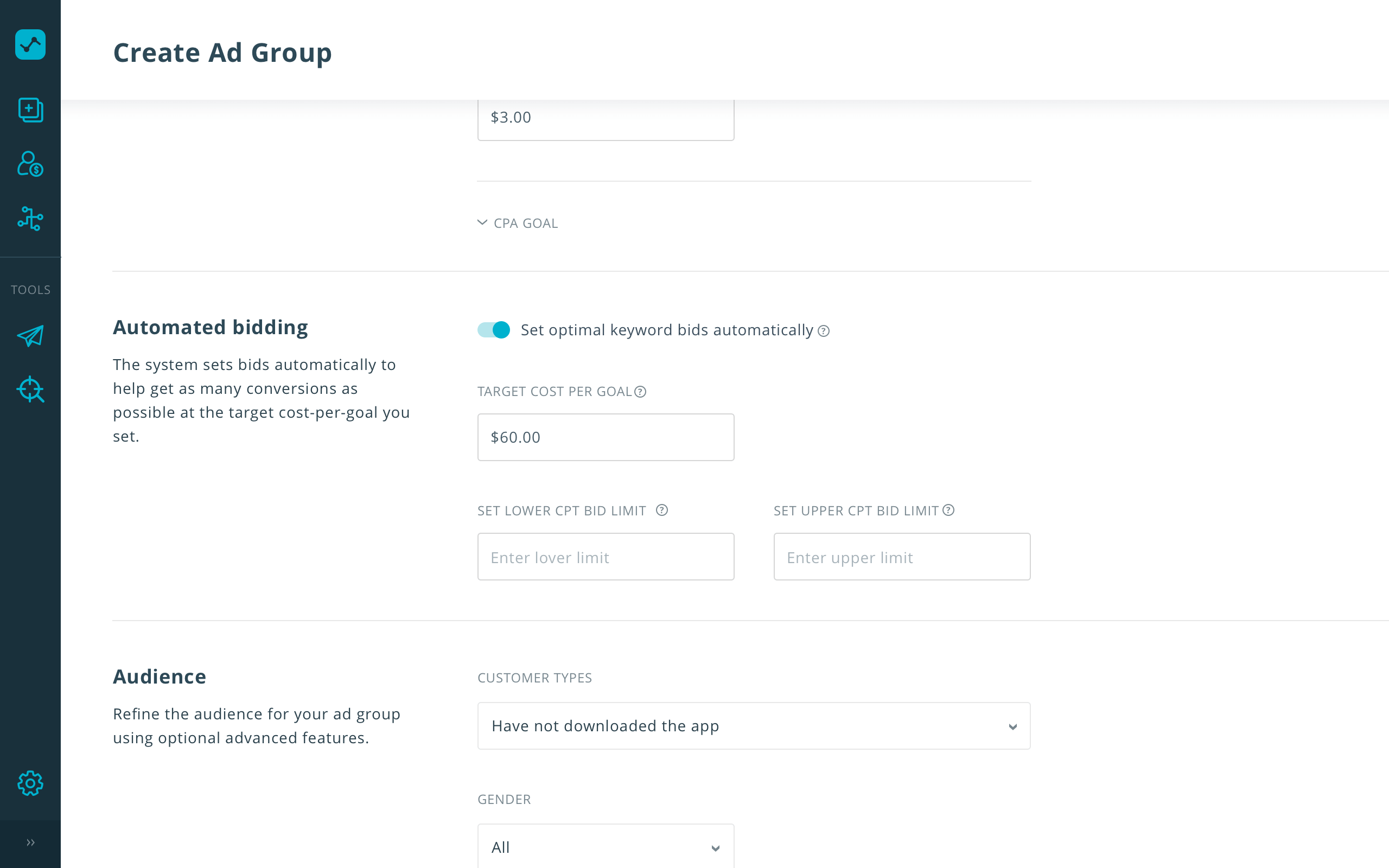 The system calculates the bids using the formula featured below. However, please note that it is presented in a very simplified form, the final formula is much more complicated. That said, in the final formula we're dealing with confidential intervals not values and consider statistical errors which is especially important when it comes to small figures.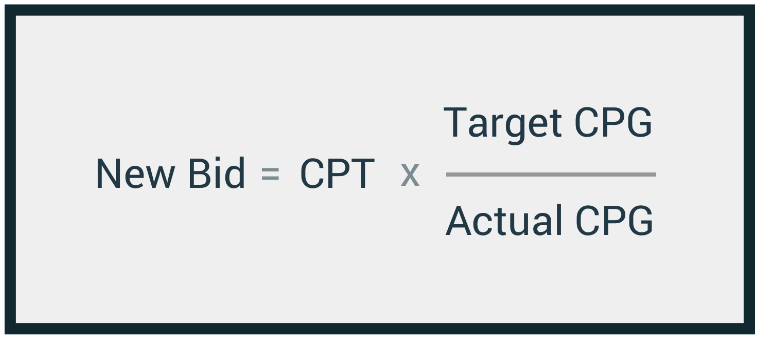 The automated bidding for Apple Search Ads is being activated once every 3 hours. Its work consists of the following 2 stages:

1. Data collection

First of all, automated bidder analyzes the number of Taps and Goals for each keyword for the period of the last 30 days. If there is not enough data on a keyword, the period can be extended.
There's no fixed number of required Taps and Goals. The bidder calculates it using mathematical formulas that take into account not only the number of Taps and Goals but also the correlation between them and statistical errors.

2. Bid calculation

As soon as the automated bidder collects enough data on a keyword, it calculates and sets CPT Bid for this keyword. Automated bidder validates a calculated bid considering CPT bid limits and target CPG that user set up previously.
Mind that if you want to use the optimizer, the Custom Conversions you are optimizing should be marked as 'Goal'.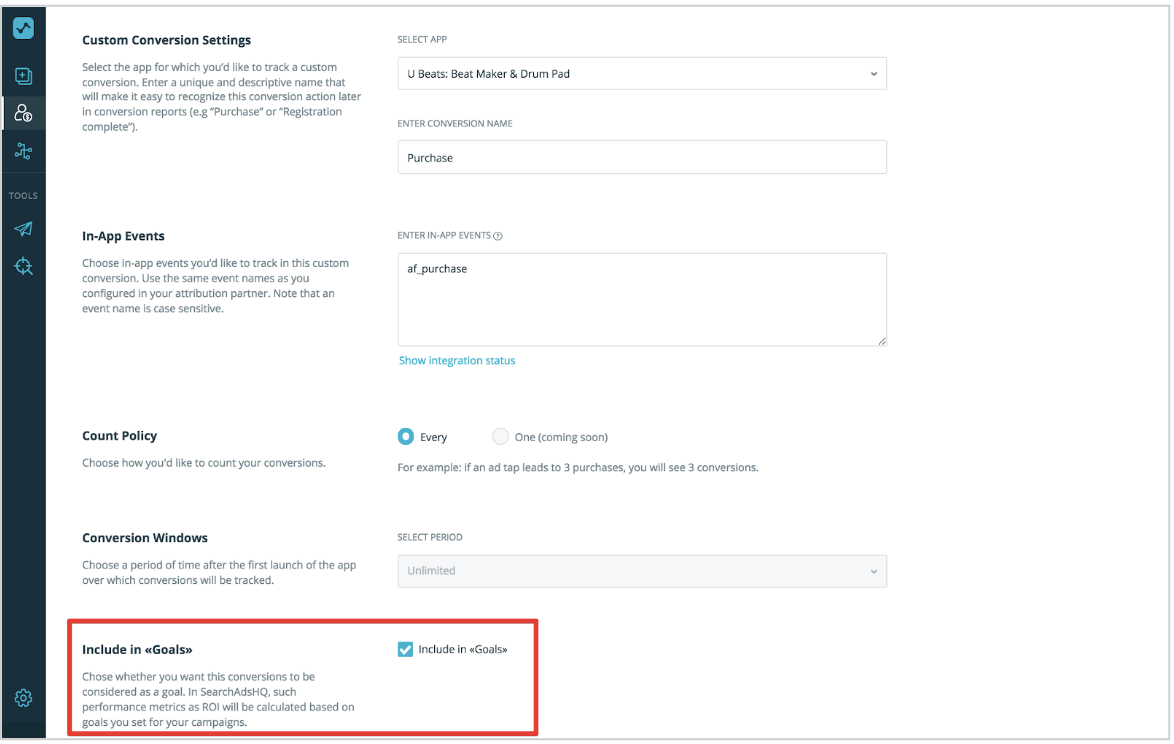 Imagine that you set Conversion and mark it it as Goal within your SearchAdsHQ account. If your Target CPG = $40, it's recommended to set:
lower bid limit

= $0.5 (in order to keep broad reach);
upper bid limit = 30$ (as this sum is enough for the majority of keywords and gives more control over bids).

Advantages of Automated CPA Bidder for Apple Search Ads
SearchAdsHQ rule-based bidding unfailingly helps app publishers to manage their Apple Search Ads without extra effort or time waste. However, our new automated CPA bidder takes automation even further.
Frequency is another argument in favour of auto-bidding as SearchAdsHQ monitors the bids continuously.
SearchAdsHQ CPA bidder calculates values which means you can set up bids based on your costs instead of setting up a range or a fixed bid. Auto-bidding for Apple Search Ads does it accurately using lots of parameters and considering dynamic changes in your account.
In case of your growth in terms of keywords, apps, storefronts, you will definitely need to set up and manage more and more auto rules and the chance of making mistakes will increase respectively. With SearchAdsHQ auto-bidding, all you have to do is switching on this feature on the level of an ad group and let the automation work its magic.
No more additional actions needed! After that, your bids will be adjusted depending on the dynamic historical data of your account.
SearchAdsHQ auto-bidding can empower Apple Search Ads arsenal for both small and extensive accounts:
When it comes to

big accounts

, automated bidder for Apple Search Ads becomes the only option.

Overall, SearchAdsHQ AI-based auto-bidding is a quicker, more precise feature that will help owners of more complex accounts for sure;

It helps the accounts with

about $5,000/month spend

start quickly and see results without investing many resources. However, for small accounts with 100-200 keywords and < 5000 spend, it might be better to opt for

automation through rules.
The thing is the latter accounts don't have enough data to make SearchAdsHQ auto-bidding work with maximum performance as few keywords have enough clicks and conversions. Thus, the automated bidder waits for more data to change the bids.
Auto-rules, in their turn, can work more aggressively with humble data volumes prioritizing speed over statistical accuracy which is not a problem in case of small accounts (the smaller an account, the least significant are losses due to statistical discrepancy).
Taking into account the introduction of Creative sets within the latest update of Apple Search Ads, the overall performance of this ad platform will grow. So it's definitely worth trying. SearchAdsHQ in its turn makes your Apple Search Ads experience as smooth as possible making this ad platform profitable at scale.
Maximize your Apple Search Ads ROAS with SplitMetrics Acquire
Request Demo