Apple Search Ads keeps proving itself to be an ad channel bringing high-value users. For example, JoyTunes, the company behind instrument learning apps, claims that the number of users upgrading from free to subscription is 2 times higher if they compare Apple Search Ads with any other paid channel.
Apple introduced Creative Sets earlier this year taking yet another step towards elevating Search Ads efficiency and App Store user experience. Creative Sets allow to align various app previews and screenshots to keywords that are relevant for a specific audience group. SearchAdsHQ is happy to announce that we support Creative Sets facilitating Apple Search Ads management.
Support of Apple Search Ads Creative Sets by SearchAdsHQ
Thanks to the latest update, SearchAdsHQ became the first Apple Search Ads manager with analytics on Creative Sets. Now within your SearchAdsHQ dashboard, you can see statistics on:
custom Creative Sets (the ones you create yourself);

default Creative Sets (created by Apple automatically).
If you have a SearchAdsHQ account, all your Creative Sets will be displayed in the dashboard right away. No extra steps needed for integration.
Your SearchAdsHQ dashboard will contain data on installs and post-install events if your attribution partner already supports Creative Sets. Most significantly, you'll grasp the big picture concerning Creative Sets performance as SearchAdsHQ calculates such crucial metrics as:
CPI;

Install Rate;

Cost per Goal;

Value per Goal;

Goals Total Value;

Goals ROAS;

Goals Repeat Rate;

Cost per Conversion;

Value per Conversion;

All Conversion Repeat Rate.
However, mind that in the case of Adjust, there will be some devices without this data, but their amount will decrease over time. The thing is they started supporting creative sets on June 12, 2018 at approximately 10 am, so any new SDK click which comes in will have these values, whereas devices who sent the SDK click before this time will not have the creative set data present and the placeholders will not be filled.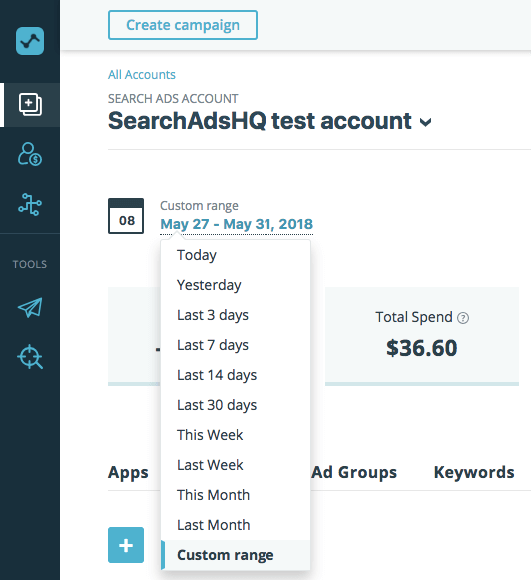 The work with data on Creative Sets is streamlined with advanced filters SearchAdsHQ offers. In addition to the custom time range, you can filter your sets and ad performance by such metrics as Creative Set name, Campaign, Ad Group, Spend, Impressions, Taps, CPT, TTR, CPA, Downloads, etc.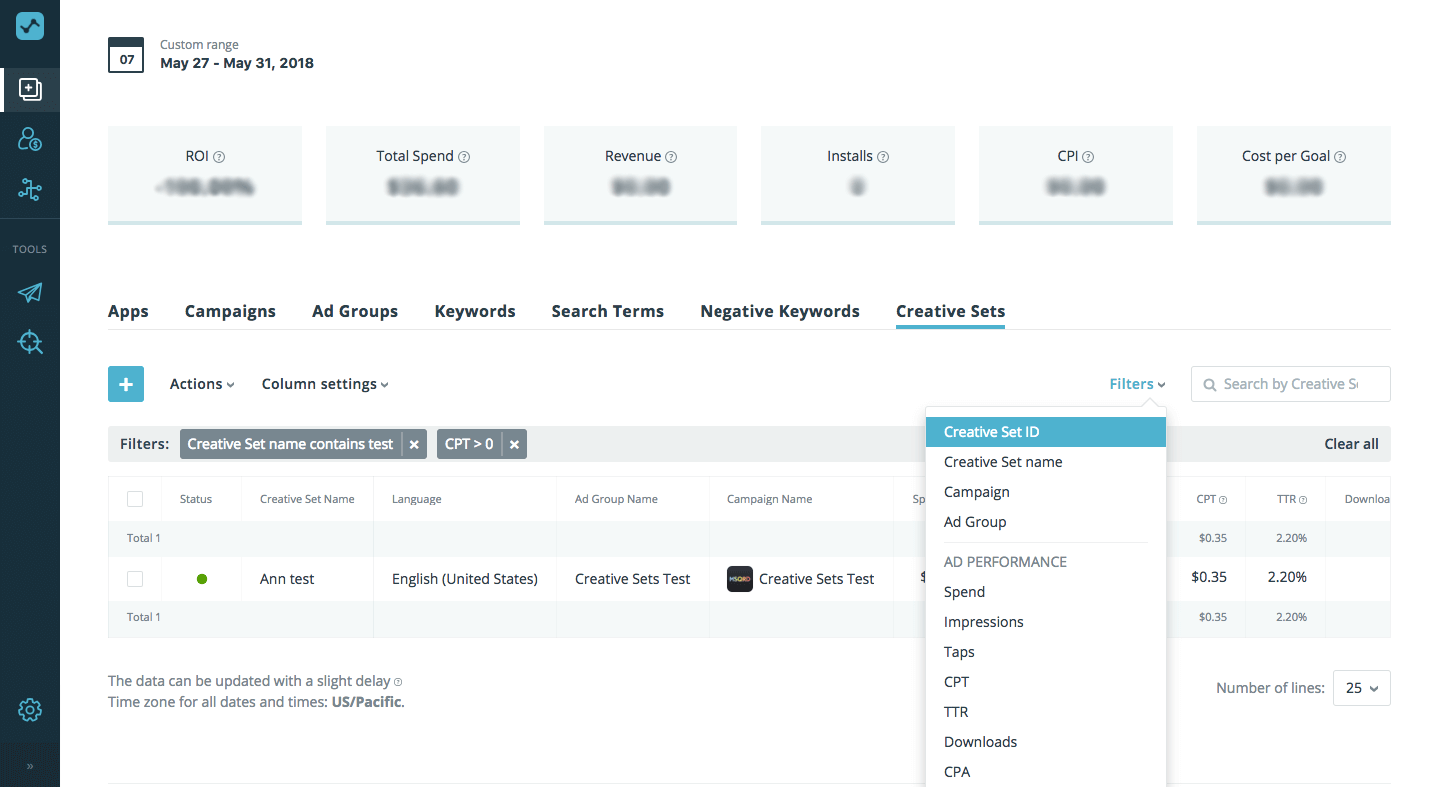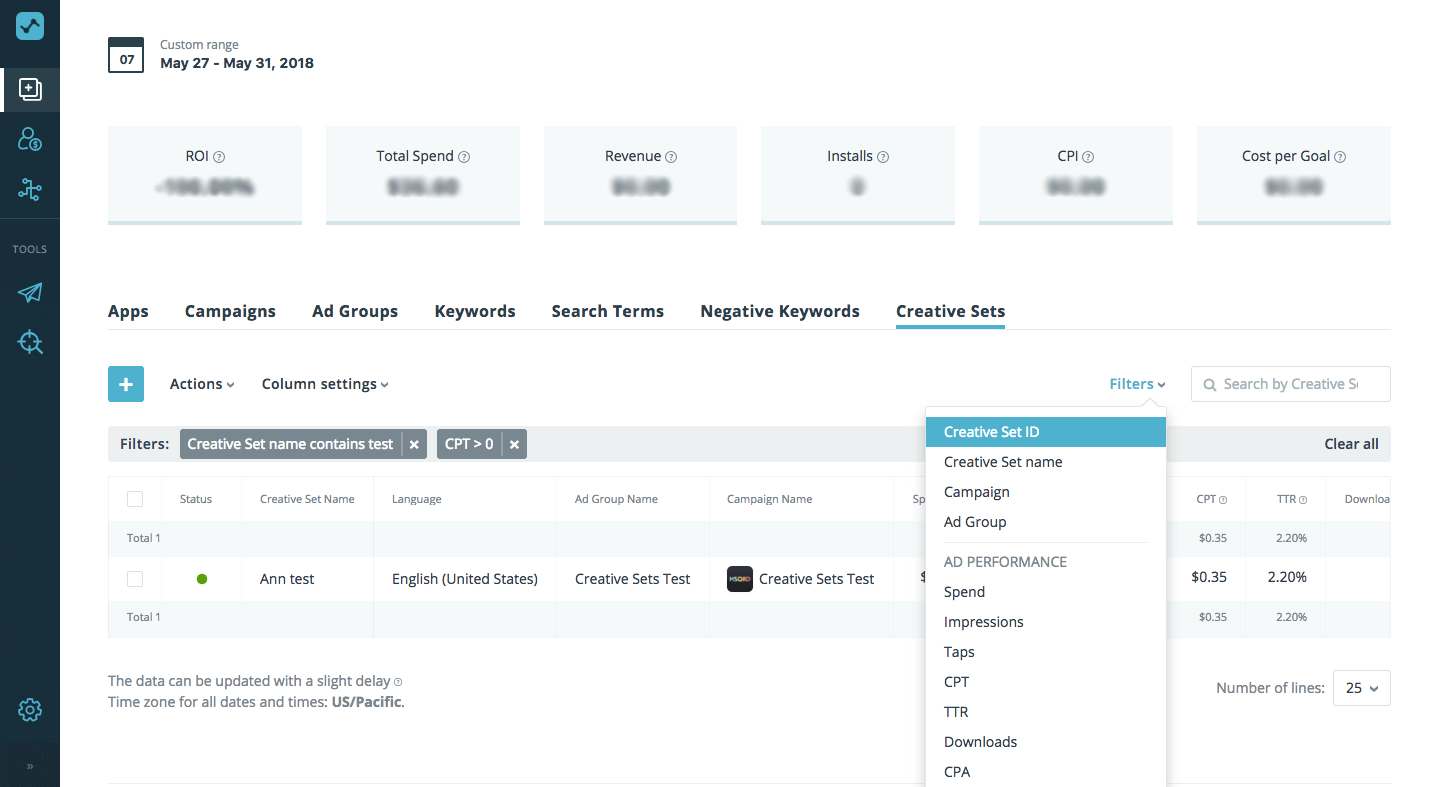 You can combine as many filters as you want to get all necessary information in a matter of seconds. Having Creative Sets statistics at your fingertips, you will be able to make only data-driven decisions and advance the overall efficiency of Apple Search Ads.
You can also customize the columns on your SearchAdsHQ dashboard to make Apple Search Ads management meet all your needs and focus only on the data that really matter to your business.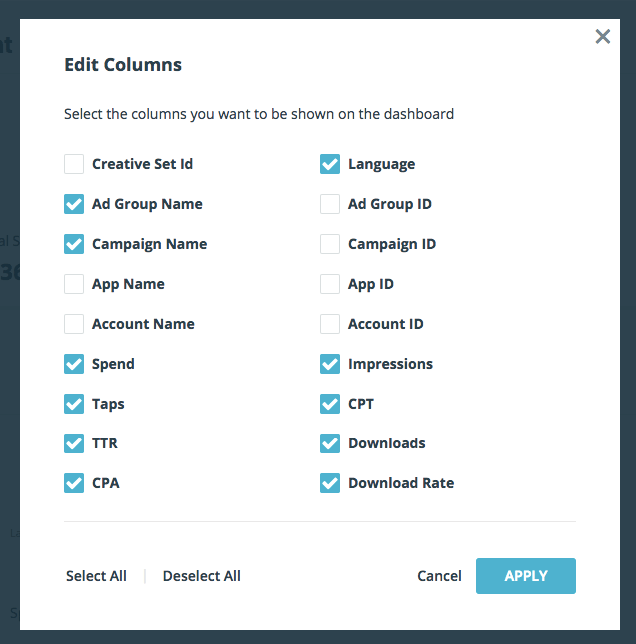 On top of that, you can also pause and activate Creative Sets right from SearchAdsHQ dashboard. However, mind that Apple doesn't allow to create, edit and delete Creative Sets outside Search Ads dashboard.
Apple also doesn't give access to the assets, so you can't work with visuals in SearchAdsHQ for now, only with names. Furthermore, Creative Sets don't indicate screenshots order even in Search Ads itself which may be confusing at times. That's why it's so important to pay close attention to naming your creative sets ensuring accurate reporting in SearchAdsHQ as well as in Search Ads.
Apple Search Ads is a high-intent in-store ad channel with a huge potential of empowering your acquisition strategy. It evolves constantly and the recent storefronts expansion proves it.
On the whole, the introduction of Creative Sets presents a massive Apple Search Ads improvement which makes ad banners relevant and targeted.
However, to use all Creative Sets opportunities to the full, app developers and mobile marketers have to play it smart. It's impossible without comprehensible statistics. That's where SearchAdsHQ comes into the picture.
SearchAdsHQ is determined to keep delivering the best solution for Apple Search Ads management. Our leading optimization software provides automation of routine tasks and ensures that you get only hi-quality and ROI-positive installs with minimum effort and human touch.
Maximize your Apple Search Ads ROAS with SplitMetrics Acquire
Request Demo