Emarketer says that $101 billion was spent on mobile ads globally last year.
Let's think about it – the sum is more than 5 times bigger than the corresponding one in 2012. Moreover, it's expected that the increase in mobile marketing expenses will continue even though its growth pace may decelerate a little.
In the context of dashing market evolution and severe competition, it's vital to identify the most effective mobile app advertisement methods for your application and keep up with mobile marketing trends as new ad channels – such as Apple Search Ads – appear.
So how do you do it, exactly?
Here are key tactics for choosing channels to advertise a mobile app and equip with the best possible mobile marketing sources and tools.
Mobile app advertising guide
How to advertise an app
How to market a mobile app? There are dozens of ways to advertise an app applying different mobile marketing strategies and best practices. However, most app publishers work with the following mobile app advertising channels:
Apple Search Ads is a straightforward and efficient way of advertising iPhone and iPad apps in the Store;
Traditional advertising: from media buying, in-app ads to discount offer in case of the app download.
App Store Optimization (ASO): it's not only about keywords optimization. There is always room for a Store page improvement. It's always a good idea to A/B test your screenshots, icon, short description, and other store elements;
Social Media: from organic Facebook, Twitter, and Instagram presence to paid ads on these social platforms;
PR: events (eg: launch party), interviews, guest blogging;
Influencer endorsements: advice from an opinion leader who most certainly aligns with your target demographic might be really powerful.
Mobile Marketing Basics: Essencial App Store Advertising Categories
App advertising tips: taking the first steps in mobile advertising might be hard and confusing. Hundreds of new developers wonder how mobile app ads work, how to advertise on Android apps most effectively, how to conquer Apple App Store or how to make the most of in-app ads. Luckily, there are plenty of mobile marketing platforms and tools which can help you operate customer involvement and monetization.
Apple Search Ads as a Key to the App Store Search Success
Apple announced App Store Search Ads launch along with iOS 10 emergence in 2016. Publishers finally got a chance to advertise their apps in the App Store itself. With no doubt, it's wonderful news as over 65% of downloads come directly from searches on the Store.
App Store Search Ads work principles are similar to Google Dynamic Search Ads. Eventually, your mobile app ads are shown on the top of App Store search results. It's fueled by Apple's algorithm which processes your app metadata and determines how relevant your mobile ad is to a store surfer's search query.
To learn how to start buying users within the App Store, you can enroll in our free Apple Search Ads course.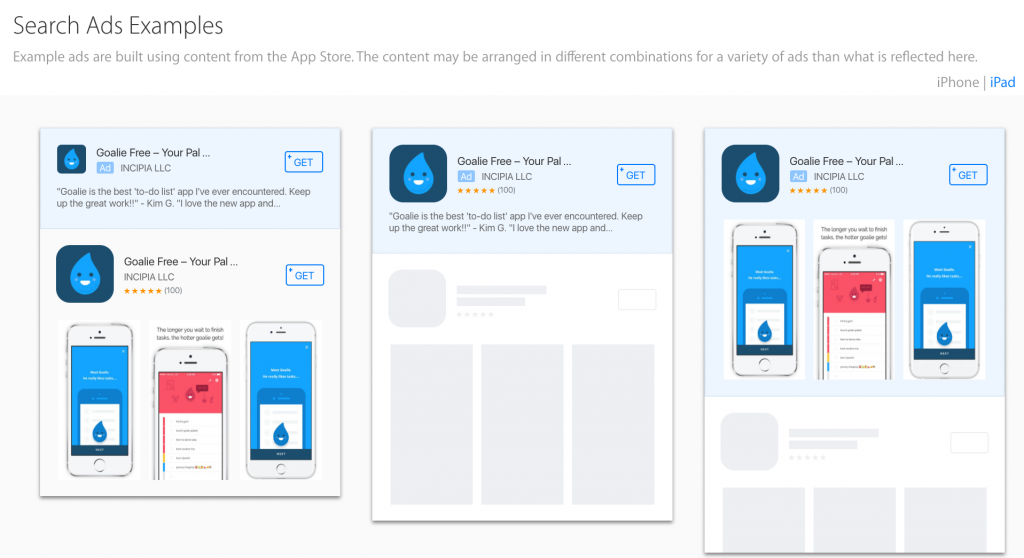 You can manually enter keywords which have passed Store battlefield test or use automatic Apple Search Match targeting method which is enabled by default. In fact, there are quite a few keyword expansion techniques.
Despite the fact the platform seems to be a reasonable channel to start investing in, Search Ads attracts a good deal of criticism for its unideal usability and quite limited functionality (including limited Apple Search Ads storefronts).
SearchAdsHQ addresses these issues offering a platform which integrates App Store advertising features, mobile attribution data, and analytics. The tool automates the deactivation process of ineffective and failing campaigns while qualifying efficient ones. It also offers cohort analysis, advanced filtering options, Apple Search Ads charts, automated CPA bidder, auto-rules, etc.
Against all odds, App Store Search Ads and SearchAdsHQ are the most advanced and promising mobile advertising methods for iOS apps. The platform became critical for mobile advertising on iOS devices showing impactful CPI rates. Being the only App Store advertising platform, Apple Search Ads gives new apps an unprecedented chance of competing with major players and fighting for qualified downloads from the App Store. Taking into consideration that iOS users are generally thought to be the most active mobile users, it's worth implementing App Store Search Ads into your mobile app marketing strategy while it's still a hot new thing.
Mobile Marketing Basics: Mobile Advertising Servers and Supply Side Platforms (SSPs)
Who's here?
AdMob by Google;
Appodeal;
MoPub, etc.
Supply-side platforms automate ads selling process, they basically bring advertising space sellers and buyers together. SSPs act as a mediator which helps negotiate the highest possible price for mobile advertising space, it's possible thanks to real-time bidding (automated auctions).
Why is it beneficial for advertisers (mobile apps publishers and developers) then? Well, they can identify price range, so there's no way their app advertising cost will exceed mobile marketing budget. Plus SSPs provide essential campaign metrics which can be used in the future advertisement for apps.
Let alone transparency, time-saving and advanced efficiency of the advertising process within your mobile marketing strategy.
Mobile Marketing Basics: Mobile Affiliate Networks
Who's here?
App Store Affiliate Programme;
Amazon Mobile Associates API;
ClickDealer;
Cheetah Media Link, etc.
Mobile affiliate networks act as an intermediary for mobile app developers and performance-based advertising platforms.
Generally, there are three main mobile affiliation players:
network (platform itself);

advertiser (mobile app developer, publisher);

ads space seller (webmaster or social media group owners).
A network searches for advertisers, choosing correspondent ads space, and paying a fee to advertisement space sellers. An advertiser in its turn forms an advertising offer. Consequently, ads space sellers publish relevant advertising on their website.
Mobile affiliate networks advertising works according to one of these performance-based models:
Cost-per-action (CPA) model: media buyers are rewarded in case of mobile app installs or other in-app events;
Revenue Sharing model: media buyers take earnings portion that they gain for advertisers.

Mobile Marketing Basics: Mobile App Install Platforms
Who's here?
AppLovin;
Clickky;
Google Universal App Campaigns;
ChartBoost;
Facebook App Install Ads, etc.
When it comes to mobile app installs increase such platforms as Google Universal App Campaigns, Facebook App Install Ads, and others go to bat for publishers.
All App Install Platforms are performance-based which means a publisher pays solely upon their mobile app install or after certain in-app events. This model can be formularized as CPI = Cost/Number of Installs.
Anyways, this effectiveness of App Install Platforms can be costly (somewhere from $3-10 per action). In addition to the above, mobile marketing specialists get way less control over traffic efficiency and caliber.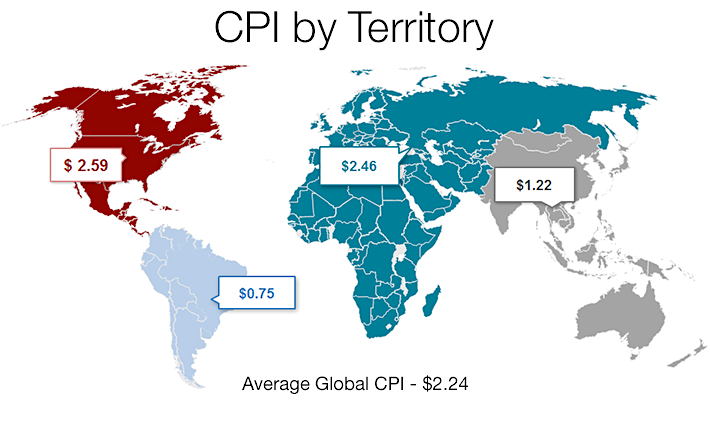 Such advertising tools and platforms abundance make life easier there is no denying. On the other hand, it's easy to find yourself in a tangle trying to figure out how to advertise apps in the best possible way.
However, Facebook advertising, App Store Search Ads, and in-app advertising stand out among all available options because of their laser focus targeting, potency, and visual appeal. Millions of successful campaigns worldwide prove them to be worth trying.
Check the Guide on how to reduce CPA and CPI for your mobile app here.
How to Advertise an App on Facebook
Lots of publishers still opt for Facebook despite the exuberance of mobile advertising platforms. It's hardly surprising as Facebook can boast impressive targeting potential and enormous user base (more than 700 million mobile users every day).
For sure, such platforms as AdWords and Twitter enjoy the attention of considerable part of mobile marketing specialists and have certain advantages over Facebook. For example, AdWords can boast excellent timing of advertising impression, banners appear when a customer is looking for something related. Twitter in its turn offers better average click-through rates.
Nevertheless, mobile apps advertised on Facebook show great results. Facebook remains one of the best ways to advertise an app due to:
the number of active users;
cost-effective bidding prices and impressions;
larger reach for a much better price;
impressive average engagement rate;
powerful overall traffic referrals;
amazing optimization for mobile.
Ads creation is a matter of minutes but there should be no rush, publishers are to act reasonably to create a killer advertising campaign and therefore minimize advertising costs.
Advertising on Facebook has 3 principal formats:
Advertising on the right side of News Feed;
News Feed Ad on a Desktop;
Mobile News Feed Ad.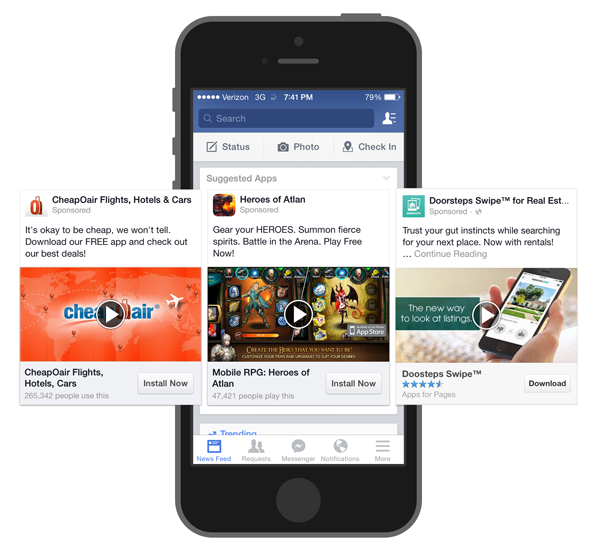 Video or photo in-app advertising can take many forms all of which are characterized by visual aspects, relevance, utility, and call-to-action. The most popular and effective ones are:
multi-product advertising

which demonstrates several products or services within a single ad;

local ads

is an excellent option for enterprises with a physical location;

event advertising

boosts certain occasion and events;

the retargeting ad

which is based on users' recent search requests;

boosted post

which started as an organic one on the company's Facebook homepage and eventually was promoted.
A massive Facebook mobile advertising campaign might remind gambling as it has the potential of turning into a budget-draining disaster. To play it as safe as possible a publisher has to be smart. Here are a few tips on how one can make the most of their Facebook ad campaign.
Inspect your perfect users thoroughly
For a successful mobile advertising campaign, you need to literally take roots in demographics, interests, and behaviors of your users. Narrow down this portrayal as much as you can. Don't forget people who are curious of your competitors.
Use catchy content for app advertisements
Catchy image or video is the most important attention grabber once your advertising campaign is live. There are three mobile marketing pillars of a smashing image: eye appeal, relevance, and high quality. It's also preferable to diversify in-app ads layout for different apps, apply hacks that work for a specific category.
Make mobile application advertisement text speak
Excellent text is another mobile advertising success core ingredient. Highlight the features your users love the most, use capitals in moderation and don't forget about the call to action.
Let's deconstruct a fine example of Facebook mobile in-app advertisement.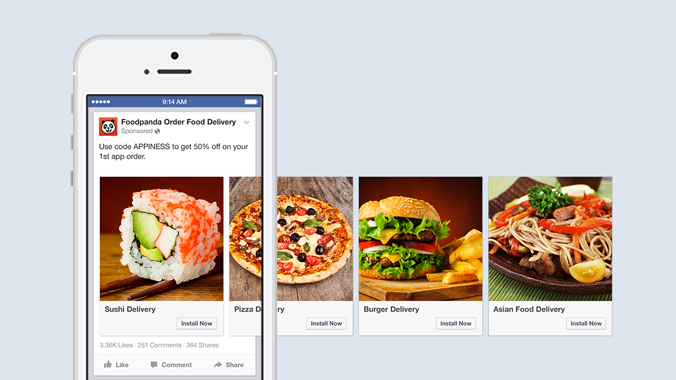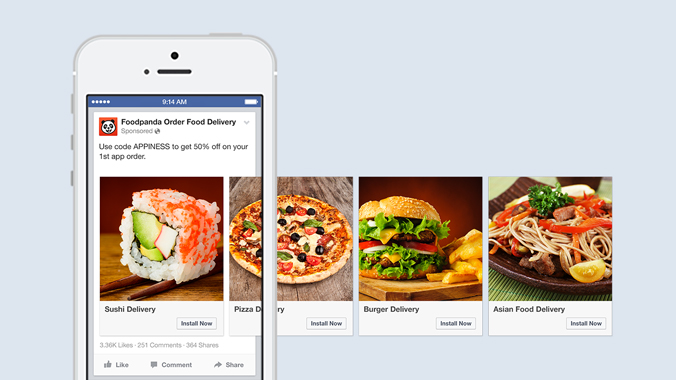 This mobile ad showcases the service without losing cohesiveness. The publisher didn't miss the opportunity of using 4 images with different headlines on a carousel.
The banner is quite effective thanks to minimal pictures, consistent colors, and suitable text which define what kind of meal can be delivered by the service. 50% discount is an incentive used in ad body to trigger the download, as it gives a clear benefit to a user.
What You Need to Know about In-App Advertising
In-app advertising comes into sharp focus in the light of the latest studies. Forbes states that in-app ads click-throughs rate exceeds the mobile Web one (0.58% compared to 0.23%). Moreover, time spent on mobile apps growth constantly.
That's why it's important to learn how to advertise on mobile apps. There are several types of in-app advertisements developers can use:
Static or animated in-app banner

is the cheapest option which can be used on any screen. It can be integrated without particular efforts. Unfortunately, this in-app ad format lacks efficiency and usually falls a prey to "banner blindness" syndrome;

Interstitials

are in-app ads covering the entire device screen providing more space for a broader message. It draws attention thanks to interactive media content and highly proficient visuals, videos, store locators, etc. All these results in impressive in-app ads conversion and impressions rate. There is a drawback though, this in-app advertising format is slightly intrusive;
Expandable in-app ads

combine two previous types, a banner turns into an interstitial upon user's click. It is highly informative without being too intrusive. On the other hand, these in-app ads may be confusing for some inexperienced users.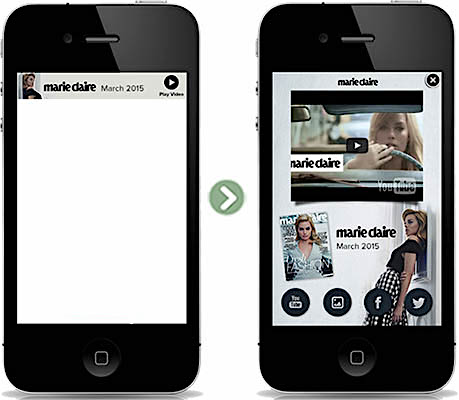 In-app video ad

is one of the most popular and effective formats of last years. It's entertaining and highly engaging. Conversely, the production cost of this in-app advertising is high and some users find it distracting when a video is placed incongruously.
Native in-app ads

can take any form or size, this kind of mobile ad is integrated into an app thus customers treat it as a part of usage flow. This seamless user experience results in better ad engagement and click-through growth. Nevertheless, in-app ads adaptation takes a lot of work and consideration due to loads of possible options.
Choosing the rights in-app ads partners is the first thing publishers should take care of once they decided to advertise in mobile apps. This predetermines the fate of ads success within your mobile marketing strategy. Certain aspects are to be considered during decision-making process:
how a mobile ad network sources its inventory for in-app ads;

can a partner reach your target audience via in-app advertising;

how they deal with click fraud advertising in apps;

preferable in-app cost model (CPM, CPC or CPA);

whether partner's information on audience segments is updated for your in-app ads;

which algorithms are used to target users of your interest within in-app ads campaign;

partner's privacy policy regarding in-app advertising;

what kind of in-app ad units can be used (video, banners, interstitials, etc.);

whether partner provides dashboards or app analytics.
Another secret behind in-app ads is geo-targeting which predetermines core audience reach. Data access and its applicability across the ecosystem is another key to in-app ads productivity besides enhanced location insights.
What concerns in-app advertising cost 'Kenshoo Mobile App Advertising Trends Report' asserts that average in-app CPM for both android & iOS amounts to about $5 while average in-app CPC is about $.4. A price of installs generated by in-app banners is usually lower but it brings slightly untargeted users. Furthermore, according to HootSuite 54% of users don't find such in-app banners credible enough to click.
Yet, little by little users become jaded with thoughtless in-app advertising. Don't forget about the importance of in-app ads relevance to secure from annoyance and interest loss.
Mobile Marketing Basics: How to Track Mobile App Ads Efficiency
Every mobile marketing specialist searches for the most effective ways of mobile advertising there is no denying. These insights are essential for boosting in-app purchases, establishing users loyalty, targeting application advertisements better, and distributing marketing budget proficiently.