Holidays and festive periods are a fantastic opportunity to build a connection with an audience from any market on the App Store. Appealing to shared values and making your app culturally relevant has the potential to positively impact all key performance metrics.
Holidays bring increased search volume, as many customers come to the App Store with a higher intent of discovering new apps or re-engaging with previously downloaded ones. It's the best time for app developers to find a connection with their audiences through relevant imagery and build it utilizing a multitude of strategies, involving multi-placement campaigns in Apple Search Ads, custom product pages & more. In this article, we provide extensive advice on both of these activities:
This article provides a comprehensive overview of holidays and important events on the App Store. For an easy start, we're focusing on those popular in the USA and taking place during the fall & winter. We will share insights on more markets in the future though, as most (if not all) app developers target a variety of countries and regions with the intent of acquiring new users. Make sure to follow us on LinkedIn, Facebook or X to not miss any updates to our blog.
This guide includes design outlines ready to be implemented on app product pages, custom product pages and for in-app events. It also contains information important for planning & scheduling Apple Search Ads campaigns and organizing the workflow, collected by experts from SplitMetrics Agency. Additionally, we share resources, insights and tips useful for all ASO & Apple Search Ads activities related to holiday campaigns. You'll also find unique ways our app growth ecosystem – SplitMetrics Acquire and SplitMetrics Optimize can help you take the most out of the opportunity that holidays offer.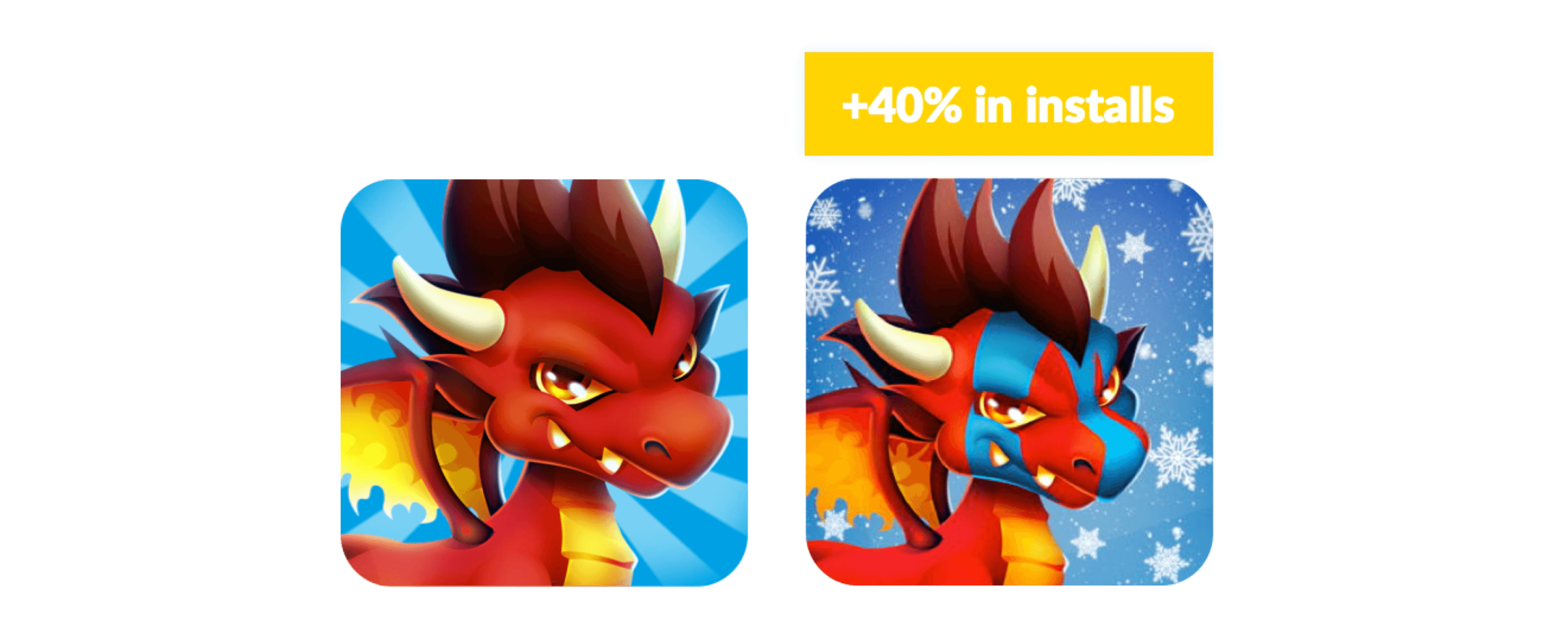 Holidays matter, as a simple change of icon can boost installs by 40% (as proven by our own A/B tests run with our platform SplitMetrics Optimize) or lift conversion rate by over 9% — as evidenced by the case study of MyTona.
"Any app developer can achieve stellar results during the holiday season, provided they take full advantage of all the possibilities offered by Apple Search Ads. For example, holidays are a fantastic opportunity to utilize custom product pages. Use them to direct users to a destination matching the specific holiday theme, incorporating relevant imagery, colors and keywords."
The USA is a market really worth fighting for, with total revenue in the app market close to $156.20bn in 2022 and projected annual growth rate (CAGR 2022-2027) of 9.53%, boosting that value to $256.90bn by 2027, according to Statista. Let's take a closer look at the USA and its holidays.
The USA: Market Highlights, Opportunities & Considerations
Total app revenue in the USA is impressive on its own, but from a practical point of view some more granular metrics paint a more complete picture of the American market and its importance to app developers worldwide.
Close to 50% of that revenue comes from games (source: Statista), a category for which holidays can be especially important for user acquisition. Additionally, out of the $155.20bn mentioned above, over $55.90bn was generated through monetization methods other than in-app advertising. This means a high potential for generating a lucrative revenue stream during seasonal in-app events.
This potential draws app developers from all around the world. It's a highly sophisticated market that ranks first in terms of attained conversion rates (66.26% in 2022) and tap-through rates (8.37% in the same year) according to our data collected for the SplitMetrics' Apple Search Ads Search Results Benchmarks Report. Operating on this market requires a really advanced and strategic approach, with marketers frequently adopting cutting-edge optimization technology and insights.
The USA: Seasonality Highlights
Holidays celebrated in the USA are globally recognized, with Halloween, Valentine's Day and Santa Claus imagery appearing on App Store product pages in many countries.
Holidays are a significant part of seasonality on the App Store, contributing to fluctuations in user activity and user acquisition costs, in addition to category-specific and app-specific factors. Here's a timeline showing important holidays throughout the year: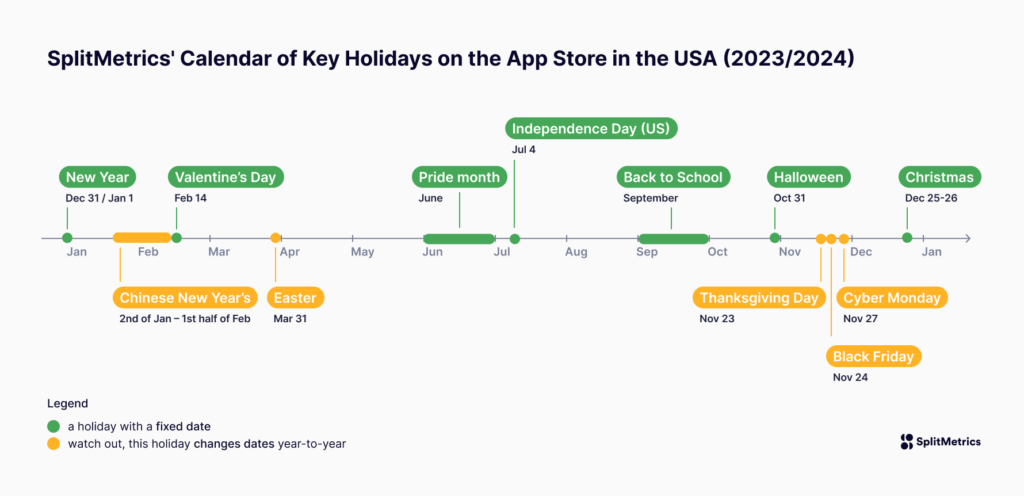 Closer examination of fluctuations of CPT and CPA values does show significant changes, as shown on a chart from our Apple Search Ads Search Results Benchmarks Report.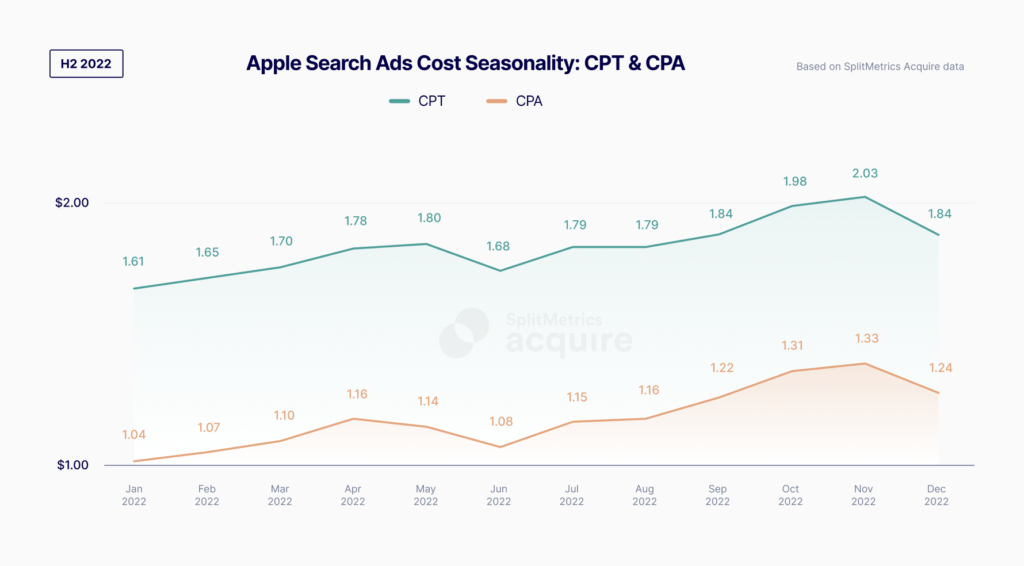 Notice the increase in CPT and CPA values in the second half of the year. Remember, that actual promotions start before the official date of a given holiday, thus the steady increase begins earlier.
"Amplifying user acquisition during holidays goes beyond designing relevant imagery. It's a very busy period, during which we observe a significant traffic increase on the App Store. Review your budget, adjust your bids and expand your campaigns with multiple placements to maximize your reach and connect with users throughout their holiday journey. With more free time on their hands and intent to discover new apps, they will be more likely to engage with you campaigns."
Holiday campaigns need preparation, but it's an effort that can really pay off. Don't feel discouraged by the scope of work. In this article, we'll share many tips that can make it perfectly manageable. Additionally, our platform can help you to take care of all their aspects in advance, with automation, insights and much more!
Get ready for any holidays!
Use automation, CPP insights & keyword tools
Request Demo
Finding a Connection: an In-Depth Look at Holidays in the USA on the App Store
In this chapter, we'd like to share practical tips for design & communication. Each of the holidays has key design elements associated with it, as well as its own unique, recommended color palette. These will be relevant to your product page and custom product page design, as well as planned in-app events. We break down each event by these criteria:
Duration time: time period when given holidays take place;
Campaign duration: time when you'll be running campaigns in Apple Search Ads;
Most relevant categories: categories most likely to embrace a given holiday.
Remember, promotional activities always begin before the event happens and sometimes last for some time after it ends. Therefore, preparing a holiday update and campaigns calls for tight planning:
"For a comfortable and effective workflow, identify target holidays 1-2 months in advance of any promotional activities. Remember that those frequently start even 1 month before the actual event takes place.

This approach should give you enough time to design all necessary elements for your app's product page, custom product pages, as well as in-app events. Make sure to start early before the last quarter's biggest events: Halloween, Christmas & New Years Eve, as well as Black Friday and Cyber Monday. This will give you the time to conduct any A/B tests.

You also need time to review your budgets and plan bid adjustments. Don't leave those for the last hour.
Take a look at the infographic below: it shows key holidays discussed & mentioned in this article, with recommended workflows shared by Apple Search Ads and ASO specialists. Use it to plan your work, keeping in mind advice shared by Yulia above. For your convenience (so you can start planning right away), we've started with the holidays that are just around the corner and went into 2024: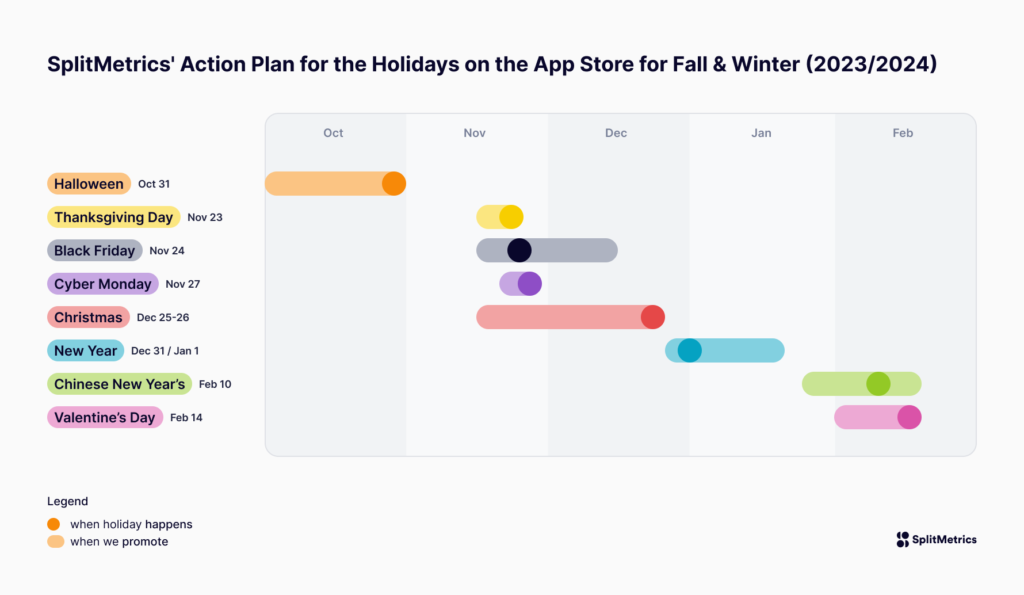 Now we are ready to examine key holidays and seasonal events from the US market on the App Store. Here's a list of the most important ones, starting with this month, up until the end of winter.
Halloween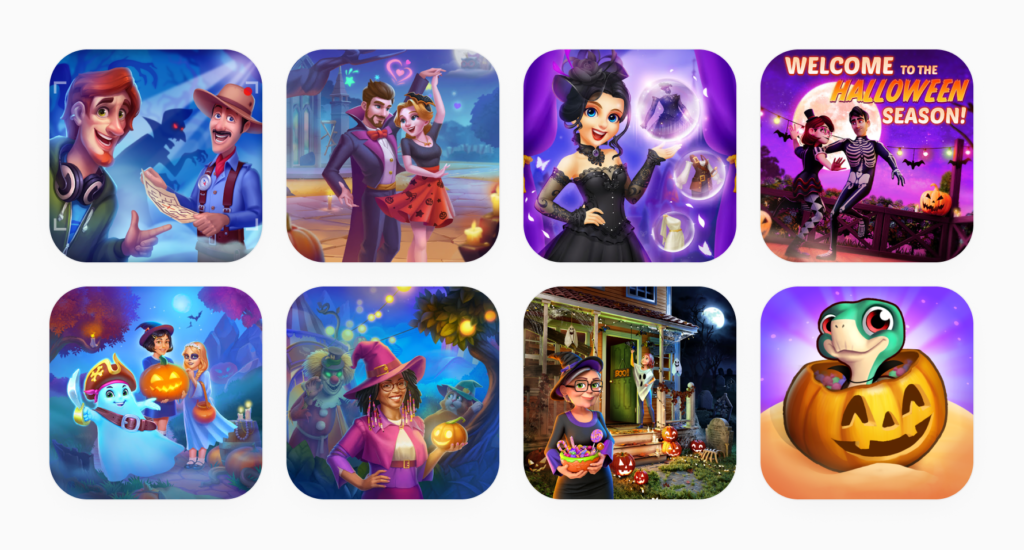 Halloween is one of the most important and noticeable festive periods on the App Store, frequently utilized beyond the USA. It has a wide range of design elements associated with it, but their popularity changes year-to-year:
Key design elements: Feature Halloween-themed symbols like pumpkins, ghosts, bats, witches, skeletons, snakes, black cats, spiders, and spider webs. Explore elements that create a glow-in-the-dark illusion.
Recommended color palette: Embrace a dark color scheme with shades of black, orange, purple, green, and eerie red tones to evoke a spooky and mysterious atmosphere. Enhance with neon or metallic highlights for extra impact. Enrich your designs with backgrounds like haunted houses, graveyards, or moonlit forests to set the scene. Adding texture overlays such as fog or cobwebs can provide depth and intrigue to your visuals.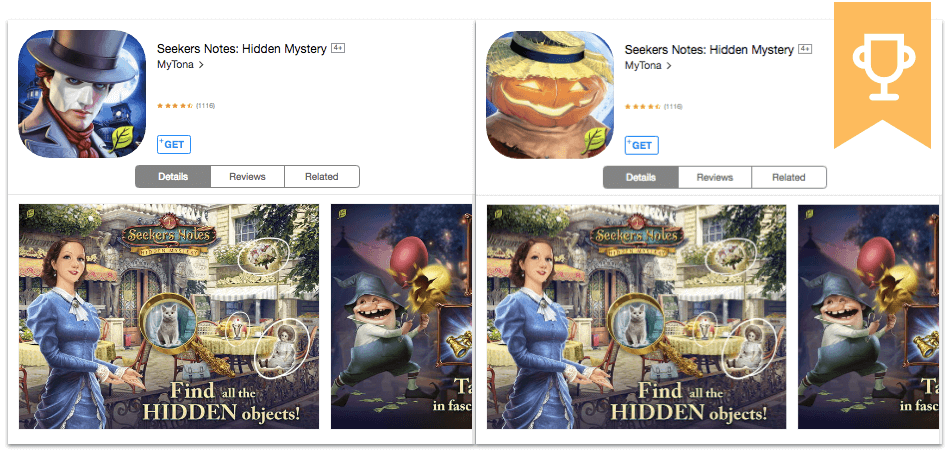 Holiday-themed updates definitely work, but remember that even within a given holiday, design trends change. Pumpkin heads definitely had their time and there was a year when witches in fancy hats outperformed other design elements. Our most recents tests, run in the first week of October 2023 show that witches might be the key again, as well as dark color palettes.
Make sure to start your campaigns in advance. This will leave you time to devote the first two weeks to A/B tests, which will help you achieve maximum possible conversion rates.
Best A/B testing for holidays
Try SplitMetrics Optimize
Request Demo
Thanksgiving Day
| | |
| --- | --- |
| Event date: | Fourth Thursday in November (varies), November 23rd in 2023 |
| Promotional activity: | Second half of November, until the 24th |
| Most relevant app categories: | Games, Lifestyle, Education |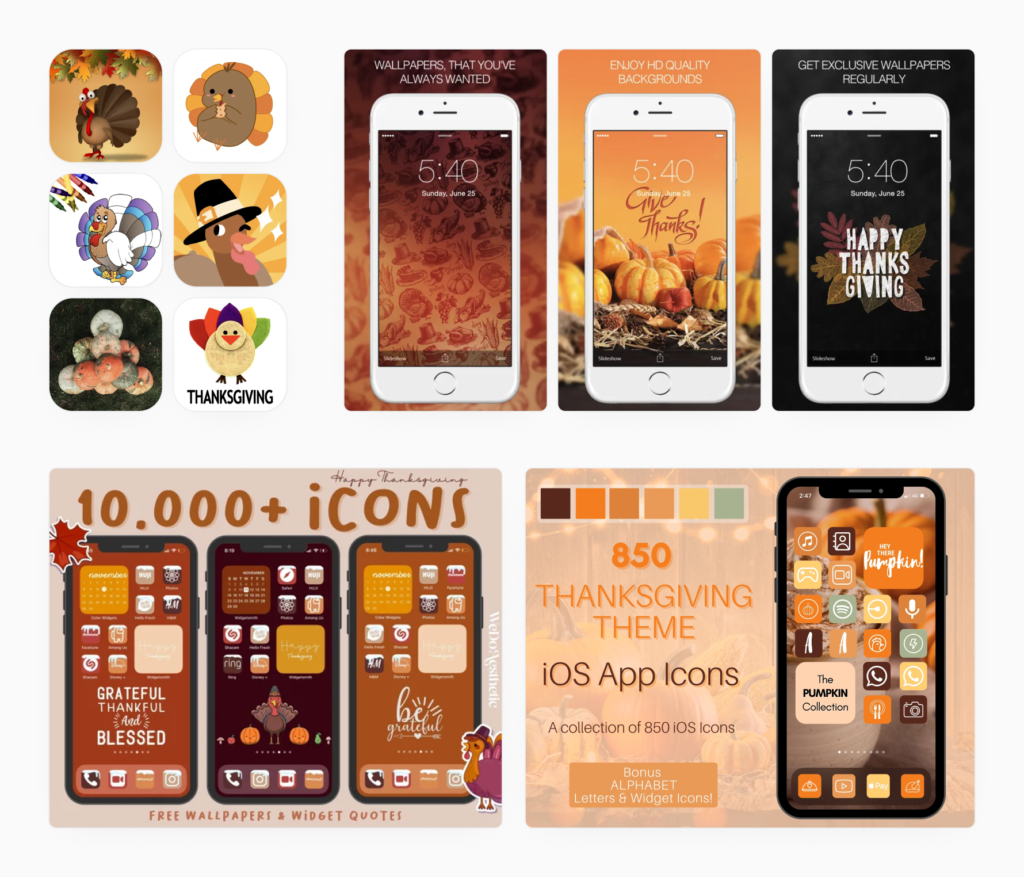 Thanksgiving Day is a national holiday celebrated primarily in the United States and Canada. In the United States, Thanksgiving is celebrated on the fourth Thursday in November. Thanksgiving is a time for people to express gratitude and give thanks for the blessings of the past year.
Key design elements: Replace standard icons and buttons with Thanksgiving-related symbols, like turkeys, pumpkins, autumn leaves, or cornucopias, wreaths, or table settings.
Recommended color palette: Use a color palette that reflects the warm and cozy atmosphere of Thanksgiving, with earthy tones like oranges, yellows, browns, and deep reds.
Black Friday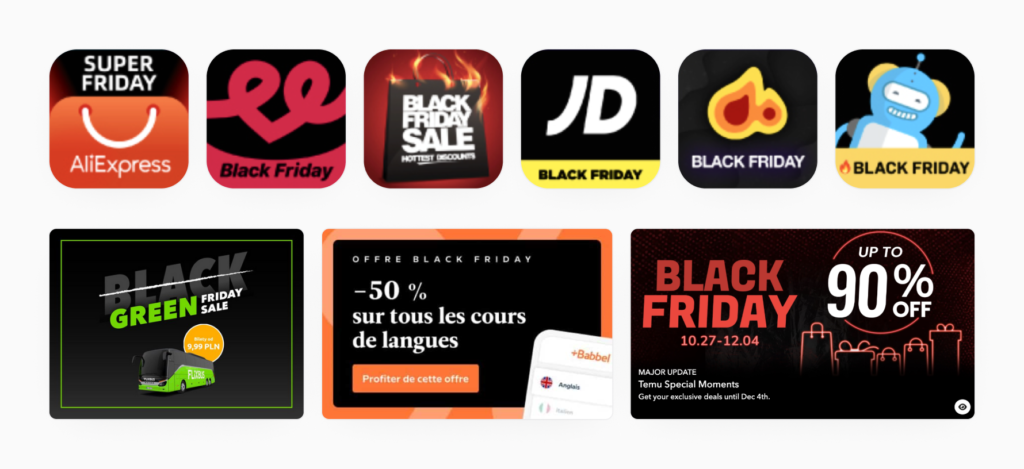 "Remember, that text is also an integral part of the design. Black Friday and Cyber Monday are two examples where proper copy is essential. Use bold fonts and vibrant colors to make call-to-action messages like "Shop Now", "Save", "Claim the Deal" create a sense of urgency and be immediately visible".
Black Friday is an annual shopping event that takes place on the day after Thanksgiving in the United States. It marks the unofficial start of the holiday shopping season, during which many retailers offer significant discounts and promotions on a wide range of products.
Key design elements: craft concise and persuasive headlines and taglines that effectively convey the value of your Black Friday deals. Make use of bold fonts and contrasting colors to ensure the text stands out. Utilize high-quality product images and visuals that prominently showcase the items available for sale. Incorporate images of people enjoying these products to establish an emotional connection with your audience. Implement countdown timers to generate a sense of urgency, notifying customers of the remaining time to seize your Black Friday deals. Utilize action-oriented language such as "Shop Now," "Get the Deal," or "Save Big." Stress that these Black Friday deals are time-limited, and employ phrases like "One-Day Sale" or "Limited Quantities" to intensify the sense of urgency.
Recommended color palette: stick to a predominantly black color palette for your Black Friday design to convey elegance and sophistication while maintaining a focus on your exclusive deals and promotions.
Cyber Monday
| | |
| --- | --- |
| Event date: | November 27th |
| Promotional activity: | Friday-Monday (November 25-27) |
| Most relevant for app categories: | Shopping |
"Cyber Monday falls in close proximity to Black Friday. In practice, the approach to both holidays is pretty similar. The creatives can be very similar, but with varying captions. Some publishers run campaigns only for Cyber Monday, ignoring Black Friday, and vice versa. The choice of a particular day is frequently a matter of app-specific factors (like available products). Additionally, custom product pages can be utilized to take advantage of both events, or they could be merged into one."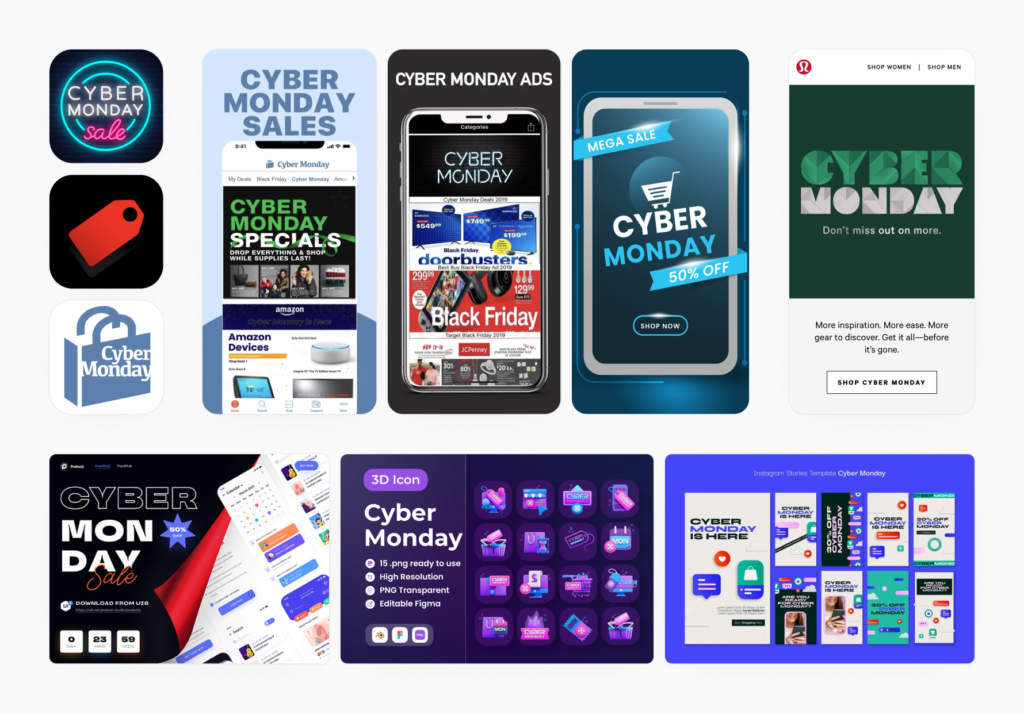 Cyber Monday is an online shopping event that takes place on the Monday following Thanksgiving in the United States. It was created as a counterpart to Black Friday.
Cyber Monday is geared toward online shopping, and it offers consumers another opportunity to find discounts and deals, especially on electronics, gadgets, clothing, and other products. Retailers and e-commerce websites often provide special promotions and price reductions for this day to entice shoppers who prefer or are looking for online shopping options.
Key design elements: emphasize discounts and bonuses prominently in your design to attract users' attention. Integrate Cyber Monday-related symbols such as shopping carts, discount tags, or computer mouse pointers into your icons and buttons. Include countdown timers for special Cyber Monday deals within the app to create a sense of urgency and drive user engagement. Design a unique app icon for Cyber Monday that features elements like a shopping bag, computer, or a "SALE" tag to signify exclusive deals. Create visually appealing banners and graphics for your app or game to promote Cyber Monday sales effectively. Employ bold fonts, vibrant colors, and clear CTAs (Call to Actions).
Recommended color palette: opt for a color palette that aligns with the energetic Cyber Monday atmosphere, including bold and vibrant colors such as red, blue, and green. Utilize complementary colors and gradients for a visually appealing design. Incorporate high-contrast elements to ensure key information stands out effectively, using combinations of light and dark shades. Consider using metallic or glossy finishes to add a touch of sophistication to your design.
Christmas

Christmas is probably the biggest holiday on the App Store, rivaled only by Halloween. It's importance is evidenced by the fact that app developers frequently test their "Christmas makeovers", to verify which of the popular elements associated with this holiday are on-top this year.
Key design elements: Incorporate seasonal elements in your game, such as virtual gifts, holiday costumes, or special seasonal power-ups. Embrace Christmas-related symbols like snowflakes, Christmas trees, ornaments, presents, Santa Claus, reindeer, wreaths, lights, and stockings.
Recommended color palette: Create a vibrant color palette that mirrors the joyful spirit of Christmas, featuring bright reds, greens, golds, and whites to infuse your game with a festive atmosphere.
"Similar to Halloween, the popularity of certain design elements changes over time for Christmas. Sometimes Santa's hats improve performance, sometimes gingerbread people."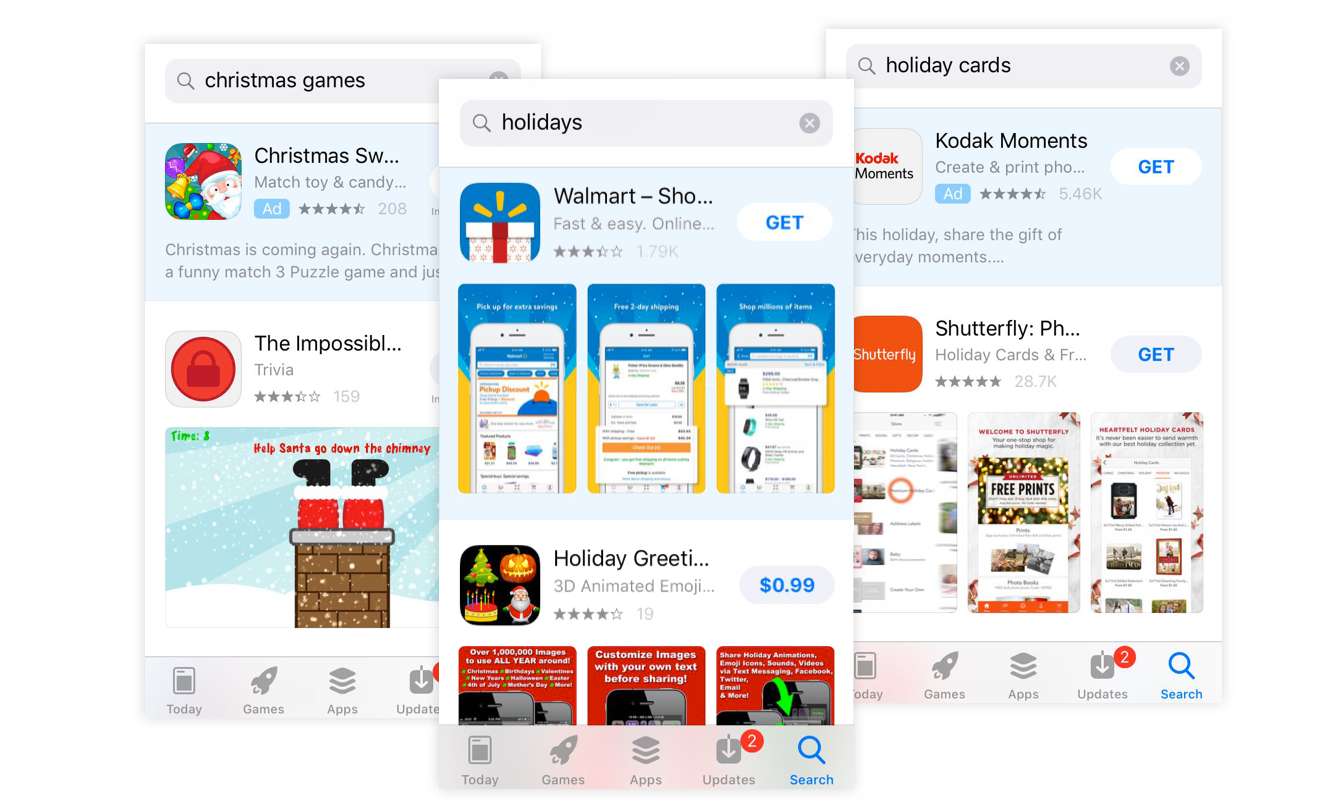 New Year's Eve
| | |
| --- | --- |
| Event date: | December 31st – January 1st |
| Promotional activity: | December 26th – January 20th |
| Most relevant app categories: | Games, Entertainment |

New Year's Eve celebration comes just a few days after Christmas, the biggest festive period on the App Store in the United States. Promotional activities for this period are sometimes extended well into January, to highlight special offers for the new year.
Key design elements: Infuse your designs with festive elements like fireworks, confetti, champagne glasses, party decorations, snowflakes, and Christmas trees to capture the celebratory spirit of New Year's Eve. Include symbols associated with the New Year, like clocks striking midnight, calendars flipping to January 1st, or the upcoming year number "202X."
Recommended color palette: Opt for a lively color scheme featuring gold, silver, and midnight blue to establish a glamorous and celebratory atmosphere. Enhance your visuals with text effects like gradients, metallic finishes, or sparkles to add a touch of elegance and excitement to your New Year's Eve designs.
Chinese New Year's Eve
| | |
| --- | --- |
| Event date: | February 10th 2024 |
| Promotional activity: | January 25th – February 14th |
| Most relevant app categories: | Games |

The Chinese diaspora is the ninth largest in the USA, with a population of around 5.4 million. Their presence in the country isn't the only reason the Chinese New Year, also known as the Spring Festival, is celebrated in the United States. The holiday is colorful and blissful enough to be attractive to a wider audience. Hence its increasing prominence on the App Store in a wide range of categories.
Key design elements: Celebrate with fireworks and firecrackers to mark the occasion. Include traditional elements like dragons and lions in your designs. Decorate with auspicious items such as couplets with well-wishing phrases, paper-cuttings, and images of deities. Incorporate traditional Chinese clothing like qipao for women and changshan for men to capture the essence of the holiday. Utilize the beauty of red packets (hongbao) adorned with the Monkey King cartoon and decorated with Chinese characters symbolizing prosperity, health, a happy New Year, good luck, and more to create a festive ambiance.
Recommended color palette: Embrace the color red, symbolizing good luck, happiness, and prosperity. People dress in red, adorn their homes with red lanterns and couplets, and exchange red envelopes (hongbao) containing money as gifts.
Valentine's Day

Key design elements: Replace standard icons and buttons with Valentine's Day-themed elements like hearts, roses, or cupid arrows to infuse a festive ambiance into your app or game. Craft attention-grabbing banners or pop-ups to promote exclusive Valentine's Day offers, discounts, or bundles for in-app purchases. Create background images or themes that depict romantic scenes, such as candlelit dinners, starry skies, or loving couples, to enhance the Valentine's Day atmosphere. If your app or game incorporates characters or avatars, consider outfitting them in Valentine's Day attire or accessories to elevate the user experience.
Recommended color palette: Embrace a color palette centered around the romantic theme, utilizing red, pink, and orange hues and their various shades to create a warm and inviting atmosphere that perfectly complements the spirit of Valentine's Day.
How to Discover Even More Opportunities?
Holidays listed above are not all that an app developer can use to find a meaningful connection with an audience. A lot depends on what your app does and how it fits within the scope of a given holiday. For example, take a look at the following seasonal events and holidays that are expected in the autumn in the US:
Breast Cancer Awareness Month: October
Movember (Men's health awareness Month): November
Veterans Day – November 11th
Giving Tuesday: Tuesday after Thanksgiving, promoting charitable giving
Small Business Saturday: Saturday after Thanksgiving, supporting local businesses
Small Business Saturday can be relevant to many Travel apps. Breast Cancer Awareness to Health & Fitness apps for women. Discovering what is relevant to your app requires systematic research and a good understanding of each category on the App Store.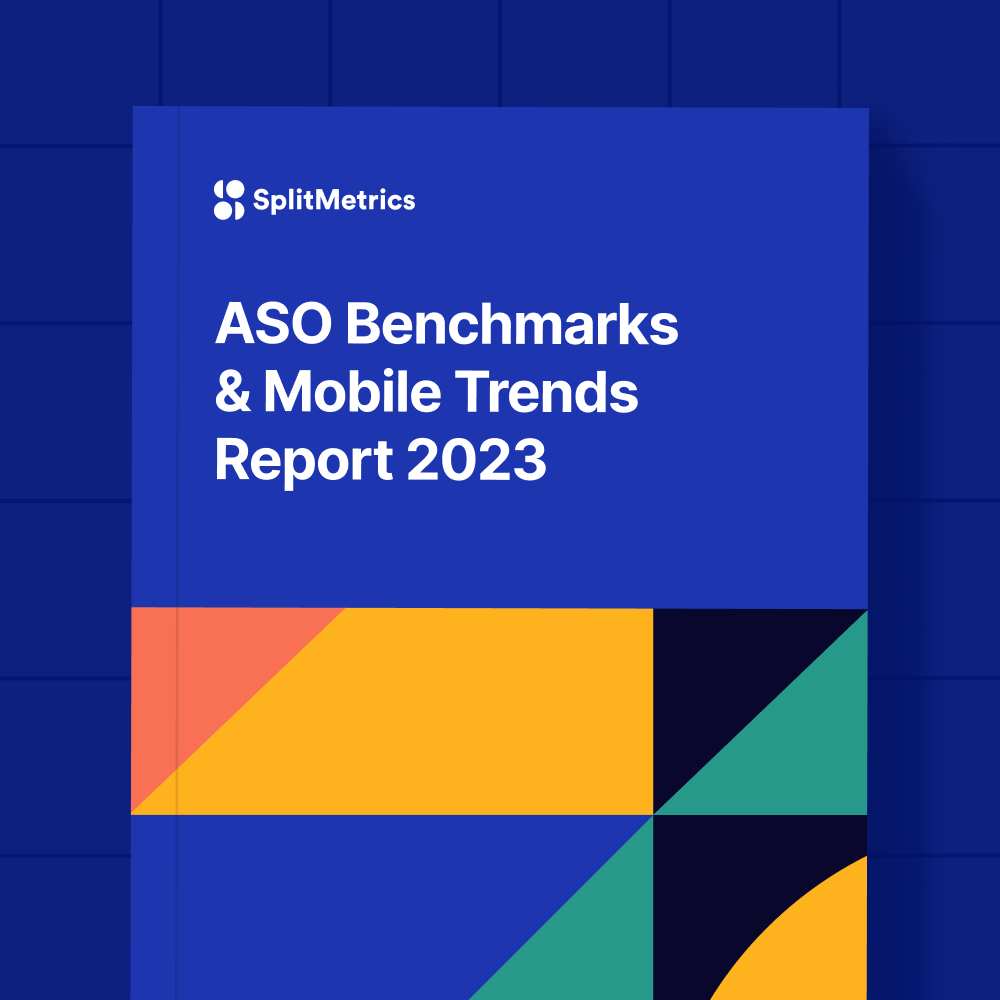 ASO Benchmarks & Mobile Trends Report 2023
Get the latest ASO benchmarks, expert insights and actionable tips for popular app categories. The better you understand the App Store landscape, the better you'll prepare your app for any holiday ń— in any country.
Building a Connection: Practical Advice
Now, let us wrap up the action plan and design insights we shared with some practical advice related to maintaining an effective work regimen:
Start early & but not too early: the window of opportunity for running holiday campaigns always exceeds the duration of the holiday itself. You want to start early, but not too early. Being out of place can actually harm your conversion rates. Custom product pages, in-app events can't be accessible too early, as it may even have a negative impact on your conversion rates and engagement.
Prioritize! Do not spread your budget too thin: the eight holidays presented in this guide offer fantastic opportunities, but their relevance depends on your app's category and specifics. Even if all of them seem within your reach and relevant to it, this doesn't mean that tackling all of them makes sense. From a practical perspective, managing campaigns for so many events may strain even the most generous budgets. Money and workload aren't the only concerns, as some events are in really close proximity to one another and their windows of opportunity for operations simply overlap.
Test your creatives before launching: our guide provides a list of universal and always applicable list of design elements that you can use while preparing your holiday campaigns. But remember that seasonal changes apply also to them. One of the reasons for starting early is to take advantage of the opportunity to test your creatives before going all in with your campaigns. This approach will pay off in results that are not just good, but spectacular.
Start early, prioritize and do a check-up before starting, because holiday campaigns can have fantastic results — provided you take full advantage of all the opportunities available to you. Let's take a closer look at them now.
Engage Users with Multi-Placement Campaigns
Make sure to use multiple placements to connect with users throughout their journey on the App Store. Ads displayed on the Today tab and Search tab can boost your reach and increase visibility. This in turn, will translate to better results achieved by ads displayed in search results and on product pages. To capitalize on the synergy between the placements it's best to incorporate all of them into your holiday campaigns on the App Store.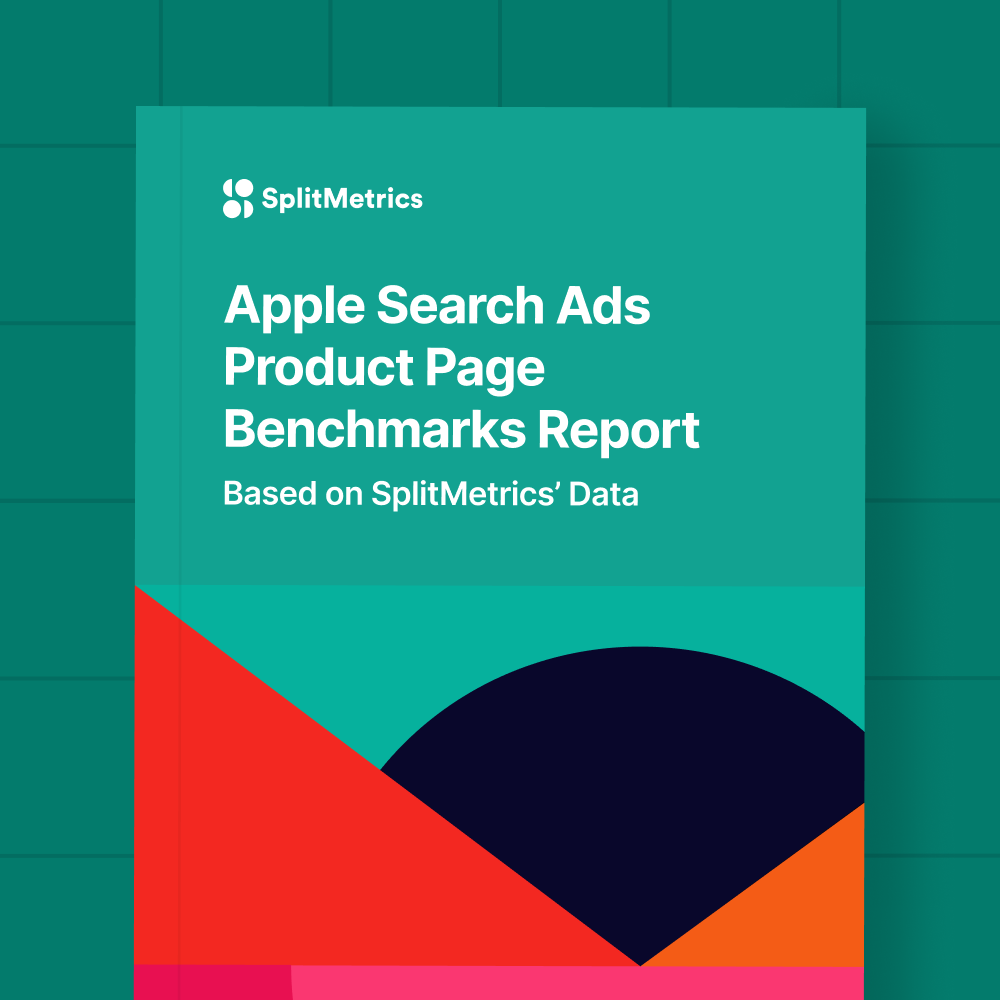 Product page ads show great potential in the context of each holiday's window of opportunity we've discussed above. Not all apps launch their holiday campaigns at the same time. By starting early, you have the opportunity to snatch users straight from product pages of your competitors who might now have launched their campaigns yet. We highly recommend reading our latest SplitMetrics' Apple Search Ads Product Page Benchmarks Report, which provides a wealth of information on this placement and will help you understand their role in multi-placement strategies.
Add Seasonal Keywords to search results campaigns
Not only apps are more active during the holidays – users actively look for new opportunities too. "Black Friday offers", "Halloween photo filters", "Cyber Monday offers", "Christmas movies" are good examples. By incorporating holiday-related keywords you can significantly boost installs in that period. Make sure to run a Discovery campaign in Apple Search Ads and use any available means & tools for extended research.
Utilize Custom Product Pages
Custom product pages allow you to present users an alternative version of your app's product page. They can be utilized in Apple Search Ads campaigns for Today tab ads and as ad variations for search results campaigns (for particular seasonal keywords), as well as external sources of traffic with other advertising platforms. This means that you can present your potential users with customized and most relevant content, while managing multiple initiatives at a time.
How to best utilize custom product pages for holiday-themed campaigns?
Design them to match the specific holiday theme, incorporating relevant imagery, colors, and festive elements — incorporate tips we shared in this article.
Put holiday-specific keywords on the screenshots to attract users searching for holiday-related apps and products.
Emphasize how your app can help users solve holiday-related challenges or enhance their holiday experience. Showcase features that are especially useful during the holiday season.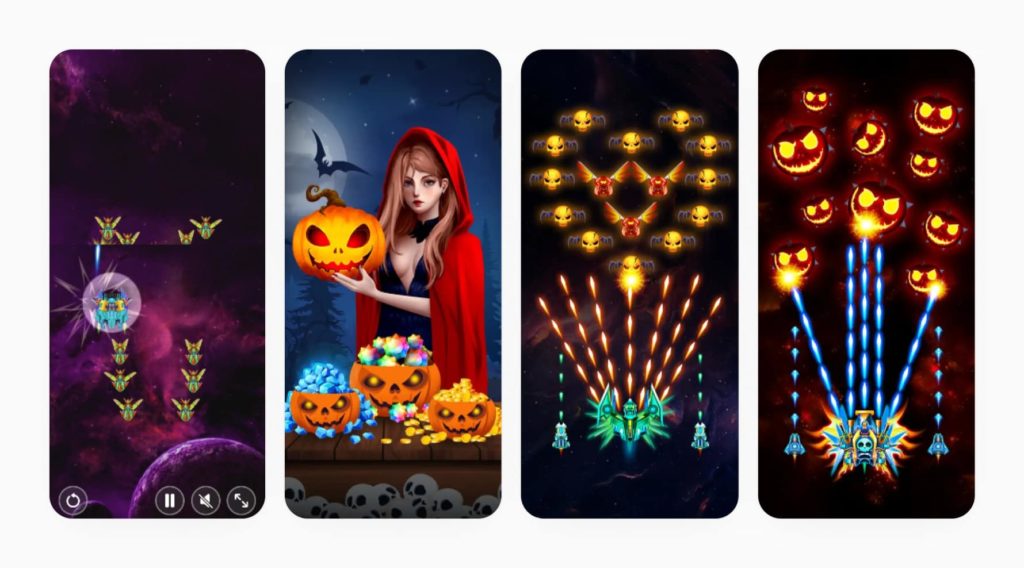 Launch In-App Events to Connect with New & Existing Audiences
In-app events improve user retention and provide additional opportunities for keyword indexing. They can be featured in curated selections, maximizing exposure through Games and Apps tabs. This is where the advantage of seasonal relevance shines. They are a very effective re-engagement tool and are focal points of many seasonal campaigns.
In-App Events are particularly helpful during seasonal events. Seasonal content can draw user attention due to its high relevance and specificity.
Review Your Budgets & Adjust Bids
In order to take the most out of the busy holiday season on the App Store, you'll need to adjust your maximum CPTi bids. Consider bolder bid increments (10% or 20%) and more frequent bid adjustments. Don't forget about monitoring the impact of these changes and react when necessary. It will be really worth it — search volume increases significantly during holidays and we see more customers heading to the App Store. People have more time on their hands and intent to purchase is high.
How to Optimize Your Holiday Campaigns with Automation & Insights of SplitMetrics Acquire?
The scope of work required by a successful holiday campaign may seem challenging, but there is a way to minimize workload and streamline all operations. Here's how our platform SplitMetrics Acquire can help you take the most out of your holiday campaigns.
Automate & Optimize
SplitMetrics Acquire offers over 200 automation rules that can directly save you a lot of time adjusting bids, ensuring timely launches of campaigns or managing them with multiple custom product pages and ad placements on the App Store. All campaigns can be pre-configured in advance. For example, you can set the maximization of share of voice (SoV) as a goal, to ensure maximum impressions you ads receive during this highly competitive period.
SplitMetrics Acquire grants one more level of automation with Bid Strategy. It's a set of smart algorithms for automatic bidding designed for enabling mobile developers to optimize Apple Search Ads campaigns towards target KPIs: cost-per-action (CPA) and return on ad spend (ROAS). Want to find out what it can do?
Access Unique Insights for Keyword Research & Custom Product Pages
SplitMetrics Acquire can also greatly enhance the process of seasonal keyword research and provide priceless and unique insights on custom product pages. The platform contains a sophisticated keyword discovery tools, but recently we've added some fantastic new features to elevate our insights even more: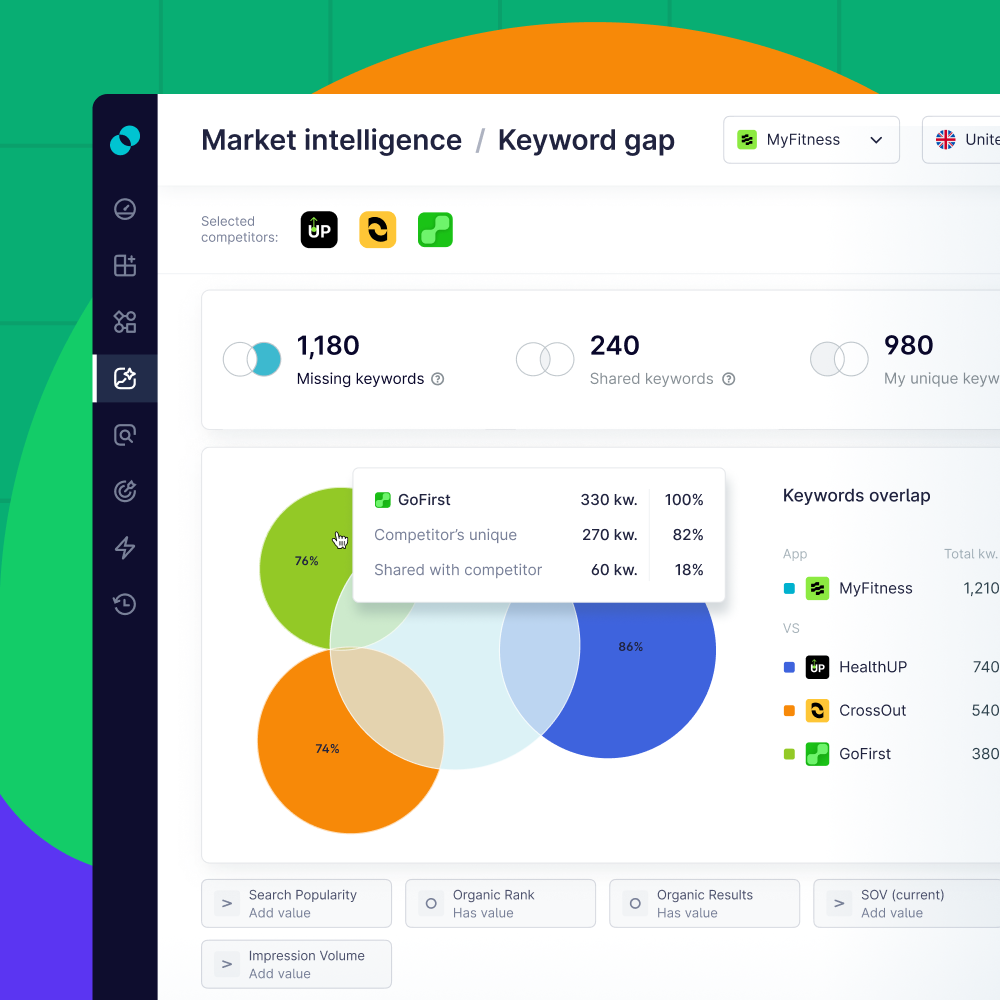 Keyword Gap
Keyword Gap is a newest feature in SplitMetrics Acquire that offers a complete semantic analysis of your app in comparison with multiple competitors at the same time. Use it to discover keywords your competitors use and you don't. All data is presented on interactive bubble charts and tables for your convenience. Use this feature to discover the activities of your competitors and find seasonal keywords during any holidays!
CPP Intelligence
CPP Intelligence is a cutting edge solution that will allow you to view your competitors' custom product pages on the App Store. In a couple of seconds & just a few clicks you can view all custom product pages from every single competitor using them, access all screenshots, videos and promo texts and see custom product pages just like users experience them in search results and in full view. Use this feature to find out how your competitors promote their apps during holidays!
Try all these features now!
Available only in SplitMetrics Acquire
Request Demo
Additional Resources on Holidays & Seasonality
We presented a list of the most relevant holidays in the USA that app developers can leverage to reach out to a wider audience or re-engage existing ones. We know what they're all about, when they happen and when the action around them actually start, so now it's best to take advantage of the vast educational resources available on our blog. We offer two extensive and comprehensive guides for ASO & Apple Search Ads specialists:
Additionally, grab some popcorn and watch & listen to some fantastic presentations given by experts from SplitMetrics & Friends on Youtube:
A practical guide to the topic at hand, focusing on our Apple Search Ads management platform, SplitMetrics Acquire.
You've probably noticed that a significant number of visuals in this article are from in-app events. No wonder, holidays are a fantastic time to re-engage your user base. Fun for them, income for you :)
Final Words
The USA is full of opportunities. How to take the most out of them? Focus on the biggest ones first. Build an effective user-acquisition & re-engagement engine for key holidays (like Christmas) first, adopt more later. With a good workframe you'll build a positive connection through all events relevant to your app.