Today's mobile user acquisition managers outdo Julius Caesar in the number and variety of tasks they are performing day by day. They are inundated with tons of data, multiple tools and ways to get new users through campaigns that generate millions of downloads for apps and mobile game titles played around the world.
As Thomas Petit, Independent Growth Consultant and the author of Mobile.Ad.Ventures, said, "the roles and skills required to execute user acquisition are changing at a rapid pace." But where can you learn something in the area that is changing extremely fast and where knowledge so rapidly becomes obsolete? The truth is that there is no one educational material or mobile user acquisition course that will teach you everything in UA.
However, there are actually some courses & certificates that are a must in terms of mobile user acquisition. For UA professionals with decent courses under their belt, validating their expertise and skills will be less challenging than for their potential colleagues. With a certificate proving your knowledge, you may convince mobile publishers you'd like to work for that you are able to build and implement a strong mobile user acquisition strategy.
So we've compiled a list of must-have UA certifications, courses and other educational programs that will help you succeed in the field of mobile user acquisition.
Google Ads Certification
Let's start with the foundation: the Google Ads certification offered by Google. Such a certificate will prove your proficiency in various aspects of Google Ads. Overall, there are six Google Ads certifications: Google Ads Search, Google Ads Display, Google Ads Video, Shopping ads, Google Ads Apps, and Google Ads Measurement.
As a UA professional certified by Google, you can prove your expertise in online advertising to your potential employer with a personalized certificate issued by Google.
Google Ads Apps Certification
In particular, you might be interested in Google Ads Apps Certification that will demonstrate your achievements and knowledge in the area of building and optimizing Google App campaigns.
With such a certificate proving your mastery of ad campaigns on Google Play, you'll be a recognized expert in:

Creating app campaigns aimed to meet specific marketing objectives
Optimize app campaigns through advanced strategies
Increase user engagement and enhance app or mobile game discoverability on the Google Play Store.
Facebook Blueprint Certification
68% of U.S. adults use Facebook, and this is one of the most popular social platforms across the globe, reaching 60.6 percent of all internet users. So you might need to run campaigns here to target your audience. Additionally, in case you're running app store A/B testing experiments, Facebook is a common traffic source.
The good news is that Facebook provides you with an opportunity to become a certified professional. With the help of Facebook Blueprint certification exams, you will get credentials proving that you demonstrate the advanced-level proficiency in Facebook ads and beyond.
Available courses include How to create an ad on Facebook, How to advertise on Instagram, the essential guide to Facebook ads and others. Choose one of Facebook Blueprint Certification Exams and go for it!
Snapchat Ads Certification & Snap Connect
Snapchat Ads certification, which is the most-installed social media app in the US, mostly used by teens and young people, might also be a good option.
Snapchat offers you to take courses that will provide you with insights on effective Snapchat advertising, enable you to set up & run campaigns via Snapchat Ads Manager, and get certified with Snap Focus. There are six courses:
Intro to Snapchat

The Snapchat Generation

Advertising on Snapchat (you will learn how to drive ROI)

Getting Started on Ads Manager

Creative Best Practices

Measure and Optimize Campaigns.
What is more, there is also Snap Connect designed to help you navigate through key strategies customized for your industry and region.
For example, you may roll in Snap Connect: Apps or Snap Connect: Mobile Gaming, complete courses included into each program and pass the exam. Snap Connect certifications are to come soon.
Apple Search Ads Certification
If you're planning to work or already work with iOS apps, you should know all the ins and outs of Apple Search Ads in order to make the most of this channel. Apple Search Ads has recently rolled out an eight-lesson Apple Search Ads Certification course designed to help you:
Better understand app promotion opportunities on the App Store.

Build and manage Apple Search Ads Advanced campaigns.

Take advantage of the latest insights and Apple Search Ads best practices.
The course covers topics, such as Promote your app, Choose keywords, Structure your account and Manage campaigns. Learn more here.
Apple Search Ads Certification involves completing each of the eight lessons and taking the 50-question exam.
If you earn a score of 80 percent or higher, you pass the exam and get a certificate proving that you've successfully completed Apple Search Ads Certification.
Complete Apple Search Ads Course & Professional Exam by SearchAdsHQ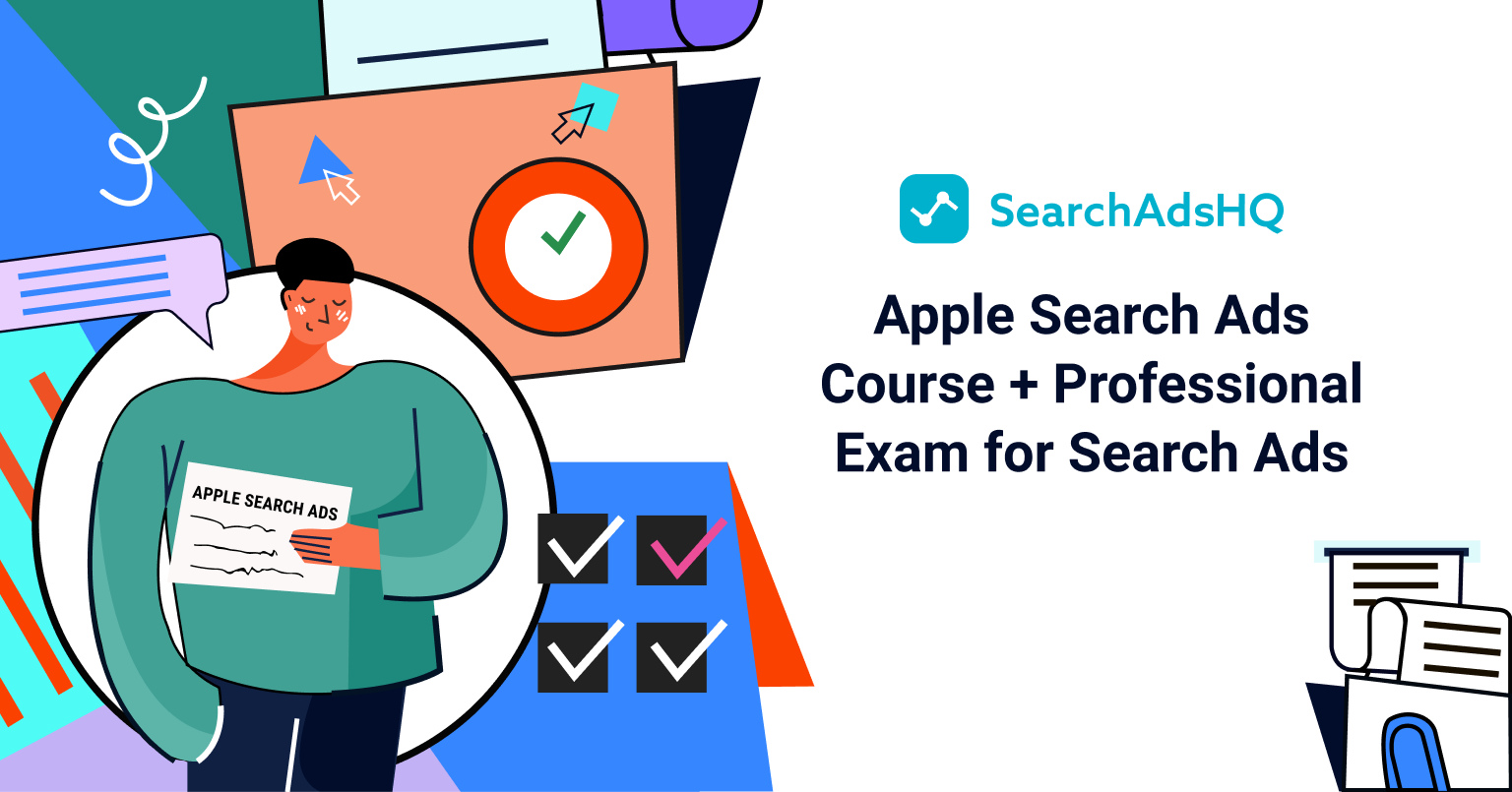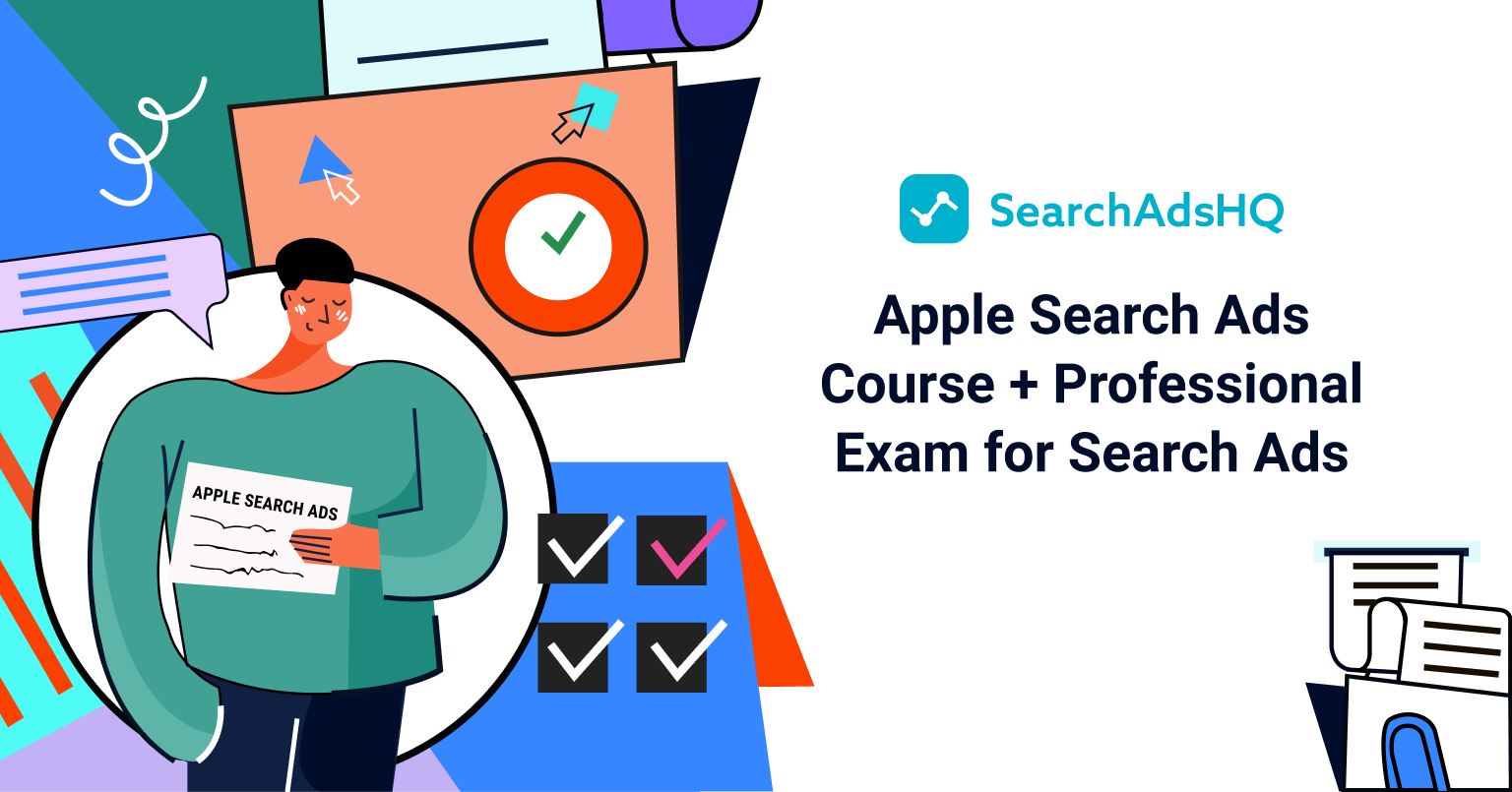 But if you want to dive even deeper into Apple Search Ads and get an in-depth understanding of how to effectively work with this channel from A to Z, optimize the performance of your campaigns and improve the key metrics, the Complete Apple Search Ads Course is designed to help you meet this challenge. This course developed by SearchAdsHQ, an Apple Search Ads Partner, has earned the trust of the mobile industry's brightest minds.
The SearchAdsHQ Team developed a comprehensive course for UA professionals based on years of hands-on experience managing and optimizing Apple Search Ads for hundreds of prominent mobile brands. It is a step-by-step guide on how to succeed in Apple Search Ads, which includes Apple Search Ads best practices, valuable insights that you can't find anywhere else and actionable tips from the leading industry experts.
The Complete Apple Search Ads Course by SearchAdsHQ is absolutely free, takes around 50 hours to complete (while the Apple Search Ads course by Apple takes only ≈ 1.5 hours) and consists of 9 info-rich lessons:
Apple Search Ads Essentials: How to Start
Apple Search Ads: Dashboard Overview
Apple Search Ads Metrics and KPIs to Track
Apple Search Ads Keyword Expansion
Adding Keywords with Discovery Campaign
Semantics-Based Account Structure
Value-Based Account Structure
How to Optimize Performance in Apple Search Ads
Managing Apple Search Ads with SearchAdsHQ
The course provides user acquisition managers with insights on:
how to build scalable account structure;

how to find new keywords and run discovery campaigns;

effective strategies performance optimization and improving the target KPIs;

ways to save a lot of time by automating campaigns.
Michael Shubin, Independent Consultant on Apple Search Ads and co-founder of Angle, says:
I can definitely recommend this course to my clients, and to be honest, I think it's great for me and my clients to start speaking the same language. This course consists of almost all theory [aspects] needed to start running your Apple Search Ads campaigns.
More than 2000 app marketing and user acquisition professionals have enrolled in course. Join them now!
SearchAdsHQ Professional Exam for Search Ads
What is more, SearchAdsHQ also developed the most comprehensive Professional Exam for Apple Search Ads. This Exam enables you to consolidate a wealth of knowledge gained with the Complete Apple Search Ads Course, check your level of proficiency and get a personalized certificate.
The Exam covers the following topics:
building a scalable Apple Search Ads account structure

keyword management

tracking and meeting KPIs

optimizing ROI

dealing with data discrepancies

automating campaigns.
The Professional Exam for Search Ads includes 100 questions and takes 120 minutes to complete. Once you pass the exam, you'll get a certificate from Apple Search Ads Partner – SearchAdsHQ, that confirms your mastery of Apple Search Ads.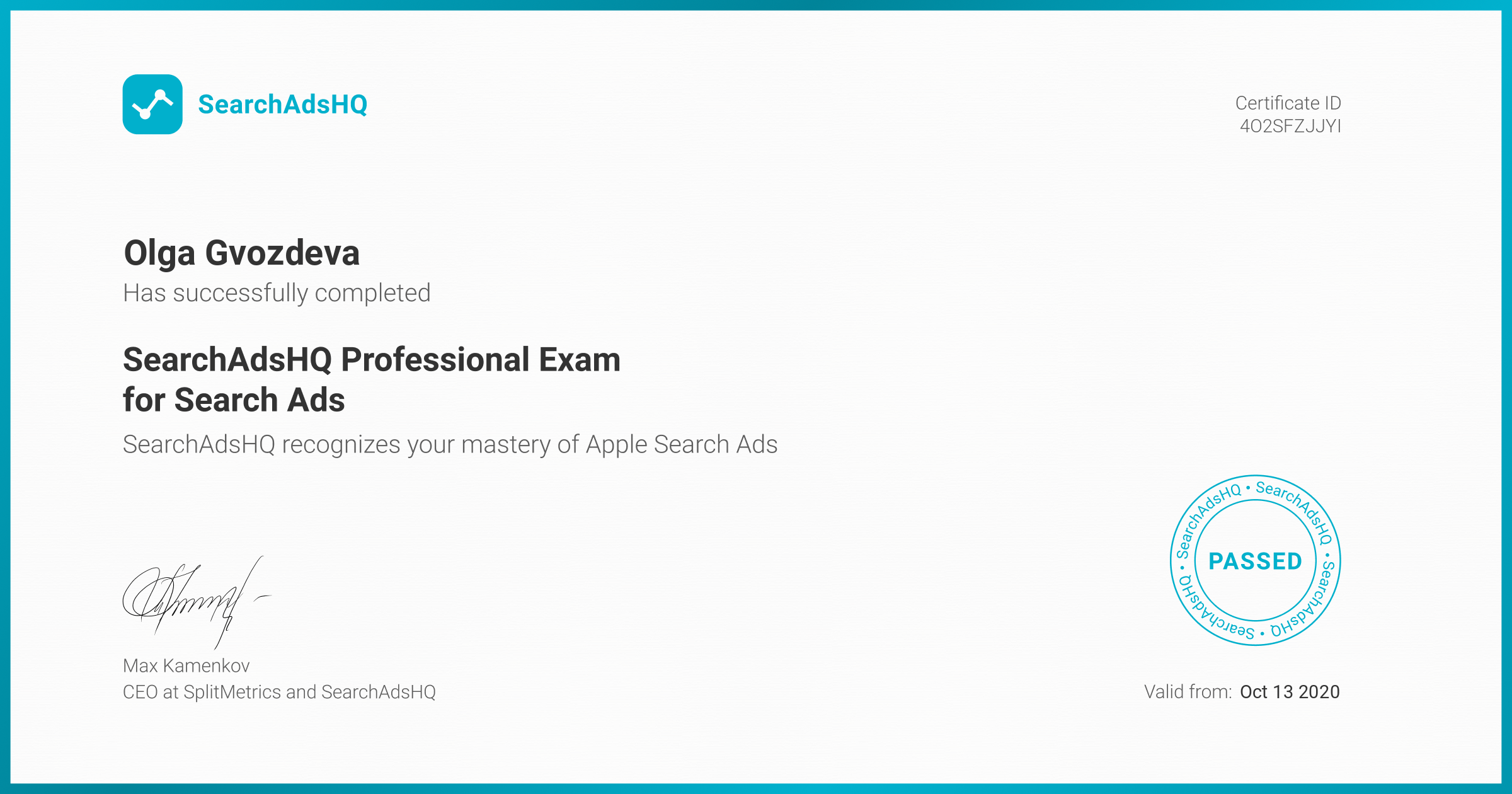 Take the most comrehensive Professional Exam for Search Ads, reach this new milestone and discover new caree opportunities!
More educational materials for UA Managers
Thomas Petit says,
I'd recommend considering learning way beyond pure user acquisition to understand the broader concepts around growth through the lens of marketing, product and data. Pure UA teams are shrinking, and the role has evolved significantly, and adding analytical and/or product and/or creatives & branding skills is becoming critical.
So here are some more educational materials you might find useful in terms of your mobile user acquisition job.
AppGrowthLab
This is an app marketing course that consists of 55 lessons from 33 experts working for such companies, as SplitMetrics, Rovio, Google, AppsFLyer and others.
The course is full of app growth insights and hacks for various app marketing channels, which will enable you, above all, boost the number of downloads and maximize ROI of your paid ads. This will definitely help you to follow the advice from Thomas.
Roll in here.
Growth Gems
This is the educational project of Sylvain Gauchet, prominent app growth expert and Mobile App Marketing Manager at Babbel.
Growth Gems mines 10 to 20 resources for the so-called "gems" each month (120 resources have already been mined). You can search across app marketing and growth topics and quickly find relevant data.
With such a source of information, you can dig deeper into the latest app industry updates, insights, user acquisition hacks, tips from the leading experts and best practices much faster.
Mobile.Ad.Ventures – MADV
Launched just recently by Thomas Petit, this is a free and insightful newsletter curating recent trends in app marketing.
Thomas Petit, which has really much to say on the burning issues and the hottest topics thrilling the minds of mobile marketers, ASO and user acquisition managers, gathers the most interesting content in app marketing and provides short comments that always hit the bull's eye.
Take a look and subscribe.