Message from Our CEO
We're starting a completely new journey under the name of SplitMetrics, which for years has been associated with mobile marketing growth. On the eve of our 7-year anniversary, we decided to reinforce the image of SplitMetrics as a company designed to help mobile businesses grow, reflecting our new mission with updated product names and brand identity. But first things first.
Our journey started back in 2015 with the development of an app store A/B testing platform. Since then, we have experienced hyper-fast growth, expanded our capabilities, were the first company to build another flagship product – an Apple Search Ads automation and optimization platform, became an Apple Search Ads Partner, and launched an in-house agency to support our customers at all stages of their mobile marketing journey.
SplitMetrics Ecosystem
From a point solution for mobile A/B testing, our value proposition evolved into an ecosystem of products and services that help mobile-first companies and brands globally simplify their way to business success. Our vision is to enable everyone to launch a mobile app or game and grow it into a successful business easier and faster.
To reflect this vision, we kept the name of the main brand – SplitMetrics – and renamed our products to SplitMetrics Acquire (formerly SearchAdsHQ) and SplitMetrics Optimize (formerly SplitMetrics A/B testing platform), joined by SplitMetrics Agency.
We did the renaming to reflect who we are as a company and convey the idea of development and transition from individual products to something much greater, offering a comprehensive approach and solutions to the global challenges of app growth.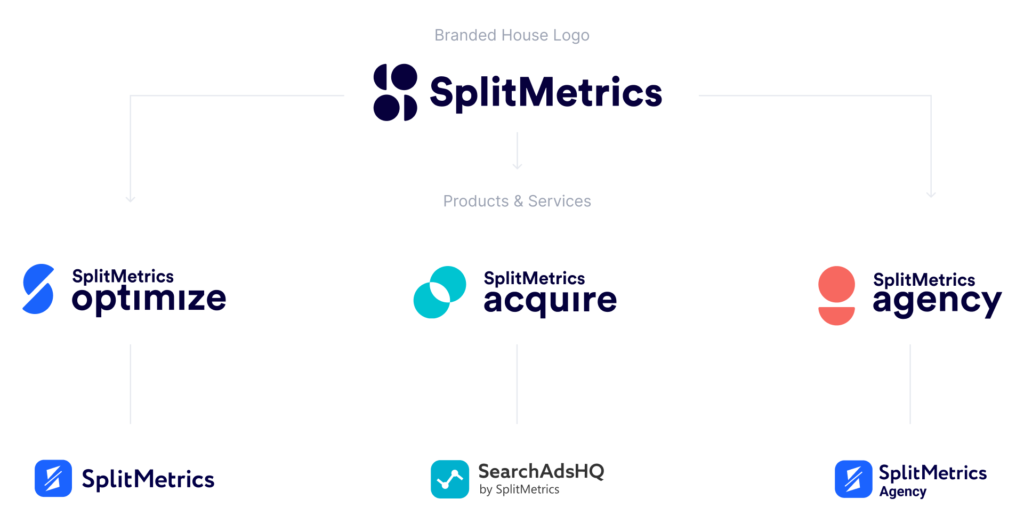 We rebranded our logo and worked out a new visual identity. The new logo, being an evolution of the former version, has become more sustainable, dynamic, and got rid of any frames and boundaries. All this reflects what our company has become: more stable, mature, at the same time growing dynamically, reaching new milestones, entering new markets, and always moving forward. We go above and beyond, and have people – our team, clients, and partners – at the center of everything we do.
Unlock new levels of app growth
All these updates mark the next stage in our journey, and we are looking forward to achieving new, bigger milestones. Under SplitMetrics' new brand we'll continue expanding our current and building new products that serve the same goal – helping mobile apps and games grow.
I'd like to thank you for staying with us along this way. A huge thanks to our customers that have been sharing their feedback and supporting us in all our endeavors. Dear clients, we couldn't have done it without you!
And of course, I feel enormous gratitude for the incredible work done by our great international SplitMetrics Team – and I'm also proud that our talented, dedicated, amazing employees now represent 11 countries across the globe! Thank you, Team!
Share the joy of the moment with us – let's celebrate together!
Max Kamenkov, CEO at SplitMetrics